When you live in the city, escaping for the weekend presents the perfect opportunity to relax, refresh and rejuvenate. With or without the kids. South-eat Queensland has so much to offer in terms of things to do and popular places to visit – hence this list of the best weekend getaways from Brisbane!
Whether you prefer the idea of exploring the hinterland of the Gold or Sunshine Coast, taking a trip on a ferry to a tropical island, visiting a popular place like Byron Bay or Noosa or escaping it all at a national park or in the mountains, these are the best places for a weekend away from Brisbane.
From bustling Surfers Paradise to idyllic beaches, unspoiled landscapes or away-from-it-all islands, this guide will show you all the best places to take short breaks from Brisbane.
Let's get started so you can find your perfect weekend getaway. Brisbane is such a great place to live when it comes to taking a break from the city! As you'll discover if you continue reading. 
10 of the Best Weekend Getaways from Brisbane
1. North Stradbroke Island
Best for Aboriginal art
North Stradbroke Island – or simply Stradbroke Island or even Straddie to the locals – is among the most popular spots for a weekend away from Brisbane. It's equally suited to families and those seeking romantic getaways near Brisbane. You can drive there, taking the ferry across from Toondah Harbour in Cleveland.
Things to do on North Stradbroke Island
You can be just as active or lazy as you please on the island. Swim in Brown Lake, Blue Lake or Lake Bummiera, or take a dip in the ocean. Go surfing, kayaking, snorkelling, fishing or sandboarding, play golf or bowls, take a hike along the Goompi Trail or the North Gorge Walk, gaze at Aboriginal art or delve into local history. You might also spot whales between late May and early November from Point Lookout.
We wrote a detailed article about things to do on North Stradbroke Island here.
Where to stay on North Stradbroke Island
Find more North Stradbroke Island accommodation here
2. Glass House Mountains
Best for fresh mountain air
The Glass House Mountains in the Sunshine Coast hinterland are only around an hour's drive from the city. So staying in this area makes great weekend escapes from Brisbane when you're short on time.
Things to do in the Glass House Mountains
Spend a weekend away from Brisbane here and you can explore the national park via the hiking trails of the area. There's a visitor centre, trails for all levels of fitness and plenty of lookout points offering stunning panoramas. You can also visit Australia Zoo on Steve Irwin Way in Beerwah, or visit hinterland towns such as Montville and Maleny.
Where to stay in the Glass House Mountains
Find more Glass House Mountains accommodation here
3. Lamington National Park
Best for Scenic Rim views
National Parks in Queensland offer another option for those seeking weekend trips from Brisbane. Lamington National Park is only around 90 minutes' drive from the city.
Things to do in Lamington National Park
In the Lamington National Park area you can enjoy stunning views of the Scenic Rim region, venture into the subtropical rainforest or visit the top-level local restaurants and wineries. Look out for local wildlife, find your favourite waterfall, take to the trails or savour a fine dining or winery experience.
Where to stay in Lamington National Park
Find more Lamington National Park accommodation here
4. Tangalooma Island Resort
Best for a luxury getaway
Tangalooma Island Resort is easy to reach by ferry from Holt Street Wharf in Brisbane. The crossing takes about 75 minutes, and is for foot passengers only. It's one of those Brisbane weekend trips that makes you feel like you're very far removed from the city and everyday life.
Things to do at Tangalooma Island Resort
If you book short breaks from Brisbane at Tangalooma, the resort has a wealth of amenities to enjoy. You can laze on the beach, snorkel among shipwrecks, explore by 4WD or kayak, swim, go fishing or even take a scenic helicopter flight.
The resort also offers several restaurants, including one by the sea. There's also swimming pools, a bar and a beachfront location. You can book a range of spacious units, rooms and suites at Tangalooma Island Resort.
We wrote about our holiday on Tangalooma here.
Book Tangalooma Island Resort accommodation here
5. Moreton Island
Best for a glamping break
You can also hop onto the Tangalooma passenger ferry to access Moreton Island from Brisbane. It's a great place for immersing yourself in the culture of Quandamooka's Ngugi people. Or for adventurous types searching for relatively cheap weekend getaways near Brisbane.
Things to do on Moreton Island
Life on Moreton Island is all about driving on the sand in a 4WD, enjoying the opportunities offered by the ocean or cooking by the campfire. It's a back-to-basics experience with added luxury, thanks to Castaways Moreton Island accommodation. Swimming, kayaking, stand-up paddle boarding, fishing, snorkelling and glamping are all activities to take part in here.
Where to stay on Moreton Island
Castaways Moreton Island supplies glamping accommodation on the island. You can book tented bungalows for families or couples, or a three bedroom apartment. The resort offers a garden with BBQ facilities, a restaurant and a private beach area.
Book Castaways Moreton Island accommodation here
6. Byron Bay
Best for beautiful beaches
It may be in New South Wales, but Byron Bay is only under two hours by car from Brisbane. The town has grown from a hippy hangout to one of Australia's most popular beach resorts. Now, this exceptionally beautiful stretch of coastline is a playground for the jet-set as well as Queenslanders. If you're looking for 3 day trips from Brisbane, Byron could be spot-on.
Things to do in Byron Bay
Byron Bay is about beach life, and is a favourite place to surf and bodyboard. The stretch of beaches here is magnificent, so if you simply want to kick back and relax, there's no better place to do just that. Byron also offers upmarket dining, shopping and resorts. Don't miss Cape Byron Lighthouse, especially at sunrise or sunset.
Where to stay in Byron Bay
Find more Byron Bay accommodation here
7. Mount Tamborine
Best for winding down
Mount Tamborine in the Gold Coast hinterland is ideal for those seeking weekend road trips from Brisbane – without too far to drive. Whether it's romantic or family weekend getaways from Brisbane you want, this is a place where you can all truly wind down.
Things to do at Mount Tamborine
Mount Tamborine is a place offering lots of relaxing pastimes for all the family – or just the two of you without the kids. Visit the great cafes, restaurants and wineries of the area and burn it all off by taking the Tamborine Rainforest Skywalk. See the fascinating Glow Worm Caves, explore the botanic gardens, swim in the rock pools, picnic by the lake or stroll through subtropical rainforest.
Where to stay at Mount Tamborine
We wrote a huge round up of all the best things to do on Mount Tamborine here.
Find more Mount Tamborine accommodation here
8. Surfers Paradise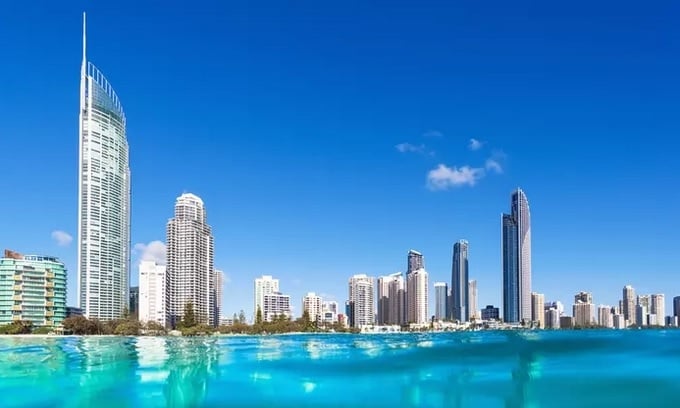 Best for glitz and kitsch
Surfers is only about an hour north of Brisbane. Yes, it's a built-up resort that can be tacky in parts, but it's also got one of the best surfing beaches in the world. Hence the name! You'll never be stuck for something to do in Surfers, which is why it makes one of the best overnight trips from Brisbane.
Things to do in Surfers Paradise
If you can tear yourself away from the broad sweep of golden sand fronting the ocean in Surfers, you'll find there's lots more to do. The world is your oyster when it comes to shopping and dining, and there are options for all budgets. There are plenty of tourist attractions to entertain visitors of all ages – from Ripley's Believe It Or Not or Timezone to the Q1 Skypoint observation deck.
Where to stay in Surfers Paradise
Find all the best things to do on the Gold Coast with kids here.
Find more Surfers Paradise accommodation here
9. Bribie Island
Best for bridge access
Bribie Island completes the trio of islands in Moreton Bay – the other two being Moreton and North Stradbroke. This is the smallest, but is also the easiest to reach as there's a bridge you can drive over. The trip takes about an hour-and-three-quarters, so it's ideal for a family or couples' getaway from Brisbane.
Things to do on Bribie Island
Bribie Island's attraction lies largely in the fact that there's a very relaxed pace of life here. There are good surfing and swimming beaches, plus a marine park. You can also venture into the bush to look out for local fauna and flora, or take a trip by 4WD.
Our two favourite beaches on Bribie and Woorim Beach (pictured above) and Bongaree Beach. Beautiful!
Where to stay on Bribie Island
Find more Bribie Island accommodation here
10. Noosa
Best for laid-back loveliness
Noosa is one of the Sunshine Coast's loveliest and most laid-back spots. It's perfect for weekend getaways near Brisbane, and the drive takes only a couple of hours. There's a lot to do here, or you can simply sit back and enjoy beach life.
Things to do in Noosa
You can explore Noosa National Park by kayak, where you might even find a stretch of sand to call your own. Alternatively, dip into the appealing cafes and boutiques of the Hastings Street area, or take the coastal trail to see koalas at Tea Tree Bay. You can also discover Noosa Botanic Gardens and Lake MacDonald – and much more!
We wrote about the best things to do in Noosa with kids here. Rainy? We wrote about what to do in Noosa when it rains here.
Where to stay in Noosa
Find more Noosa accommodation here
Weekend getaways from Brisbane | final thoughts
Whether you want to take family getaways from Brisbane or romantic getaways near Brisbane without the kids in tow, there are some great options to pick between. Which will it be – a glitzy resort, a tropical island, a glamping break or an escape to the mountains? Whatever you choose, Brisbane residents sure are spoiled for choice when it comes to spending quality time outside the city!