Who doesn't love pavlova? Whether you agree they're Aussie or *think* they're a Kiwi creation, Pavlova is hands-down the BEST dessert for any occasion! And the humble pav has had the greatest makeover in history – move over cheese boards, the Pavlova Board is continuing to win hearts and taste buds around the country!
If you are looking for ideas on how to create this deconstructed dessert option for your festive table, here is the pavlova board inspiration you have been searching for. Not just for Christmas in Australia, these desserts are winners year round!!
Pavlova board inspiration
Your pavlova board can be as creative as your imagination allows. Keep it quick and simple, or show off your culinary skills with a masterpiece. Try these ideas for inspiration…
Quick and easy pavlova board
The quickest and easiest pavlova board requires the least input. Head to your local supermarket with the following shopping list:
Pre-baked mini pavlovas or meringue nests
Dollop cream
Pouring cream
Favourite berries (strawberries, blueberries, raspberries – whatever is on special)
Mini chocolate flakes
Tin of passionfruit puree
Custard
If kids are involved, add colourful sprinkles from the cake decorating aisle or mini smarties and marshmallows.
Now all that's needed is the presentation! Set out your pavs on a large wooden board or platter, and present each of the toppings in whatever little dishes you have to hand – ramekins or little jars look great – then invite your guests to dig in and get creative!
The epicurian pavlova board
If you enjoy spending time in the kitchen and have a knock-out pavlova recipe, you can make your own delicious mini pavlovas with a twist. Pavlovas can be flavoured with coffee, cocoa, lemon or freeze-dried berries. This basic pavlova recipe is simple, taking only 15 minutes to prepare and a total of 4 hours 15 minutes to be fully cooked and cooled and ready to eat.
To create a dream pavlova board, these toppings are sure to be winners…
Whipped cream, flavoured with a tablespoon of your favourite liquor (kahlua, grand marnier etc.) or try some of these delicious non-alcoholic whipped cream flavour alternatives.
Seasonal fresh fruits, e.g. mango, kiwi, berries
Pure Australian honeycomb
Fresh mint
Pouring cream
Passionfruit or pineapple puree
Shaved dark chocolate, or flavoured chocolate (Orange flavoured chocolate is our favourite!)
Nutella
Raspberry coulis
Desiccated coconut
Slivered almonds
Ten pavlova boards anyone can make
Take a look at these great pavlova boards with heaps of delicious topping ideas to try at home. All images sourced from Instagram. Click on the image to see the original post and creator.
1. Quick and easy
This board is quick and easy to prepare – but doesn't it look great!
2. The Christmas Cherry Bomb
Cherries are the perfect Christmas treat and make for a festive pavlova board.
3. Epicurian delight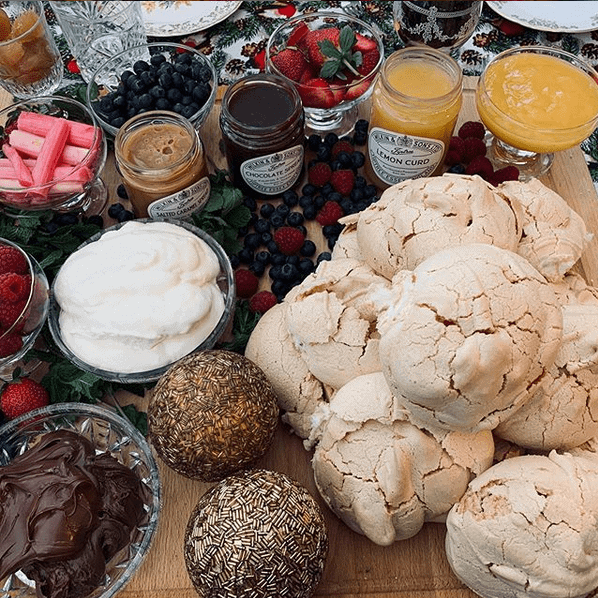 Home baked pavlovas and sweet premium preserves – yum!
4. Fresh and floral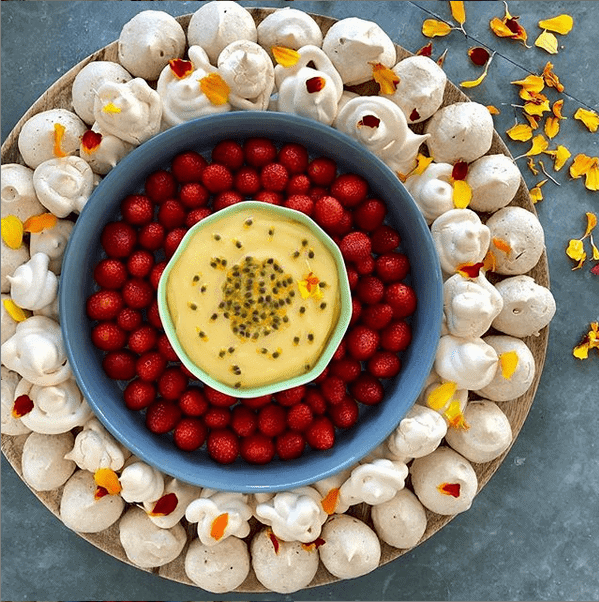 A simple array of ingredients beautifully presented with edible flower petals.
5. Honeycomb Twist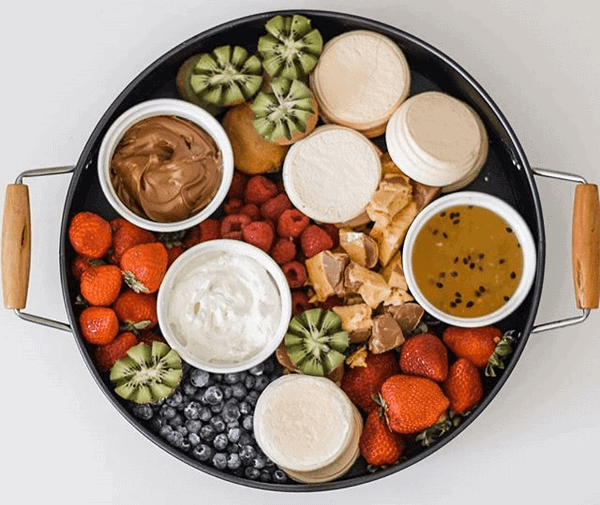 And some crispy honeycomb candy to your pavlova board for an extra sweet crunch. Try this recipe to make your own!
6. Sweet and salty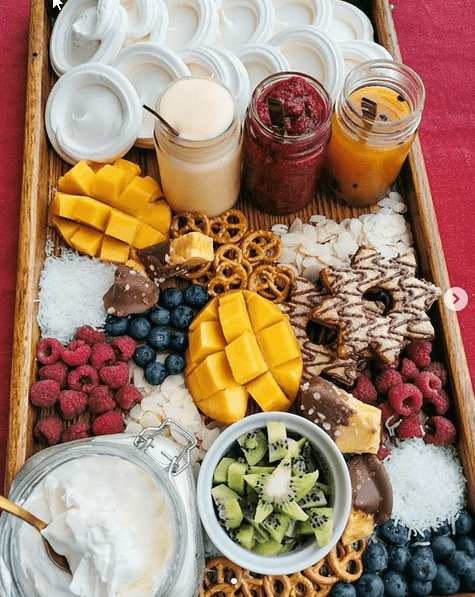 Salty pretzels add the perfect balance to the sweet pavlova. Try salted caramel too!
7. Ready in a flash!
Very quick to prepare – could this be your new movie night favourite?
8. Party platter perfection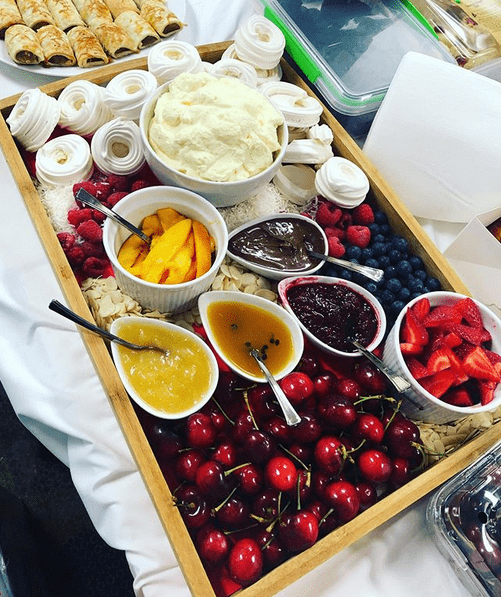 Did somebody say bring a plate? You'd be the star of the show with this one!
9. Christmas breakfast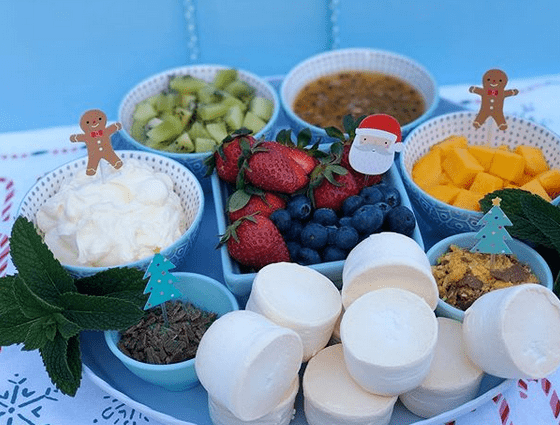 Why not? – It's Christmas!!
10. The Smorgasboard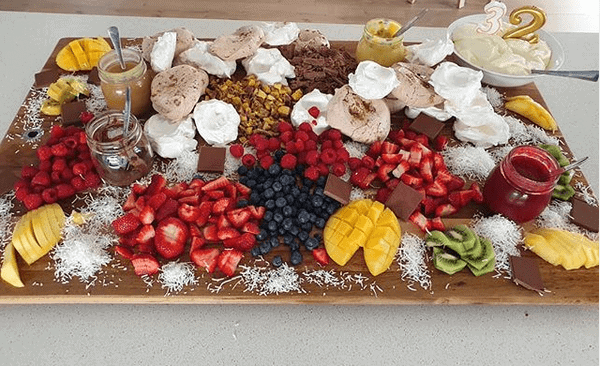 Create a fabulous party centrepiece with a pavlova and toppings smorgasboard.
Looking for more dessert board ideas? Check out these hot cocoa charcuterie boards!