Mango Delight | Christmas & NYE Cocktail
18/10/2019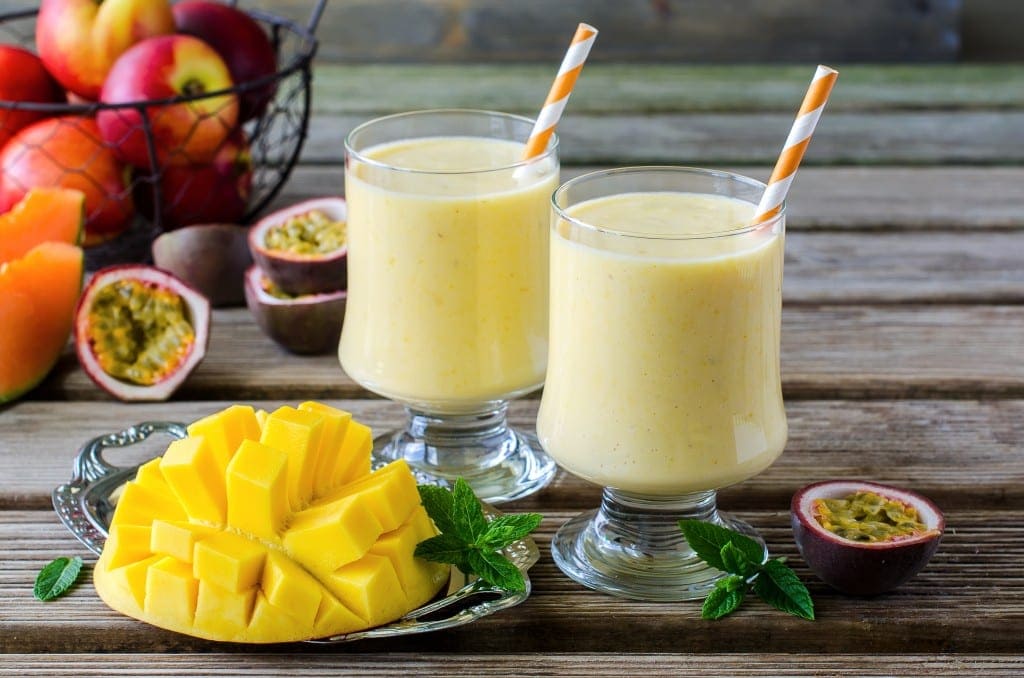 The great thing about this Christmas cocktail is you can vary it with just about any fruit that takes your fancy from peaches to strawberries or even bananas… the fun is in the variation (and the rum, there is totally fun to be had with the rum!) Of course, it also makes the perfect New Years Eve celebratory drink too!
Mango Delight – Christmas Cocktail
You can find more yummy Christmas food and drinks perfect for celebrations all year round by clicking here.
So… I bought a tray of mangoes and had to freeze some… THIS recipe came in handy… we made these today – we just left the rum out for the kids version – they went down a treat!
Mango Delight – Recipe & Method
Ingredients
This is a great recipe to make when mangoes are in season. Tinned mangoes just do not do it justice!
4 cups frozen mango slices
¼ cup lime juice
¾ cup coconut milk
⅔ cup white rum
¼ cup simple syrup (equal parts sugar and water, simmered together until mixture is clear)
Directions
Combine all ingredients in a blender
Blend until smooth, stirring as necessary to break up frozen chunks
Pour into chilled glasses and garnish with a fresh slice of mango or peach and mint (optional)
Once you have mastered the mango Christmas cocktail, try the peaches Christmas cocktail!
Then, once you have tried the peach Christmas cocktail, try it with bananas (but enjoy, immediately or they go brown!)
Finally, now that you are a professional fruit cocktail maker, you can try the…. you can see where I am going here… right… 😉
Cocktails at Christmas!
Christmas in Australia means hot days, thunderstorms rolling in and cool breezes that follow. It's the perfect season to enjoy a cool drink on the verandah as you watch the world go by. Cocktails shared with friends and family create the opportunity for laughs, love and real living. Take it from us – these are drinks designed to be shared with your nearest and dearest.
Looking for Christmas in Brisbane fun?
What have you got planned for Christmas lunch? If the idea of outsourcing is appealing be sure to read our guide to the BEST places for Christmas Lunch.
Check out our list of Christmas Markets Brisbane here.
We just love Christmas!
Have you checked out our DETAILED MAP of all the best Christmas lights in the South East Queensland region? We work hard (we're like elves, in a way) to get you the very best up to date information to help you plan an epic driving adventure that your little ones (and big ones, let's be honest) won't soon forget.
You can find all you need to know at this link.