Discovering new favourite playgrounds offers families the opportunity to create something great. Great experiences and great memories that can form the basic of wonderful, unforgettable childhood moments.
Be it sliding to your hearts content, traversing magical tunnels, engaging in creative play or simply burning off energy – playgrounds are KEY when it comes to parenting.
We asked a number of bloggers to give us their favourite playgrounds from around the globe and we've collated them here for you. This is some serious #holidayinspo right here!
Favourite Playgrounds from around the world
Let's get playing.
Container Park, Las Vegas
We didn't expect to find a playground in downtown Las Vegas, but that is exactly what we found when we stumbled upon Container Park. Located on Fremont Street, Container Park is built from repurposed shipping containers to build a shopping, entertainment, dining and playground area! The centre of the park is the treehouse with numerous slides, there are also giant puzzles and foam blocks and a NEOS play system. It's open 7 days a week, but for those of you on an adults only trip to Las Vegas, after 9pm it is only open to those aged 21+. We had a great time on our girls' trip playing on the slides and feeling like a kid again! Admission is free, and it's a great place to hangout in the afternoon, or after dark! There is also live entertainment and karaoke on certain nights. (Jenn from Will Save For Travel)
Bort Alpine Playground, Switzerland
Looking for an amazing playground for the kids with breathtaking views? Then the Bort Alpine Playground matches that description. Head up the lift Grindelwald First in the town of Grindelwald, Switzerland. The playground is located just steps down from the first lift station. The playground features 700 square meters of fun. From bouncing on in-ground trampolines, to damming up rivers and climbing over ropes and towers. It is endless fun for the little ones. Our son loved all the hidden tunnels, large sand box and rope swing. Not to mention the metal slides to go flying down and the rocks to clamber about. There are plenty of picnic tables for a quick snack or head up to the restaurant nearby for some refueling for more playground adventures. Be sure to bring clothing that the kids can get wet or dirty in and a change of clothes. (Chelsea from Pack More Into Life)
Margaret Mahy Playground, Christchurch, New Zealand
Christchurch's Margaret Mahy playground is an incredible space in the central city. Created in order to bring 'play and laughter' back into the heart of the city after the devastating earthquakes of 2010 & 2011, the playground has succeeded in its mission. These days you will find children pealing with laughter as they whiz down the flying fox, working together to direct the current in the water play area, careening down the twisted tunnel slides, and climbing the rope towers with focused determination!
It's no coincidence that this playground is such a hit with the kids of Christchurch – they helped design it! Local school kids entered a design competition to create "the world's best playground" and the winners helped the playground planners create the perfect kid-friendly space. Another key design element is the landscape of the Canterbury region, which influenced the shape and structure of the playground – bringing elements of the local environment into the design.
It's the biggest playground in the Southern Hemisphere and a place I'd thoroughly recommend visiting with your kids while visiting New Zealand's South Island – just be prepared to stay the whole day, as your kids won't want to leave! (Nadine from Le Long Weekend)
Playground of Birr Castle, Co. Offaly, Ireland
When your kids scream 'This is the best playground in the world' you know you have stumbled onto a good one. And this is just what my children shouted while playing in the adventure playground in Birr Castle, Ireland.
The playground is located in the first inner yard of the castle and is indeed a wonderful place for kids of all ages.
The first section is for younger ones: here, you have a cute hobbit house for playing hide and seek, a sand pit with buckets and spades and a 'bouncy hill', a trampoline raising straight from the ground toddlers can easily access without the help of the parents.
For older kids, there are swings and the real star of the show: a huge tree house, which you can climb into and out from via ropes, suspended bridges and slides!
The tree house is the biggest in Ireland and is a sight to behold: it blends in perfectly with the trees of this large castle park and strikes a great balance between being a climbing frame and an adventure course. The playground also has a pretty kiosk selling drinks, sweets and ice cream and lots of picnic tables.
This is a fantastic play area and one I highly recommend you seek out while road tripping in Ireland with family.
Marta from Learning Escapes
Culzean Castle Playground, Ayrshire, Scotland
Turrets, towers, draw-bridges… now that's what I call a playground with a difference. In 2015, the National Trust for Scotland spent around £250,000 building a flagship playpark at one of their much-loved castles and boy did they deliver! The Adventure Cove play park, also known as a mini-Culzean castle, features tree houses, zip slides, a maze house, a giant sand pit, swings, slides, climbing walls, ramparts, towers and more.
The playground is located in the stunning grounds of Culzean Castle in Ayrshire, Scotland. This magnificent clifftop castle overlooks the Firth of Clyde and the jewel in its crown has to be its amazing playground – well at least in the eyes of your kids! The design of the play area, inspired by the castle, has been built to resemble a fort with plenty of areas within it to climb, slide and swing. It's sure to be a hit with your little ones and we wish you luck dragging them away! (Gillian from Scotland Bucket List)
Heckscher Playground, Central Park, New York City, USA
Whenever I have friends with kids visiting me in New York, I always take them to the Heckscher Playground in Central Park. There is something for everyone here There are swings and slides, a large maze-like climber, a spongy synthetic surface to do acrobatics on. It is dominated by a large rocky outcrop that kids can climb over, as well as loads of short walls, runways, short slides, etc. that kids can run around, climb over, and slide down. In summer, there is an awesome water feature with water flowing down channels that kids can walk through, tunnels to crawl through, and water jets to run through. There's even a gentler section for younger kids. It's actually the oldest playground in Central Park (it dates from 1927 but was fully renovated in 2005) and the largest (1.8 acres). It's in the middle of the park between 61st to 63rd Streets. (James from Travel Collecting)
Miriam Vale playground, near Seventeen Seventy (Queensland)
As a family, we do a lot of road trips between our home in Yeppoon and Brisbane. Our first stop is always the Miriam Vale playground, near the turn-off to the coastal town of Seventeen Seventy. For such a tiny town, the Miriam Vale playground is incredibly well-known and loved by locals who road-trip to Brisbane regularly. Gladstone Regional Council recently redeveloped the playground and have catered to all ages and abilities.
There's a lovely water play area, quite a few swings for big and little kids alike, soft-fall play area for toddlers, as well as an in-ground trampoline. It also has plenty of shade, picnic tables and barbecues, and a big grassy area suitable for a game of tag or frisbee. Best of all though, is the climbing frame, up-high cubbies and massive enclosed slides. In fact, I've been known to climb up, chase my daughter then race her down the slides. And I know I'm not the only adult who does this! It's easy to spend a few hours here, and best of all, there's a great coffee shop just across the road. It's a must-do on any family road trip along the Queensland coastline.
Clemyjontori Park, Washington
If you're heading to Washington, D.C. or any of the surrounding areas, then a trip to Clemyjontori is an absolute must! This playground is HUGE – it spans 2 acres and has a gorgeous carousel in the middle! What's so special about this park though, besides its size, is that it was designed to have something for everyone – including children with disabilities. The swings have higher backs, ramps connect various structures, and the entry points are all wider than usual. All of which makes this playground easier for parents too! They even have a structure called the Liberty Swing. It's a swing designed for wheelchairs so that children who are in a wheelchair can stay in their comfort zone while experiencing the joy of a swing!
This playground also has so many different types of activities from sensory activities, to imagination-focused ones, to your traditional playground equipment. Whether your child needs more stimulation or less, there's something for them here! It even has a track surrounding the carousel for those of you with WAY too much energy to burn (like my oldest who is a runner!) My kids love every inch of this playground! When you visit, be sure to come early in the day or towards the end so that you can get one of the best parking spots, and bring a lunch with you which you can eat at one of the many covered picnic areas! You can easily spend an entire day at Clemyjontori! (Rachel from The Analytical Mommy)
Kings Park, Perth
Kings Park is wonderful parkland located in the centre of Perth, Western Australia. It is one of our favourite playground spots because it not only offers great variety; it is also very enjoyable for adults as well as children. One of the world's largest inner city parks (bigger than New York's Central Park) King's Park incorporates walk trails, stunning views of the Swan River, a botanic garden, a tree top sky bridge and not one but THREE awesome playgrounds!
The Ivey Watson Playground is great for smaller children with lots of age appropriate activities… but when they got a bit older the Synergy Parkland became a firm favourite. The Synergy Parkland has great water features, Mega Marsupials and a big climbing section… so there is plenty for older kids to enjoy (approx. 5 years and over). Finally there is the Naturescape playground which, as the name describes, is about exploring the natural environment in a less structured way. We'll often visit Synergy Parkland first and then burn off some energy in the Naturescape playground! (Ariana & Norman from World of Travels with Kids)
Parc de la Villette, Paris
Parc de la Villette is absolutely amazing and definitely one of the best playgrounds in the world! It's made up of many different gardens some of which have amazing playgrounds as well as buildings including Cite des Science, a science museum which is also worth visiting while you are there.
The playgrounds themselves have different themes and are next to each other (or across a small river). Our favourite was the Dragon Garden which includes a massive slide (as pictured) and a huge "dragon" to climb through. Another fun part is the Dunes Garden where the kids can bounce (picture a huge bouncing ground), complete an obstacle course and there are also flying foxes.
There's also plenty of space so its perfect to give the kids a good run around and to have a picnic. The playgrounds cater well to all different ages and this really should be a must visit for any family in Paris. (Suzi from Survey Suzi)
Chevron Parklands, Perth
Well renowned for its amazing parklands and playgrounds, the City of Perth has an exciting new addition that kids of all ages will love. Nestled between the banks or the Swan River and the brand-new football stadium in the suburb of Burswood is Chevron Parklands & the Sensory Playground. The playparks start at the end of Camfield Drive and run along the river front. Next to the car park you'll find a large, traditional kids' playground with slides, swings and flying foxes, through to climbing frames in safe enclosed area with wonderful sponge matting.
Make sure you keep walking along the river though for the parklands. There are six different play spaces, each inspired by the Noongar (local aboriginal) seasons. Traditional play equipment seamlessly blended with nature play and educational resources – but trust me, they'll be too busy playing to realise!
Our kids' favourite is the Qwandong Towers, a huge nature park climbing tower that ends in a giant bendy slide. There is nothing traditional about this playpark but everything to love for avid explorers with great imaginations – all a stones throw away from the Perth CBD. (Keri from Our Globetrotters)
Diana Princess of Wales Memorial Park, London
Our family's favorite playground is easily the Diana, Princess of Wales Memorial Playground in London's Kensington Gardens. The Playground was inspired by J.M. Barrie's Peter Pan and dedicated to the memory of Princess Diana. The highlight of the play area is a huge pirate ship, which is surrounded by an enormous sand play area. Climbing to the ship's lookout was my boys' favorite part, and they spent most of their time up on this perch.
While our boys explored the pirate ship and sand "beach", my husband and I watched from a comfortable bench with our infant daughter. The design was well-planned to consider the safety of children. The Playground is fully gated, and kids cannot enter or exit without an adult. Additionally, adults must be accompanied by a child to enter. The Playground is free, but there may be queues during busy times. Luckily, we did not have any wait times during our June and July mid-week visits. Our boys loved it so much that they asked to return on our last day in London. (Catherine from We Go With Kids)
Dragon's Hollow, Montana
One of the most amazing playgrounds we've visited in the world with our son was the Dragon's Hollow Playground in Caras Park in Missoula, Montana. Designed by artists and consultants after getting advice from local school children, it is a huge, mostly wooden structure enclosed by a picket fence and with a chip barking floor.
It is a playground with swings, slides, musical play features and areas for younger babies and toddlers as well. But the best feature of all is the huge dragon-themed play house which has tunnels, stairs and slides for kids to get well and truly lost in. I even had to rescue our then three-year old son from one of the higher platforms.
It is located in Caras Park just behind the Carousel for Missoula building and is open all year round. It is free and is ideal for children between the ages of 18 months and 12 years old. There are even seats around the edge of playground for parents to sit while the kids play. We felt it was an extremely safe area and an ideal place to let a younger child run off some steam. (Cath from Passports and Adventures)
Superkilen Park, Copenhagen
Right in the heart of Copenhagen, this incredible urban space is home to 108 objects from almost 60 nations. Superkilen is a one-kilometer-long public park set in the neighborhood of Nørrebro. The park aims to celebrate the diversity of Nørrebro, which is known to be one of the most culturally, ethnically and socially diverse neighborhoods in Copenhagen. Isn't it a lovely initiative to unite people of diverse nationalities living in Norrebro?
We visited Superkilen during our trip to Copenhagen this summer with kids. Children were delighted to have an open space all by themselves. They ran around, played on swings and inquisitively saw featured objects from all around the world. The Octopus slides from Tokyo turned out to be the favorite object for my daughter.
After hours of sightseeing, visiting Superkilen charged the kids and it was lovely to see their smiling and beaming faces. Famed as the strangest park in Europe, Superkilen instantly became one of my favorite playgrounds.
Superkilen's three distinctive sub parks – The Red Square, the Black Market, and the Green Park are uniquely themed and graced. We started our exploration from Red Square as it was our entry point while coming from Copenhagen City Centre. The Red Square hosts live performances and flea markets. Neon Signs from Moscow are sure to catch your attention here!
Right after Red Square, Black Market welcomed us with its one-of-a-kind modern art on the street and the beautiful Moroccan fountain. It's the place where you can sit, relax, chill, socialize or observe the local life. As we climbed down the hill in Black Market, the green carpet stretched out in front of us. The Green Park houses the varied sports fields. Pull up bars and climbing ropes kept kids busy while we rested on one of the benches.
You can take a 350S bus from Nørreport or catch a metro from Nørrebro Station to reach Superkilen. Hands down, it's one of the best yet free things to do in Copenhagen especially when you are traveling with kids. (Anjali from Travel Melodies)
Canmore Train Playground, Alberta (Canada)
Is there a toddler alive that doesn't go through a train phase at some point or another? Well, mine sure did, so I was thrilled to discover the existence of a TRAIN playground in Canmore, Alberta, Canada on a visit there last summer.Set in the middle of the incredible Rocky Mountains, under a big prairie sky, it's undoubtedly the most beautiful playground this mama has ever seen.
For the kids, a train with an engine and caboose is the big draw. It has small tables, seating, and a tunnel inside to crawl through. My 3 year old daughter had a blast at the adjacent "ticket booth," where she could fill little bowls with the pea gravel the playground is set upon. She also had great fun behind the booth pretending to sell me ice cream and train tickets. If they get bored of the train (they won't), there's also a few swings, a huge see-saw and a small spinner to play with.
Located next to a golf course, park and walking paths, the train playground can be found off the intersection of Three Sisters Blvd and Riva Heights. You can literally just type "train playground canmore" into google maps, and you'll be on your way. (Shelley from Travel Stained)
St Kilda Adventure Playground, Melbourne
One of the best playgrounds we've visited in Australia is hidden away in the backstreets of Melbourne's St Kilda suburb. It's so well hidden – next to a small park off Neptune Street – that two locals we asked didn't know it. However, perseverance paid off.
The St Kilda Adventure Playground is community-run, and is open 12-4pm on weekends, public and Victoria school holidays. It seemed to be a bit of a locals' secret, and there's a kitchen where you can make yourself a drink and sit outside in the garden for a while. The various attractions and slides have a wonderful ramshackle look to them. It's incredibly imaginative, with some great cubbyholes and treehouses for the kids to explore. All the materials used have been recycled, often in very innovative ways.
Overall it's probably best suited to kids aged 5 and over – our little fellow was just too little for some of the climbs. Not that that deterred him – he seemed to be heeding the signs saying 'Be Brave' and 'F.A.I.L. – First Attempt in Learning' even if he couldn't read them.
All in all, it's a brilliant playground with a wonderful aesthetic and green ethos. (David and Faye from Travel With Little One)
Mt Floyen Playground, Bergen, Norway
Bergen, Norway is home to one of our favourite playgrounds that we've found while travelling with our kids. At the top of Mount Fløyen is a playground suited for kids of all ages! There are fun slides built into the hill, plenty of climbing structures and even a small structure made for toddlers. Aside from it being a playground that would keep kids entertained for hours, you can make your trip up to it a full day experience! To get to the playground you can either take the Fløibanen Funicular or hike up a beautiful forested trail. At the top, besides the incredible view, a café and toilets, you'll also find the Troll Forest, Trollskogen, which is a fun little hike, and even an obstacle course and zip line for older kids. It doesn't stop there, if you are interested in spending more time hiking, the area at the top of Mount Fløyen has a huge array of incredible hikes, making the playground a great stop to keep the kids happy before continuing on your way! (Celine from Family Can Travel)
Park of Eden, Antwerp, Belgium
Park of Eden is a playground right outside the city centre of Antwerp, where you won't find any artificial equipment. Instead, there are tons of natural toys, swings and other forms of recreational gear to help your child in their game experience.
At only 30 minutes by bus from Antwerp Groenplaats, Park of Eden is a nature reserve of 23 hectares. The many hills and natural recreational equipment give the park a kind of rough and adventurous feeling. And especially in late spring, the amount of wild flowers can be overwhelming.
The Park is not a playground in the most common meaning of the word, but children can and will have the time of their life here. On the entire domain, they get to play with hills, fallen trees, tunnels and huts made of willow branches, trees to climb in and hanging bridges. There is even a natural pond for those hot summer days.
Children are not the only ones to enjoy the Park of Eden: it's a great getaway from the city and a perfect place for the whole family to relax, picnic or grill some meat on the public barbecue. (Babs from Travel Gear for Kids)
Dinopark in Plzeň (Pilsen) Czech Republic
You will feel like you are in "Jurassic Park" in Dinopark Pilsen! Kids love this place not only because of dinosaurs look like alive but also because of huge playground with slides, climbers and sandboxes.
There are only 9 Dinoparks in the world; each is a little bit different. 5 Dinoparks are in the Czech Republic, 2 in Slovakia, one in Spain and one in Russia. And all of them are manufactured in Pilsen Czech Republic.
What you can see and enjoy in Dinopark:
the huge model of Argentinosaurus: its weight is 70 tons and the length amazing 35 meters
the multi-entry to 3D cinema performing fairytales about dinosaurs
paleontological playground for children
amazing view of Pilsen City
In Dinopark Plzeň you can find tens of models of prehistoric animals in their original size and performing authentic sounds. Models of dinosaurs move with tails, heads, they are raking, blinking, chewing and screaming. Their body is covered by a specially developed a flexible artificial skin. (Sarka from Plezen Guide)
Frognerborgen Park, Oslo, Norway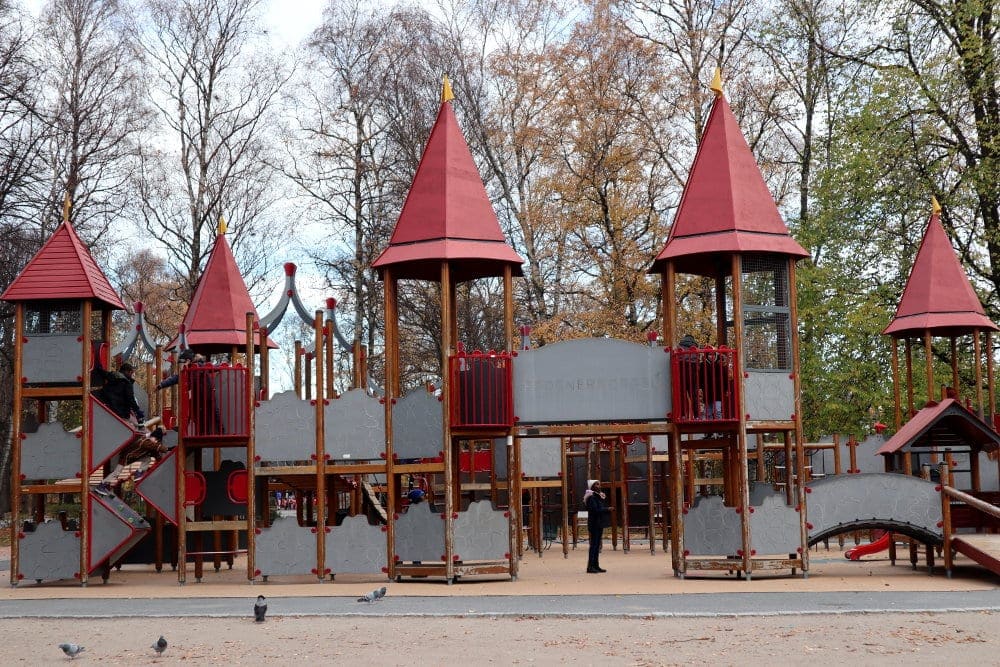 When the weather is perfect in Norway, nothing beats a day with the family at Frognerborgen park. Frognerborgen which means Frogner castle in English is one of the most popular playgrounds in Oslo, Norway. It opened its doors in 2006 and since then it has been a big hit among children of all ages. The huge structure is modelled on a castle. Every kid's dream of being a prince and a princess can finally come true. It has a huge climbing play structure where the active little ones can get a good sweat. Here they can run around the bridges, climb the mini monkey bars and ride the swings. Further, the castle has huge sandbox right beside where laid-back children can create their very own castle. On the contrary, the park has something to offer for the adults as well. Parents love the grill while watching over their kids. Just the perfect way to have some ideal family time. (Pierre from Anything Under Our Stars)
KLCC Park, Kuala Lumpur, Malaysia
KLCC Park is located in the centre of Kuala Lumpur by the huge Petronas Towers which were the tallest buildings in the world at one point. It is my favourite park for several reasons.
Firstly, this park is huge. It goes on and on and on. It's lots of fun and it also has a water playground part which is perfect with the heat and humidity in Kuala Lumpur. There's also a huge shallow pool area. It's well suited for younger kids. This is all free.
Secondly, it has a great vibe if you visit in the early evening. It's full of local families as well and there is a buzz which helps you feel like you are out and about and doing something far more exciting than the usual playground visit.
Thirdly, there are some great attractions around this park in addition to the playground. There is the Petronas Towers with a big shopping centre in its base as well as great science museum and an aquarium. (Sharon from Dive Into Malaysia)
Boo Rochman Memorial Park in Carbondale, Illinois
Boo Rochman Memorial Park is one of the best playgrounds in the American Midwest. Sometimes referred to as the Castle Park or the Dungeons and Dragons Park, this amazing playground is located in Carbondale, Illinois on the corner of Giant City Road and No Name Road.
A visit to this park of castles, dragons and wizards is a beguiling experience. Everywhere you look, there are small details and wonderful surprises to delight children and adults alike.
The giant castle play structure features hidden passageways, flying dragons, imprisoned captives, a throne room, wizards, guardsmen, and more.
A quick glance around the grounds reveals a Pegasus, a unicorn, a large dragon to climb on, and a variety of other enchanting sculptures to spark imagination.
A look in the trees reveals an archer ready to defend the castle or a pair of dark ravens sitting atop a dead branch.
Jeremy "Boo" Rochman, the park's namesake, was a local young man killed tragically in a car accident. He was an avid fan of the role-playing game of Dungeons and Dragons. As a tribute to their son, Jeremy's parents created (and maintains) this private park. (April from Minivan Adventures)
Darling Harbour Playground, Sydney
The Darling Harbour Playground is renowned as one of the best playgrounds in Sydney. It features a good selection of slides and swings, a sandpit and plenty of room to run around. There is also a 21-metre flying fox, a rope balance course and a fun water play area for cooling off in the Summer. The highlight for many kids here is the Octanet, a 10-metre high rope net, which poses a really fun challenge. A smaller rope net is available for little children.
The Darling Harbour playground is well located for visiting other popular family tourist attractions, being just a short walk from the Maritime Museum, Wildlife Sydney Zoo and Sealife Aquarium. There is the Danieli coffee shop kiosk located right in the middle of the playground, with a selection of healthy snacks for refueling, and the area surrounding the playground is also filled with cafes, restaurants and ice cream shops. (Marianne from Mum on the Move)
The Helix Park, Falkirk, Scotland
We spent six weeks in Scotland and visited a lot of the highlights and famous sights, but one of our favorite things to do was hang out in parks, walk through the hills, and generally spend time outside. When we went to visit the Kelpies (the world's largest equine sculptures), we discovered an adventure playground in the same park.
The Adventure Zone play park has equipment for kids two and older. Our eight and ten year old sons had a blast climbing across "spider webs," balancing on logs, and sliding down the crazy-steep and twisty slide. Thin, wooden pyramids, connected by tubes and net tunnels, became secret forts from which to wage battles. I loved that this playground stretched their imagination and creativity since it didn't have standard playground equipment.
There is a small concession stand and restrooms adjacent to the playground. Additionally, there are kilometers of walking and biking trails, and a lagoon where you can rent "pedalos" or pedal boats. Of course, you don't want to visit The Helix without seeing The Kelpies and the visitor center. (Mel from TravelingMel)
Where are your favourite playgrounds?
Have you got a favourite spot you'd be willing to share? We'd love to hear about it! Let us know in the comments and we just might add it to our list.
Looking for more fun things for kids (and adults) around the world? Check out our article on Europa Park in Germany.