Minnippi Parklands is a fantastic place in Brisbane's south-east to visit with the whole family. There is an impressive variety of things to do and places to explore. Get out and get active in a place that's just a little bit unusual!
Minnippi Parklands Facts
Minniippi Parklands is home to one of Brisbane's most special sites. There is a rare surviving lagoon that's still leftover from pre-settlement days. Most of these beauties (which are home to an absolute plethora of fish and birdlife) have long since been filled in to make way for the big city so it's a real treat to have access to what is, effectively, a time capsule of the area's past.
The park is accessible via Stanton Road West in Tingalpa. You'll be moving in behind the industrial estates that overlook the Gateway entrance.
There are a lot of things at the park, many of which you'll see on the drive in. The winding hectares give way to a remote-control plane airfield, an outdoor gym, a fantastic playground (more on that later) and the perfect little lagoon for feeding ducks.
Please note: We've put together an article on what to feed birdlife. Please read it before you go. HINT – Bread is DEFINITELY NOT on the list.
There are winding trails around that are perfect for scooting and skateboarding. In addition, there is plenty of parking, BBQ areas with accompanying tables and wonderful land to lay a blanket for the perfect picnic. This is a great destination for families at any time of year. And that's mainly due to…
Minnippi Parklands Playground – Take To The Sky!
This playground has to be seen to be believed. It's aviation-themed but it also has Grecian design elements so there's quite a lot going on. The control tower is sculpted beautifully from what looks to be gorgeous white stone. Little explorers can gaze out at the land before them as they survey the best spots to signal a landing. The playground is shady and definitely toddler-friendly.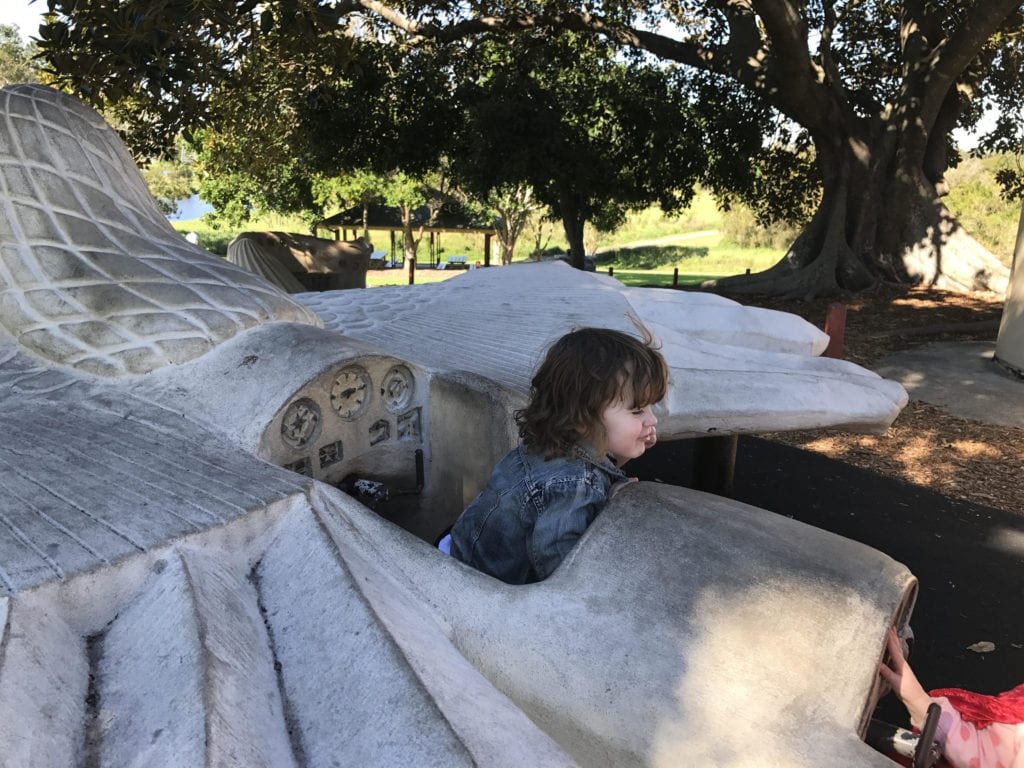 Back on the ground, you'll find a plane that children can jump in and pretend to control. There is plenty of room in this playground for quite a few little ones so there is no need for squabbles. This plane is 'Icarus inspired' and harks back to the myths of yesteryear about the boy who flew too close to the sun.
There is an amphitheatre built into the ground that's perfect for junior dramatisations. This is an imagination fuelled wonderland that demonstrates that things don't need to be made of out plastic to be entertaining!
Once you're all played out, head about 50 metres or so over the Porter's Paddock.
Porter's Paddock – For Remote Control Piloted Aircraft
This site that's inside Minnippi Parklands was named after the young son of a pioneering family who was killed in a plane crash near Bulimba Creek. Nowadays, it's home to weekend lovers of all things aviation who take to the sky with the greatest of ease. Kids will love to watch the planes dip and spin as they sit under shady trees and behind a protective fence.
Taking Calculated Risks
There are lots of opportunities at the MInnippi Parklands for children to take calculated risks. Allowing children to participate in slightly risky activities (climbing, reaching, moving) introduces them to concepts like resilience. If we cocoon our children from any and all risks they may struggle with taking chances and trying new things as they grow older.
You can read more about taking calculated risks here.
Exploring the Beautiful Minnippi Parklands
This is a wonderful area to get active in Brisbane's south east. Winding paths offer great opportunities for walking with or without a dog on leash (please note there is no off-leash dog park here). The play area and outdoor gym offer chances to get creative with your movement. Scooters, skateboards and bikes are definitely encouraged so the kids can go crazy on the tracks while you set up a delicious picnic lunch.
One of our favourite things was definitely the duck-feeding platform overlooking the lagoon. This is a great chance to get close to the water without getting right in it. Please note that you'll have to ensure the safety of your children at all times as there are points on this platform that do not have barriers. There are eels and turtles in the lagoon as well so keep your eyes peeled!
If the Imagination playground is beyond your child's capabilities, there is also a traditional playground near the carpark that has swings and slides.
Enjoying Family Time at Minnippi Parklands
Looking for more to do with the family? You're right around the corner from BOUNCE INC Tingalpa – a revolutionary trampolining play space that the whole family will flip out for!
Looking for another park in Brisbane's Southeast? Check out Wendouree Crescent Park
Got An Opinion On Minnippi Parklands Playground? Let Us Know In The Comments!