If you're looking for birthday present ideas for kids, have you thought about treating them to an experience rather than buying them more stuff? Let's be honest here – most kids in Australia want for very little. In most cases, they own so much in terms of toys, clothes and tech. 
In fact some might argue that kids in Australia today tend to have too much stuff! So if you are looking for birthday presents for girls or boys – how about something they can DO instead of what you can BUY?
In many cases birthday gifts for kids don't come any better than experiences. It's something they might remember for a lifetime. You can also find birthday gift ideas for teens here as well as cool birthday gifts for kids that younger ones will love.
If you like the sound of giving an experience – rather than more of the same birthday present ideas for girls and boys – then read on to discover 20 of the best birthday experiences for Brisbane kids!
20 of the best birthday experiences for Brisbane kids
An animal encounter at Australia Zoo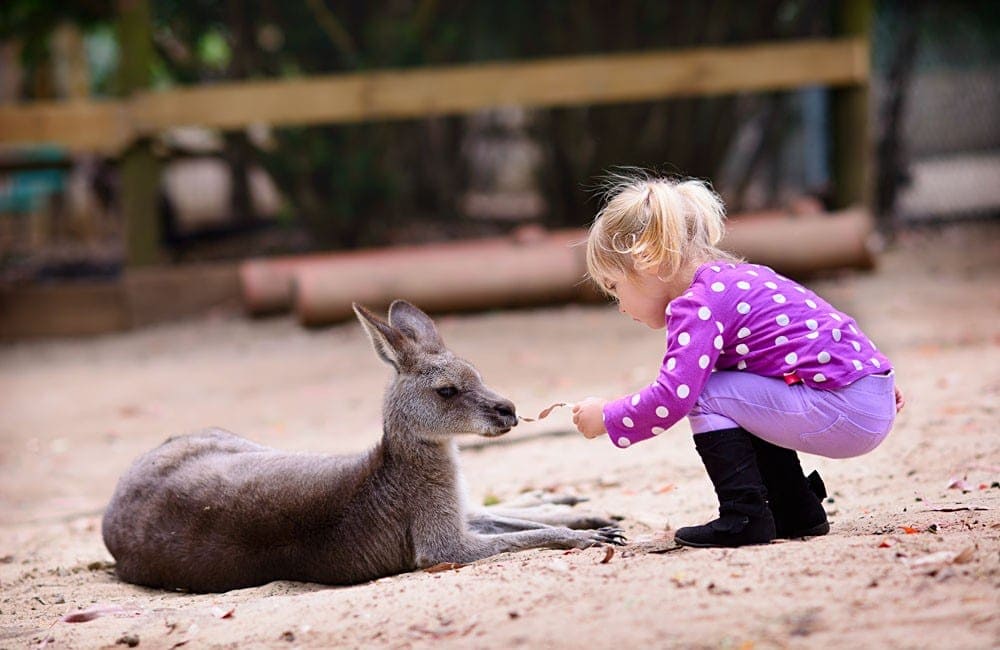 Book in for an 'animal encounter' at the zoo. Here you can take a walk with a tiger, pat a red panda or even feed a zebra! There are so many animals to choose from, plus even more opportunities for photos. A zoo ticket makes a great birthday present for kids.
Find out how to get FREE & cheap Australia Zoo tickets here
Hit the Brisbane skies in a hot air balloon
One of the best birthday gift ideas for girls and boys aged six plus is a hot air balloon ride over the Brisbane area. For an hour, you'll get the chance to see everything that lies between the city skyline and the Great Dividing Range.
The incomparable views are accompanied by a yummy breakfast too. You also get a full in-flight commentary and a commemorative certificate to take home. Kids might also enjoy the chance to try inflating and deflating the big balloon!
Book this hot air balloon flight over Brisbane here
Flying fox and high ropes adventure
A cool place around an hour from Brisbane is Tamborine Mountain. Here you can book a high ropes and flying fox adventure for kids. You'll need at least a few hours to make the most of the courses, but children can happily spend much longer than this.
120 obstacles and games, 12 zip lines and five levels of difficulty add up to a fun-filled day for kids aged eight plus.
Book your Tamborine Mountain high ropes and flying fox adventure here
Discover Dreamworld
Dreamworld tickets have to be one of the best birthday presents for children! As the name suggests, this Gold Coast theme park is what dreams are made of.
There's always so much to see and do at Dreamworld, as we've discovered many times ourselves! As well as adrenaline-inducing rides there's WhiteWater World slides, entertainment to experience and wildlife to fawn over.
Make sure you get all the best deals on Dreamworld tickets
See the latest show at QPAC
Perhaps you have an aspiring dancer in your midst. Or maybe a next generation arts admirer. Whichever it is, why not bring your child along to the Queensland Performing Arts Centre (QPAC) to enjoy the type of show that might well be remembered for a lifetime? It's one of the best birthday present ideas for teens, and some younger kids too.
QPAC is one of the leading performing arts centres in Australia. Live performances come from both long-established and brand new creative types, from the local area and across the globe. Genres covered here include comedy, dance, music, opera and theatre, so there's something for everyone.
Find out what is on for kids at QPAC here
Giddy up in the Gold Coast Hinterland
Want animal or sports related birthday present ideas for him or her? Then how about a horse riding adventure? For this you'll need to head into the Gold Coast Hinterland, but spending time in this unspoiled area is far from a hardship!
Why not make a one hour children's introduction to horses your reason for escaping the city for the weekend? You could also book some riding at a local stables in the area after they get up close and personal with horses.
Check out a Kids' Introduction to Horses here
Delve into an Aquaduck tour
Taking a tour of a Sunshine Coast resort by road, and then by water, is one way to book a kids' birthday treat they might never forget! There's lots to see, including mega mansions, local wildlife, trawlers and the waterways.
Children may also be given the chance to try their hand at steering the Aquaduck during the ride!
Click here for more on the Aquaduck Mooloolaba tour
Meet a superhero at Movie World
Want birthday gifts for kids who love movies – and of course their favourite superhero? Then take a trip to Movie World!
This Gold Coast theme park is Warner Brothers affiliated, and offers rides, 4D shows, entertainment and more.
During December, Movie World White Christmas is unmissable!
Flock to Flipside Circus
Flipside Circus is the biggest youth arts organisation in Queensland. It teaches kids the sort of performing arts they love to see at the circus via workshops. Also offered are performances – and birthday parties if they fancy bringing all their friends along too!
All shows here are created, performed and produced with children. As well as school holiday workshops, regular classes are offered in circus arts such as acro balance, hoops, juggling, lyra, tissu, trapeze and tumbling.
Go karting at Kingston Park
A go karting adventure makes a great birthday present for kids. Kingston Park Raceway is the ideal venue for this, and you never know: having a go might even help to hone their future driving skills!
You can go solo here, or sample a twin seat kart as long as the person driving it is aged 16 plus and is at least 1600mm tall.
A watery world at Wet 'n' Wild
Wet 'n' Wild is one of the top 20 theme parks on the planet in terms of visitor numbers. A ticket is an ideal birthday gift for a child who loves the water.
It's the most popular water park in the whole of Australia. The slides and other attractions here really are second-to-none. One of the top birthday present ideas for children, for sure!
Scale the walls with rock climbing or bouldering
One of the hottest birthday gift ideas for kids is to take them climbing. There are various climbing walls and gyms in and around the city, and you can choose between bouldering and rock climbing.
Bouldering is the art of climbing without any support such as a harness. The climbs are thus shorter, but more challenging in a technical sense.
Discover Brisbane's rock climbing and bouldering venues
Skim the surface of the ice rink
Ice skating presents another physical and mental challenge to children. An indoor ice rink is the safest and most pleasant place to sample the sport, as the surface is smooth, simply to glide over and therefore safer.
Iceworld is an Olympic size ice rink in Brisbane offering skating sessions, lessons, events and other ice sports. Skate hire is included here with ticket prices.
Find out more about Iceworld here
Try out ten-pin bowling
Ten pin bowling is another classic family activity that makes a really good kids' birthday gift. Just be warned – it can get very competitive out there on the lanes!
Strike Bowling in the city, Aspley 10 Pin Bowl, Logan City Tenpin, Zone Bowling, Kingpin Chermside, Strathpine Bowl and Zone Bowling Richlands offer some of Brisbane's best bowling alleys.
We rounded up all the best places to go bowling here
Ascend Kangaroo Point Cliffs by abseil
In the heart of Brisbane's CBD are Kangaroo Point Cliffs. Book an abseiling adventure for kids aged eight or over and they can experience the thrill of being lowered down over a 20 metre drop.
All instruction and equipment is of course supplied, and you need no previous experience. It's a great one for challenging yourself – and for seeing the kayaks, boats and catamarans that ply the city waters.
Click here to book a Kangaroo Cliffs abseiling adventure
Swim with humpback whales in Mooloolaba
Another activity you can enjoy if you head to Mooloolaba is one of the most awesome gifts for kids we've come across! This one's ideal for teens – or for kids aged over eight who are strong, competent swimmers.
You can only book this whale swimming experience in season, which in Mooloolaba runs from July to October. The trip lasts for about four hours. Whale sightings of course cannot be guaranteed, but participants get 50% off their next trip if they do happen to be unlucky.
Find out all about swimming with whales in Mooloolaba here
Play a game of mini golf
Mini golf is a classic for both kids and adults. The best place in Brisbane we've found is just two miles from the city centre, at Victoria Park Playground. You can enjoy a bite to eat here during your visit too, as there's a lovely bistro on site.
Victoria Park Playground also offers a rock climbing wall, and of course plenty of kids' play equipment.
Explore more about Victoria Parks Playground – or find more places to play mini golf in Brisbane
Go on a Gold Coast segway tour
Broadwater Parklands on the Gold Coast is the venue for a segway tour of the Gold Coast. If you want to find birthday gifts for older kids, this one's ideal for anyone aged 12 plus.
The tour lasts for 90 minutes, and follows the pathway by the ocean. So you can expect some magnificent, panoramic photo and video opportunities – great news for social sharing! An in-depth training session kicks things off to keep things as safe as they can possibly be.
Explore this segway tour of the Gold Coast here
Kick off with a Brisbane kayaking tour
If you'd rather explore your home turf – or see things from the perspective of the water – then a kayak tour of Brisbane could be ideal for kids aged eight or over. No previous experience is required, so this is next on our list of unique birthday gifts for children.
Under expert guidance from a qualified instructor, kids will kayak over the surface of the Brisbane River, taking in the city sights along the way. See Story Bridge, South Bank and more spread out before you from the water for around 90 minutes.
Check out this kayak tour of Brisbane here
Dive into Sea World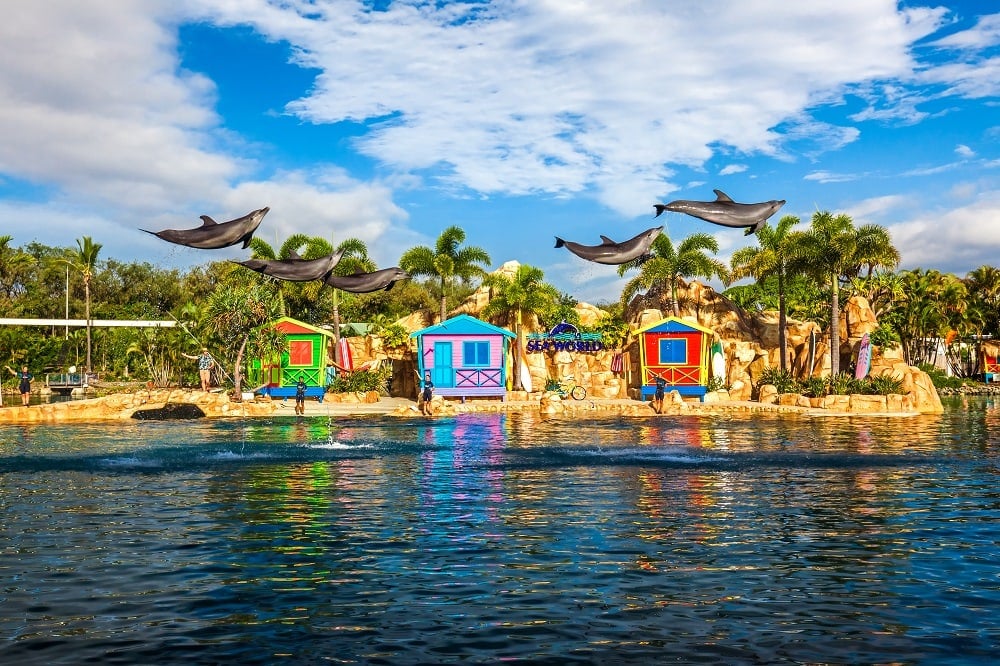 Tickets for Sea World on the Gold Coast are one of the best birthday present ideas for boys or girls. This marine animal park and oceanarium also doubles up as a theme park. It's also an important centre for conservation work.
Young kids can meet their favourite characters here, including the Paw Patrol pups, the Teenage Mutant Ninja Turtles and Nickelodeon characters. Or they can get up close to sea life, and take the thrilling ride of their lives.
Which birthday experiences will your Brisbane kids love?
From birthday gift ideas for friends to get involved with together to kids' gift ideas by age for teens, tweens, children and little ones, there are plenty of kids' birthday gifts to choose from.
Why buy more stuff than they need, when you could treat the children to something they might otherwise never experience – even in a lifetime? With options ranging from kayaking across the city or swimming with whales to theme parks, climbing adventures and even hot air balloon rides, the only question is which of these birthday gift ideas for kids to go for!