Have you ever played mini golf? These are some of our favourite places to play Mini Golf in Brisbane, so if you've ever fancied swinging your putt on the green, give these a try!
Hint: to help you find the one closest to you, there's a handy map at the bottom!
What is mini golf?
Mini golf is a family-friendly game in which players navigate a number of twists, turns and obstacles along a miniaturised golf course. The aim of the game is to 'putt' your ball through the course and into each hole in the lowest number of attempts – hence the game's other name: Putt Putt! You don't need any skill to play – in fact, the less skill you have the more fun it can be – and all equipment is provided at the venue.
Putt, play and pancakes!
It's no secret we love Victoria Park Golf Complex. Situated in the hills of Herston with views over the Brisbane city skyline, Victoria Park is a place you can easily putter away a few hours.
The Victoria Park Putt Putt course is 18 holes of immaculately landscaped mini golf challenges, but the fun doesn't end there for little ones. There's also a fantastic adventure playground to keep the kids entertained while the grown-ups enjoy the many culinary dining experiences on offer. Check out their bistro here.
Our hot tip is to head there on Saturday and Sunday mornings when the market carts are out – the hot Dutch pancakes are divine!
Victoria Park putt putt course is open from 6am until late at night, seven days a week. Prices start at $14 for children but they have lots of special offers and package prices on their website.
Victoria Park Golf Complex also offers junior golf lessons.
Address: 309 Herston Road, Herston
Glow-in-the-dark mini golf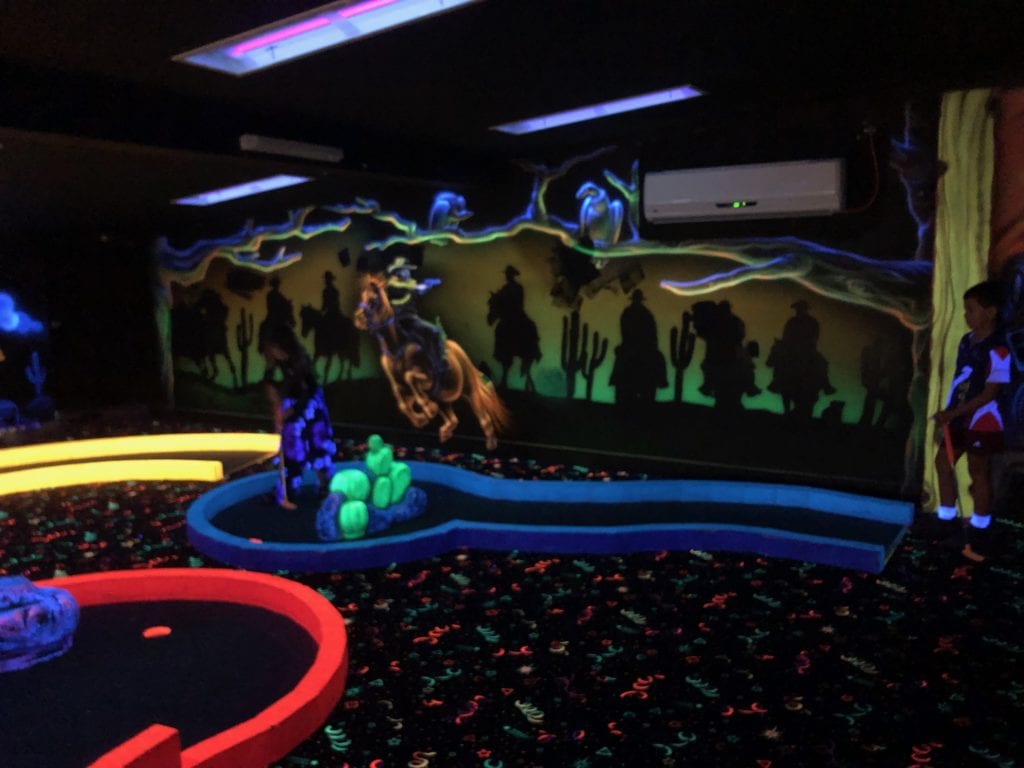 Your kids will love this Wild West themed glow-in-the-dark mini golf course, and it's the perfect venue for rainy day round of indoor fun.
Caboolture Mini Golf is 9 holes played on a glow-in-the-dark course amidst a vibrant neon light show and a pop music party atmosphere. The course is just like the old carnival style courses with colourful characters and quirky scenery – it's sure to be a hit!
The same venue also hosts glow-in-the-dark bowling and laser tag, making it an ideal place to host a kids' birthday "par-tee"!
Mini Golf at Caboolture is $5 per round, with discounts for members and multiple bookings. Open 9am until, late seven days a week. Find out more here.
Address: 207 Morayfield Road, Morayfield
Golf Central BNE
Grab your passport and get set to travel the world in 18 holes! Visit the countries that visit Queensland as you navigate this undulating mini golf course right next to Brisbane airport. Afterwards you can browse the stores at DFO or kick back and do a bit of plane spotting.
Golf Central BNE is open from 7am until late, seven days a week. Prices start at $12 for children, with discounted family packages and deals available. Find out more here.
Address: 40 The Circuit, Skygate
Alexandra Hills Hotel
Alexandra Hills Putt Putt course is suitable far all ages to enjoy. It has12 spectacular greens with 48 holes -kids, beginner, intermediate and advanced pins on each hole. The course is available for birthday party bookings, and there's a kids playground there too.
Prices start at $13 for kids, with family passes and group discounts also available.
Address: 332 Finucane Road, Alexandra Hills
Putt-putt with your foot-foot?
Leave the putter at home because this game of mini golf has been upsized! In footgolf your feet are the golf clubs and you become the 'mini' in this Lilliputian putt putt twist.
Footgolf is played on a large green following rules similar to regular golf, but instead of a golf ball the game is played with a size 5 soccer ball. Players must kick the ball along the course, avoiding bunkers and sand traps along the way, to sink their ball in each hole in the least number of kicks. You can even play at night too as the course is floodlit!
Mt Gravatt Mini Golf is the first place in Brisbane to offer a purpose built footgolf course, so if your soccer-mad kids are looking for a new way to test their skills this could be their new favourite challenge.
Mt Gravatt Mini Golf also offers two miniature golf courses, including one under cover, and the option to host your party or event there for all ages. Find out more on their website.
Mini Golf at Mt Gravatt starts at $5 per child, while Footgolf starts at $8 per child. Family passes are available. The courses are open from 9am daily, seven days a week. Find out more about all the golfing and party options on their website.
Mt Gravatt Mini Golf & Mt Gravatt Footgolf
Address: Mt Gravatt Showgrounds, 41 Broadwater Road, Mt Gravatt
The Jungle Adventure Play – Tingalpa
Vine-covered ruins, the colourful wreckage of a plane, a giant snake, deserted miners' camp, ancient totems and an army truck riddled with bullet holes.
Stretching across 16 safari-themed holes, the mini golf circuit leaves no stone unturned in creating a lush jungle environment that is accessible for all ages and abilities. There are at least two available routes for each hole – an easy path for explorers whose skills (and attention spans!) may be a little under par and a more difficult track for enthusiastic bushwhackers.
There is a fully licensed café and Vines Restaurant on site, and the venue is also home to an amazing adventure playground and trampoline park.
Find out more about The Jungle Adventure Play here.
Address: 31 Proprietary Street, Tingalpa
Holey Moley
Forget the usual windmills and castles, putt your stuff through shark-infested waters and pop culture references like The Simpsons couch and into the Nine Iron Throne itself. Each hole will keep you wanting more.
Holey Moley putt putt is entirely undercover (in 3 locations!) and offers school holey-day specials. Find out more here.
Locations:
25 Warner Street, Fortitude Valley
Level 1, Wintergardem Queen Street, Brisbane City
Level 2, Outdoor Dining, Cnr Gympie & Hamilton Roads, Chermside
St Lucia Golf Links
Putt your way around the stunning 12-hole rolling landscaped course.
Enjoy state-of-the-art landscaping and long, expansive greens, with full night-time lighting. It's the perfect spot for your next family outing or get together with friends.
Open seven days a week, day and night, and no bookings are currently required at St Lucia Mini Golf. It's the perfect place for a last minute day out with the family.
Address: Carawa Street, St Lucia
V-Golf Brisbane
The V-Golf putt putt Brisbane course is fun for all ages, and has been designed to be more of a putting course rather than a traditional putt putt. Prices start at $12 for under18s, no bookings required. Find out more here.
Address: Cnr Sandgate Road & Parthenia Street, Boondall
Jurassic Adventure Golf
If you don't mind the drive you'll find a world-class championship mini golf course at Thunderbird Park in the Gold Coast hinterland. Fantastically landscaped and themed, it has water hazards, rock traps, bridges to cross, obstacles and sand bunkers to get caught in, all set amidst the stunning scenery of lush ancient rainforest. To make it fair there are three holes per green, rated beginner, intermediate and professional, or you can just go pot luck and see which one you sink. Make sure you don't mistake those Thunder Eggs for your ball though!
Thunderbird Park mini golf is open seven days a week from 8am to 5pm (open late until 8pm Thursdays). Prices start from $9 per child and $12 per adult. Discounts are available for groups of 15 or more and families. Find out more here.
Thunderbird Park Adventure Golf
Address: Corner Cedar Creek Falls Road, Tamborine Mountain
Parkwood Village, Home Of the Gold Coast Titans
Parkwood Village is a state-of-the-art Golf Precinct on the Gold Coast. It combines all things golf, mini golf, restaurant dining, golf simulators, weddings and events, and a plethora of health, sport, and entertainment options for the whole family. With a kids play area, market-style food, and live music and sport every weekend, there is something to sustain the interest of every family member.
Parkwood Village
76-122 Napper Rd, Parkwood QLD 4214
Not mini golf – SUPA golf – permanently closed 🙁
Supa Golf is a game for big heads: big golf club heads that is! Everything in Supa Golf has been super-size to make the game easier for the whole family to enjoy. The balls are 2-3 times bigger than a regular golf ball but soft, neon bright, and lightweight. The golf clubs all have larger heads too, taking the frustration out of the game for younger children who are still developing their coordination.
The game is played over 9 holes (taking around an hour) set on a gently undulating course behind the beautiful Sirromet winery at Mount Cotton. Be sure to look out for the local wildlife – the wallabies at Sirromet love watching the Supa Golf entertainment! Supa Golf a fun and relaxing way to get everyone outdoors in the fresh air.
Supa Golf is open 10am-4pm, seven days a week. Prices start at $15 for children, with family passes and annual passes available. Find out more here.
Supa Golf Mount Cotton – permanently closed
Sirromet Winery, 850 Mount Cotton Road, Mount Cotton
Why play Mini Golf?
Aside from being heaps of fun and enjoyable for the whole family, mini golf improves coordination, spatial awareness, and concentration. It's also a sneaky way of teaching kids about angles, gravity, curves and refraction (but we won't tell if you won't!).
Map of Brisbane mini golf locations
This map is interactive, use your fingers to zoom on the map (or scroll with your mouse if using). Tap on each golf icon to get driving directions!
This article featured in Issue 31 of our printed magazine, published December 2018.