UPDATED JULY 2020: BEST Things to do in Airlie Beach with Kids
10/07/2020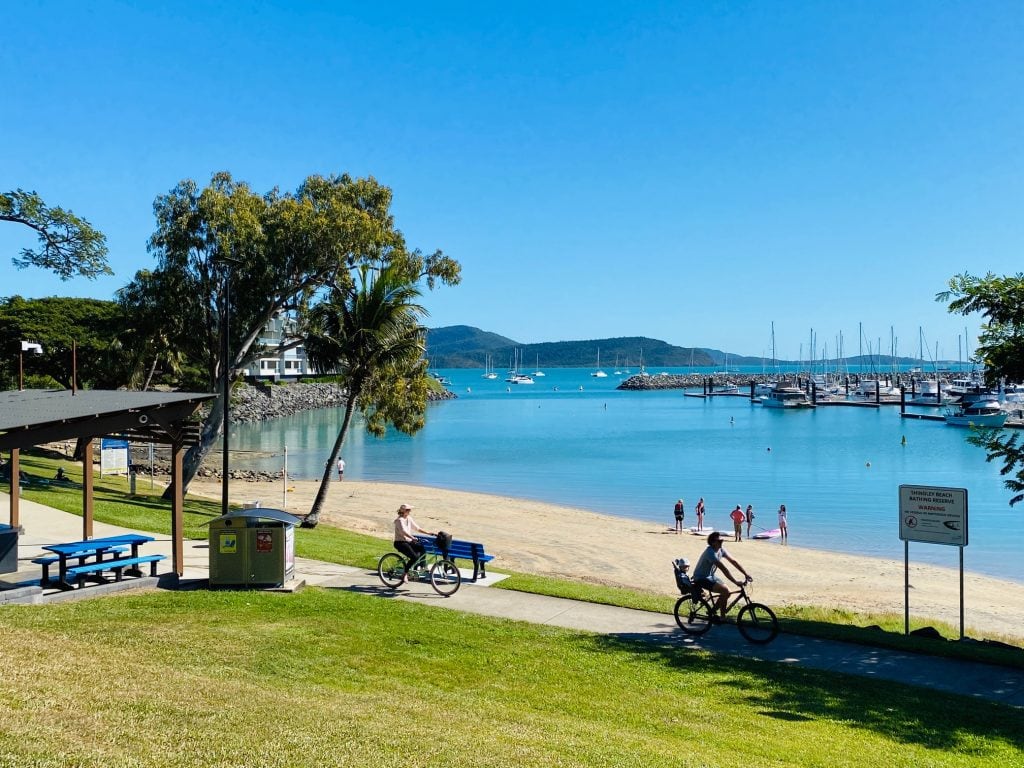 Recently we travelled up the north coast of Queensland and found the BEST things to do in Airlie Beach with kids!
This list of Airlie Beach attractions and activities will help you plan what to do in Airlie Beach when travelling as a family. There are plenty of things to do in Airlie Beach with toddlers as well as older children! In fact the Whitsundays with toddlers is the perfect place to have a family holiday.
Airlie Beach for kids – so much to do and lots of family activities in Airlie Beach that will be fun for all ages from toddlers to teens!
We also have the list of the best family friendly accommodation in Airlie Beach too!
Tuk Tuk Tours in Airlie Beach
Just arrived in Airlie and not sure what to do or where to start?? We have your answer – check out Just Tuk'n Around who will show you all the best sights (and a few secret places) around Airlie Beach. If you want to get your bearings in the shortest amount of time, these Tuk Tuks are the way forward. Super fun, with lots of local knowledge, your hosts will whizz you around Airlie's footpaths and boardwalks and make sure you and your family are left with a full itinerary of things to do in Arlie Beach by the end of your tour!
Website: Just Tuk'n Around
Airlie Beach Lagoon – kids activities in Airlie Beach
This swimming attraction is located in the middle of the main street and overlooks the sea, and best of all – it's free! Add it to your list of cheap things to do in Airlie Beach!
It's great for children and adults as it has a variety of different depths of water to suit all swimming abilities. It has a man-made beach and a playground, giving you plenty of activities to experience with your little ones. It has areas of shade, toilets and outdoor showers.
This lagoon is the perfect place for families, its beautiful and accommodating. It's our number one choice of things to do in Airlie Beach with kids.
Brand new playground!
Opened in June 2019, this huge playground is perfect for families with adventurous kids. Boasting a huge 10.5metre high skywalk, sky cabins, mega slides, rope bridge and multi-level pirate ship the playground is sure to be a hit with your kids.
The new playground also includes a climbing net, three gigantic slides and a pirate ship playground for younger children. You will find this fantastic playground down near the sailing club.
The Great Walk
This is one of our favourites – fun things to do in Airlie Beach!
This walk is a beautiful experience of the Conway Ranges. Whilst Airlie Beach is renowned for its wonderful coastal features, this rainforest is a must see. It has a 27 kilometre long track that finishes along the ranges of Airlie Beach, however 27 kilometres might be too far for the younger ones to trek, but it istill a wonderful trek even if you only do a small part of it.
It's a great opportunity to immerse your little ones in the beautiful scenery of the rainforest; you could even play a game of eye-spy.
Find a list of all the walks, their lengths and difficulty rating here.
Cedar Creek Falls
These falls are situated about 30 minutes out of Airlie Beach towards Conway Beach, Whitsunday Area and are a must see for families. Its recommend you visit in the wet season (November to April) but it falls most of the year. We were lucky enough to take the above photo in July!! Its home to cold fresh water and little freshwater turtles that children love to spot.
You can even walk up to the top and bathe in the running pools.
Families Tip: Don't forget to pack the mosquito spray.
Beaches around Airlie Beach
There are so many beaches around Airlie (and just out of Airlie), we thought we would give you a rundown.
Coral Beach and the Beak hike
Drive through Airlie and up towards Shute Harbour. Here, in the Conway National Park, you will find the beautiful Coral Beach. As the name suggests, there is no sand, just coral along the beach that makes for an interesting sit or lie down.
Hike down from the car-park (about 1km) to the beach – you can keep walking along the beach a little to find the path to walk back up the hill to enjoy beautiful views of the Whitsundays.
Find out more about this beach and hike here.
Conway Beach & Wilson Beach
These beaches are just a bit further past Cedar Creek Falls. That is about a 35 minute drive from the main town of Airlie Beach and offers beautiful sand and water to cool you off on those hot Queensland days. These beaches are home to the mouth of the Proserpine river, and this can offer some great fishing at low tide. But the best part of Conway Beach is what happens when the tide is out; it exposes over 1km of beach and is the perfect place to explore.
Kids will love finding the small pools left of the beach and spotting the sea life that is there until the tide rises once again. We saw a damaged stinger net and signs warning about crocodiles at Wilson Beach. Neither of these beaches are patrolled.
Boathaven Beach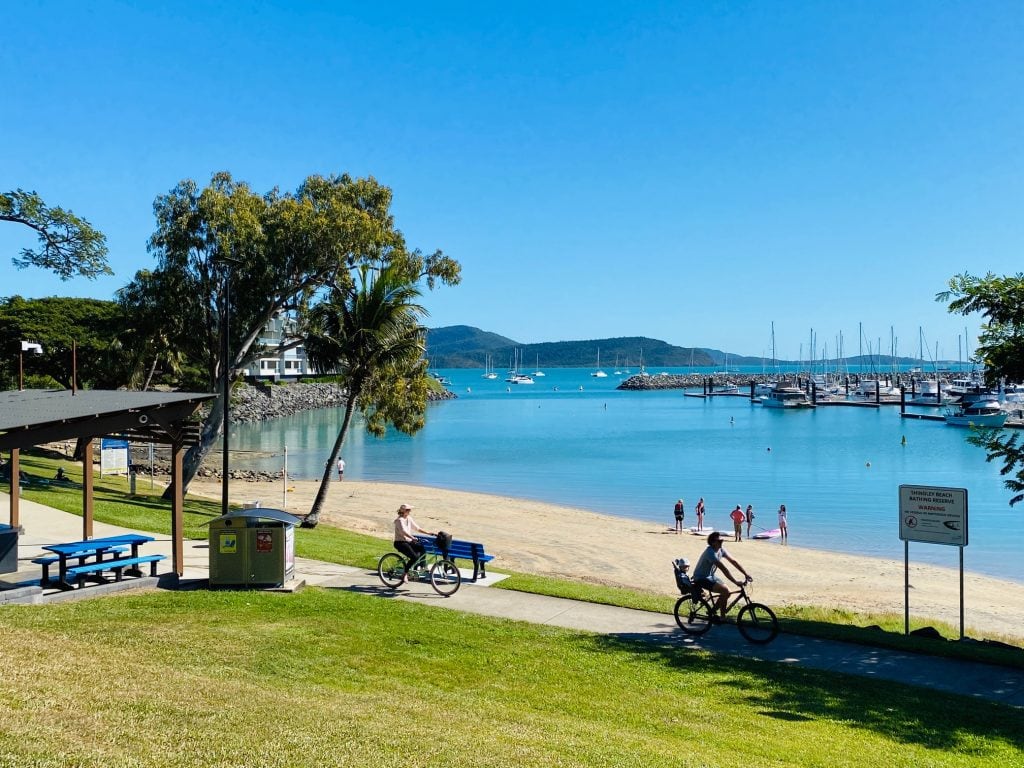 This is a secret little beach behind some of the most expensive homes at Airlie! Our friends from Just Tuk'n Around told us about this beach and the homes the run alongside. (One is worth $28 million!)
The locals called this *new beach* as it was constructed with imported sand. The beach is in the Port of Airlie, down near the sailing club. It's a tidal beach and with the beautiful white sand, the perfect place to wear your kids out. There's a stinger net that will allow you and your children to swim knowing you will be safe from the beautiful but sometimes nasty creatures of the sea.
Unfortunately, there isn't any shade shelters so be sure to pack the sunscreen and a beach umbrella. Toilet facilities are not located on the beach, however are accessible just across the road. Another one for your cheap things to do in Airlie Beach list!
Cape Gloucester Resort & Beach
How gorgeous is this place?! Another little secret spot tucked away about 45 minutes north of Airlie Beach. Established in 1995 with the purchase of 150 acres on the eastern shore of Edgecumbe Bay, Cape Gloucester Beach Resort was designed to be a small, inviting and environmentally sustainable resort.
You will find it just past Hideaway Beach down a (sometimes) unpaved road! There is a quiet resort here, but the beach and swimming pool is open to day guests. Plan for a short drive up to the resort and have your lunch or just some afternoon drinks. You wont regret a visit here to this Airlie beach!
Dingo Beach
Dingo Beach is a short drive from Cape Gloucester and is a sandy, reef fringed, tropical beach encompassed by a small coastal community at the top of the Whitsundays. You will drive down a rural road through the local countryside, and find yourself in an environment that is quiet and perfect for families. Here there are no crowds, no hype, no traffic, no resorts.
There are secluded beaches and deserted bush settings from the numerous walking tracks.
The highlights of Dingo Beach include:
sightings of migrating whales, see dolphins, manta rays, turtles and other marine animals
over 50 species of birdlife – this area is an ornithologists paradise
the beach has a marine stinger-free swimming enclosure
BBQ Facilities
Public toilets and showers are available at the foreshore
Come and walk our long, sandy and unspoilt beaches
The Board Walk
This walk begins at the sailing club and is a favourite for cruises that send tender boats to the shore. It continues all the way to Cannonvale Beach that is 4.7km away. The best part of this walk is the sea life that can be spotted, and the joy that kids will experience when they spot the many turtles is wonderful. Along this walk there are playgrounds, cafes and bars and the entirety of the walk is on flat ground, so it's perfect for the whole family to enjoy.
Airlie Beach Markets
Every Saturday morning right by the beach, Airlie puts on markets that sell local foods, delicious coffee, clothes, homewares, posters, toys and even experiences like camel rides. These markets are the perfect place to take a stroll with your family, munch of some delicious foods and drinks and take a moment to soak in the sunshine beside the beach.
The kids and adults will love getting amongst the local vibe.
BEST Airlie Beach activity deals
We've found these great Airlie Beach activity deals for families who are looking for the best things to do in Airlie Beach and like a bit of action!
Wildlife Eco Bay Cruise from Airlie Beach
This leisurely 60 minute wildlife eco cruise departs from the boat hub in Airlie Beach to cruise the waterways in search of marine life. Keep a lookout for turtles, dugongs, dolphins and spotted eagle rays that frequent the waters surrounding the Whitsundays Region.
This cruise is a lovely half day activity that is perfect for all ages. Not only is it fun but also educational as you learn about the marine life that inhabits the Whitsundays and the Great Barrier Reef. There is a large turtle population so it almost guaranteed that you will spot these gentle creatures swimming in the waterways around Airlie Beach. Interesting and informative commentary is provided throughout the cruise and be sure to have the camera ready when you see the wildlife in action.
Find out more about this wildlife tour here.
Great Barrier Reef Tour – Cruise Whitsundays
We also spent a day ticking off another item on our school holidays bucket list – a tour and a snorkel on the spectacular Great Barrier Reef. We were up early for our 8am departure from Airlie Beach. We spent the day with Cruise Whitsundays and travelled out to Hardy Reef. The kids loved being able to get right amongst it with the coral and the fish on the reef.
Here is what you need to know:
You'll board one of the region's premier vessels and depart from the Airlie Beach marina around 8am. You will enjoy a morning tea, lunch and afternoon tea – all provided. The crossing through the open water is bumpy – expect a lot of *motion on the ocean* even on calm weather days. Expect stunning views and a team of staff that will truly care about you and take care of your needs as you travel with them. During the trip out to the reef, they will ask if you would like to do any dives (for an additional cost) or if you are happy to snorkel (included in the cost). We chose to snorkel and were happy with our decision.
When you get to the reef, you will pull up alongside a huge pontoon where you can get your wet-suits, stinger suits, life jackets and masks and fins. We spent about 4 hours out at the pontoon – snorkling, having lunch, taking a ride in the semi-submarine (perfect for those who don't want to get wet!) and admiring the view.
I highly recommend this reef trip – whilst we saw a family with a small baby with them on board, I would suggest this is suitable for families with upper primary and high school aged kids.
Check out the Great Barrier Reef Tour here.
Find out more about Cruise Whitsundays here
Whitsundays Segway Tours
Explore the lush rainforest and picturesque coastal areas of the Whitsundays in a truly unique way with a guided Segway tour that offers a cavalcade of wonderful sights! A Segway is a mechanic, two-wheeled vehicle that saves your legs from walking and allows you to travel upright while taking in all the Whitsundays' best scenery.
Choose between two available Segway ride options – either head deep into the delightful greenery of the Conway National Park and follow the Whitsunday Great Walk, or for watery views take an itinerary that follows the Whitsunday Bicentennial Boardwalk with views out to vibrant Pioneer Bay and beyond – as your experienced and friendly tour guides point out all the local landmarks, features and highlights.
We LOVE to segway – see our recent Brisbane segway experiences for kids here.
This tour is strictly for ages 12 +
Whitehaven Beach and Hamilton Island Full Day Tour
Another exciting way to see the wonders of Airlie Beach and surrounds is with Red Cat Adventures. Their Thundercat day boat offers an exhilarating ride around the Whitsunday Islands all in one day. The 2018 & 2019 Australian award winning tour visits the world famous Whitehaven Beach, Hill Inlet lookout and offers 2 snorkelling opportunities on the fringing Great Barrier Reef.
Thundercat is one of the fastest catamaran in The Whitsundays. Find out more here.
Whitsundays Crocodile Safari
This is a must do, and one the kids will absolutely love. Crocodiles at Airlie Beach, while slightly terrifying creatures, are beautiful and fascinating in their own way. You and your family could have the chance to smile at a crocodile on a whitsunday crocodile safari.
It's a great opportunity to get up close and personal with them while being safe and even has an educational aspect with all the cool new facts you will learn. It's guaranteed the kids will be putting this adventure as one of the best yet. Find out more here.
Experience Airlie from the water
If you have older children perhaps you might like to take a more adventurous approach. There are many great experiences and things to do at Airlie Beach with kids that will get the adrenaline going like ocean rafting or jet boating or jet skiing. It's the perfect opportunity to get out amongst the scenery and the beautiful coast Airlie has to offer.
Family Friendly Accommodation Airlie Beach
If you are taking kids to Airlie Beach, you will want to find the best family friendly accommodation in Airlie Beach. Fret none, we've done our homework here too! These Whitsunday family holiday packages will ensure you have a great time but they wont break the bank account!
There are TWO BIG4 Holiday Parks, as well as a Discovery Park (my favourite) and other accommodation options for families. Check them out below.
BIG4 Adventure Whitsunday Resort
The stand out in family friendly accommodation in Airlie Beach comes in the form of the BIG4 Adventure Whitsunday Resort. It is located in Airlie Beach, 2.5 miles from Abell Point Marina.
A TV and DVD player are available in some units. A microwave, a toaster and fridge are also featured, as well as a kettle. There is also a kitchen in some of the units, fitted with a dishwasher. There is a private bathroom with a shower and free toiletries in each unit. Towels are provided. All rooms offer views over the garden, pool or Waterslide Park.
BIG4 Adventure Whitsunday Resort also includes a year-round outdoor pool, which is heated in winter and 13 waterslides. You can play tennis, mini-golf and pedal carts at the holiday Park. The holiday Park also offers a mini-market, poolside massage and an outdoor cinema.
BIG4 Whitsundays Tropical Eco Resort
Located next to the beautiful Conway National Park, BIG4 Whitsundays Tropical Eco Resort boasts an outdoor pool with sun loungers. All accommodation features a patio and garden views.
BIG4 Whitsundays Tropical Eco Resort is only 4 minutes' drive from Shute Harbour, the gateway to the 74 Whitsunday Islands. Airlie Beach and Funnel Bay are each within 5 minutes' drive.
The tour desk can help you book your Great Barrier Reef cruise, Whitsunday helicopter flight or Crocodile Safari.
Each villa and apartment is air-conditioned and features a kitchen with a microwave, stove and tea/coffee making facilities. All linen is provided.
Enjoy a fresh-cooked meal using the free gas BBQ facilities. Children have fun in the on-site playground area. Wi-Fi is available in all areas.
Find out more about the BIG4 Whitsundays Tropical Eco Resort here.
Island Gateway Holiday Park
Another favourite for families is Island Gateway Holiday Park.
The Island Gateway Holiday Park is set within tropical surroundings and has beautiful gardens and outdoor pool. It also features a children's paddling pool, a half-size tennis court and mini-golf. Free daily bird-feeding with rainbow lorikeets can also be enjoyed. Free WiFi, numerous BBQ areas and access to a computer are available.
This holiday park offers a variety of different lodging types, including cabins, deluxe villas, villas with spa baths, family villas, motels rooms and camp-o-tels (solid-walled tents with no linen.)
Staff at the holiday park are also available to help out with tour advice and bookings. Guests can also hire bicycles and buggies.
Island Gateway Holiday Park is a 2 minute drive from Port of Airlie, and a 5 minute drive or 20 minute walk from Airlie Beach central. A small kiosk is available onsite and the Jubilee Tavern is located directly opposite where you can enjoy a meal. The holiday Park is also a 3-minute walk from a small supermarket.
Mantra Boathouse Apartments
Situated on Port of Airlie Marina, Mantra Boathouse Apartments offers private balconies and stunning views of the Coral Sea.
This is an 'ApartHotel' and thus options include 2 or 3 bedroom apartments. Each spacious apartment offers a bathroom and a flat-screen TV with cable channels. The fully equipped kitchens include a dishwasher, microwave, refrigerator and stovetop.
The Mantra Boasthouse Apartment features a children's playground, swimming pool, a tennis court, and BBQ facilities.
Airlie Beach is home to an array of enticing dining options, within 10 minutes' walk of Mantra Boathouse Apartments. It is 20 minutes' walk from Airlie Beach Lagoon and 45 minutes' drive from Whitsunday Airport.
For more information click here.
Coral Sea Resort
This deluxe 4-storey award-winning resort is situated on Paradise Point in the exclusive seaside enclave of Airlie Beach. An oasis of luxury and tranquility, this resort offers free continental breakfast, a restaurant, a bar and 2 swimming pools. Free WiFi is provided.
Guests can relax in the lush gardens or work out in the fitness centre. The resort also boasts a private jetty and salon and massage facilities.
All resort features a flat-screen TV with cable channels and free in-house movies. Most feature a private balcony.
Your tropical continental breakfast includes cereals, croissants, yoghurt, cold meats and fresh fruits. Cooked breakfast options are also available.
A short stroll away via seaside boardwalk is the Abel Point Marina and the enchanting Airlie Beach town centre with a variety of shops, restaurants and entertainment venues.
For more information click here.
Airlie Beach things to do with kids
Did we miss your favourite? What would you add to our list? Leave your suggestions in comments below!
One response to "UPDATED JULY 2020: BEST Things to do in Airlie Beach with Kids"