Updated 2020
OK, we've found it, the ULTIMATE place to BMX, Skateboard or Scoot in Brisbane for kids! Kalinga Park may be well known for that amazing playground but real little adventurers know to bring their BMX, their skateboard or their scooter because Kalinga Park at Clayfield connects to Ross Park at Toombul along the Kedron Brook Bikeway – and between them, they're the ultimate adventure playground!
BMX Park? Check!
Scooter and Skateboard Ramp? Check!
Playgrounds? Check!
Hidden secret worlds? Check!
Climbing trees? Check!
Extreme train experiences? Check!
Wildlife? Check!
Click on the pins on this map to reveal where you can find each of the above. Then ride and scoot your way to the ultimate afternoon adventure for Brisbane kids on wheels!
This 1.5km round trip along a section of the Kedron Brook Bikeway has absolutely everything kids love to do and see in one lovely afternoon out!
Your Kalinga Park Day Out Starts at Ross Park Toombul
Ross Park Toombul is the semi-fenced play area between Toombul Shopping Centre and Toombul Train Station. Park at the shopping centre and head to the pathway under Sandgate road. You'll find yourself in Ross Park. OK so Ross Park isn't a show stopper as far as playgrounds go, but let's face it, when it's time to play in a playground, Kalinga Park is just up the the Kedron Brook Bikeway! It's a good place to fill the water bottles and for the grown-ups to sit back under a shady tree.
Frankly, though, we're not here for the swings – take me to the ramps!
Ross Park Skateboard Park
With ramps of all sizes and not too many big kids, Ross Park Skateboard and Scooter Park is perfect for primary school-aged kids who want to get on their scooter of choice and have a blast! It's one of Brisbane's largest scooter and skate parks so there are tons to keep kids busy and active. The whole day is well suited to cycling, bmx trickstering and scooting. These ramps include a nearby spot for parents to sit and watch but the park isn't well fenced, and it's right on Sandgate Road so younger kids will need a keen eye kept on them!
Ross Park BMX Track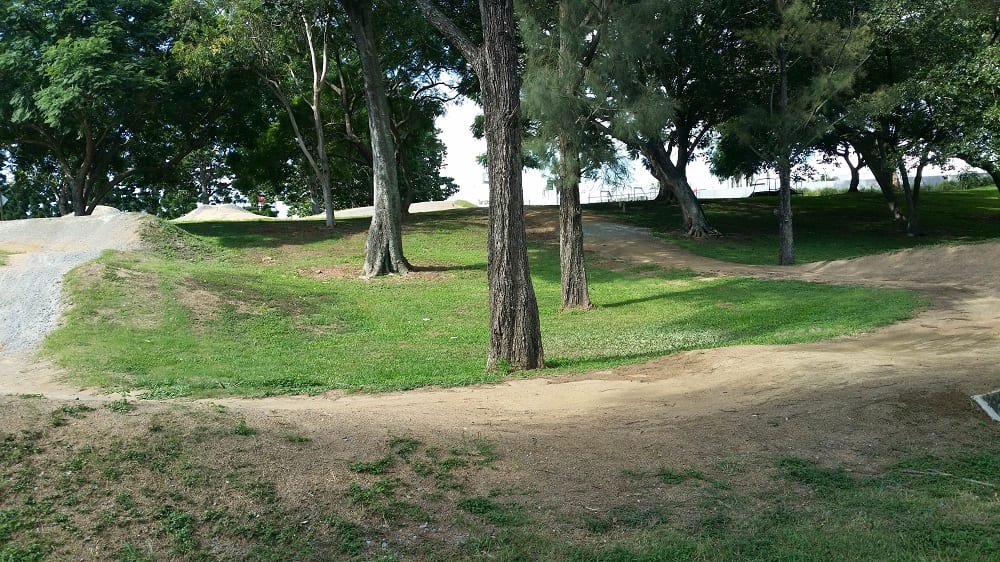 While the scooters and skaters are taking on the concrete playground (and the hilly pathways!) the BMX crowd can get their stunts on! The Ross Park BMX track is set on the side of a hill and features jumps, hops and lots of BMX challenges for big kids and little. The hill helps younger kids build up enough speed to get their stunts on! Of course, helmets and other safety gear are essential. Being a large, spacious outdoor area, with very few "big kids" this makes for a great "get out of the house" activity for little cyclists. Especially if you're trying to avoid close contact with others!
Hit the Kedron Brook Bikeway
The Kedron Brook Bikeway spans a lot of picturesque miles along Brisbane's north side. The Toombul to Kalinga Park stretch runs about 700 meters and is jam-packed with hidden treasures for kids. The concrete path is well maintained and generally free of litter. It's not just for scooters, skateboards and BMX – it's a busy cycle path so make sure kids are aware of bike path safety and etiquette.
The train of terror!
Got a little one who LOVES trains? The bikeway features an underpass to the busy Shorncliffe and Caboolture lines – meaning kids can stand under a train and watch it pass over their heads! It may not sound like a feature but this never fails to amaze kids big and small. Seriously, take a four year old out for a day on thier scooters and this is where you'll spend half the day. But…there's Kalinga Park just up ahead… no let's lie on the ground and look up at trains. Sure. That sounds fun too.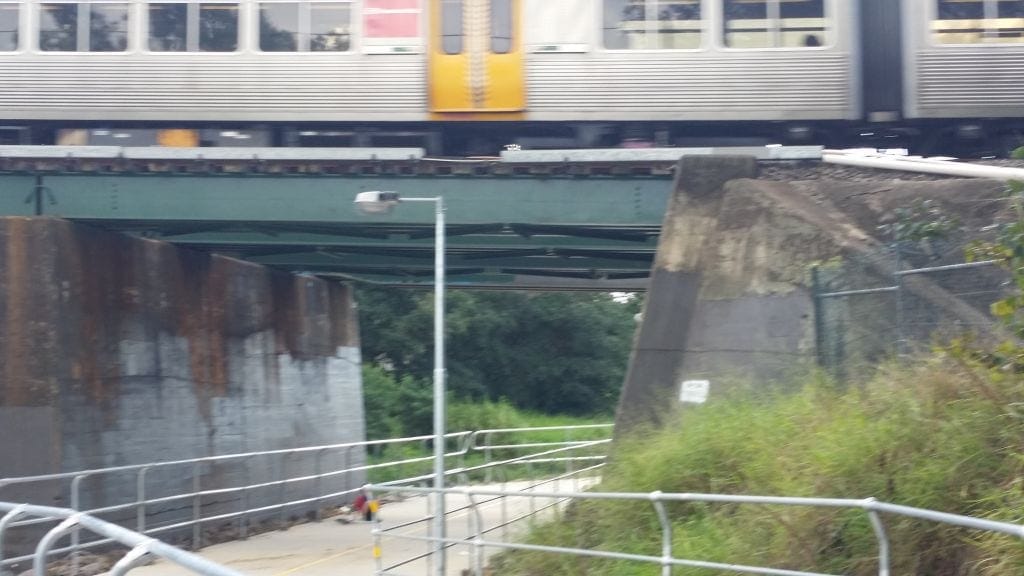 Wildlife and fun on the Kedron Brook Bikeway
Ross Park Toombul to Kalinga Park Clayfield is the ultimate road to nature! Ducks, birds, fish and a whole lot of lizards live along the bikeway so encourage kids to keep their eyes peeled for locals keeping an eye on them! If you're there early in the morning, you'll find dozens of very large water dragons sunbathing by the creek. They're fairly confident around people (so won't scutter off) but be sure to leave them in peace! This of course, is a golden opportunity for kids to get up (fairly) close with nature while learning about habitat and respect.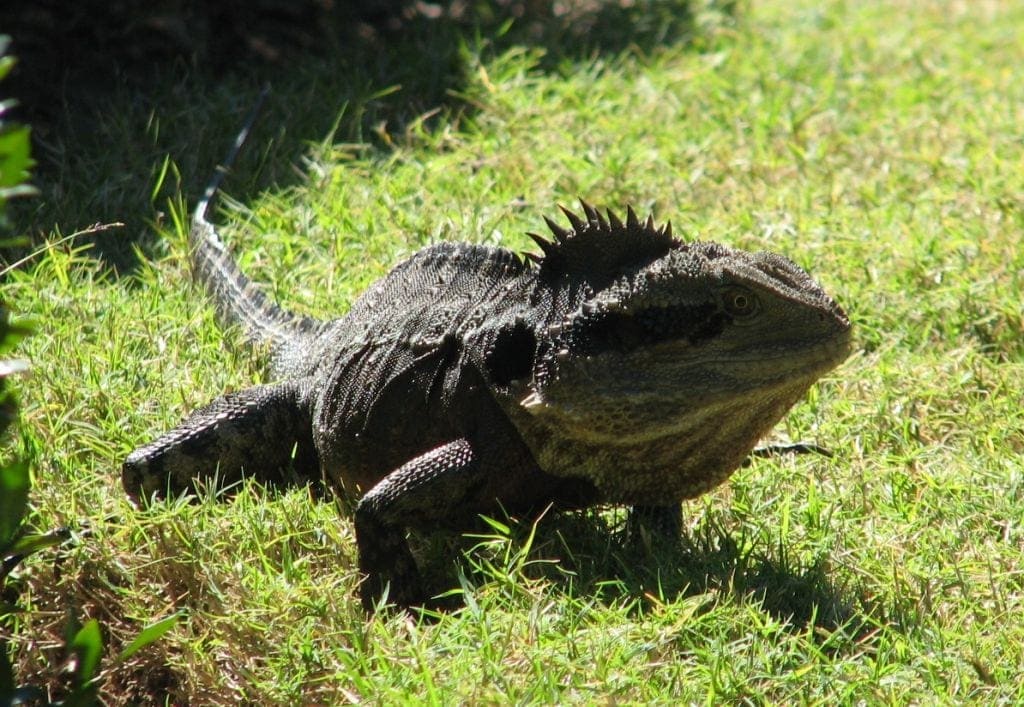 Just behind the indoor sports centre (better known as Inflatable World to most Brisbane kids!) you'll find some of the most glorious climbing trees in Brisbane. These feature shady benches for mums to take a seat while kids explore and climb. This path is well suited to prams and the frequent stopping spots make it a good option for "mums to be" to get outdoors with the bigger kids!
Follow the gently sloping hills along the cycle path to the bridge. It's an easy ride for kids of all ages and suitable for adults enjoy a short, fairly level walk. In other words, this amazing day out in the sunshine can EASILY be outsourced to grandma.
The bridge over Kedron Brook gives a bird's eye view of the fish and wildlife colonies in the creek. Unfortunately, it may also show you why it's important not to litter in public parks 🙁
Tip: If you don't cross the bridge and continue along the walking path by the creek on the northern side, you'll find a hidden world of discovery. Remnants of "Old Toombul" remain like ancient ruins – perfect for a mini-archaeologist!
Welcome to Kalinga Park!
Kalinga Park is well known as one of Brisbane's best play places for kids. You'll find massive play structures suitable for kids of all ages, a giant sandpit, a mini-roadway, dog park, BBQs, public toilets and all that good stuff we love about Brisbane's outdoor play areas.
Download the Ross Park Toombul bike path route for kids here.
Click here to download the map so you can have your own adventure!
Still not worn out?
The bikeway continues on to Wavell Heights playing fields and beyond, your big scooting day out can be as big an adventure as your kids desire. Pack some lunch in the pram or on the back of the bike and spend a day exploring Brisbane's picturesque cycle path. Scooter, BMX or skateboard, bicycle, pram or on foot – there's so many amazing features on this bike path – it's the ultimate way to get the kids out and active in Brisbane!
Want to know which scooter is the best one for your kid?
We love, love, LOVE this post by Stuff Mums Like – Best scooters for kids and adults!