Home
›
Independent Secondary & P-12 Schools
Ipswich Girls Grammar School Parent Fact Sheet
14/01/2018
For Brisbane Schools Open Days – Click Here
Ipswich Girls Grammar School offers high-quality education for girls from kindy to year 12 and boys from kindy to year 6. This innovative educational environment may be just what you're looking for when it comes to the right school for your child.
Why choose Ipswich Girls Grammar School?
Ipswich Girls Grammar School provides the opportunity for your daughter, or primary school aged son, to grow in an enriching, innovative and exciting educational environment. This is an established leader in the field of holistic education. Students of Ipswich Girls Grammar School are provided with ample opportunities to develop and flourish into civic-minded, well-rounded and worldly individuals. State-of-the-art facilities, passionate and expert teachers and a supportive administration and pastoral care system means that this is a school to be proud of. The fact that it offers boarding for the female secondary students means that even those outside of Ipswich can take part in something truly special.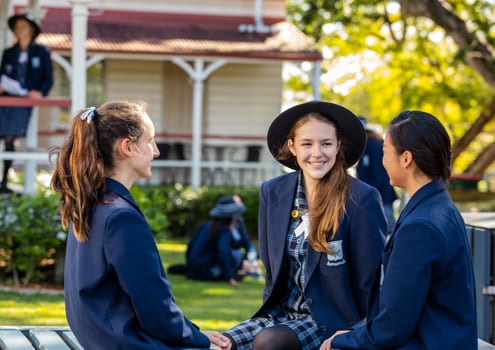 What are the co-curricular options at Ipswich Girls Grammar School?
The girls of Ipswich Girls Grammar School participate in the QGSSSA sporting competitions. That means that they have many chances to be involved in both team and individual sports.
Some of those options include:
Basketball
Hockey
Netball
Tennis
Touch Football
Volleyball
Football (Soccer)
Softball
Cricket
Athletics
Cross Country
Equestrian
Gymnastics
Tennis
Swimming
There is also a house sporting competition with various events held throughout the year.
There are a number of academic clubs and societies at Ipswich Girls Grammar School:
Chemistry
Debating
Duke of Edinburgh Awards
Literacy Competitions
Maths Challenge Group
Public Speaking
RobotIGGS & Coding
E-STEAM Workshops
Culture and the Arts are well represented at Ipswich Girls Grammar School. The School of Performing Arts was introduced in 2014 to encourage those who showed particular interest and aptitude. In addition to this, there are a number of other options:
Belle Voices
Cadenza Flute Choir
Concerto Strings Ensemble
Chorale singers
Strings Quartet
Wind Symphony
Dance Troupes
Theatre Sports
Combined IGS/IGGS School Musical
Are there scholarships at Ipswich Girls Grammar School?
There are a number of scholarship and bursaries available for prospective students. You might like to follow this link to find out more information.
What are the school fees?
Fees for day students from prep to year 12 range from between $2000 and $4000 per term.
Is there boarding available?
Ipswich Girls Grammar School proudly offers boarding facilities to female students from year 5 to 12.
Keen to know more about Ipswich Girls Grammar School? Follow this link to get in contact and arrange a tour!
For Brisbane Schools Open Days – Click Here