So the kids have been begging you for a trampoline for ages and you've finally given in but how do you go about finding the best trampoline for kids? There's a bit to think about when it comes to choosing a kids trampoline and no doubt you want to ensure you purchase one of the best trampolines Australia has.
If you're wondering which trampoline to buy and not sure where to start – let us help you! We've checked out a range of the best trampolines for sale and listed them here. In this trampoline Australia guide as well as walk you through the things to consider when it comes to buying a good trampoline, we also do a few trampoline reviews so you can decide which is the best children's trampoline for your family.
Why buy a kids trampoline?
If you're still on the fence about buying the kids an outdoor trampoline, here's some reasons we think a trampoline is always a great idea
Best Trampolines Australia comparison chart
Below is a quick overview of all the children's trampolines for sale that are reviewed in this guide. This table gives you a basic overview of each of the trampoline recommendations. For more information on these great trampolines, keep reading below.
| Name | Shape | Sizes Available | Buy Now |
| --- | --- | --- | --- |
| Orbit | Round | 135cm diameter | Buy Now |
| Plum Junior | Round | 4.5ft and 6ft | Buy Now |
| Everfit | Round | 10ft, 12ft, 14ft and 16ft | Buy Now |
| Springfree | Round | 2.4m, 3m and 3.9m | Buy Now |
| Springfree | Square | 3.4m | Buy Now |
| Springfree | Oval | 2.4m x 3.4m and 2.4m x 4 m | Buy Now |
| Up Shot | Round | 12ft, 14ft and 16ft | Buy Now |
| Plum | Square | 11ft | Buy Now |
| Plum Premium Magnitude | Round | 8ft, 10, ft and 14 ft | Buy Now |
| Lifespan Hyerjump 3 Springless | Round | 8ft, 10ft, 12ft, 14ft and 16ft | Buy Now |
Things to consider when buying the best trampoline for kids
When it comes to what's the best trampoline to buy, you will need to consider a range of factors. While there are lots of high quality trampolines available, there is no one best trampoline in the world, as we all have different requirements – such as yard sizes, budget and the age of our kids.
So that you purchase the best home trampoline for your family, consider the following factors.
Trampoline sizes
First things first, what size trampoline do you want to get? Or probably the better question to ask is how big is your yard? Don't go get a super big trampoline only to discover it won't fit in your backyard. Likewise, you don't want to get a small trampoline either only for your kids to soon outgrow it.
But even if you don't have a yard but live in a townhouse or apartment you can even get a tiny mini trampoline for kids, so they can still bounce away some of that energy.
Trampoline sizes range from mini to gigantic -so there is the perfect size for your backyard.
Shape of the trampoline
Trampolines these days come in all shapes and sizes – you can get a round trampoline, square trampoline, oval trampoline or rectangle trampoline. Round trampolines are more common as they are deemed to be safer than other shaped trampolines but consider the shape of your yard as maybe a different shaped trampoline will fit better.
Weight Capacity
Different sized trampolines have different weight maximums, so consider the weight of your children when deciding which is the best trampoline. Just remember that little lightweight toddlers, grow up to be heavy school aged children. So while a trampoline with a low weight limit might be fine now, consider a trampoline that will still be suitable when you child gets bigger.
Also consider whether mum or dad are likely to get on it as well.
Springs vs springfree trampoline
Once upon a time there was only the option of a spring trampoline, but these days there is the option of the springless or springfree trampoline as well. There is no doubt that a springless trampoline comes with less risk of injury, but they do come at a much higher cost.
Other benefits of a springless trampoline are they take up less space – because they don't have springs adding extra width to the trampoline and they are supposedly bouncier than a spring trampoline too.
Safety
Of course the number one thing to consider when purchasing a trampoline is safety. In order to buy the safest trampoline on the market, be sure the trampoline you purchase meets the requirements of the Australian trampoline standard AS 4989.
Here a few things you can check yourself to minimise the associated risks with trampolines:
Metal frames should be padded to avoid injury should a child fall and hit them;
Look for safety pads in a contrast colour to the trampoline mat so children can easily see where the mat ends;
Only use a trampoline with a netted enclosure;
Assemble the trampoline in accordance with the manufacturer's instructions; and
Abide by the manufacturers weight restrictions.
Trampoline reviews 2020
Below we take a closer look at some recommended quality trampolines available within Australia.
For those with barely any space in the backyard this Orbit Junior children's mini trampoline with net is the way to go. Measuring 135cm in diameter, its perfect for the smallest of spaces.
Recommended for children from the age of 3, the Orbit Junior trampoline is great for parents after the best toddler trampoline. This small kids trampoline uses high grade springs and is UV resistant to withstand the Aussie sun.
The Orbit trampoline complies with Australian standard, so you can be rest assured that this trampoline comes with all the necessary safety features. It has a net all the way round, safe door entry and shock absorbing pads.
With a maximum weight of 34 kgs, this miniature trampoline will last your kids a few years, making it a great choice if you're after the best mini trampoline for kids.
Click here to read more reviews or to check the current price.
If you're after the best trampoline for small yard, but the Orbit is just too small, the Plum Junior range of trampolines is another option to consider. Coming in either a 4.5 ft or 6 ft trampoline, these trampolines are ideal for people with small yards.
This Plum trampoline has a frame height of just 36 cm so little ones can easily climb onto the trampoline without the need of a ladder. This eliminates the risk of injuries that often comes with a trampoline ladder or a higher frame. Plus the trampoline has shorter length springs for a safer more predictable bounce which is ideal for young ones.
The Plum Junior range of trampolines are constructed with galvanised steel for strength and rust free protection. Like any good quality trampoline, this range of trampoline comes with an enclosure, padded springs and frame and the pads have been weather protected.
These small trampolines for sale come in the choice of two colours – a pink trampoline or a blue trampoline.
Click here to read more reviews or to check the current price.
For those with older kids and plenty of room in the backyard, you'll probably want to consider a large trampoline like one of these from the Everfit range. These big trampolines for sale come in a range of sizes including a 10ft trampoline, 12ft trampoline, 14ft trampoline and a 16ft trampoline.
With a large weight capacity, this is good trampoline if you have older children. Plus this is a trampoline with basketball hoop, so the kids won't be able to get enough it. I personally just love how it has a storage compartment so there is somewhere for the kids to keep their shoes.
The Everfit range of trampolines are made with a durable powder coated steel frame and feature 20mm thick UV protected padding, triple rate springs with additional netting to avoid kids stepping into the gap.
Coming with a 5 year warranty, you know these trampolines are built to last. They also come with a choice of two colours – multi colour or orange.
Click here to read more reviews or to check the current price.
There's no doubt about it, the safest trampoline to buy is a spring free trampoline. With spring free trampolines there is less chance of injuries as you don't need to be concerned with kids getting caught up with springs or falling on to them. So if you're after the very best trampoline on the market – this is it!
So how does it work? Well instead of metal springs these top rated trampolines use flexible composite rods. This eliminates pinch points that can trap feet or toes and result in injury. These trampolines also include a mat which is 30x more shock absorbent than other mats and eliminates hard edges at the jumping surface.
Coming with a whopping 10 year warranty, you know these trampolines are built to last! This high-end trampoline is made with double powder coated galvanised steel frames with three layers of rust protection. It also features UV resistant nets and mats to withstand the harsh Australian climate. Plus the frame is hidden under the jumping surface so there is no chance your child can fall on it.
The Springfree round range comes in either 2.4m, 3m or 3.9m.
Click here to read more reviews or to check the current price.
If you're after something a little less traditional, this 3.4 metre square Springfree trampoline might be worth considering. In fact this square kids trampoline with net is the bestselling out of all the Springfree trampolines.
Like the round range of Springfree trampolines, this square child's trampoline with enclosure has all the same great features. This trampoline has a great jumping surface of 3.4m x 3.4, which is basically equivalent to a standard 4.3 x 4.3 trampoline as the mat goes right to the edge. So there is heaps of jumping space.
Click here to read more reviews or to check the current price.
The last of the Springfree branded trampolines in this guide, are the oval range of trampolines. There are two oval trampoline sizes available either the medium which is 2.4m x 3.4m or the large which is 2.4m x 4m.
Again these oval shaped outdoor trampolines for sale are made with the exact same durable products and have all the same wonderful safety features as the other Springfree trampolines mentioned above.
Click here to read more reviews or to check the current price.
For those with a good size to large backyard, the range of Up-Shot trampolines is another good option to consider. These round trampolines include a basketball hoop and come in a range of large sizes.
Made with a heavy-duty galvanised frame, this is sturdy trampoline, which features full length support poles, unlike the shorter ones used on other cheap trampolines. This kids trampoline with enclosure also has triple rate springs, a Zen mat which has 8-line stitching for durability and a curved pole design, so kids have maximum jumping space. The trampoline also has a safe double lock zip and clip entry, handy storage pouch so kids can put away their shoes and of course the super cool basketball hoop.
The Up Shot range of trampolines comes in your choice of a 12ft, 14ft or 16ft and three colour options – blue, orange or multi-colour. The trampoline also comes with a 5-year warranty.
Click here to read more reviews or to check the current price.
If you have a small backyard and after a small trampoline with net, consider this 11 ft square shaped Plum trampoline, one of the very few square trampolines for sale.
This is a quality trampoline with a frame made from thick steel which is galvanised inside and out and 72 springs coated with zinc. For added safety, the net sits between the mat and springs which also protects children from the metal frame. The frame is covered with thick weather protected padding to withstand the harsh Aussie elements.
For families with smaller gardens, this square 11 ft trampoline from Plum is well worth considering.
Click here to read more reviews or to check the current price.
These round Magnitude trampolines are range of premiums trampolines from Plum. With these trampolines, no cost has been spared to design one of the highest quality trampolines on the market.
These trampolines are made from an extra thick, double galvanized steel and features a bracket underneath which encases the leg and frame giving added stability as well as protection from rust. The springs are made from high-galvanised steel and finished in a gold layer that will not rust, corrode or break and the thick safety pads and EVA foam which covers the poles have been UV treated.
The Plum Premium Magnitude trampolines come in a range of sizes including 8ft trampoline, 10 ft trampoline, 12ft trampoline and 14 ft trampoline.
Click here to read more reviews or to check the current price.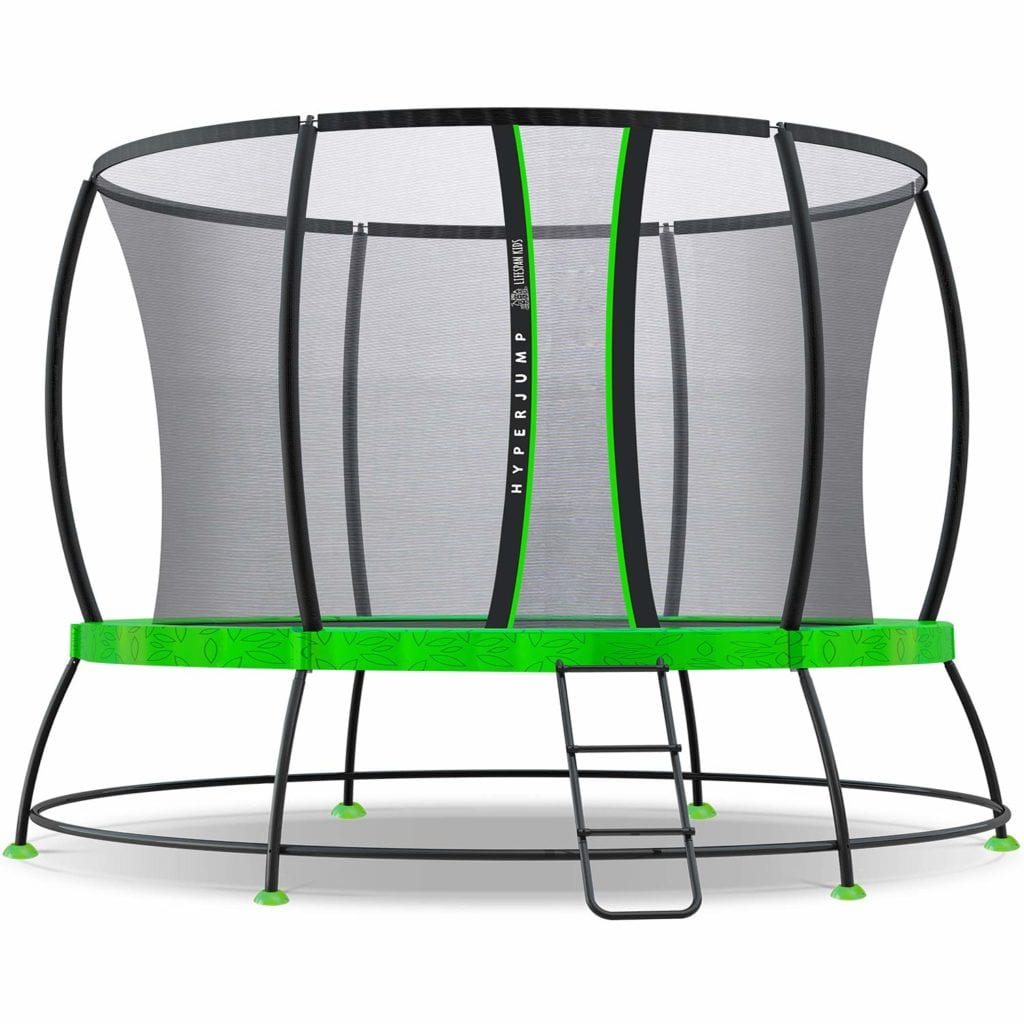 Lifespan is another brand that makes great springless trampolines. These guys make their trampolines a little different to the Springless branded trampolines, instead using heavy-duty plastic straps. The straps give just as much bounce as springs do, so your kids won't even know the difference.
The frame of these Lifespan Hyperjump 3 trampolines is made from heavy duty double galvanised steel and all parts are UV resistant. For safety the frame and straps are covered with PVC foam padding and the curved poles are fully padded. In addition, the trampoline features Smart Feet, which are stability-enhanced feet that distribute the force evenly through the ground.
The Lifespan Hyperjump 3 Springless Trampoline also comes in 8ft, 10ft, 12ft, 14ft and 16ft trampoline.
Click here to read more reviews or to check the current price.
If you are not ready to buy a trampoline, but want to get your kids out and bouncing check out these trampoline parks in Brisbane.