It's a time-honoured tradition; visit any agricultural show or exhibition and you just have to go to the showbag pavilion! Aussie kids everywhere – and especially Brisbane kids – love the excitement of choosing bags full of toys, practical jokes, dress-ups and lollies, and parents aren't excluded with a range of luxury item and branded showbags just for them. But what happens if you can't get to the show, or – horror of horrors – the show can't go on? Can you buy showbags online? Yes! Here's our guide to where to buy showbags online.
Updated – see below for showbags available in Queensland supermarkets!
Your favourite showbags from showbags.com.au
Showbags.com.au has all your favourite novelty and branded showbags including Cadbury, kids' TV favourites, sports and AFL showbags. Prices start at $6 each for well-packed confectionery bags, but if you click thorough to their sale or toys & gifts pages you will find individual novelties priced from only $1.95. At Showbags.com.au you can also buy showbags online with Afterpay, and get 10% off your first order via a pop-up window. Here's a selection of what you will find:
Bluey – Brisbane's favourite TV dog!
Harry Potter
Paw Patrol
Slime Zone
PJ Masks
Brisbane Broncos
Barbie
Cadbury Big Bite
Freddo & Friends
At showbags.com.au you'll also find a selection of branded stand-alone toys and gifts including water bottles, science kits and blind packs.
Check them all out at showbags.com.au
Showbag Shop for Ekka Showbags Online
The Showbag Shop offers 10% off your first order and Afterpay on orders of $100 or more. This is the store where you will find the famous Bertie Beetles showbags and all the 'grownup' showbags full of fashion and TV favourites. They even ship overseas so you can surprise friends and family who aren't able to attend a show in person! Prices start at just $12.00. Here is an idea of the showbags you will find:
Bertie Beetles – yay!
Allen's Lollies
Nestle range – Smarties, Kit Kat, etc.
Pop Culture, e.g., The Simpsons, Star Wars, movies and music
Nerf
Marvel Characters
Kids Creation
The Emporium Collection
The Showbag Shop also offers gift cards that you can buy for your niece, nephew, grandchild etc. to allow them to choose their own bags.
Chicane Showbags
Chicane Showbags is the brand name of The Showbag Shop. You can no longer buy showbags online at Chicane Showbags, BUT you can see all the showbags they will be selling at the Ekka, including a detailed list of all the contents and the the total value.
Check out the Chicane Showbags website here.
The Gamesmen Showbags Online
The Gamesmen offers a range of iconic showbags, including some of those manufactured by Chicane Showbags and Bensons Trading (lollies). You can buy now, pay later with Zip and they offer nationwide Express Delivery. Are these the showbags you have been searching online for?
Hot Wheels
LOL Surprise
Harry Potter
Pokemon
The Gamesmen also has a huge range of toys, board games and pop culture.
Showbag Warehouse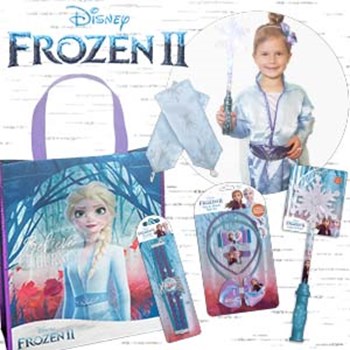 Showbag Warehouse has all the kids' favourite novelty showbags – the ones kids love with the backpacks and fancy dress costumes. These are ideal if you're planning ahead for Book Week! The range isn't huge, but it's popular! Prices start at $15.00, but some of the showbags are actually cheaper to buy at the Ekka. Here are some of the dress-up and novelty showbags on offer:
Disney Frozen II
The Avengers
Jojo Siwa
Squishies
S.W.A.T.
Disney's Encanto
See the full Showbag Warehouse range online.
Showbag Alley
Showbag Alley only sells online when excess stock is available. At the time of updating this article in 2023, only one Bertie Beetle showbag was on offer, and postage is expensive. Try the other online stores mentioned above instead.
See the Showbag Alley range here.
Sanity
You know the music and DVD stores? They also sell showbags! The range has diminished now we are no longer in lockdown, but what they do have is on clearance at half price! See what they have left here.
The added advantage is, you can stock up on DVDs, books, games and gift items to do all your Ekka showbag and Christmas shopping at the same time!
Find your Ekka showbags online!
Did you find the showbags you were looking for? The great things is, showbags are always available online, so if you just can't wait for the Ekka to roll around, you can treat yourself to a showbag anytime!
Buy Showbags in Queensland supermarkets!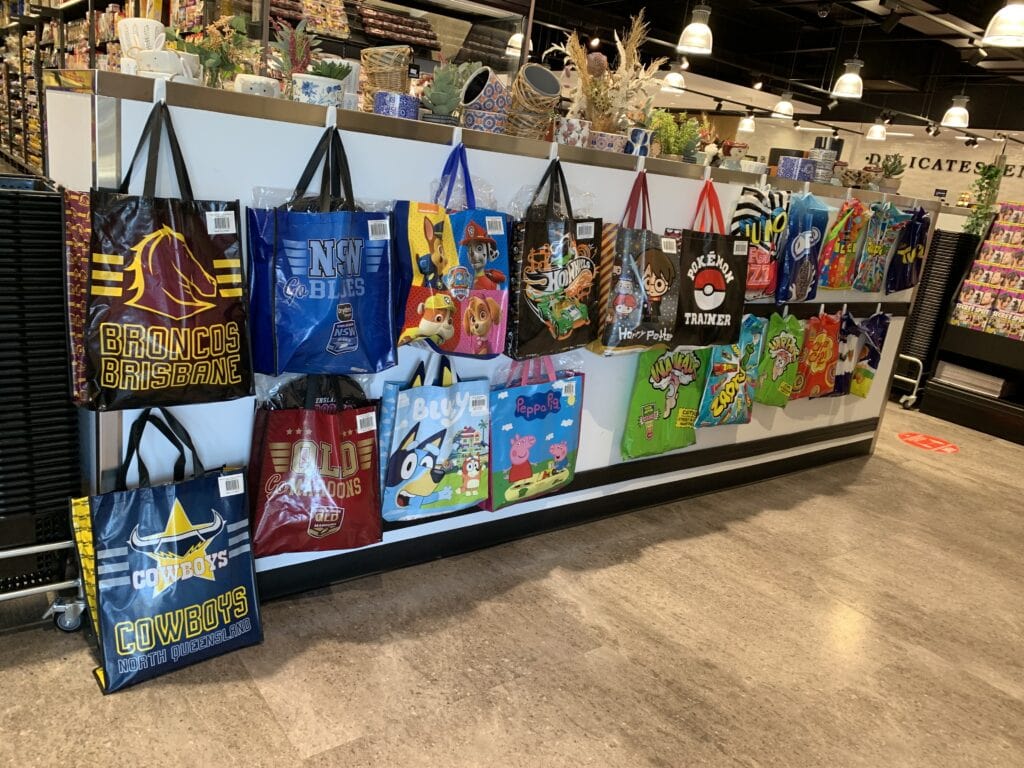 Selected supermarkets, including IGA and Woolworths, are selling showbags in store now! Stock is limited and includes some of your favourite lolly and kids' bags. Ask at your local store to see who will be getting them and when!
Want more Ekka fun?
EKKA for toddlers can be amazing offering new experiences, cute animals, and plenty of FUN for Queensland's youngest residents! Read our post detailing the best things at Ekka for Toddlers.