We Review a Rock & Roller Wagon – Lifestyle Wagon
20/02/2017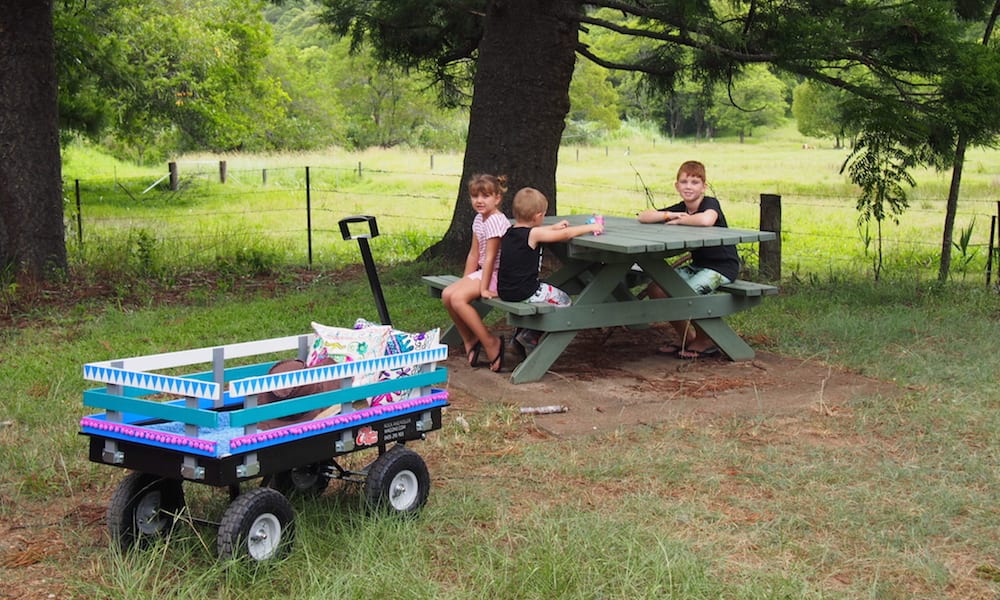 Rock & Roller Wagons supplied a Lifestyle Wagon for review.

In case you missed the memo, wagons are back! When your family has moved past the pram, wagons make the perfect transport for little people, and the all stuff that goes with them.
Companies are creating all sorts of wagons for families to use at music festivals, markets, holidays, the beach and more. And they're fast becoming a huge hit.
The Rock & Roll Wagon – Lifestyle Wagon
Sunshine Coast company, Rock & Roller Wagons asked us to give their lifestyle wagon a test run in the lead up to the family-friendly Byron Bay Blues Festival. Read on to see how we went …
Day time cruising, night time snoozing!
Local music festivals like Splendour in The Grass, Byron Bay Bluesfest and Woodford Folk Festival are renowned for being family friendly. However, as keen as the organisers are to accommodate families, the terrain of festival grounds can be a little less accommodating to little legs.
That's where companies like Rock & Roller Wagons come in. Known for their large, hirable 'Festival Wagons' which come decked out with roofs, lights, and bedding, the Sunshine Coast company have saved the sanity of many a festival family over the last few years.
They provide the perfect playhouse for little groovers in the daylight hours, and the perfect bed for little snoozers at night.
Rock & Roller Wagons want you to have the wagon experience at home too. And that's where the idea for the more compact and transportable 'Lifestyle' wagon came from.
We were challenged with showing just how simple it is to personalise one of the wagons and giving it a test drive. Oh boy, did we have fun!
First thoughts …
Even though I'd seen the specs, I was still surprised by the size of the lifestyle wagon. It's super-sturdy, and I could see that it would comfortably fit my kids and all the stuff they carry.
If boot size is an issue for your family, you might be better off going with one of the smaller, collapsible options on the markets.
Once we built our Lifestyle Wagon I had to test the rating by dragging my 100kg+ husband around the living area. Even with him in it, it was easy to pull around!
However, as fun as that was, I don't want to make a habit of of husband-wagoning, so it was time to get the wagon ready for it's ultimate end-goal … The Byron Bay Bluesfest.
We want to stand out from the crowd, so it was paint and pompoms at ten paces.
Decorating your Rock & Roller Wagon
You can paint, pimp, light up and even cover your wagon. I asked Beth from Rock & Roller Wagons what else I could do to make our wagon unique.
"You can add a canopy!" she suggested.
"Our current customers have found that making a frame of either polypipe (from hardware stores) or bamboo works well, and then placing sarongs, sheets or material over to form a shade cover.
"You can attach the frame to the wagon with cable ties. It's actually pretty fun to design your own, and you can really go to town with it! I have even seen attachments, such as cup holders, wind chimes and battery fans!"
Perfect for lugging 'the stuff'
Despite it's size, the Lifestyle Wagon was still pretty easy to pull. Everyone in the family has had a go at it. The off-road tyres make it great for all terrain too, which suits our lifestyle.
As great as this is going to be for tired little legs at Bluesfest, we've found it to be a great help for lugging all 'the stuff' that comes with kids … scooters, towels, boogie boards, toys, drinks and more. Gosh, kids need some stuff. So. Much. Stuff.
And the stuff-hauling can be a problem, right? This is a great solution. There is much more room than we had in the pram, and the kids are super excited to use the Lifestyle Wagon too. And not just because of my awesome craft skills 😉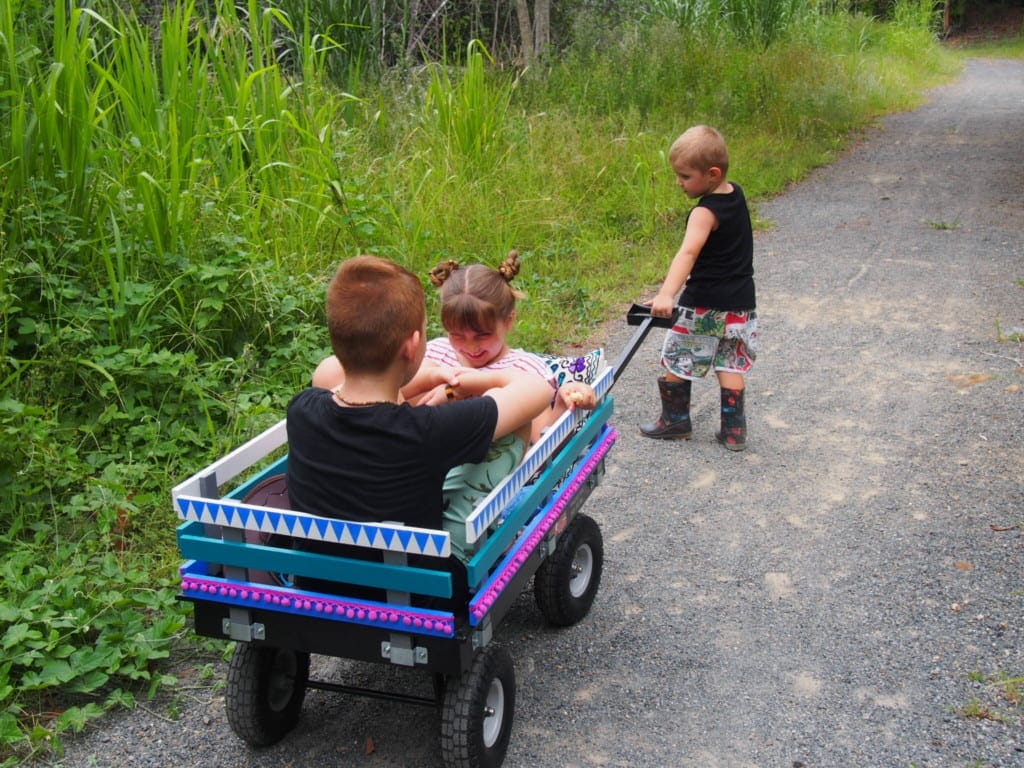 Transporting your Rock & Roller Wagon
This ain't no little wagon. Built to comfortably sit up to four toddlers, and rated to carry 120kgs it's got some size about it. If you're not walking (or rolling) to where a you're going, you will want to make sure you have enough room in your boot to move your Lifestyle Wagon to where you want to use it.
Note: Your Lifestyle Wagon will arrive flat packed. You will need a flathead screwdriver, a socket set and an adjustable spanner. Detailed assembly instructions are inside each and every box, and facetime support calls are available if needed. Once the lifestyle wagon base is built, the wooden slat sides are still removable, giving you flexibility for transportation and storage.
A perfect solution for active families
If you're into festivals, markets or outdoor living, a wagon like the Lifestyle Wagon could be a good investment for your family.
Now, if only I could get someone to drag me around in it too!
One response to "We Review a Rock & Roller Wagon – Lifestyle Wagon"