Thinking about a show at QPAC for kids? Wondering what you need to know to ensure you are ready for the big day out? Read on…
QPAC (Queensland Performing Arts Centre) is the beating dramatic heart of Brisbane. Nestled in prime position in South Bank's Cultural Precinct, QPAC is the home of a wide variety of shows, performances and entertainment for the whole family. The suite of venues is over 30 years old and the planning that was put in place long ago continues to prove that QPAC for kids and families make a great day out!
What facilities does QPAC have for kids and families?
Let's cut straight to what you need to know! When you see a show at QPAC with your family you will also have access to:
A significant amount of male and female toilets BOTH with baby change facilities
A variety of places to buy food and drink inside the venue at the various theatre bars
"The Café" is a child-friendly outdoor venue with fake grass, stage setup and lots of shady spots to sit
"The Bistro" is a more adult venue adjacent to The Café with higher stools and alcohol service
Vending machines and water bubblers throughout the complex
Travelling carts with icecreams for sale during kids shows
Snacks (apart from hot food or drink) can be brought into the shows
A wide variety of seating options during interval and pre-show times
QPAC provides cushions for smaller children to sit on so they can better see performances
Pram parking where your belongings will be protected while you view the performance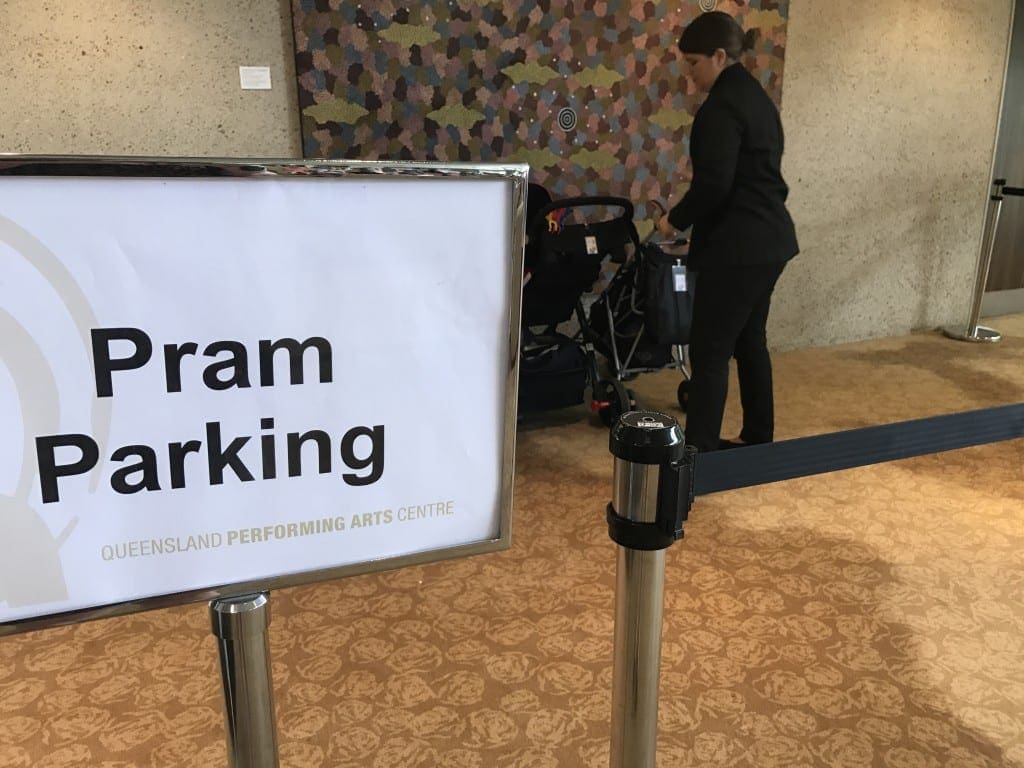 Lifts that services each level of the complex should stairs be an issue for your family
What else is there to do near QPAC for kids?
Have you read our articles about the Cultural Precinct?
Use these activity sheets at the Queensland museum!
Explore GOMA's Children's Art Centre!
Enjoy the South Bank Parklands!
How do we get to QPAC?
There is pre-paid parking for QPAC that must be organised in advance with your tickets printed out before arrival. Find out more about parking at the Queensland Cultural Precinct.
Alternatively, if you're alright with a walk, there is parking underneath GOMA a little further to the north. If you want to use Secure Parking (check the Families Magazine page to see if we're offering any cheap parking voucher codes) you will find that SW1 is the closest one.
Public transport is an easy and cheap way to travel to QPAC – particularly now that kids under 14 travel for free on weekends! You'll find that most busy bus routes will stop at South Bank which is directly outside QPAC. If you are catching the train you will have to disembark at South Brisbane station – South Bank train station is significantly further south.
What's stopping you from coming to QPAC?
QPAC is a venue that understands and caters for the needs of families. This institution wants us to be able to enjoy amazing performances and for our little ones to be exposed to music, art, dance and the dramatic arts. It can sometimes be daunting to take your children to large venues but this is one that the whole family can enjoy with comfort and ease. Find out what is on at QPAC right now.
Don't delay – book those tickets!