REVIEW: Child Friendly Places to Shop (with photos)
18/03/2021
Are you looking for child friendly places to shop in Brisbane and beyond? Looking for shopping centres that have activities for kids!
We've listed all the best shopping centres in Brisbane and beyond that are child friendly based on them having parenting rooms, play areas, parents with prams parking spots, libraries, kids clubs, book swaps and activities during festive and holiday times designed to get little hearts racing.
Update: At this uncertain time remember to check all venues and events for details of their COVID safe events and policies.
In an increasingly digital world, it's becoming more and more important to shop local and make the most of these child friendly places to shop. Humans are, by nature, social creatures and it's in our best interests to connect with our communities. Interacting with other humans, letting our children play with others and just being around other people can really make the difference – particularly to parents struggling with isolation.
With that in mind…
Here's your list of child friendly places to shop
Here's your MAP of child friendly places to shop
Centre
Parents' Rooms
High
Chairs
Play
Space
Book Swap
Kids Club
AR Hunts
Swim School
Library
Aspley Hypermarket
Yes
Yes
Yes
Yes
Arndale Shopping Centre
Yes
Yes
Australia Fair
Yes
Yes
Yes
Yes
Yes
Booval Fair
Yes
Yes
Yes
Brookside Shopping Centre
Yes
Yes
Yes
Yes
Yes
Yes
Calamvale Central
Yes
Cannon Hill Kmart Plaza
Yes
Capalaba Park
Yes
Yes
Yes
Yes
Carindale Shopping Centre
Chermside Shopping Centre
Garden City Shopping Centre
Yes
Yes
Yes
Yes
Fairfield Gardens
Yes
Yes
IKEA North Lakes
Yes
Yes
Yes
Yes
IKEA Logan
Yes
Yes
Yes
Yes
Indooroopilly Shopping Centre
Yes
Yes
Yes
Yes
Yes
Logan Central Plaza
Yes
Yes
Yes
Yes
Mt Gravatt Plaza
Yes
Peninsula Fair
Yes
Yes
Yes
Yes
Redbank Plaza
Yes
Yes
Yes
Yes
Yes
Yes
Stafford City Shopping Centre
Yes
Yes
Yes
Sunnybank Hills Shoppingtown
Yes
Yes
Yes
Yes
Yes
Sunnybank Plaza
Yes
Yes
Yes
Yes
Toombul Shopping Centre
Yes
Yes
Yes
Yes
Yes
Toowong Village
Yes
Yes
Yes
Click on the heading to find out 'what's on' at your local shopping centre
Aspley Hypermarket is a favourite on the northside of Brisbane. This long-standing shopping centre has always been the go-to for local families to connect with their communities.
Even though it is quite small (comparatively), you'll find high chairs in the food court as well as a dedicated play space. There is also a swim school attached to this child friendly place to shop….

Arndale Shopping Centre is located in Springwood and offers families the chance to have a child friendly place to shop that's local, convenient and caters to their needs. Here you'll find high chairs and a dedicated play space to give kids a reprieve from sitting still (and maybe parents a chance to chug down a coffee while they supervise!).

Whilst technically not a shopping centre in Brisbane, we've added it because we at Families Magazine are BIG FANS of Australia Fair! <—- seriously, read this and you will see why!
There is just so much for kids to see and do at Australia Fair, which makes this a great choice for parents looking to both do their own shopping as well as let the kids have some fun at the same time. There are high chairs in the food court, play spaces to run around in, book swaps to participate in, super cool kids clubs, and even a swim school! What a great child friendly place to shop!

Ipswich is home to a shopping centre with more than forty years worth of rich history. The swim school is vital in teaching many local children valuable swimming schools and there are high chairs in the food court, as well as a dedicated play space.

Good ol' Brookside in North West Brisbane has been around for a heck of a long time and is seeing a revitalisation! It's moving on and moving up and there's a lot about the refurb that's going to make this one of the key child friendly places to shop in Brisbane.
You're going to find high chairs in the food court, play spaces, book swaps, kids club, AR (augmented realities) hunts and a swim school. There are parent friendly facilities and the shopping centre always runs great school holiday activities.

Calamvale Central ensures that families are kept at ease by providing high chairs in the food court and parent friendly change rooms and toilets. They have a comprehenisive school holiday program.

Insider tip: The Sushi Train at Cannon Hill Kmart Plaza is one of the BEST in Brisbane.
Cannon Hill Kmart Plaza has a few rides for the kids dotted around the centre and there are high chairs availble in the food court areas. You'll also find parent friendly change rooms as well!

Capalaba Park Shopping Centre offers families in the Redlands region the opportunity to relax in a child friendly place to shop! They've always got fun school holiday activities going on and plenty that will make your life easier better as a parent.
There are high chairs, play spaces, a book swap, and a swim school all attached to the centre. Score!

Head to the northernmost end of the shopping centre to find a delightful outdoor playground for kids! Scattered throughout the centre are various play spaces as well. There are lots of high chairs in the food court, a parent room with a playground IN IT (yes!), and a library chock-a-block full of great activities and resources for kids. Carindale is also home to lots of super fun school holiday activities.

Chermside Shopping Centre is an absolute mecca for shoppers on the Northside and it's definitely one of the best child-friendly places to shop. It can get very busy during weekends and over school holidays (rest assured that there are always cool activities going on!) but there's plenty of parking and great parent friendly facilities.
Recent refurbishments have seen amazing developments on the upper level where a great kids play space has opened up. In addition to that, you'll find high chairs in food courts, play spaces throughout, arcades, a library and tip top stuff for tots throughout.
Fairfield Gardens offers those on the inner southside the opportunity to get their shopping done while juggling the kids! This small centre offers high chairs and parent-friendly facilities.

Westfield Garden City has a number of playgrounds including play areas in their parents room and private feeding spaces. All rooms have private feeding cubicles, large changing benches, microwaves and sinks, as well as both an adult size and child-size toilet. Take a break and let your little ones be entertained in their kids' activity areas. All children are welcome and entry is free, however, children must be supervised at all times.
IKEA North Lakes and IKEA Logan are both great places to shop with kids. There's the food court with outrageously cheap prices, a kids play area and child-friendly facilities like changing rooms and HUGE trolleys.
The children's section at IKEA is a plush wonderland called Småland where children can feel the Swedish forest atmosphere. While they are playing, you can enjoy your shopping experience knowing your children will be safe and cared for. You'll get 60 minutes of playtime, free of charge for the kids and stressfree shopping for yourself. IKEA can be crowded at times but if you time it right, you'll be able to have a surprisingly fun day out!
Indooroopilly Shopping Centre is a Brisbane favourite when it comes to shopping with kids. Not only do they have five parent rooms, high chairs, a pirate ship play area and a library, but they also have a range of unique and free services and activities that families can enjoy, every single day. Add to that children's story time, free childcare, family fun days, 'date night' childcare options for parents and school holiday activities, there is something for all families to enjoy at this centre!
Two of our favourites:
Minipilly: Minipilly, a brand new FREE kids play area, is a miniature version of the Western suburbs of Brisbane and facilitates different types of play including active play, imaginative and make belief. All brought together under Brisbane's iconic landmarks, parents can enjoy a coffee, while their kids play for hours!
Minipilly Disco: On the first Tuesday of every month, Indooroopilly Shopping Centre holds a Minipilly Disco in their iconic play area where kids born in that month can be crowned king and queen of the dance floor. This event is completely FREE.
Logan Central Plaza offers everything you could want in a child friendly place to shop. High chairs, changing facilities, and a play space that will give you a breather and the kids a chance to get the wiggles out!

Mt Gravatt Plaza is the kind of small, old-fashioned shopping complex that you'd be happy to take your kids to. The relaxed food court has high chairs for little ones and you're always guaranteed for a treat when it comes to school holiday entertainment! (As demonstrated by our friend Science Steve from STREET SCIENCE in the picture!).

The Redcliffe Peninsula is home to a really great child friendly place to shop when it comes to Peninsula Fair. All the standards in terms of meeting 'child friendly' criteria are here: high chairs, play spaces, changing rooms and even an AR hunt! This is an awesome spot to shop as it's not too big that you feel overwhelmed but it's not too small that you feel like your little ones are bouncing off the walls.

Redbank Plaza is the little shopping centre that could! There are great family friendly facilities here like high chairs, changing rooms, play spaces and even AR hunts! They have free Physi Kids sports activities available to book, every Tuesday and Thursday (excluding public holidays) including a free coffee for parents and free morning tea for the kids thanks to Coles! The variety of shops and places to eat make this a good choice for local families looking for some time out of the house in a child friendly environment.

Stafford City Shopping Centre have The Tree House, a free play zone filled with engaging games and activities for children of all ages. The Tree House includes educational and entertaining activities including giant sized games of Connect-4 and naughts and crosses, giant LEGO, drawing and colouring materials, a reading area fitted with bean bags, as well as free Wi-Fi.
Stafford City Shopping Centre is a place where you can visit, stay and play. Local parents who have already visited the Tree House love the range of activities in the kid's entertainment zone. As an added bonus for families, retailers in the centre create special offers and discounts and these are shared in The Tree House as leaves on a tree mural, adding another dimension of value to the play zone.
Where: The Tree House is open now, located opposite EB Games inside the Stafford City Shopping Centre.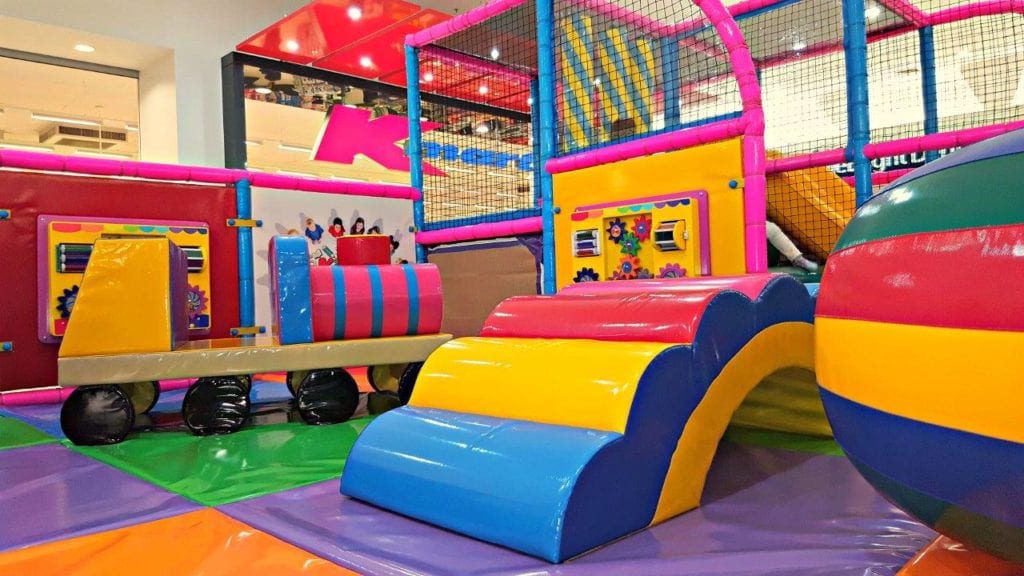 Check out THIS for a play space!
We love Sunnybank Hills Shoppingtown! Kids will have an absolute blast here. There's always cool stuff on, great parenting facilities and a library attached. And did you get a look at that play space?! Wow! This centre also runs the Physi Kids sports program for FREE for kids, look them up!

Sunnybank Plaza (not to be confused with Sunnybank Hills Shoppingtown) also offers local families the opportunity to have a child friendly place to shop that veers on the side of low key. There are parent friend facilities, a library and even a swim school for local kids.

Good old Toombul! It's been around for a long time and continues to be a child friendly place to shop for generation after generation. There are play spaces throughout the centre, high chairs in the food court and some really great parenting facilities that are sure to keep everyone happy.

Toowoong Village may be small but it makes up for it in heart. This child friendly place to shop has both high chairs and play spaces available for families looking to break up the shop with a play or a meal.
Child friendly places to shop in Brisbane
Did we miss your favourite haunt? Let us know in the comments – and tell us what you love about it!