10 Best Buffet Breakfasts Brisbane! All You Can Eat Deliciousness!
12/03/2020
Foodie culture in Brisbane is huge, and a big buffet breakfast with all you can eat is one of our favourite ways to kick start our weekends (It's on par with our love for free food on your birthday!).
Bring on the 'served' buffet breakfast
Things have changed a little in the buffet breakfast world in recent times for obvious reasons. Breakfast buffets are now generally served by restaurant staff but this shouldn't stop you from over-indulging. After all, a buffet is a BUFFET and we totally support getting your money's worth!
All you can eat breakfast Brisbane
If you are looking for a big breakfast buffet Brisbane style, for Mother's Day or Father's Day or even 'just because', we have an amazing selection of buffet restaurants on both the northside and the southside of Brisbane. There's something available to suit every palette and every budget.
Check out our list of Brisbane buffet options! We have even got some cheap breakfast in Brisbane ideas with discounts for you!
And don't forget to check out our list of places where kids in Brisbane eat for FREE!
Brisbane City & South Bank – all you can eat buffet breakfast
Looking for a buffet breakfast in the Brisbane CBD? These offer a sumptious selection of treats for you to choose from – be it Sunday, Monday, Tuesday, Wednesday, Thursday, Friday OR Saturday… all you can eat in the Brisbane CBD.
Stamford Plaza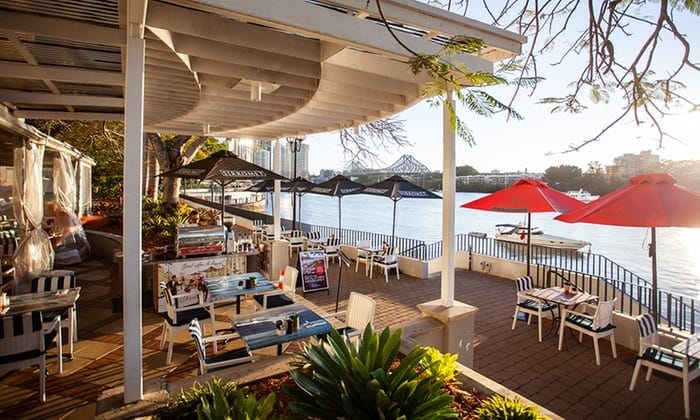 The Brasserie on the River at Stamford Plaza are offering a 'served' buffet breakfast everyday from 6:30am. Set amongst the lush riverside gardens, The Brasserie on the River presents an unrivaled river setting offering picture-postcard views across the river to the iconic Story Bridge. Dine indoors or alfresco on the terrace, either way it's the perfect spot for any occasion. Find out more here.
Thyme 2 Sofitel
Thyme 2 is a favourite buffet breakfast option among Brisbane locals, located in the Sofitel in the city. As of 2021, it is now a 'served' buffet but this shouldn't stop your from over-indulging in the delicious menu on offer. With a buffet stocked with everything from smoked salmon to waffles, pancakes, perfectly cooked eggs and the tastiest hash browns ever, you'll want to treat yourself again and again. Their hot chocolate is also a delight.
Their breakfast served buffet is on Monday – Friday 6:30am – 10:00am/ Saturday – Sunday 6:30am – 10:30am. Find out more here.
Novotel Brisbane Buffet Breakfast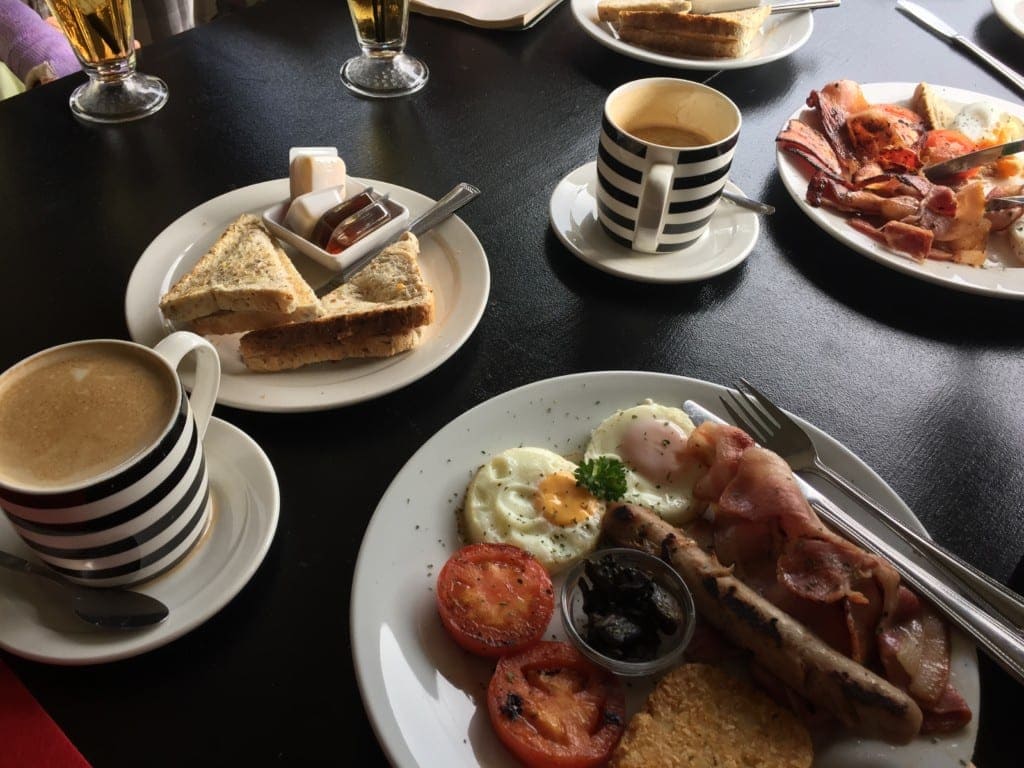 We tried out this one because we bought a Groupon for $19.50. It was awesome. We went in early so we could park easily on the street nearby and languished here scoffing their all you can eat breakfast for about an hour and a half. It was really good!
The Eatery, Four Points By Sheraton Brisbane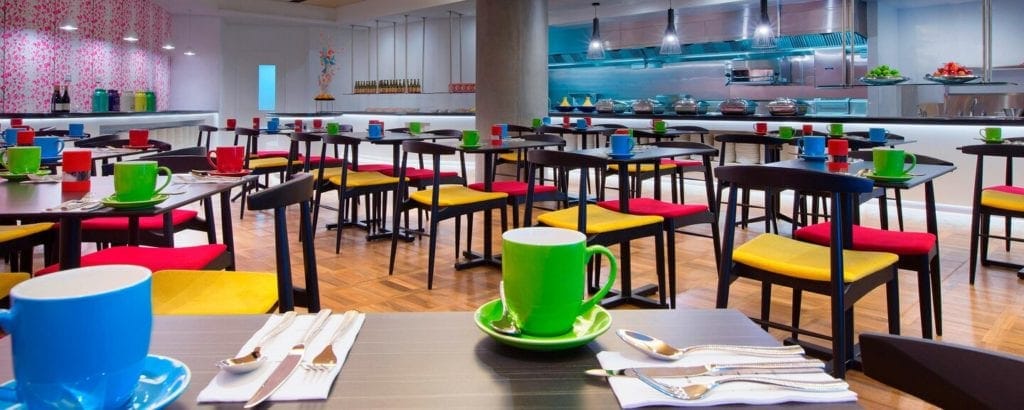 We have done this breakfast ourselves and it is YUM!! We love the colourful crockery!!
Start your day with an all you can eat buffet breakfast featuring the likes of full hot & cold buffet, cheese & fruits with coffees & juices. Located in Mary street in Brisbane, this is a great choice if you are planning an activity in the city or South Bank afterwards.
Royal on the Park's Walnut restaurant
Royal on the Park Hotel & Suites is one of the city's most iconic luxury hotels. Perfectly situated next to the City Botanic Gardens and Brisbane River, in the heart of the CBD, Royal on the Park Hotel Brisbane is only a short walk to the Queen Street Mall. Their buffet breakfast is served Monday – Friday 6:15am – 10:00am and Saturday – Sunday 6:30am – 10:30am.
Find out more – click here.
Lennons Restaurant and Bar
Known in Brisbane as one of the best places to get breakfast, Lennons has an amazing array of breakfast foods in its renowned buffet. From 6:30 to 10:30 each weekend, you'll start the day off right. Find out about their breakfast buffet here.
Black Fire Restaurant
Located in the urban inspired, high tech hotel Capri by Fraser in the centre of Brisbane city. The day and evening menu is Spanish/Mediterranean inspired and features fresh, healthy and delicious meals made using locally sourced ingredients. The restaurant is passionate about delivering unique, exceptional dining experiences and creating delicious food that looks great and tastes even better.
The restaurant is open for buffet breakfast, lunch and dinner. Buffet Breakfast: 6.30am – 10.00am weekdays | 6.30am – 10.30am weekends. Find out more here.
Regatta Hotel, Toowong
The "Grand Old Lady" of the River remains Brisbane's most historic and loved hotel. Their excellence in food, beverages, service and atmosphere is what makes
Regatta Boatshed
Queensland's "Best Restaurant" 2015, as judged by the Queensland Hotels Association.
The Regatta Hotel offers scrumptious breakfasts feasts featuring cereal, baked goods, bacon and eggs, and champagne and Bloody Marys. Their 'all you can eat buffet breakfast' is strictly for special events like Mother's Day, so make a mental note.
They also offer a Father's Day buffet lunch – see more info here
They usually offer a buffet on Mother's Day in the Boatshed Restaurant from 8:30 to 10:30 am.
North Lakes Sports Club
If you are looking for a buffet breakfast in North Lakes unfortunately the North Lakes Sports Club no longer serves breakfast. 🙁
Restaurants no longer offering buffet breakfast Brisbane
The Manly Deck Bar and Restaurant
Update July 2021: No longer offering Buffet Breakfast
The Glen Hotel at Eight Mile Plains
Update July 2021: No longer offering Buffet Breakfast except for special occasions such as Father's Day.
The Calamvale Hotel breakfast
Update July 2021: No longer offering Buffet Breakfast
Sizzlers
Permanently closed
Breakfast buffet near me
We're yet to find an all day buffet breakfast in Brisbane… if you find one – please let us know in comments!
If you're looking for a special 'event' style breakfast keep an eye on our Families suggestions!
Heading to Victoria Park Golf Complex to try their bistro after a round of putt putt is another amazing suggestion!
3 responses to "10 Best Buffet Breakfasts Brisbane! All You Can Eat Deliciousness!"