Looking for the Gold Coast's best breakfast? Look no further! We have compiled a list of the best breakfast buffets Gold Coast options we can find! With plenty of options around the Gold Coast, whether it be Surfers Paradise or Broadbeach, and whether you are looking for stand-alone restaurants or restaurants situated in Gold Coast hotels and accommodations – we have got it all.
Whether you are spending the day relaxing by the beach, hitting up one of the amusement parks or anything in between, all of these require a good start to the day, and that starts with breakfast! Some of these restaurants we have tried ourselves, and where we have, we have added our feedback and sometimes even a video review!
So! Where is the best breakfast on the Gold Coast? Well that is going to depend on what you are looking for! Beach view? Birds eye view? Largest range? Smallest price? You decide from our huge list of Gold Coast best breakfast options below!
Sorry in advance for the rumbling your tummy will do after reading all of these yummy buffet breakfasts on the Gold Coast! But not sorry for showing you our favourite cheap buffet breakfast Gold Coast style! Keep reading!
1. Waves Buffet Restaurant | Surfers Paradise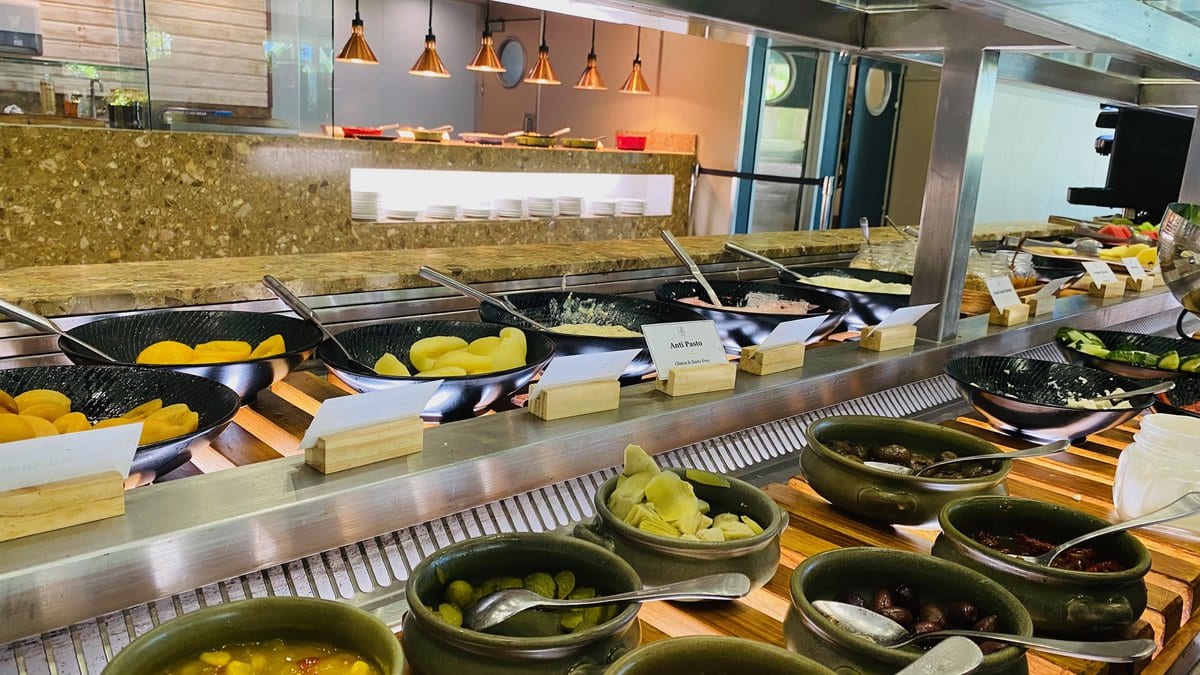 At our recent visit to Waves Buffet Restaurant, we had a fantastic breakfast that certainly did not disappoint. At Waves you can expect a wide selection of food options, including both hot and cold dishes. We all enjoyed the bacon, sausages, scrambled (and poached) eggs, pancakes, cereals, fresh fruits, yogurt, pastries, and bread. They also have coffee, tea, and juices (pineapple, apple and orange).
The restaurant is open and airy and known for its delicious food and friendly service. The kids' favourite was the pancakes and the adults enjoyed the made-to-order omelettes that the chef makes right in front of you! You can check out my Facebook live video that gives you a walk through showing all the options for breakfast here. We think Waves Buffet breakfast is a great option for those looking for a tasty breakfast in a relaxed setting.
Even though Waves is one of the cheapest buffet breakfast Gold Coast, they still offer and additional 20% off all dining in all of their restaurants and bars for seniors. Simply present your seniors card when paying to receive the discount.
Hours: 6:30am – 10am daily
Visit them for more information here
2. SkyPoint | Surfers Paradise

Not only can you enjoy spectacular views, but you can also enjoy one of the best breakfast on the Gold Coast. Your ticket to this buffet breakfast not only covers a breakfast buffet that has everything from bacon and eggs, to pastries and cereals, but also includes entry to the SkyPoint Observation Deck. Talk about two in one! If enjoying a breakfast buffet 230m above the ocean sounds like your kind of start to the day, SkyPoint is your destination. If views are your things then this is the best breakfast buffet Gold Coast… however if you're not keen on heights, I have another suggestion for the best buffet breakfast Surfers Paradise has to offer, keep reading!
Hours: served daily between 7:30am – 10:30am at SkyPoint Bistro + Bar, on level 77
To find out more about this breakfast buffet click here
3. Crowne Plaza Hotel Gold Tower | Surfers Paradise
The Relish Grill & Bar offers an all you can eat breakfast buffet. With decadent food using locally sourced ingredients, you will love this pool side breakfast experience.
Hours: 6:30am – 10:30am daily
Find the details you need here
4. The Star Gold Coast | Broadbeach
At The Star Grand you can enjoy a buffet breakfast that aligns with that name, it truly is grand. The menu boasts of every breakfast food you could imagine; omelets, pancakes, sausages, Danishes, even traditional Asian dishes like bao buns and Singapore noodles. This really is a great choice for a cheap buffet Gold Coast! The part of this buffet that makes us give it an extra star – kids under 7 eat free!
Hours: 6:30am – 10am daily
5. Cove Cafe – The InterContinental | Sanctuary Cove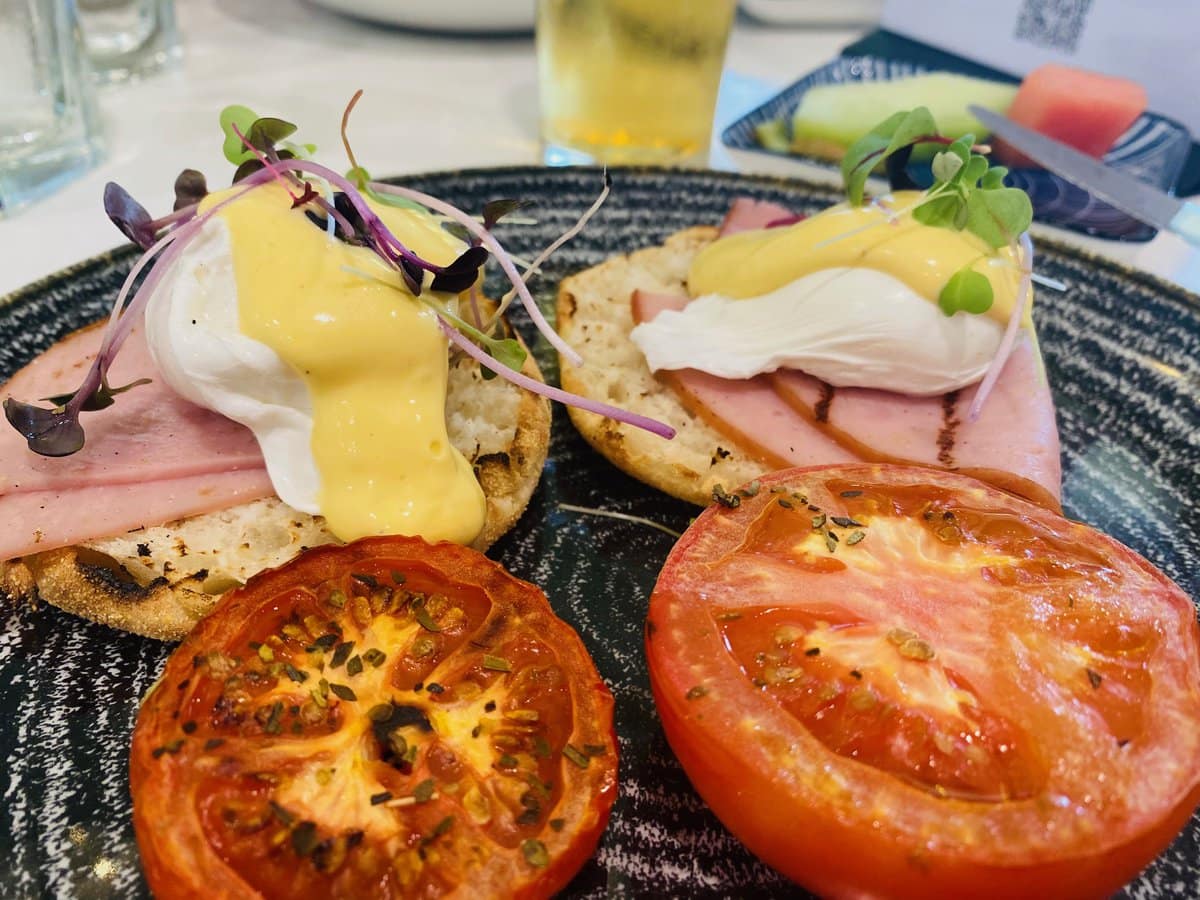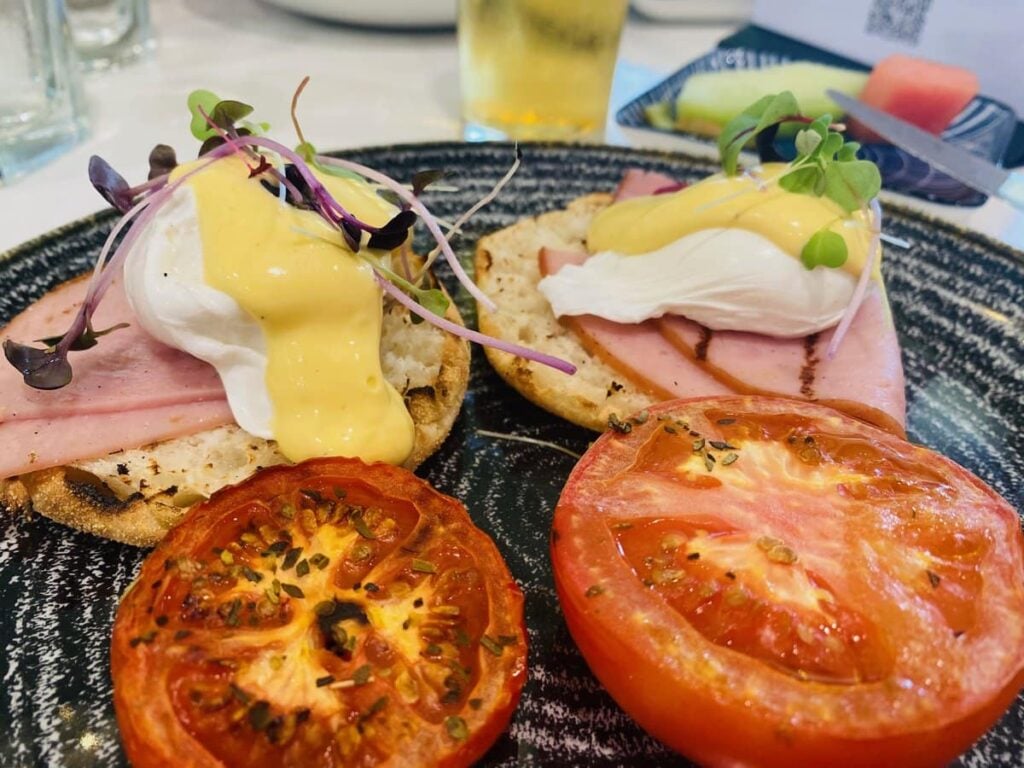 On the hunt for a delicious seasonal breakfast, be sure to check out Cove Café that is situated in The InterContinental at Sanctuary Cove. Not going to lie… we have tried this one too! It has all of the breakfast classics, including omelettes, fresh juices, pastries, international dishes and fruits. Be sure to book so you don't miss out on enjoying this yummy Gold Coast buffet breakfast.
Hours: 6:30am – 10:30am daily
Find out more on their website here.
6. Bazaar QT Gold Coast | Surfers Paradise
For those of you who want a culinary experience for breakfast, QT Gold Coast is an absolute must visit. This buffet breakfast is a destination to experience worldwide flavours, where the chef and his team have created a quirky and stylish breakfast experience.
Hours: 6:30am – 10:30am daily
Check out their menu and pricing here
7. Mercure Gold Coast Resort | Carrara
For an all you can eat breakfast, Mercure Gold Coast Resort is a sure delight. Open daily and offering a casual dining space, they have plenty of food offering loads of variety and heaps of taste.
Hours: 6:30am – 10:30am daily
Drool over their breakfast buffet here
8. Citrique | Surfers Paradise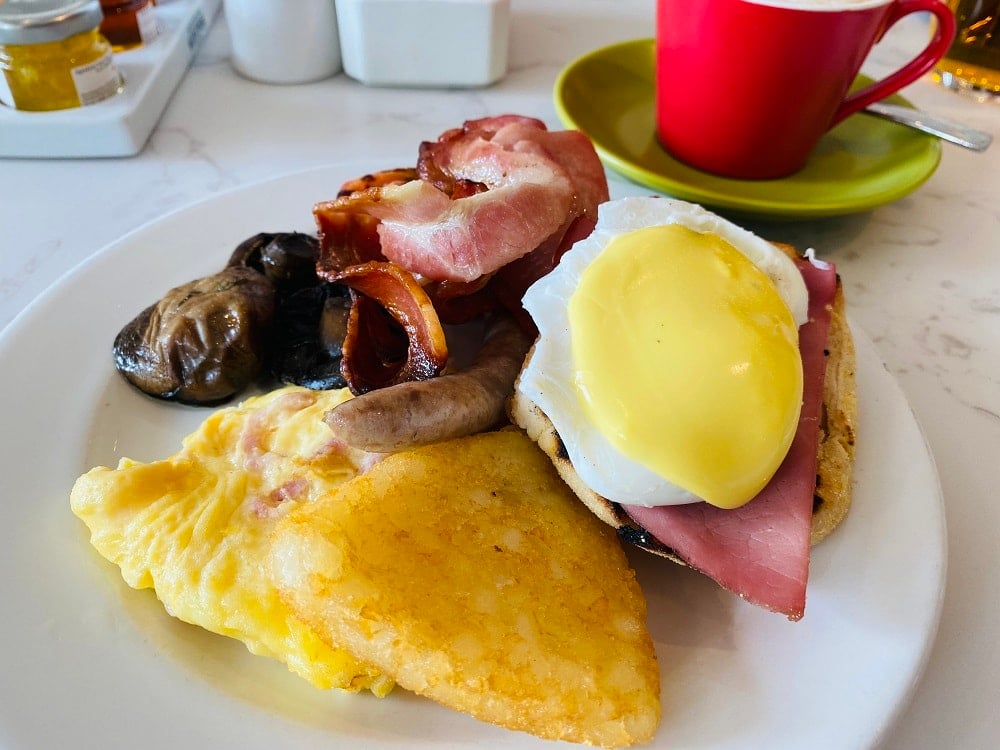 On the hunt for an indulgent buffet breakfast in Surfers Paradise? Located in JW Marriott on the Gold Coast, Citrique offers an all you can eat breakfast that will be sure to have you full. We tried it out recently and know just how delicious it really is! They have everything you could want for breakfast, an omelet and egg station, Asian and Western hot breakfasts, cold meats, pastries, pancakes, breakfast drinks galore and the list goes on. They also carefully cater for those that need gluten free options! Because of all the inclusion, this wins my best breakfast buffet Gold Coast award!
Watch our Facebook Live showing you around the breakfast buffet here!
Hours: 6:30am – 10:30am daily
Check out their menu items here
9. Sheraton Mirage Resort and Spa Gold Coast | Main Beach
Terraces Restaurant situated inside the Sheraton Mirage in Main Beach is a great spot if you are seeking breakfast buffets Gold Coast. Their buffet includes coffee and tea, and plenty of decadent breakfast options.
Hours: 6am – 11am daily
Visit their website for more information
10. Frenzy's Food Court | Southport
At the Southport Sharks, you can enjoy the best buffet breakfast Gold Coast has to offer on a Sunday. This all you can eat breakfast feast includes all of the breakfast favorites; sausages, bacon, eggs, salmon, cronuts, pancakes and fresh fruit, just to name a few! We've compared all the breakfast buffets listed and this wins 'cheap buffet breakfast Gold Coast' category as members pay just $27.90 and non-members pay $32.90.
Hours: Sunday 7:30am – 10am
11. Palazzo Versace | Main Beach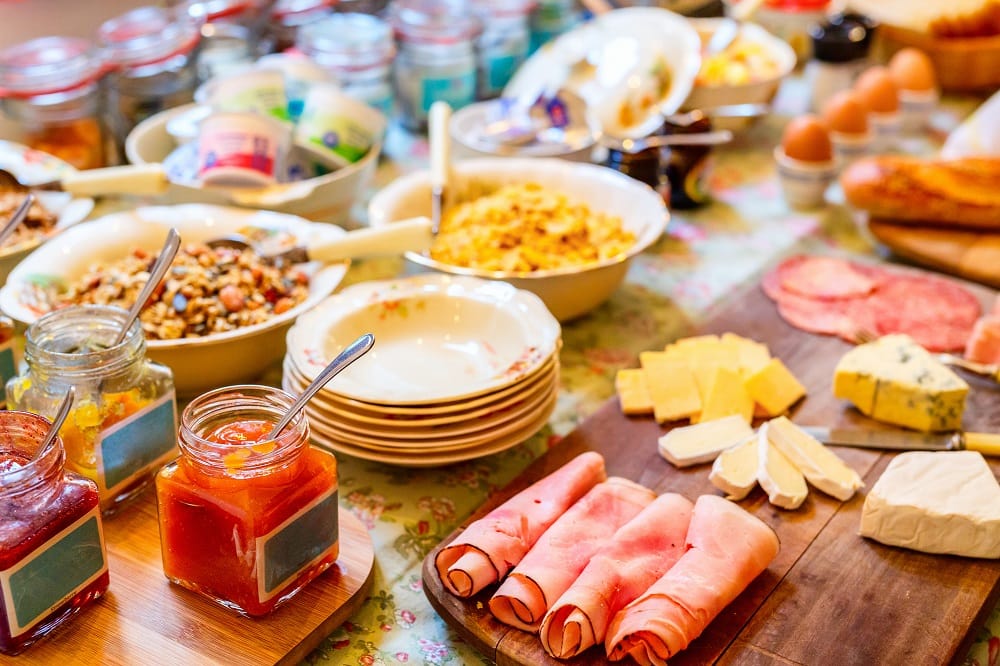 If you are after a breakfast buffet dining experience, Il Baracco will make those dreams come true. Positioned inside the Palazzo Versace, where the dining experience is so lavish, even going to the toilet is decadent. They offer a buffet breakfast available daily, boasting of beautiful baked goods so pretty you won't want to eat them and delicious fresh coffee.
Hours: 6:30am – 10:30am daily
This is one of our favourites – click here for more information
12. Novotel | Surfers Paradise
If an all you can eat breakfast in Surfers Paradise is what you need, be sure to check out the Novotel restaurant, where they have an indulgent buffet breakfast on offer. It has all the traditional favorites including cereals, pastries, hot meals and fresh fruits. All prepared fresh daily.
Hours: 6:30am – 10am daily
A family favourite – click here for more
13. Kalinda Restaurant | Benowa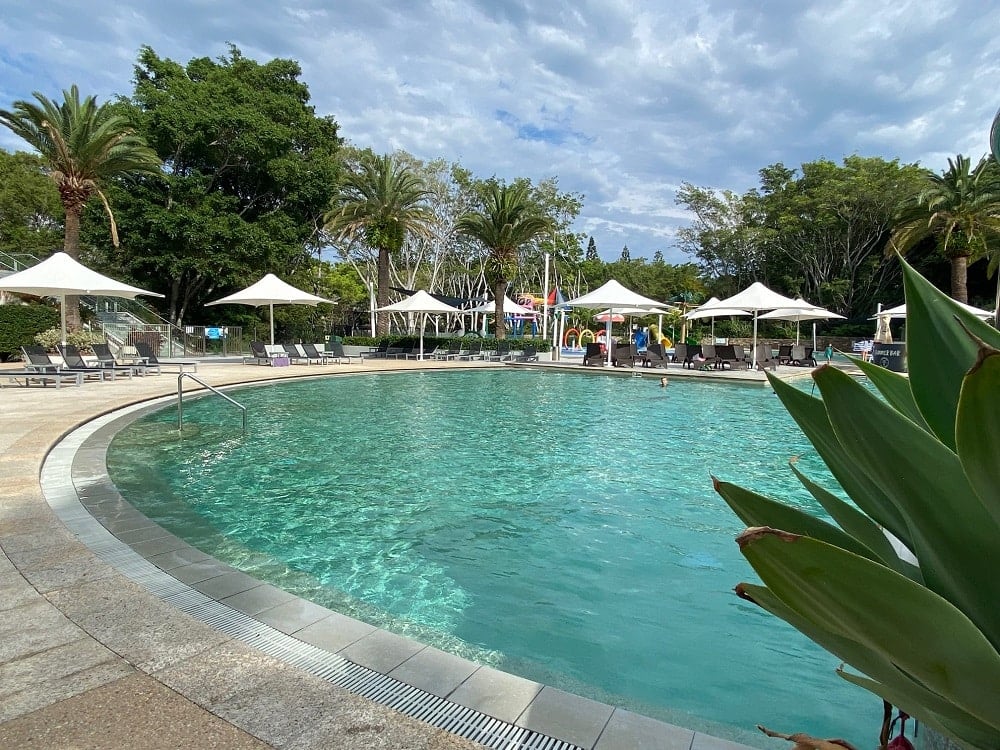 For a casual buffet breakfast experience overlooking a lagoon pool (yes, that one pictured above), Kalinda restaurant situated inside RACV Royal Pines is a perfect place to start your day. The buffet has hot, continental, and fresh options. With plenty of coffee and juice to kick start your day. We've done this one too and highly recommend! 😉
Hours: Monday to Friday 6:30am – 10am, Saturday & Sunday 6:30am – 10:30am
Another Families favourite – check it out here
14. The Langham | Surfers Paradise
Akoya, situated inside The Langham, is a wonderful casual dining spot that offers a fantastic buffet breakfast. While enjoying your meal, you can overlook the beautiful waters and shoreline of the coast. Reserve your buffet breakfast experience through the website below.
Hours: 6:30am – 10:30am daily
You can find out more about their breakfast on their website here
15. Hilton Hotel & Residences | Surfers Paradise
Catch is the restaurant situated inside Hilton Surfers Paradise, marketing a vibrant, coastal and family friendly atmosphere. Using all fresh and sustainably sourced ingredients, be sure to try the breakfast buffet on offer.
Hours: Monday to Friday 7am – 10:30am, Saturday and Sunday 7am – 11am
16. Paradise Resort | Surfers Paradise
Penguins Restaurant at Paradise resort offers an all you can eat continental breakfast. Including fruits, yoghurts, pastries, cereals, and juices.
Hours: 6:30am – 10:30am daily
Check out the Paradise Resort breakfast here
17. Seaworld Resort | Main Beach
Shoreline Restaurant offers a delicious breakfast buffet, that is full of family favorites. Imagine overflowing cold foods like fresh fruits, yoghurts, muesli cereals, croissants to name a few, then steaming hot foods like eggs, bacon, sausages, tomatoes pancakes and waffles. A perfect place to start your day!
Hours: 6:30am – 10am daily
For more information click here
18. Fables at Mantra Legends | Surfers Paradise
Enjoy a buffet breakfast in the heart of Surfers Paradise at Fables Restaurant at Mantra Legends. With floor-to-ceiling windows and a light and bright interior, you can enjoy a relaxing start to your day over this leisurely all you can eat buffet. Adults cost $32, kids aged 4 – 12 are $16 and under 4s eat free! Breakfast runs from 7 am to 10am every day. Find out more here.
All you can eat breakfast Gold Coast options!
With so many options on offer, there is sure to be something to suit your family's dietary desires, location preference and budgets. Whether it be a casual dining experience by a pool or a lavish start to the day with fine dining, all are going to help kick start your day with a full belly. Happy eating!