UPDATED REVIEW: Wildlife HQ Zoo | Go Wild at the Big Pineapple!
10/06/2021
The old Big Pineapple has transformed! This Queensland icon now offers the Wildlife HQ Zoo, a TreeTop Challenge, and is home to some of the biggest events on the Sunshine Coast. Immersed in a beautiful rainforest setting in the hinterland, Wildlife HQ Zoo is home to over 250 species of native and exotic animals from around the world.
This family-friendly zoo is easy to find – it's right next to The Big Pineapple, and just an 80-minute drive from the Gateway Bridge!
Holding onto history but moving in a new direction
Remember Alma Park Zoo? Remember the glory days of the Big Pineapple? Hold onto your hats and get ready for a blast from the past! These epic Queensland family destinations from yesteryear have been revitalised by the awesome folk at Wildlife HQ to create a Queensland zoo on the site of the Big Pineapple!
200 animals made the journey from Alma Park Zoo to Wildlife HQ. Their amazing journey began in 2014 with the close of the old Alma site and then the trek to the Big Pineapple zoo – known as Wildlife HQ!
The team focus on an incredibly high level of welfare and quality of life for their animals and promote sustainability, conservation and environmentalism. They are also HUGE supporters of the Save The Koala movement.
We here at Families Magazine LOVE an animal experience that is kind, thoughtful and resourceful. And now there's a new one that so many people aren't aware of!
Wild Encounters at Wildlife HQ Zoo
Animal lovers over 8 years old can connect with meerkats, red pandas, lemurs, koalas, dingos and monkeys in a Wild Encounter, or how about being a Zoo Keeper for a day – you can do that at Wildlife HQ too!
Zoo Keeper for a Day
The Zoo Keeper for a Day experience is a perfect weekend or school holiday activity for an animal lover. The package includes an average of 6 up close and personal experiences that can be tailored to your child's interests. Your child will have a personalised tour of their chosen animals, along with a keeper who can tell them all about the animals they are meeting.
New cafe at Wildlife HQ Zoo
At Wildlife HQ you can dine alongside the Cotton Top Tamarins at the zoo's fabulous new café. The café is conveniently located close to the free ranging wallabies, the Asian Rainforest (Mali the sun bear lives here!) and the South American Trail, home to wild cats and primates.
Enjoy fresh sandwiches and wraps, burgers, hot chips, fruit salad and sweet treats. Why not also grab a delicious barista made coffee or milkshake 'to go' whilst venturing around the Zoo. Cafe opening hours are from 9am until 2:30pm daily.
What animals can we see at Wildlife HQ?
Wildlife HQ Zoo provides a unique and exciting experience in a natural friendly environment that will empower and educate the community to be involved in the conservation of wildlife and their habitat.
Aussie animals
Dingo
Sugar Glider (cuties)
Koala
Reptiles
Quokka
Wombat
Crocodile
Asian animals
Binturong
Red Panda
Sun Bear (they're renowned for their Sun Bears!)
African animals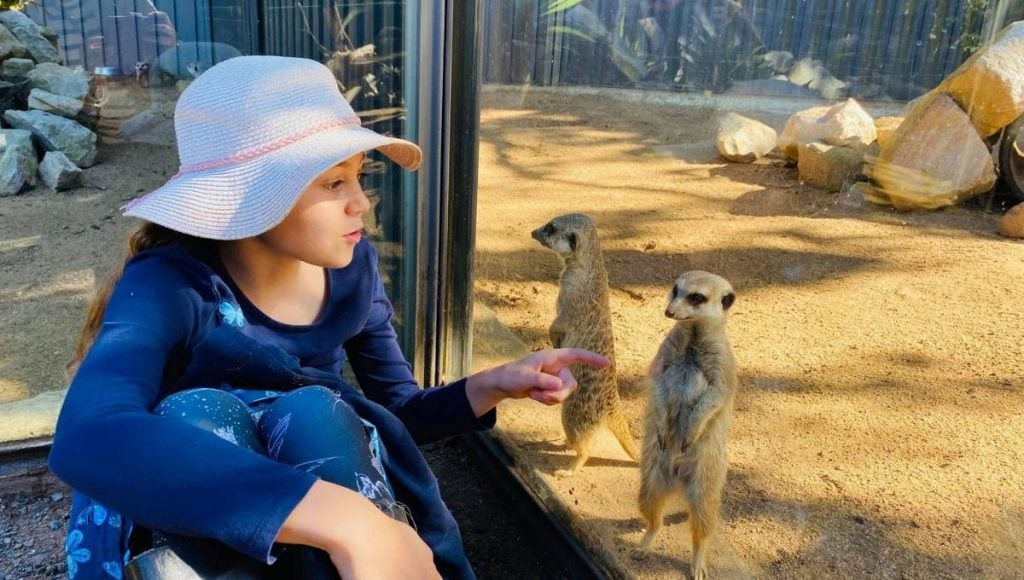 Meerkats
The Ring Tailed Lemur Encounter (Madagascar here we come!)
South American animals
Boa Constrictor
Marmoset
Emperor Tamarin
Cotton Top Tamarin
See the Wildlife HQ Map for more details and to plan your visit.
Wildlife HQ
Wildlife HQ is open EVERY DAY except Christmas Day from 9am-4pm. Last entry is possible at 3pm.
Under 3: FREE!
Kids 3 – 15 years: $18
Students (with a valid ID): $22
Adults: $32
Seniors (Valid Care Holders):$25
Family pass (2 adults, 2 kids): $89
There is plenty of parking available and it's easy to get to! Wildlife HQ is located at 76 Nambour Connection Road, Woombye, Qld.
Find out more and plan your visit at whqzoo.com. For more great leisure attractions to visit with your family, click here.
What else can you do while visiting Wildlife HQ?
Tree Top Challenge at The Big Pineapple
The two-kilometre Treetop Challenge features around 100 activities, with a variety of challenges including 12 ziplines (one 120m long!), high wires, swinging step-to-step platforms, cargo nets, balance beams and so much more, this is a dream for adrenalin junkies. There are several courses ranging from easy to "Oh My Gosh, I Can't Do That!", taking you up to 25m above ground. Join the morning or the afternoon session and see how much you can do (I confess, we only managed 2 and a half courses, but we'll definitely go back!). Suitable for ages 8+, the whole challenge will take around a half a day to complete depending on your fitness levels, though further height and age restrictions apply to the two most difficult courses.
The Big Pineapple Music Festival
The annual Big Pineapple Music Festival, held at the Big Pineapple Fields, hosts leading Australian music talent and regularly sells out. The festival has been awarded as the best music festival by the Queensland Music industry, and also recognised by Qantas as among the top 10 regional music events in Australia.
2 responses to "UPDATED REVIEW: Wildlife HQ Zoo | Go Wild at the Big Pineapple!"