Emily and her family stayed as guests of Tweed Coast Holiday Parks to experience what was on offer and report back to YOU. Read about the other Tweed Coast Holiday Parks here.
Whether you're a fisher, a surfer or just a lover of the ocean and river, one visit to Pottsville and you'll be hooked. The coastal community is in Northern Rivers and it has a relaxed seaside vibe and is the perfect spot for a relaxing staycation with kids in tow.
Spoilt for choice, Pottsville is home to two holiday parks, North and South, both located on Tweed Coast Road scenic drive. We were rapt to be staying at Pottsville North; it's a spacious and well maintained and perfect for kids who love to swim and ride their bikes.
Pottsville North Tweed Coast Holiday Park Hits the Spot
As a family of five, we found the Garden Cabins just the right size with a queen bed for adults and another room with a bunk and another single bed. What we loved the most about the cabins is we can sit on the veranda and watch the kids on their bikes.
The cabins are also just a few metres from the pool complex (gated) and playground, so you can let the kids wonder off and not worry about what they're doing. And with full cooking amenities you don't have to eat out every meal.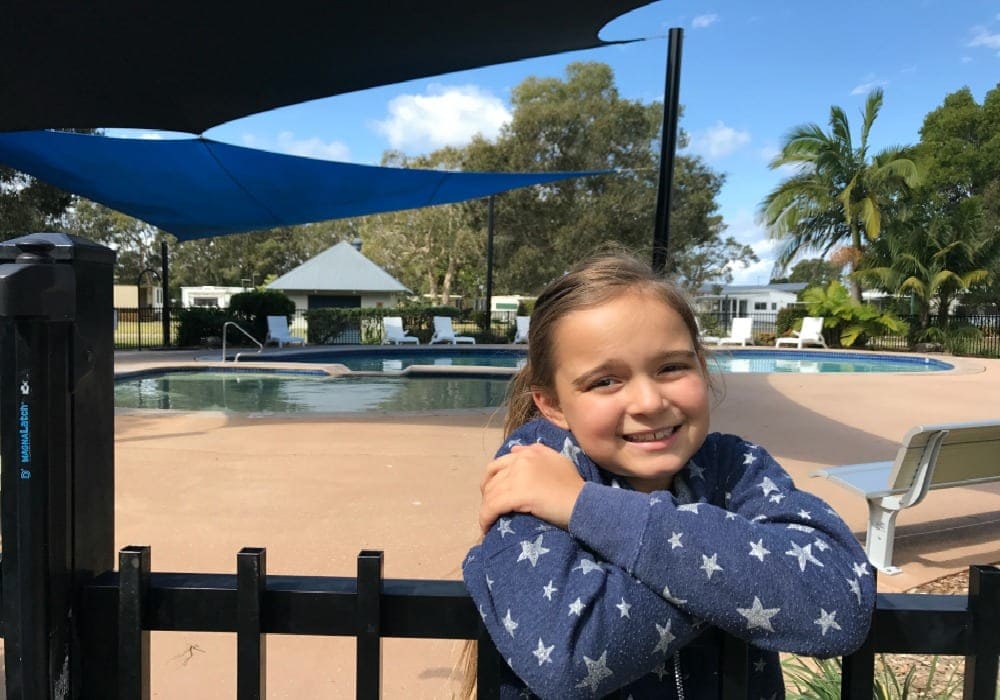 What else is in the Garden Cabins?
Everything, including the kitchen sink! It has a microwave, decent-sized fridge and freezer, and a shower with high walls so the kids can have a low bath if they want. Ours loved the mini bath and it was a great way to rid them of sand after a day of action at the beach.
There are two couches and an LCD television with DVD player to help calm the kids before bedtime. In addition there's a nice big kitchen table for a family game of Uno or Guess Who. You have to bring your own linen and towels (both beach and bath) or you can arrange the lovely hosts to provide those to you at a cost.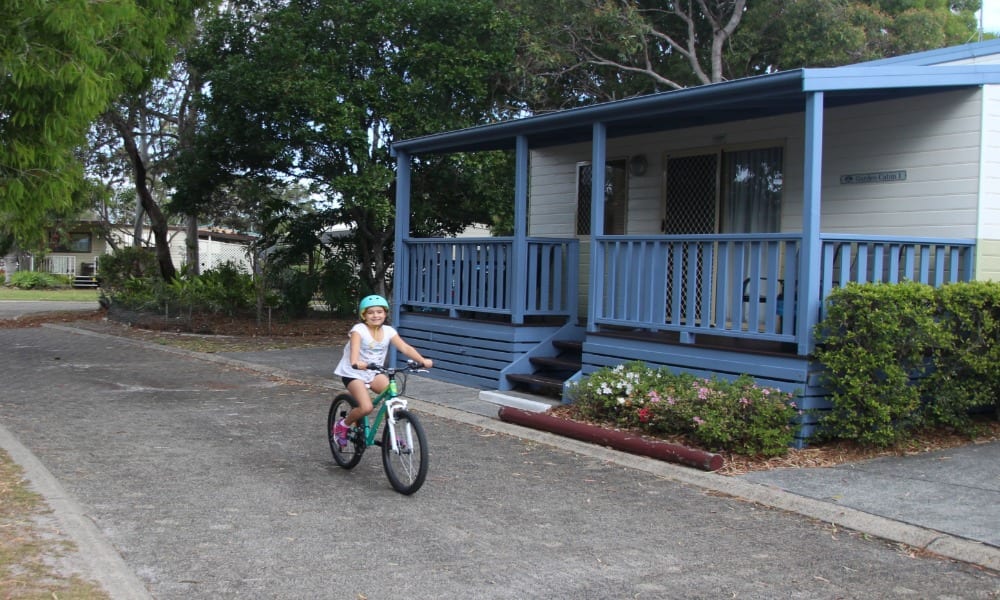 Other features include:
Wifi – although in some places internet connection is patchy.
Outside table and chairs – so you can keep an eye on what the kids are up to.
Toaster, tea and coffee making facilities – to help you survive those 5am starts.
An air-conditioning unit – to warm or chill your family.
Enough room for a portacot if you're a family with a baby.
Designated car space beside cabin
Note: only one vehicle is allowed on site per family, but there was ample parking for an extra vehicle near reception. The area is well lit and in public view so a safe option.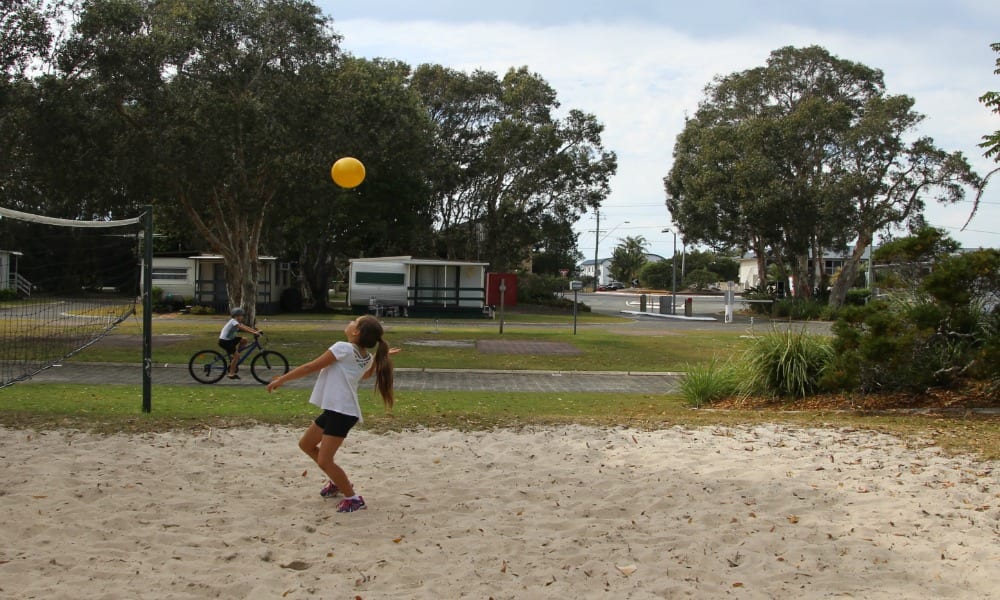 Other types of accommodation
If you have a tent, camper trailer or caravan you're well catered for at this park. The tourist sites come with a concrete pad and individual power, water and sullage and there are some with ensuites so you have your own shower and toilet. A great idea if you've got young children.
There's Surfari Tents on site for those who want to try glamping, and the unpowered tent sites are large. For your convenience they are located near the sheltered barbecue area, camp kitchen and amenities.
What else is there on site?
The kid's playground is suitable for all ages and our 5, 7, and 9-year-old amused themselves on it for ages. Don't forget to bring your bikes as the roads are well sealed and great for kids to go on.
Stand-out features include
Two swimming pools – one perfect for toddlers
A basketball court – close to the communal kitchen
Beach volleyball court – when no one was using the court our kids used beach toys and made sandcastles
Immaculately kept bathrooms, toilets and laundry – key access only
Sheltered barbecue areas dotted about the park
A kitchen with appliances and a fridge and covered seating area
Wheelchair and stroller accessible
Is there food onsite?
In reception you can get the kids an ice-cream or cold drink, but there's no actual cafe on site. However, just a few hundred metres away towards the north of the park's boundary is Pottsville Beach Surf Club. Talk about handy! You need your amenities key to get in.
There's an area where the kids can play outside while you enjoy your meal. Or you can eat inside and enjoy the atmosphere NSW clubs are known for. Some nights there is entertainment, bingo and raffles. Fancy a dance? There's even a dance floor.
What's there to do in Pottsville?
Well the holiday park is just 200 metres away from the beach, it's not patrolled all the time, only during school holidays. Also within walking distance is fishing and swimming opportunities in the nearby Mooball Creek. With rock shoreline to explore, shells aplenty and an abundance of bird life, your kids will love getting in touch with nature.
The creek is fast flowing but if small ones don't venture too far they'll have a ball. From the holiday park you're also just a 10-minute walk or 5-minute bike ride from the nearby shopping village with a supermarket and other specialty stores.
Treat yourself at Pottsville Pantry
World famous in Pottsville, this fresh and funky cafe is a local favourite and I'm not surprised. The coffee is AMAZING at Pottsville Pantry, and the food is all carefully and lovingly prepared by owner Robyn, son-in-law Ben and their super friendly crew.
The kids were treated to a delicious hot chocolate they wouldn't share and hubby had the most decadent one with an entire chocolate slice melted in it. A cabinet stacked with healthy options, slices, and fresh juices on offer, the menu is varied and family-friendly. All dietary requirements are catered for.
The waffles were divine, came with delicious fresh fruit and ice-cream and I'm not exaggerating when I say the eggs Benedict were THE best I've ever had. GET IN MY BELLY!
But it's not just the food and tasteful surroundings you'll love, it's the staff, you can tell from their faces and their body language that they want to be there. It's so refreshing. Such was the deliciousness of their coffee; I got on my bike early our second morning to get my fix, along with other in-the-know locals and tourists.
You'll get hooked at local fish and chip shop
The second night we decided to get fish and chips from Hooked on Seafood Pottsville Beach. It was worth the wait, the fish was freshly caught, and chips were scoffed up by the kids within minutes and the hamburgers juicy and stacked. It has a full selection of seafood and located in Phillip Street, right beside the Pottsville Pantry.
Why not take your parcel of fish and chips to the beach and enjoy a gorgeous sunset or head to picnic tables near the river. We chose to eat ours on our veranda back at Pottsville North Tweed Coast Holiday Park watch all the other campers settle in for the night.
And don't forget to look up during your travels – you might just chance upon some beautiful native birds such as these green parrots.
When you book yourself a Tweed Coast holiday you are not only guaranteed a relaxed stay, but a chance to unwind and enjoy quality time with your kids. And the joy of being at Pottsville North Tweed Coast Holiday Park is the kids are likely to chance upon new friends and amuse themselves for hours while you enjoy the serenity!
TO BOOK:
Address:
27 Tweed Coast Road
Pottsville Beach NSW 2489
Phone: (02) 6676 1221
Fax: (02) 6676 3013
Free Call: 1800 234 121
Email: pottsvillenorth@tchp.com.au
Read about the other Tweed Coast Holiday Parks here.