Luxury Long Weekend Ideas in Brisbane City!
6/06/2018
Sometimes you just need that little touch of luxury long weekend activities can be JUST the perfect time to go after it!
We've collected the cream of the crop for when you really want to go that extra mile and treat yourself to the finer things in life. Here are our favourite long weekend activities that you can do in and around Brisbane City with the kids while you stay in style at some of the very best accommodation the CBD has to offer!
Long Weekend Activities in Brisbane City in an Iconic Hotel
To make the most of your family-friendly long weekend adventure, make sure you book your accommodation at a hotel that prides itself on offering the very best for all different kinds of families. We recommend staying with Royal on the Park Hotel & Suites – finish reading this article and then scroll to the bottom to find out how to enter a competition to win free accommodation!
Saturday – Day 1
Check in to your hotel (which also offers free parking) at 1pm to make the most of the kid-friendly facilities on offer. There's an amazing pool with a bar and BBQ area (cocktails, please!), luxurious suites to explore and games for the kids to play.
After you check in and dump your bags in your room, your kids will surely want to celebrate their first day in the big city with a splash in the pool. Once you can drag them out of there, we'd recommend heading over the bridge to take in a show at…
QPAC
QPAC is a world-renowned performing arts venue that consistently put on only the very best when it comes to entertainment. From kids shows to musicals to circus troupes and more – there truly is something for everyone. It's an incredible family-friendly facility that caters for kids and adults of every age and ability.
To see a show at QPAC you'll need to do your research and book your tickets in advance. You can find out about the shows that will be in town during your stay in the city right here.
Your show will likely finish quite late so we'd recommend taking the kids back to the hotel and splashing out on some room service! What a luxury! Failing that, there are a number of food venues in and around QPAC that are diverse and accommodating of dietary needs. You'll truly be spoilt for choice!
Get those kids to bed because in the morning…
Sunday – Day 2
Head to the lobby and be directed into the gorgeous dining area for your complementary breakfast! There's a scrumptious buffet awaiting you with everything from the very finest dining to the basics like cereal and toast. Even the fussiest tot will be able to find something delicious waiting just for them – and it comes as part of your accommodation package!
Yum!
Once breakfast has finished, why not take the kids (if they're aged 10 and over) on the adventure of a lifetime. Head to Kangaroo Point to meet your guides for your…
Story Bridge Adventure Climb
What a treat this will be! Led safely by a team of the very best professionals, you and your tribe can climb right to the top of the Story Bridge for the best views anywhere. The climb takes quite a while (and a lot of energy) but the exhiliration and the adrenaline you'll feel at the end of it simply can't be beat! You can find out more about Story Bridge Adventure Climbs (including prices) at this link. Woohoo!
Head back to the hotel for some much-needed relaxation and take advantage of the luxury packages on offer for guests. If that's not your kids' style, you can always head right across the road to the Brisbane Botanic Gardens where they can burn off energy (where do they get it all?!) at one of the very best playgrounds Brisbane has to offer. Too easy!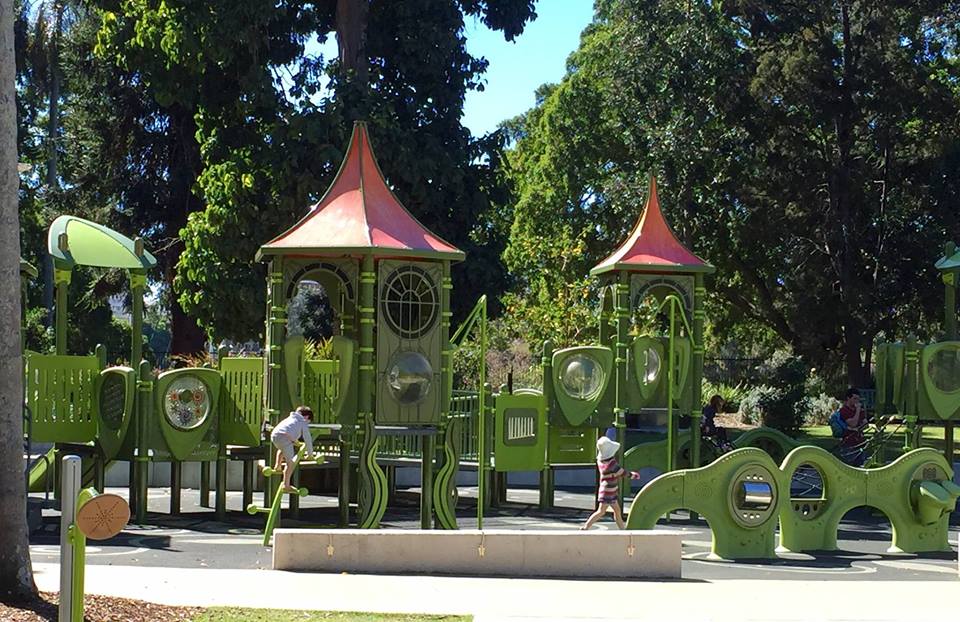 After a huge day of adventures, take the kids out to any one of the great restaurants in and around the Queen Street Mall area. Let their taste buds run wild and sample the very finest cuisines from all around the world. Then it's back to the hotel for your final night. But just as a warning… you're going to be getting up EARLY.
Monday – Day 3
Rise and shine! Set the alarms, get the bags in the car, return your keys because we recommend you go….
Brisbane Hot Air Ballooning
There are a number of venues in Brisbane City that offer early morning hot air ballooning adventures for thrill-seekers looking for a an amazing view. We would recommend doing your research to find the best company to suit both your budget and the needs of your family. It's the perfect end to your amazing long weekend activities adventure and we couldn't think of a better way to finish it off! Up, up and away!
Stay at the Royal on the Park
The historic Royal on the Park Hotel & Suites is directly opposite the Brisbane Botanic Gardens and right in the heart of the city. They have family-friendly packages which include access to a beautiful pool, complimentary buffet breakfast, parking and a free toy for the kids!
Stay at the Royal on the Park Hotel & Suites
Our good friends at the Royal on the Park have special deals for families just like yours. They include top quality accommodation with access to a range of family-friendly activities including access to the guest pool, free parking, free breakfast for a family of four, kid-friendly activities and the best views around. Find out more about their family deals – click here.