With internationally acclaimed mountain views and a pristine lake that's loved for its ability to host all kinds of water sports in addition to being a prime fishing destination, Lake Moogerah is a must visit for families.
Lake Moorgerah – we didn't know what we were missing!
My hubby's birthday was coming up and I wanted to make sure we did something special after years of putting things on the back burner to prioritise the kids. We love being outdoors so heading out bush was a given but we'd kind of been everywhere within an hour of Brisbane or so I thought! Somehow, I stumbled across Lake Moogerah and I can tell you I've been kicking myself ever since for driving past it a hundred times and never stopping.
If you're looking for a really fun family day out or even a few nights away with great swimming, bushwalking, stunning views and a range of accommodation options Lake Moogerah or 'Lake Mogerah' as some people call it, is the spot for you!
How big is Lake Moorgerah?
Its huge! Lake Moogerah has a catchment area of 228km2 and is the biggest in the Scenic Rim, and arguably the most beautiful. Unfortunately, at the time of writing this review the current dam volume was 20,900ML (less than 25% capacity). The good news is that despite the low water levels we were still able to have an amazing time on the water during our visit. Therefore, don't be deterred from heading to Lake Moogerah just because it may have been a bit dry.
What makes Lake Moogerah so special?
Well for starters it looks like a scene out of the movie The Notebook. Think quaint lake houses dotted along the shoreline of a picturesque lake surrounded by some of nature's most dramatically formed mountain ranges.
Moogerah Dam is nestled amongst the spectacular scenery of the Scenic Rim, just over an hour's drive south west of Brisbane. The lake is located on Reynolds Creek near Boonah, and was completed in 1961. Moogerah is an un-gated dam, meaning that when it reaches 100 per cent capacity, which is a massive 83,765ML, water flows over the spillway and safely out of the dam. In our travels I came to realise that this excess water makes for some world-class swimming holes for those in the know but more about that later on.
The name 'Moogerah' is the local Ugarapul people's dialect for 'place of thunderstorms' and rumour has it that a late afternoon thunderstorm is an awe-inspiring event to witness if you get the chance.
The dam, controlled by SEQ Water, and recreation facilities are open to the public seven days a week, from 5:30am to 6:30pm (September – April) and 6:00am to 5:30pm (May – August).
Getting to Lake Moogerah
The quickest and most direct route from Brisbane is to head out towards Ipswich on the Ipswich Motorway and then take the Cunningham Highway most of the way before turning off towards the lake just before Aratula. My top tip is to head to the bakery in Aratula and then double back to the Lake Moogerah turn off on Morwincha Road which then intersects with Lake Moogerah Road. The kids will love spotting cows, horses and sheep on the drive which generally will take you 1 hour and 20 minutes from Brisbane.
For those travelling from the Gold Coast to Lake Moogerah, take the Nerang North exit or the Oxenford exit off the Pacific Highway and follow the signs to Beaudesert. The estimated time to reach Lake Moogerah from the Gold Coast is one hour.
Fun on the water at Moogerah Dam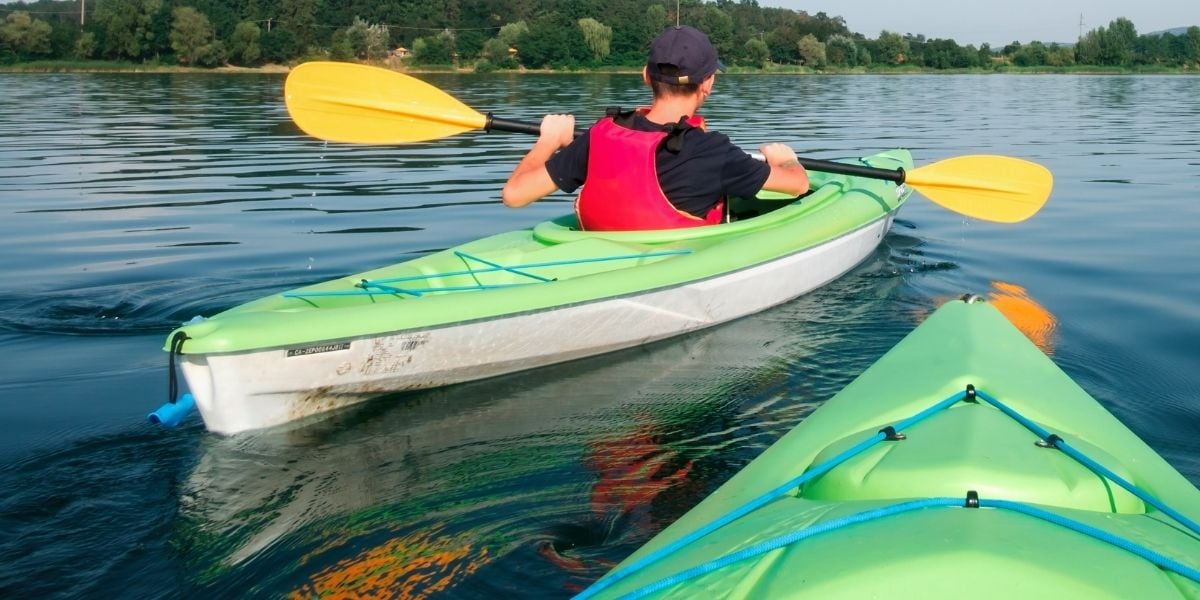 If you're a serious water enthusiast who's into jet skiing, water skiing, tubing, sailing, wakeboarding and/or kayaking, the expansive body of water that makes up Lake Moogerah Dam is perfect for you! Motorised and non-motorised watercrafts are permitted on the lake and there are no restrictions on the vessel types that can be used. It has to be said that Lake Moogerah is a hugely popular spot for motorised watersports so keep that in mind when choosing to visit particularly in summer. Find more about the rules that cover this using motorised vehicles on the lake here.
A G Muller Park, is the recommended entry point with two public boat ramps for watercraft. It's important to note that there are exclusion zones that must be adhered to in order to keep all visitors to Moogerah Lake safe. You cannot launch any boats or kayaks from Fred Haigh Park.
If you don't have your own watercraft, no problem! Moogerah Lakeside are happy to hire their tinny's, kayaks and canoes out to day visitors to Moogerah Dam.
Best spots to swim at Lake Moogerah
When swimming at Lake Moogerah you have plenty of great options. You can swim at the designated area along the lake as a day visitor or visit one of the waterholes that have been formed from dam water run-off. Here's our picks on where to swim with kids.
AG Muller Park
AG Muller Park is located off Muller Park Road and is the designated swimming area for Moogerah Dam. Most of the time there are marked buoys on the water to define the swimming area however know that there are no lifeguards on duty. This site is open to the public seven days a week, from:
30am to 6.30pm (September – April)
00am to 5.30pm (May – August)
This is a great spot with a large grassed area which meets the lake shoreline. It's the perfect location to setup for the day however shade along the shore is limited so be sure to bring a beach umbrella or similar if you'll be settling in for a bit.
The Gorge Lake Moogerah swimming hole & camping ground
About 2.5km downstream from Moogerah's spillway, The Gorge camping ground is a secluded and beautifully shaded private camping hideaway with a 200m-long swimming hole. The Gorge at Lake Moogerah is around 1.5m deep in most parts and there's an even deeper pool upstream which you'll often see daring teenagers and the young at heart jumping from. It goes without saying to always check the depth of the water and look out for submerged objects before jumping in.
From the Boonah-Fassifern Rd, turn on to Lake Moogerah Rd then turn right into Charlwood, then Gorge Rd, crossing private land to the Gorge gate. You will have to pay a day use fee which is usually a couple of dollars per person. Drive up to the wooden building on the left and ask to speak with the owner to organise access for the day at The Gorge Lake Moogerah.
There are shallow spots where you can take little ones however to get to some of them you will need to swim across the main body of the creek. Ideally, this is the spot to take kids who are confident swimmers. We highly recommend bringing tubes, boogie boards, pool noodles and other floating pool toys so you can let the relaxing natural current slowly pull you downstream.
This is without a doubt one of the most stunning hidden water holes in SEQ. We love it so much we almost didn't tell you about it!
Address: 51 Gorge Rd, Charlwood
Blue-green algae at Moogerah Dam
A word of caution to be aware of the blue-green algae that can affect Lake Moogerah. Cyanobacteria (commonly known as blue-green algae) are naturally occurring bacteria that live in lakes and waterways. Most of the time algae exist in low numbers, however, under certain conditions algae can grow rapidly, called an algal bloom, and sometimes produce toxins that can harm your health if you swim, boat or fish in algae-affected lakes. You can check the blue-green algae levels for Lake Moogerah at Seqwater.
Things to do at Lake Moogerah
Walk the Moogerah Dam wall
Leaving from Haigh Park, head onto the Mount Edwards hiking trail. Don't worry! We're not recommending you take on the 6km (and 3-3.5 hours) return and quite steep in places hike. You just need to head that way as it's how you access the 219m long and 38m high Moogerah Dam wall. Walking across the wall you can enjoy spectacular views across Lake Moogerah to Mt Greville and the Main Range in the west.
Walk in the Moogerah Peaks National Park
The Moogerah Peaks were formed from volcanic activity over 24 million years ago and consist of Mt French, Mt Greville, Mt Moon and Mt Edwards. These peaks are popular with bushwalkers and climbers and are known for their challenging terrain. Mt French in particular is internationally renowned for its spectacular cliff faces. The peaks offer bushwalkers a physical challenge with approximately 380 routes to choose from and the opportunity to experience their rugged grandeur and extensive views in relative solitude. Vegetation is mostly open eucalypt forest with heath on exposed rock faces and some rainforest in sheltered areas.
These peaks which are all near Lake Moogerah are special places to Aboriginal people, bushwalkers and naturalists alike. If you venture to Moogerah Peaks National Park be well prepared and treat the bush with care and respect.
There are two short walking tracks in the Mount French section. The other sections of the park have a number of rough bush tracks of varying difficulty, which are best suited to experienced bushwalkers only.
Mt French North Cliff Track
The North Cliff track is 720m and will take you about 15 minutes to walk. This track leads to Logans lookout with excellent, panoramic views over the Fassifern Valley, with the Main Range escarpment to the west and Flinders Peak and beyond to the east. North Cliff track is suitable for wheelchairs with assistance.

Mt French Mee-bor-um Circuit
The other family friendly walk in Moogerah Peaks National Park is the Mee-bor-rum circuit which is 840m and should take you around 25 minutes to complete. This circuit track passes through heathland and features the East Cliff lookout with views of Tamborine, Lamington and Mount Barney. It is definitely a harder walk and care must be taken at the lookout as it is a natural feature and has no handrails. Further along the track a circular platform with seating provides views of the heathland and the southern section of Mount French. Wheelchair access with assistance on this track is only possible to the East Cliff lookout. Beyond here the track through the heathland is rough and uneven.
The National Park nitty gritty
Moogerah Peak National Park is open 24 hours a day, except Mount Edwards section which is accessible between the hours of 6am and 6pm. For your safety, walk in daylight hours only.
There is limited camping available in Moogerah Peaks National Park—the only camping area, Frog Buttress camping area, is located in the Mount French section. To camp in the national park a permit is required. As the campsite is small, advanced bookings are necessary and fees apply.
Lake Moogerah fishing
Moogerah Dam is stocked by the Maroon-Moogerah Fish Management Association. A total of 650,423 Australian bass, 503,836 golden perch, 231,396 silver perch and 850 Mary River cod have been stocked in Moogerah Dam. Some fantastic catching and eating here!
It's important to know that accessing private land to fish is not permitted. Fred Haigh Park is definitely the best spot to throw a line in. You can fish from your boat or along the shores in the designated recreation areas. There are plenty of big fish in the lake, so fish can be easily caught from a boat or along the shoreline. You will need to organise a permit to fish before throwing a line in. Permits start from as little as $10 for a week. Get yours here.
Lake Moogerah picnic areas
Moogerah Dam is blessed with plenty of places to enjoy a picnic.
Fred Haigh Park
You'll find Fred Haigh Park off Moogerah Connection Road. It has stunning views of the lake plus covered picnic tables, free BBQ's, toilets, and a basic playground. There is a large grassed area but be aware it is on a slope that leads directly into the lake and there is no fencing.
Lower Moogerah picnic area
Tucked away just behind Haigh Park there's a secluded little picnic spot perfect to escape the crowds particularly when the Lake Moogerah weather is at its best. The picnic area runs parallel to the creek and has toilets, covered picnic tables but no BBQ facilities.
Another great option for a picnic is the Lake Moogerah Camping day-use area which we've previously listed as a great spot for a swim earlier in this review.
Can I take my dog to visit Lake Moogerah?
Dogs on leashes are permitted only in Fred Haigh Park. They must remain on a leash at all times. The areas surrounding Moogerah Dam are home to an abundance of native wildlife. You can protect them by controlling your dog and not letting them disturb the wildlife that lives in the area. To protect the drinking water, you are not allowed to let your dog enter the lake, foreshore area or boat ramp.
Where to eat near Lake Moogerah
Arthur Clive's Bakery Cafe – Aratula
After driving out from Brisbane we highly recommend you call into this family owned and operated bakery and stock up on the delicious country style sweet treats and savoury pastries. My kids loved the traditional lamingtons while we were very happy to find decent barista made coffee!
You may find it's a good time for a toilet stop and to stretch your legs before continuing on to Moogerah Dam. The bakery has toilets around the back of the building and a seated eating area out front to enjoy your baked goods before continuing on your journey. Next door to the bakery there is also a small shop which sells fruit and vegies, lollies and other general groceries so if you don't get round to packing a picnic you can always stock up here.
If you've got little ones like me, I highly recommend parking in the bakery carpark or the adjacent side street as it is located on a very busy highway with large trucks passing by at speed.
Address: 6746 Cunningham Highway, Aratula, Queensland
Website: Arthur Clives Bakery Cafe
The Dam Café
For the foodies, the Dam Café is a great choice serving up a delicious seasonal menu with tasty dishes like pumpkin bread served with home-made ice cream and caramel sauce, prepared using local Scenic Rim ingredients.
The café is located near the edge of Lake Moogerah with views of the dam and a playground within sight although it is near the water so you'll need to keep an eye on the kids. It's the perfect spot to enjoy a delicious pot of Devonshire tea while taking in the scenery.
You can dine in or takeaway from the all-day menu. The Dam Café is open Thursday to Friday between 9am to 2pm and Saturday through to Sunday from 8:30am to 3pm.
Address: 144 Moogerah Connection Road, Moogerah
Facebook page: click here
Where to stay near Lake Moogerah
There's been some big changes to the Lake Moogerah Caravan Park with the venue being relaunched as Lake Moogerah Camping with a significantly reduced number of sites. This means if you are looking to camp on the shores of Moogerah you need to book as far out as possible because campsites at this location are always in high demand and now there are approximately 400 less spots available.
The good news is the owners of the old Moogerah Caravan park have gone on to bigger and better things launching a new accommodation offering with bunk cabins and cottage. Read on for our overview of your Lake Moogerah accommodation options.
Lake Moogerah Camping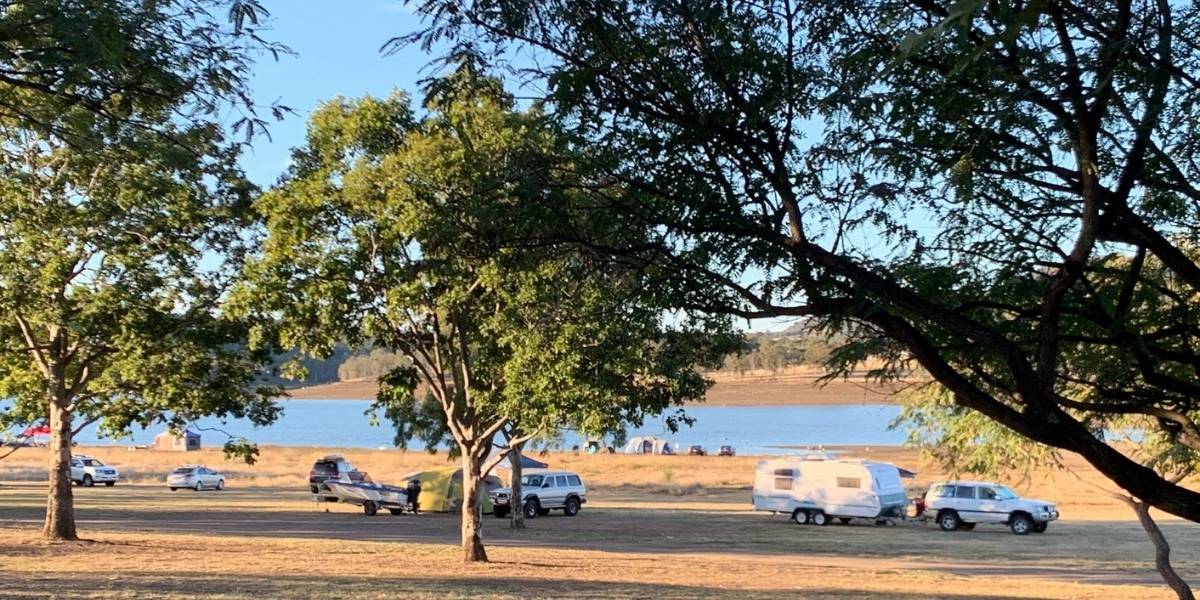 Lake Moogerah Camping is situated right on the shores of the former Lake Moogerah Caravan Park and surrounded by the Scenic Rim's spectacular scenery. You'll enjoy the wide-open spaces, abundance of wildlife, and everywhere you turn you'll see mountains. They offer unpowered camping sites plus a limited number of powered caravan sites. The total number of sites within the park is capped at 115, which means, there is plenty of space to spread out along the grassy sites while camping at Moogerah Dam.
Address: 1 Muller Park Road Moogerah QLD Australia
Website: click here
Moogerah Lakeside Bush Retreat
Megan and Ben with their four daughters run the brand new Moogerah Lakeside Bush Retreat, which is a slice of heaven in the heart of the Scenic Rim on the shores of Lake Moogerah. They offer a variety of family-friendly accommodation options including powered and unpowered camping sites, bunk cabins and a cottage. If you don't have a boat but would love to get out on the water, they have tinnys, kayaks and canoes, all ready for your day out on Lake Moogerah. Having just opened in July 2020 this is a must try for families especially for those colder months when you're keen to keep the kids rugged up overnight.
Address: 170 Ski Zone Rd Moogerah, QLD
Website: click here
Camp Moogerah
Camp Moogerah is an ideal venue for weekend getaways, school camps, budget weddings, and other group gatherings. Another bonus is they are one of the only Lake Moogerah accommodation options that are pet friendly, so you can bring your furry family members along for the fun! With 20 beautiful acres on the scenic shores of Lake Moogerah, they can accommodate up to 257 people in their cabins alone. Camp Moogerah have a total of 15 bunk bed cabins, each with 2 separate rooms opening on to a veranda.
There is also the option of camping in tents and caravans across their extensive campgrounds. Camp Moogerah have instructors who can facilitate activities such as high ropes, kayaking, archery, orienteering, and night walks.
Address: 880 Lake Moogerah Road
Website: click here
Other local camping options include Yarramlong Camping, Camp Laurence and Lady on the Lake.
Lake Moogerah map
This Lake Moogerah map and guide have been provided by SEQ Water.
What else is near Lake Moogerah?
Why…. I am so glad you asked!
Scenic Rim Brewery & Café at Mt Alford
Scenic Rim Brewery & Cafe is a small family owned brewery located in the picturesque town of Mount Alford which is about a 10-minute drive from Moogerah Dam. It's full to the brim with old country charm plus they make their own boutique beers. What's not to love?! Snack on European inspired food like bitterballen and gourmet hotdogs. Coffee, cake, and daily specials are also available.
Choose to dine on the back deck, inside or under the front awning. We're happy to report the venue has been designed to accommodate people with disabilities. It is a popular spot so we recommend arriving well before lunch to secure a spot on the back deck and bring a hat because shade is limited. Scenic Rim Brewery & Cafe is open Thursday to Sunday from 10am to 5pm.
​Website: click here
Kooroomba Vineyards and Lavender Farm
Kooroomba is nestled in the Fassifern Valley at Mt Alford near Boonah, which is around 15 minutes' drive from Lake Moogerah. The property consists of a cellar door, restaurant and lavender shop which overlooks a six-hectare vineyard and breathtaking lavender fields, with magnificent views of the Scenic Rim mountains. ​ The lavender fields have a number of varieties of lavender – English, French, Italian, New Zealand and Australian designed to provide flower most of the year making the venue a perfect location to hold a family photoshoot! Kooroomba is open Wednesday to Friday from 10am to 3pm and Saturday and Sunday from 10am to 4pm.
Website: click here
That's a wrap
So there you have it! Our local guide to everything you need to know about visiting Lake Moogerah. Be sure to take a heap of photos when you head out and send them through to us. If we've missed anything that needs to be on this list of the best things to do at Moogerah Dam please let us know in the comments.