If you are looking for how to get a business class upgrade, then read on my friend, because I just did it and I wanted to share how it works with you, so you know too!
On Thursday 18th April 2019, my 11 year old son and I flew Business Class from Narita Airport in Japan to Abu Dhabi and we had only booked Economy! It was a simple process (and one that I had never seen before, but I am SO GLAD that we had the opportunity!)
How to get a business class upgrade from economy
We had searched and booked our flights on Skyscanner about 8 weeks earlier than departure – we like to be organised. On this occasion we determined that Etihad had the cheapest/best flight for our Narita to London journey. We booked 2 economy seats directly with the airline.
Fast forward to 12th April, 6 days prior to our flight… I received an email offering to 'enhance our flight'. I was intrigued!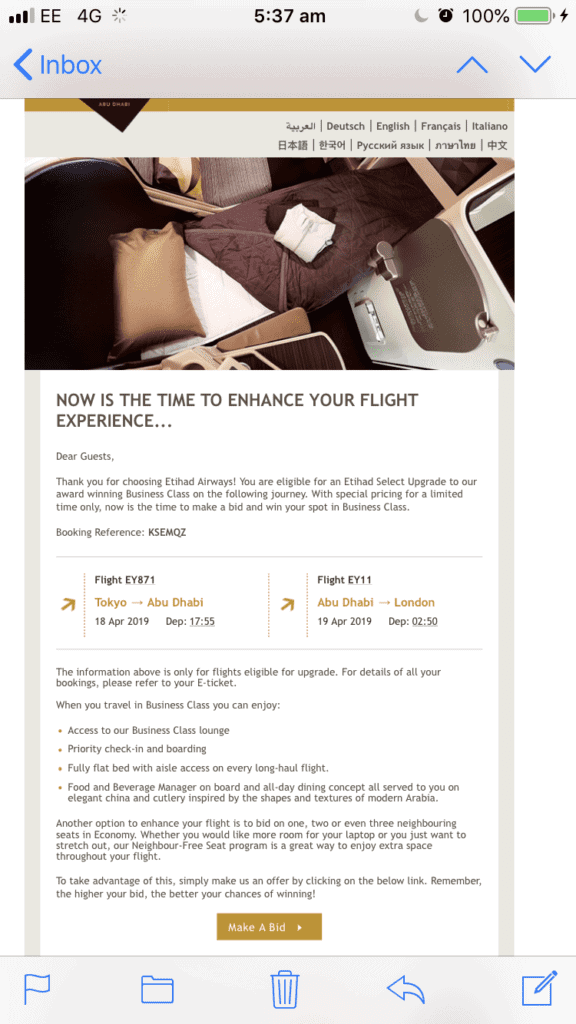 You can bid to upgrade to business class
So, as you can see above, the email offered us the opportunity to 'bid' an amount of money (or use points if you are a member) to go in with a chance to be rewarded with a business class upgrade.
I thought about this hard and I looked at each leg of our journey. My 11 year old checked what business class offered in terms of comforts – flat beds were my priority; onboard entertainment was his!
We were booked to depart at 6pm Narita time, and the first leg was an 11 hour journey. A business class seat on that leg would mean a sleep when our body clocks thought we should be sleeping. I looked at the second leg… Abu Dhabi to London. It was a shorter journey – just 7 hours but we would be able to sleep through the UK night and be more refreshed when we landed!
What to do… what to do? I knew I couldn't afford both legs!
You can bid on one leg of your journey!
Even though you can bid on your whole journey, I decided to bid on the longer journey – from Narita to Abu Dhabi and hope that we won… I entered the lowest possible bid (#dontjudgeme), as there is a range of amounts that they let you select. I hit enter and submitted my bid. Then we crossed our fingers!
Winning the bid to upgrade to business class
The day before our flight we received an email about checking in… I didn't open it because I was too nervous about whether it would say economy or business. But then I noticed the additional email. It announced, right there in the subject line that we had won the upgrade!
I won't lie… I cried a little bit!
My son was ecstatic and jumped around the room!!
What is business class on Etihad like?
Oh… it's lovely!! On our plane from Narita, (my son told me it was a 787-9) we got these little 'pods' each. Some are forward facing, some are rear facing.
You get an 'a la carte' dining menu as well as an 'all day' menu that you can choose food from throughout the flight.
You get champagne included.
You get those cute little amenities bags with cologne and eye masks and toothbrush and toothpaste.
But best of all you get a flat bed so you can sleep!! No photos because I was… sleeping!
But wait… there's more…
Because you now are a business class passenger, you get to join the much shorter line to check in. And your bags get tagged 'priority' so they come out quickly at your final destination!!
Another unexpected bonus of winning the bid for the Narita to Japan leg of the journey was being given access to the Narita airport business lounge. We arrived 2 hours before departure and were given a pass each to the lounge which was right above our gate.
Hello wine and yummy food!
You also get priority boarding…
And once aboard the customer service is phenomenal!
AND because you are at the front of the plane in business class you will see the pilots come out of the cockpit once the plane lands. And if you are cheeky, like me, you can ask if your son can take a photo in there with them…
Crunching the numbers for the cost
OK… so what you want to know is 'how much did it cost?', right?
Because the flight was out of Japan, we were quoted in Japanese Yen, but I have converted here to Australian dollars to show you what was charged to my credit card.
My adult economy flight was bought directly through the Etihad website for $1211 (AUS). This was for the full flight Narita to London Heathrow. My upgrade to business class was an additional $850 (AUS) for the Narita to Abu Dhabi leg. So $2,061 with 2/3 of the journey in business class.
My son's child economy flight was $945 (AUS) for the full flight and his upgrade was $850. So, his journey was $1795 (AUS) with 2/3 of the journey in business class.
TOTAL COST = $3, 856 for one adults + one child (all the way through to London).
This same journey booked as business class flights and booked directly with Etihad would be $7, 492 for one adult and one child just on the Narita to Abu Dhabi leg of the journey – so you can see – it was a huge saving!
What other airlines offer this 'bid to upgrade' system'?
I don't know! But I think they ALL should! I am looking into it now… if you know, comment below so I can consider them next time we fly!
Please note that this article is not in any designed to support Etihad Airlines. We do not have any relationship with the airline and are not partnered with them. We just love a bargain and wanted to share this with you too!