Easter FREE School Holiday Fun Gold Coast, Tweed & Byron
20/03/2021
Entertaining the kids these school holidays doesn't have to break the bank. We've found the best FREE school holiday fun for families on the Gold Coast, Tweed Shire and Byron Bay regions.
FREE School Holiday Fun Gold Coast
Easter 2021 – FREE School Holiday Fun – Gold Coast
Stay Golden | Pacific Fair
Sat 3 – Sun 18 April 2021
HOTA is taking over Pacific Fair these school holidays with FREE kid's ArtLabs and an art exhibition! Your little ones can practice their inner Picasso at the free pop-up art workshops, designed by local artists to inspire mini artist's in the making. Plus, the whole family can discover a range of giant art sculptures in The Resort area afterwards!
Space Designers Zoom workshop | Online
Have you considered a trip to space? BOP Industries and Gold Coast Libraries present SPACE DESIGNERS online workshop. From exploring the exciting advancements happening in the space race to designing spacecraft to developing an understanding of structures on foreign planets, this FREE workshop promises to get students thinking big and developing their understanding of space and the science behind it. Suitable for children 8 – 11 years. Bookings essential.
Trolls World Tour Workshop | Coolangatta
Join in a craft workshop at The Strand to decorate your own Trolls World Tour Backstage Pass. Enjoy crafting with textas, glitter and fur! Plus meet Poppy the Troll for a one-on-one meet and greet. Register your interest to attend asap!
Super Sports Saturday 2021 | Miami
Head to Pizzey Park for the biggest action packed sports family celebration ever! Featuring live music, food trucks, sports stalls, skate jams, outdoor movie and much more! Join in the FREE community celebration from 3.30pm to 8pm. Find out more here.
Our Amazing Moon | Nerang
The Moon is Earth's constant companion in the night sky that shows us different phases night after night. The Moon also is the only celestial object in the solar system where humans have walked upon its surface and now we are going back to build a Moon base…Wow! Join this fun workshop at Nerang Library full of wonder suitable for children 7 – 12 years. Bookings essential.
Calling all Dinosaur Hunters! | Coolangatta
Does your little darling love dinosaurs? Step back in time and let the kids uncover their very own dinosaur fossils with free craft workshops at The Strand. Learn about these amazing prehistoric creatures and make the next big discovery. Plus, let your imagination run wild! Friendly face painters will create little angels, critters or characters to your darling's delight. Just beware, you may be escorting a lion home. Don't say we didn't warn you~! Be sure to register your interest asap.
SUMMER 2020 – FREE School Holiday Fun – Gold Coast
Tuesday 15 December
Summer Water Battles | Jacobs Well
Make a splash this summer with water games that incorporate techniques that will build your speed and agility. Be prepared to have fun and get wet! Bring the whole family. No booking required. Read more here.
Where: Jacobs Ridge Park, Jacobs Ridge Road
Time: 9am-10am
Wednesday 16 December
Summer Sporty Christmas | Maudsland
Celebrate all things Christmas with festive themed games that will have you cheering. If hot, be prepared to get wet. Bring the whole family. No booking required.
Where: Parklake Park, Maudsland
Time: 9am-10am
Thursday 17 December
Elfie with Santa | Southport
This Christmas, Australia Fair is making YOU the star! Spread the joy virtually with a FREE custom mini movie starring you and up to two buddies. Make a fun face into the iPad and watch as you get up mischief at North Pole with Santa! Don't forget to share your video with family and friends, especially those we can't be with this Christmas.
Where: Australia Fair, Ground Floor, outside Coles
Time: A Christmas Elf is on hand from 10am – 2pm to help
Friday 18 December
Summer Cruiser Skateboard | Burleigh
Ever wanted to learn how to ride a skateboard but weren't game or didn't own a board? This fun workshop is for all ages and skill levels. Equipment supplied so bookings essential.
Where: Pratten Park, Old Burleigh Road, Burleigh
Time: 9am-10am
Saturday 19 December
Explore the Currumbin Rock Pools | Currumbin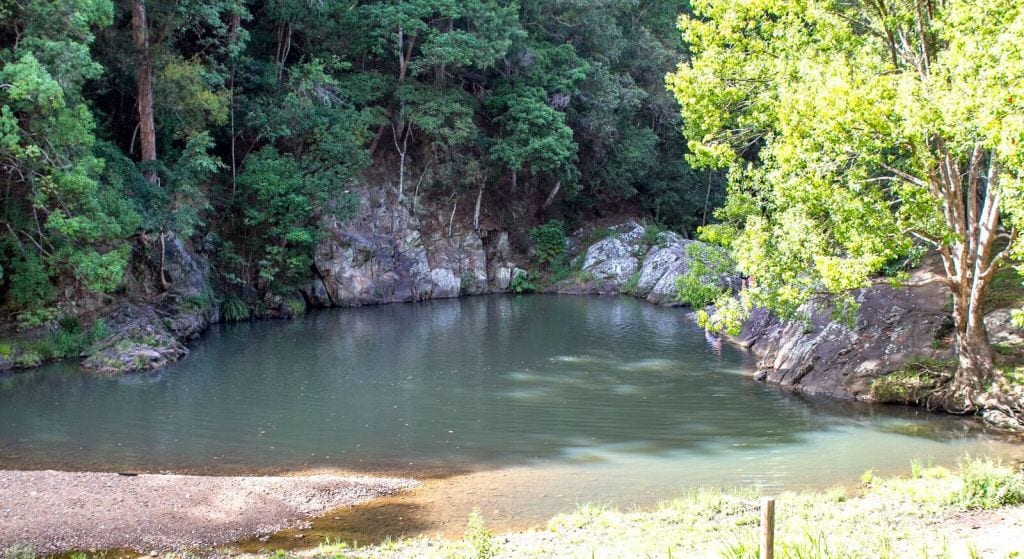 Cascading waterfalls, lagoons, trickling streams all surrounded by lush, tropical greenery … sounds like the stuff that holiday photos are made of, right? It's one of our ABSOLUTE favourite things to do on the Gold Coast with kids – for VERY good reason!
Sunday 20 December
Summer Rock Climbing | Palm Beach
Everyone can challenge themselves on the 11- metre-high mobile rock wall. Enclosed shoes must be worn. For ages from 6 years. No booking required.
Details here.
Where: Palm Beach Parklands, Gold Coast Highway, Palm Beach
Time: 8.30am-12.30pm
Tuesday 22 December
Summer Get Down and Dance | Labrador
Your kids will be jumping with excitement as they twirl, slide, pop, drop and turn in this energetic and engaging dance workshop. By the end, they'll know a complete routine with age-appropriate music and moves that you and your dancer are both going to love. For ages 5 to 12.
Where: Labrador Community Hub, 57 Billington Street, Labrador
Time: 10.30am-11.30am
Wednesday 23 December
Summer Bubblelicious | Paradise Point
A mind-blowing magic bubble-popping fun activity! Learn different types of bubble tricks with a twist. Bookings required. Find out more here.
Where: Paradise Point Parklands, The Esplanade, Paradise Point
Time: 9.30am-10.30am
Thursday 24 December
Movies under the Stars: The Polar Express | Surfers Paradise
What better way to spend an evening than outdoors watching a movie under the stars! City of Gold Coast proudly presents this special edition of Movies under the Stars – Summer Series. Due to ongoing COVID restrictions this event is ticketed, so click the link below to check out the movie schedule and register for your FREE ticket.
Gather your picnic blanket, family and friends and get ready to dive into the Christmas spirit with the sand between your toes on Surfers Paradise Beach. Why not make a night of it and enjoy dinner at one of the many restaurants on offer in Surfers Paradise? Book here.
Where: Surfers Paradise Beach
Time: 6pm-9pm. Movie starts at 7pm
Thursday 31 December
New Years Eve at Robina Town Centre | Robina
Ring in the New Year with live music, fire performances, food, and fireworks. Get your FREE tickets here.
Where: The Promenade, Robina Town Centre
Time: 4pm to 9pm.
Monday 4 January
Land Train Rides | Broadwater Parklands
Choo! Choo! All aboard the Broadwater express! Grab the kids and explore the park on one of our free scenic train rides. Head to the Great Lawn at Broadwater Parklands to get on the train. Operating Monday 4, 11 and 18 January, 10am to 2pm No bookings required.
Tuesday 5 January
Kids DJ Party in the Park | Broadwater Parklands
Take the kids to party at Broadwater Parklands with a local DJ playing all your old favourite hits. Operating Tuesday 5 and 12 January, 10am to 2pm. Beside the Bouncy pillow at Broadwater Parklands, Southport. More info here.
Friday 8 January
NaturallyGC Rocky Shore Explore and Sea Slug Citizen Science | Burleigh Beach
In collaboration with the "Sea Slug Census" group, Ocean Connect will be running a hands-on session on the identification of sea slugs, nudibranchs and other magnificent creatures of the rocky shores to assist in the mapping of the marine diversity in this fragile ecosystem. Marine scientists will be available on the day who are specialised in sea slugs and rocky shore biodiversity. This is a unique opportunity to contribute to marine research and science activities. Register here.
11 January – 24 January
Skatefest | Pacific Fair
Get on board and roll on in for FREE fun over the January school holidays! Back by popular demand, Pacific Fair's car park is transforming into a skate park for kids 5+ years to learn some tips on how to get started, perfect tricks for the more experienced skaters or, for the younger creative kids get crafty at design skool. Bookings are essential for all activities.
Where: Pacific Hair, Hooker Boulevard, Broadbeach
Time: 9am, 11am, 1pm & 3pm daily
Thursday 14 January
Our Beaches – Coastal Critters | Broadwater Parklands
Join Geckoes Wildlife to meet some of the unique and interesting animals that live along the Gold Coast coastline. You might even get up close and personal with some of the native coastal critters! This workshop is suitable for 6 to 17 years old. Spots are limited so book now.
Where: Broadwater Parklands
Time: 9am-10am
Tuesday 26 January
Guided Bird Walk in the Botanic Gardens | Benowa
Lakes, lagoons and acres of native plants in an urban environment create the perfect habitat for an encounter with amazing bird life. Over 130 different species of birds have been recorded at the Gold Coast Regional Botanic Gardens. Join a very knowledgeable guide to identify and monitor the birdlife. More details here.
SPRING 2020 – FREE School Holiday Fun – Gold Coast
Sat 19 September Active & Healthy Skateboard Workshops | Jacobs Well
Come on down to your local skate park and be taught by great coaches. Learning new skills can always be a little challenging – but challenge is good. If you feel nervous about trying skateboarding, don't be – because these workshops are aimed at beginners. You don't even need your own gear. They can supply skateboards and helmets for up to 15 participants. Call Jay Hetherington for more details on 0407 910 240.
Sat 19 to Sun 20 September SWELL Sculpture Festival | Currumbin
SWELL Sculpture Festival 2020 will deliver up to 50 works of art by nationally and internationally renowned artists, to be presented as a free public exhibition along Currumbin Beach. See our events calendar for more details.
Sat 19 to Sun 20 September Tamborine Mountain Scarecrow Festival | Mount Tamborine
The annual Tamborine Mountain Scarecrow Festival is a huge Sculpture Show featuring bespoke Scarecrow creations! Everyone and anyone on the mountain is encouraged to make a scarecrow and display it on the 'Spot the Scarecrow Discovery Trail' or in front of their homes or businesses. The Scarecrows on the Discovery Trail can compete in several categories, for great prize money and local fame. Young, old, clever, and artistically-challenged all participate, and the result is hundreds of scarecrows that have to be seen to be believed. We have all the event details for you here.
Sun 20 September 360 Degree Online Nature Trails | Online
Immerse yourself in the surroundings of some of the top Gold Coast nature trails by taking a 360 degree virtual video tour taking in the sights and sounds along the way. Simply swipe or rotate your phone or utilise your mouse to rotate on your desktop. Check them out here.
Wed 23 September 23 NaturallyGC Hotel for Frogs | Benowa
Native frogs are a favourite visitor of Australian gardens and come in many different shapes and sizes. There are 39 which call the Gold Coast area home. Native frogs need our help as they are struggling to find suitable habitats to live and breed. This workshop includes an introductory presentation that will help kids identify these hopping friends and learn all about their specific needs followed by a 'How to build your own frog hotel' activity! Book your spot here.
Thurs 1 October Training Wheels to Two Wheels | Miami
This workshop teaches children aged four years and over how to advance from training wheels to two wheels. Children must bring their own two-wheeled bike (with or without training wheels), helmet and be accompanied by a parent or guardian. Get the workshop details here.
Fri 2 October Creepy Creature Collage | Online
If your child has a wild imagination and a love for strange creatures, this fun workshop hosted by Gold Coast Libraries is for them! Together with award-winning illustrator Lucia Masciullo, they'll design their own creature and finish it with a unique pencil and collage technique. Find out more here.
Sat 3 October NaturallyGC Busy Bees (Kids) | Varsity
Did you know there are over 1600 different types of native bees in Australia? Dr Toby Smith will introduce you to the amazing world of Australian native bees. Get to see dozens of brilliant close up photos and diagrams of bees to help explain this great diversity, bee lifecycles and their nests, and their important role in pollination and food security. You will also get to see preserved bee specimens, and live stingless bee hives with viewing windows. If we're lucky you may even get a glimpse of a queen! Book your spot here.
Until 4 October Pacific Fairgrounds Carnival | Broadbeach
Calling all little clowns. The FREE Pacific Fairgrounds Carnival is taking over Pacific Fair these school holidays from 19 September to 4 October! Enjoy a range of classic carnival games and rides like the teacup ride, Sideshow Alley crazy mirrors, bean bag toss, strongman cut outs and rubber ducky fishing ponds where you can win heaps of prizes! Plus, for a limited time only, by popular demand, the iconic Pacific Fair train will be returning! Bookings essential. Find out more at the Pacific Fair Shopping Centre website.
Until 5 October Neon Paradise | Surfers Paradise
Paradise Centre at Surfers Paradise has gone NEON these school holidays! Find out more here.
FREE School Holiday Fun – Tweed Shire
Tweed Regional Museum
Great news! The Tweed Regional Museum in Tweed Heads is reopening in time for the spring school holidays! To celebrate you can grab your free 'My Museum's Most Magnificent Activity Bag' when you visit featuring free activities that connect with the displays on offer at the Tweed Regional Museum.
FREE School Holiday Fun – Byron Bay Region
Brunswick Heads Fairy Trail
Brunswick Heads fairies abound, and if you look in nooks and crannies their wee houses can be found. Take the kids on an adventure to find the homes of fairies located along the Brunswick Heads Fairy Trail. Fairy Trail maps are available at the Visitor Centre.
EASTER 2020 – FREE School Holiday Fun – Gold Coast
What: Seafire 2017 – This April 1st, Surfers Paradise celebrates our passion for pyrotechnics with SeaFire, a night of hypnotic performance and thrilling fireworks above Surfers Paradise Beach. The night will start with a tribute to the Navy involving a preshow with a Navy Helicopter, Navy displays, live band and activity on the beach from 2- 4pm.
When: 1st April – from 2pm
Where: Surfers Paradise
What: Easterfest at Sanctury Cove – Bring the family and hop to the Sanctuary Cove Easter Eggstravaganza on Easter Sunday from 10am to 4pm. Then from Monday 28 March through to Friday 1 April, enjoy a free school holiday program from 11am to 2pm daily. Visit Easterfest and enter the draw to WIN a $500 Marine Village Gift Voucher.
When: 27th March – 1st April
Where: Sanctuary Cove
What: Australian Street Entertainment Championships – From Friday 14th- Monday 17th April, Surfers Paradise will once again transform into a carnival of laughter and entertainment with the return of the Australian Street Entertainment Championships presented by Cavill Lane. See both invited and competing performers take to stages across Surfers Paradise, all vying for the crowd's attention.
When: 14th-17th April
Where: Surfers Paradise
What: Hop into The Strand This Easter – It wouldn't be Easter without chocolate, so the Easter Bunny will be making a special visit to The Strand at 11am – 2pm daily from Monday 10 to Saturday 15 April (excluding Good Friday) to give out FREE Easter Eggs.
When: 10th – 15th April – 11am – 2pm
Where: The Strand, Coolangatta
What: The Great LEGO® Building Challenge – Get ready to show off your Lego skills as the Great LEGO® Building Challenge is coming to The Strand! Held from Monday 10 April to Saturday 15 April, competitors will let their imaginations run wild as they construct masterpieces out of LEGO®. During the heats, each contestant will receive a bookmark of excellence while a first, second and third place will be chosen with great LEGO® prizes awarded. First and second place heat winners will be invited back to the Finals to compete for a prize package valued at over $800.
When: 10th – 15th April
Where: The Strand, Coolangatta
What: Free Cooly Youth Even – Division 14 Councillor, Gail O'Neill invites 12 to 17 year olds to wrap up Youth Week by celebrating at our free Cooly Youth event. Live music, inflatable obstacle course, circus activities, skate workshop and best tricks competition, gardening creations and pop-up library with robotics. Bring something white to tie-dye. Limited bandanas are available.
When: 12th April – 1-4pm
Where: Coolangatta
What: Gold Coast Superhero Weekend – Are you just a superhero in disguise? Well mark the calendar, because Gold Coast Superhero Weekend is heading to Broadbeach, 21 to 23 April 2017. This supercharged weekend will include the Supanova Pop Culture Expo, Gold Coast Film Festival and a ton of action packed events for the young and the young at heart.
When: 21st-23rd April
Where: Broadbeach
What: Leonardo Da Vinci inspired invention, Gold Coast – Get inventive with cardboard, pipe cleaners, paper and other craft materials.
When/Where:

Burleigh Waters Wednesday 12 April 2.30pm – 3.30pm
Elanora Tuesday 11 April 1pm – 2pm
Helensvale Thursday 6 April 2.30pm – 3.30pm
Nerang Wednesday 12 April 11am – noon
Robina Thursday 6 April 2.30pm – 3.30pm
Runaway Bay Thursday 6 April 9.30am – 10.30am
Upper Coomera Wednesday 12 April 11am – noon
What: Indigenous painting workshop with Sylvester Cook
When/Where:

Burleigh Waters Wednesday 12 April 2.30pm – 3.30pm
Elanora Tuesday 11 April 1pm – 2pm
Helensvale Thursday 6 April 2.30pm – 3.30pm
Nerang Wednesday 12 April 11am – noon
Robina Thursday 6 April 2.30pm – 3.30pm
Runaway Bay Thursday 6 April 9.30am – 10.30am
Upper Coomera Wednesday 12 April 11am – noon
What: Margaret Olly Inspired Still Life Stones, Gold Coast – Create little still life artworks on stones.
When/Where:
Broadbeach Thursday 13 April 11am – noon
Burleigh Heads Thursday 6 April 2.30pm – 3.30pm
Elanora Thursday 6 April 2pm – 3pm
Robina Wednesday 12 April 2.30pm – 3.30pm
Runaway Bay Thursday 13 April 9.30am – 10.30am
Southport Thursday 13 April 2pm – 3pm
What: Picasso Inspired Selfie Puzzle, Gold Coast – Make a vibrant Picasso style self-portrait and cut it up for a crazy puzzle.
When/Where:
Broadbeach Tuesday 11 April 2pm – 3pm
Helensvale Tuesday 4 April 2.30pm – 3.30pm
Nerang Wednesday 5 April 11am – noon
Runaway Bay Tuesday 4 April 2.30pm – 3.30pm
Southport Friday 7 April 3pm – 4pm
Upper Coomera Tuesday 4 April 11am – noon
FREE School Holiday Fun – Tweed Shire
What: Decorate Easter Mugs – Embellish your own Easter mug and receive an Easter egg to put inside it. For children aged 7yrs+
When: 12th April 2017 – 2:00pm – 3:00pm
Where: Kingscliff Library
What: Free School Holiday Fun at Salt Bar – Disco, Face Painting, Balloon Twisting & Airbrush Tattoos, Easter Bunny Visit + Face painting on Saturday 8th April: 6-8pm, Balloon Art on Sunday 9th April: 6-8pm, Kids Disco on Thursday 13th April: 4-6pm, Easter Bunny Appearance on Thursday 13th April: 5-7pm + Kids eat free Sunday, Tuesday, Thursday,
When: 24th March – 13th April
Where: Salt bar
What: Sunday Fundays at seagulls – Easter school holidays at seagulls will be filled with fun as the club holds a series of free Sunday Fundays for families on April 9, 16 and 23 April from 2-6pm. Their annual Easter Family Day returns on Sunday 16 April from 2pm to celebrate the Easter long weekend. Family entertainment, food, and live music will be showcased throughout the afternoon along with a Roxy Rocket magic show, Easter egg hunt, jumping castle plus free face painting and balloons for the kids.
When: 24th March – 13th April Where: seagulls, Tweed Heads
FREE School Holiday Fun – Byron Bay Region
"No Worries" Worry Dolls
Tiny peg worry dolls are an old Mexican tradition – put them under your pillow to absorb the worries of the day while you sleep. This funky collection come with afros and cool clothes. They'll appeal equally to boys and girls. Suitable for children aged six and over.
When: 11th April – 10.30am
Where: Byron Bay Library
Matisse by the Sea Art Workshop
Create your own masterpiece inspired by the French artist, Henri Matisse. Ideal for children aged 6-10 years.
When: 12th April – 10.30am
Where: Byron Bay Library
Storytime with Fairy Poppilina
A magical themed storytelling and craft session with the fabulous kids entertainer and storyteller, Fairy Poppilina. It's a dress up story session: come as your favourite story character! Ideal for boys and girls ages 4-8 years.
When: 21st April – 10.30am
Where: Byron Bay Library
Wishing you all a happy and healthy holiday break!