Prepare the petals – Toowoomba Carnival of Flowers has unveiled a month-long celebration for September.  Plus, the Festival of Food and Wine is back for three mouth-watering days and our family favourite, the Grand Central Floral Parade (a free-event) is back bigger than ever!
What is the Toowoomba Carnival of Flowers?

A breathtaking festival of flowers, flavours, and sounds, the Toowoomba Carnival of Flowers takes over the Southern Queensland city of Toowoomba each September. This unique festival offers a program bursting with award-winning experiences including stunning private gardens and public parks, streets blooming with floral colour, internationally acclaimed musical acts, and some of the best food and wine to be found in Queensland.
Toowoomba Carnival of Flowers organiser's have unveiled a month-long program of celebrations for 2023.
190,000 spectacular blooms have been planted across the city's major parks and public spaces to create a spectacular canvas of colour for the much-needed, month-long celebrations in September.
History of the Carnival of Flowers
Since its inception in 1949, the Toowoomba Carnival of Flowers has flourished and is now an iconic Queensland event. The brainchild of Essex Tait and the Toowoomba Chamber of Commerce, Carnival was introduced as a way for the city to use their "Garden City" reputation to bounce back after the hardships of war.
On October 21, 1950 the Toowoomba Carnival of Flowers commenced with a street procession that stretched three miles. Led by a bullock team and watched by a crowd estimated to be 50,000 strong, it was a huge success.
2023 Toowoomba Carnival of Flowers
This annual event will be held in 2023 from 1 to 30 September.
Toowoomba Carnival of Flowers Grand Central Floral Parade 2023
We're so excited about the Grand Central Floral Parade at Toowoomba Carnival of Flowers! It truly is the event that stops the city, with thousands of families lining the streets to watch the colour go by. It will be held on Saturday 16 September at 10am, allowing families to enjoy a full day shopping, sightseeing and adventuring in Toowoomba.
The iconic Grand Central Floral Parade is one of Toowoomba's favourite events of the year! Head along to watch street performers, carnival characters and roving entertainment escort the stunning floral floats on their journey through the heart of the city to Queens Park.
The Floral Parade departs from the corner of Herries & Hume Streets, continues along Herries Street. It will then turn right into Ruthven Street, right into Margaret Street, left onto Hume Street and finish on Godsall Street Oval on the corner of Hume & Godsall Streets.
Heritage Bank Parkland Entertainment
Every weekend is blooming with Parkland Entertainment! Pack a picnic and bring the family along to musical delights and activities amongst the flower beds. Throughout September Queens Park will come alive with music, entertainment and blooms. There will be something for everyone!
Twilight sessions will be held every Fri and Sat in Sept 5:30pm – 8pm excluding Fri 8 & Sat 9. This will allow you to bring a picnic blanket and chill in the park listening to local artists as the sun goes down and the stars come out.
Fri 1 & Sun 3  – 9:30am to 1pm & 2pm to 5:30pm 
Sat 2 – 2pm to 5:30pm
Fri 15 & Sun 17 – 9:30am to 1pm & 2pm to 5:30pm
Sat 16 – 2pm to 5:30pm
Mon 18 – Thurs 21 – 2pm to 5:30pm
Fri 22 & Sun 24 – 9:30am to 1pm & 2pm to 5:30pm
Sat 23 – 2pm to 5:30pm
Mon 25 – Thurs 28 – 2pm to 5:30pm
Fri 29 – 9:30am to 1pm & 2pm to 5:30pm
Sat 30 – 2pm to 5:30pm
Twilight sessions Fri and Sat in Sept 5:30pm – 8pm excluding Fri 8 & Sat 9
Queens Park, Botanic Gardens, Toowoomba
Festival of Food & Wine
We can confirm the return of the popular Festival of Food and Wine, to be held from 8 – 10 September celebrating the best in regional produce and Australian music in Queens Park. For three mouth-watering days you can sample the world-famous produce of Southern Queensland Country, all in one location.
Friday 8 September 4pm – 10pm
Saturday 9 September 11am – 10pm
Sunday 10 September 11am – 8pm
Sideshow Alley
Head to Lower Queens Park for thrill-seeking rides, fairy floss, dagwood dogs and show bags! Have a shot at winning a top shelf prize at one of the sideshow games or take in a birds eye view upside down from the heart-stopping 360º ride.
Friday 15 Sept, 5pm – 10pm
Saturday 16 Sept, 9am – 10pm
Sunday 17 Sept, 9am – 9pm
Free entry. Rides and some activities require coupons: $2 = one coupon, $30 = 18 coupons, $60 = 40 coupons, $99 = 70 coupons.
Fireworks
The skies over Toowoomba will light up with breathtaking displays over three nights.
Friday 15 Sept & Saturday 16 Sept at 8:30pm & Sunday 17 Sept at 7:30pm.
Ferris Wheel
For a blooming marvelous view over the Botanic Gardens get on board the Ferris Wheel! The Ferris Wheel is a truly wonderful way of seeing the floral filled Botanic Gardens from above. The Ferris Wheel will be open at the Toowoomba Carnival of Flowers from Fri 15 – Sat 30 Sept. 
Mon – Thurs, 10am – 7pm 
Fri – Sun, 9am – 8pm 
Note: Fri 15, 3pm – 8pm 
Adults $8
Children (2-13) $4
Children under 2 – free
Carers ride free on presentation of Companion Card
Families tip: The Ferris Wheel accepts card payment only.
Cinema Under the Stars
Toowoomba Carnival of Flowers will host Cinema Under the Stars in 2023, a free community event, as the sun sets over Newtown Park.
Saturday 30 Sept, 5:30pm food trucks operating, 6:30pm movie commences.
Newtown Park
Movie: Chicken Run at 6.30pm
Teddy Bear's Picnic
Picnic Point is the perfect place for the first Teddy Bears' Picnic and along with other local Tambo Teddies we will be putting on a day to remember. There will be interactive games all day, colouring-in and roving kids entertainment and food stalls. Tambo Teddy families can be part of the 'Roll-call' and all teddies are invited to be in the fashion parade, with registrations on the day.
Where: Picnic Point
When: Saturday 23 September 8.30am – 11.30am
Cost: Free
What's on all month at Toowoomba Carnival of Flowers
Floral Displays in all parks and public spaces including feature blooms in Queens Park, the Botanic Gardens and Laurel Bank Park, as well as floral chalk art.
#trEATS regional food trail which shines the light on cafes, restaurants, bars and pubs with floral inspired dishes
Scenic and Tasty Self-Paced Trips – drive yourself and explore gourmet restaurants and some of the best quirky pubs in town!
Parkland entertainment featuring local musicians and entertainers.
Twilight Tours in Laurel Bank Park.
The popular dog-friendly Petals and Pups.
Guided and non-guided walking tours.
Cobb + Co Museum will have a packed program for young and old to discover.
Community events, gardening experiences and gardening displays will be happening across the month.
Weekend highlights at Carnival of Flowers
Here are just a few of the highlights from this year's programme of events:
September 1 – 4
Foodie Dinners
Heritage Bank Parkland Entertainment
#trEATS regional food trail.
The Bug Garden Sighseeing Tour
Talking Pubs
September 8 – 10
Sustainable Food Production and Waste workshop
Queens Twilight Markets
Festival of Food and Wine
Botanical Infusions: Plants, Art and Gin!
September 15– 17
The Grand Central Floral Parade on Saturday September 16 at 10am.
Side Show Alley in Queens Park returns in a kaleidoscope of colour, vibrant and cool!
The much loved Ferris Wheel in the Botanic Gardens will be open for all ages.
Fireworks!
Festival of the Big Cow at Highfields Pioneer Village
Toowoomba's Finest Craft Show
*School holidays commence for QLD and NSW.
September 22 – 24
Teddy Bears' Picnic at Picnic Park
Queens Park Market
Heritage Bank Parkland Entertainment
Play in the Petals: floral-filled public parks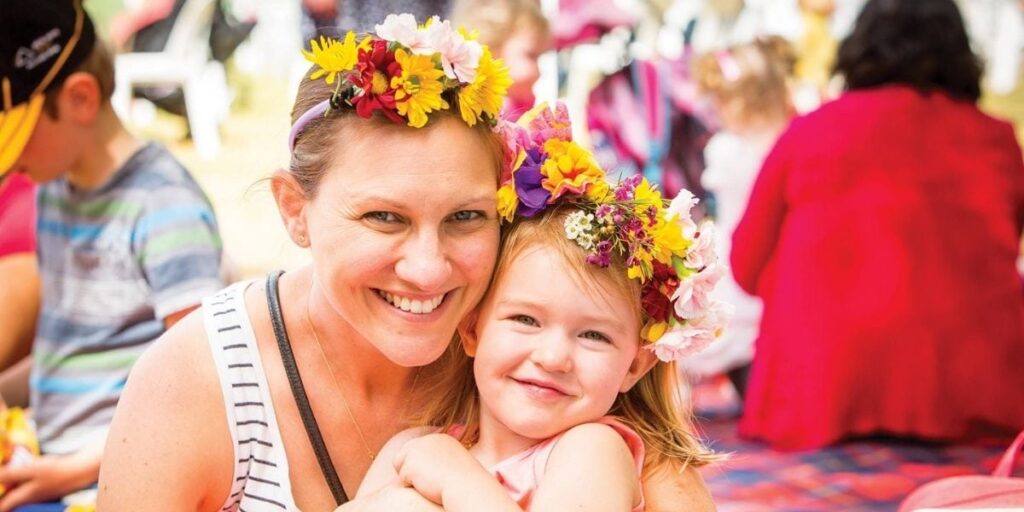 The two major feature displays of bulbs and flowering annuals are located at the Botanic Gardens, Queens Park and Laurel Bank Park. Additional plantings occur around the CBD (Ruthven and Margaret Streets), Picnic Point Lookout and Spring Bluff Station. We recommend taking a stroll around to enjoy the wide variety of plants on display.
Queens Park
Spread across 25 hectares, Queens Park is something to behold, with bright flower beds, large canopies of stately trees and acres of expansive green lawns, plus two playgrounds to delight the kids. 43 Lindsay St, Toowoomba.
Laurel Bank Park
Laurel Bank Park is one of Toowoomba's premier parks featuring manicured gardens, mature trees, children's play equipment, barbecue and picnic areas and two croquet lawns. It's a must-see destination during the Toowoomba Carnival of Flowers. 50 Hill St, Toowoomba.
Picnic Point Parklands
Just a short drive from the city's CBD, the State heritage-listed parklands provide breathtaking panoramic views eastward to Table Top Mountain and the Lockyer Valley. At night, the glow of Brisbane city lights can be seen from the iconic Picnic Point Lookout, perched high on the crest of the Great Dividing Range. 164 Tourist Rd, Toowoomba.
Spring Bluff Railway Station Gardens
Heritage-listed Spring Bluff Railway Station is home to 150 years of railway history and beautifully landscaped gardens. Nestled on the main railway line between Ipswich and Toowoomba, the gardens will stop you in your tracks. The spring exhibit is absolutely stunning with poppies, ranunculus, stock, snapdragons, petunias and many other flowers bursting into colour.
Looking for playgroups and toddlers' activities in Toowoomba? We know that!
And there's more!
Lock in the dates and get ready for the flowers, food, and fun at this year's Carnival of Flowers! Find out more about the event at the Carnival of Flowers website.
And find out what else there is to do in Toowoomba while you are there in our bumper article here.