There are loads of free things to do in Honolulu with kids. Generally the US city of Honolulu can be a bit on the pricey side, but these fun things to do don't cost a thing (and no tipping is required!).
Hawaii is a beautiful, generally very family friendly state with fun for all of the family. During a recent visit we hunted down a bunch of free things to do… and did them ourselves to ensure they were worthy of our list!
RELATED: If you are looking for a lightweight convertible car seat for travel, read this guide.
Check out these recommendations of fun, free things to do Honolulu with kids:
Beach time
The most obvious free thing for families to do in Hawaii is to chill out at the beach. There are no private beaches in Hawaii, which means you can chill out at any beach that you like. The beaches are lovely and picturesque. They are clean and the water is delightfully warm, even late into the evening.
Why not make your free, family, fun day out include swimming and making sandcastles with the kids? And maybe include a bit of people, boat, parasailing and surfer watching as well?
For your reassurance, some parts of the Waikiki beach have lifeguards on duty. A lifeguard tower is located on Central Waikiki Beach near the Waikiki Police substation (2425 Kalakaua Ave). There are also some breakwaters to protect less able or confident swimmers from the larger waves that can occur. The breakwater starts opposite Lilli'uokalani Ave and goes south for a few blocks.
Fish feeding at Alohilani Resort
When you have had enough of the beach and the sun, head to the lovely, air conditioned 'Alohilani Resort' hotel on Kalakaua Ave for more free, children friendly, fish feeding fun. Two minutes away from the beach, they have a large tank of different sorts of exotic fish that you can go in to view.
At 10.30 and 14.30 they hold a 10 min show where a diver enters the tank to feed the fish, which adds extra interest. There is no obligation to buy but you can sit in the café and order tea, coffee, snacks etc. while the kids watch the mesmerising fish and the free show. You can easily keep an eye on your kids from the comfort of your seat.
Drinks and snacks are pricey, you can get cheaper, but hey, treat yourselves, you're on holiday, on an otherwise free family day out with the kids. You can just walk into the hotel, via the Lilli'uokalani Ave entrance, the fish tank is large, obvious and right in front of you.
Diamond Head State Monument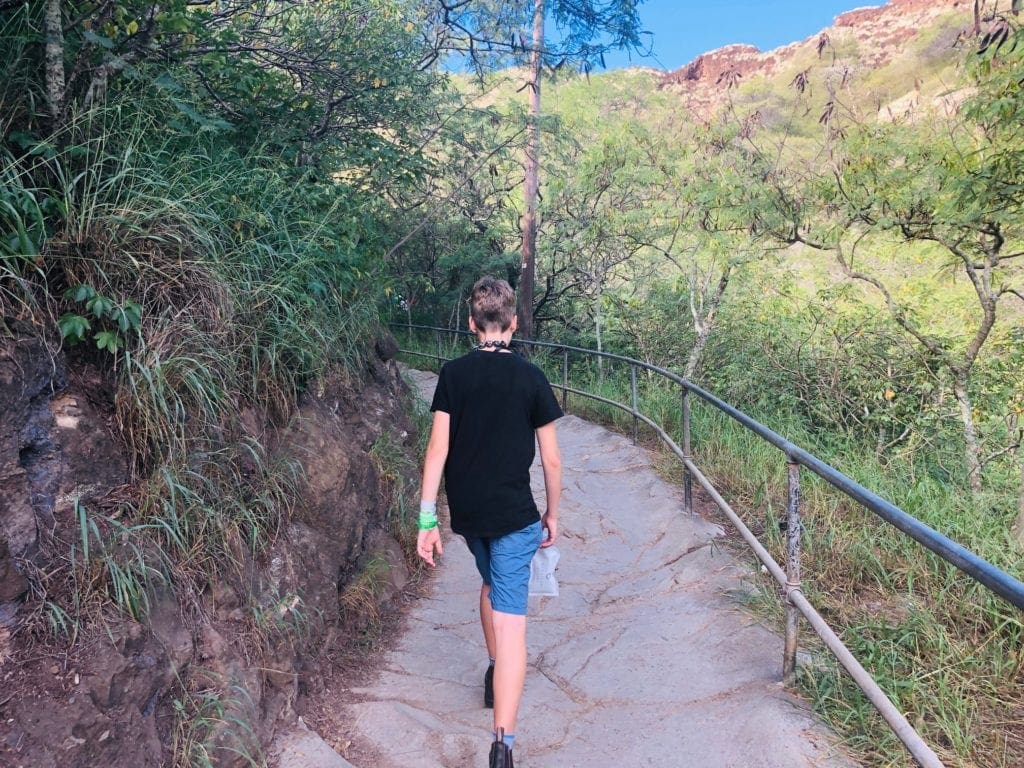 After a relaxing, free, family morning, get some exercise in the afternoon and head to Diamond Head State Monument. South East of Waikiki there is a beautiful, panoramic, bird's eye view of an extinct volcano, Waikiki and the sea.
It's approx. a 2 mile/40 min walk from Waikiki to the park entrance, so doable, but not appropriate for little ones without pushchairs or a baby backpack carrier. Public buses are easy to use and available for a reasonable price – $2.75 per adult per journey or $5.50 for a 1 day pass, $1.25 per child (under 17) or $2.50 for a 1 day pass, under 5s are free)
Taxis and Ubers are also an option. There is a nominal $1 entry fee per person (adults and children) to the park.
The hike takes about 30 mins from the park entrance in the middle of the volcano. It is a short but strenuous hike, being uphill all of the way and there not being much shade along the way. Not suitable for pushchairs or flip flops. You'll need proper shoes, suntan lotion and a water bottle. There is a free water fountain at the start of the trek, near to the toilets, there is nothing further up.
The view from the top is amazing and worth the hot, sweaty, hard work of the hike.
Stroll over to the Hilton Hawaiian Village
Head back to Waikiki and the Hilton Hawaiian Village Waikiki Beach Resort and maybe do some window shopping along the way? The Hilton hosts Waikiki's only saltwater lagoon, which makes a nice, swimming spot, different from the sea.
A nice, safe lagoon, just off the beach. It has gentle, sandy slopes into the water with a few little fishes for extra interest. You can hire pedallos, water bikes etc. but feel free to bring your own inflatables.
Duke Kahanamoku Beach
Next to the lagoon is Duke Kahanamoku Beach. As Honolulu faces West any of the beaches are perfect for viewing the amazing sunsets that can occur. Sit on the beach and wait for the sun to go down. Make sure you have your camera ready for getting that perfect family shot.
Kids Eat Free for dinner
If you are looking for a place where kids eat free in Honolulu, then you need to visit Eggs and Things in Ala Moana.
They offer one free kids meal for each full-price adult entrée purchased on Sundays and Tuesdays, after 2 p.m. (However, you will definitely need to tip your server here.)
Address: 339 Saratoga Road, Honolulu, Hawaii 96815 eggsandthings.com
Watch the Hilton Resorts Fireworks
Every Friday night the Hilton hosts a very impressive, free, firework display, which is fun for all of the family. The start times are seasonal: September – May it starts at 19.45, June – August it's 20.00.
The fireworks can be seen from various places but I'd recommend the beach between the Hau Tree Bar and the Tropics Bar & Grill. Get there early to get a good view and enjoy the free show to end your perfect day.
Free things to do in Honolulu
There are a plethora of things to do in Honolulu with kids…. and lots of them are free! Let us know if you find any more and we will add them here.