For Brisbane Schools Open Days – Click Here
Iona College is a Catholic school for boys in Years 5-12, conducted by the Missionary Oblates of Mary Immaculate, within the Archdiocese of Brisbane in Quandamooka country. All members of this community are Ionians.
Why choose Iona College?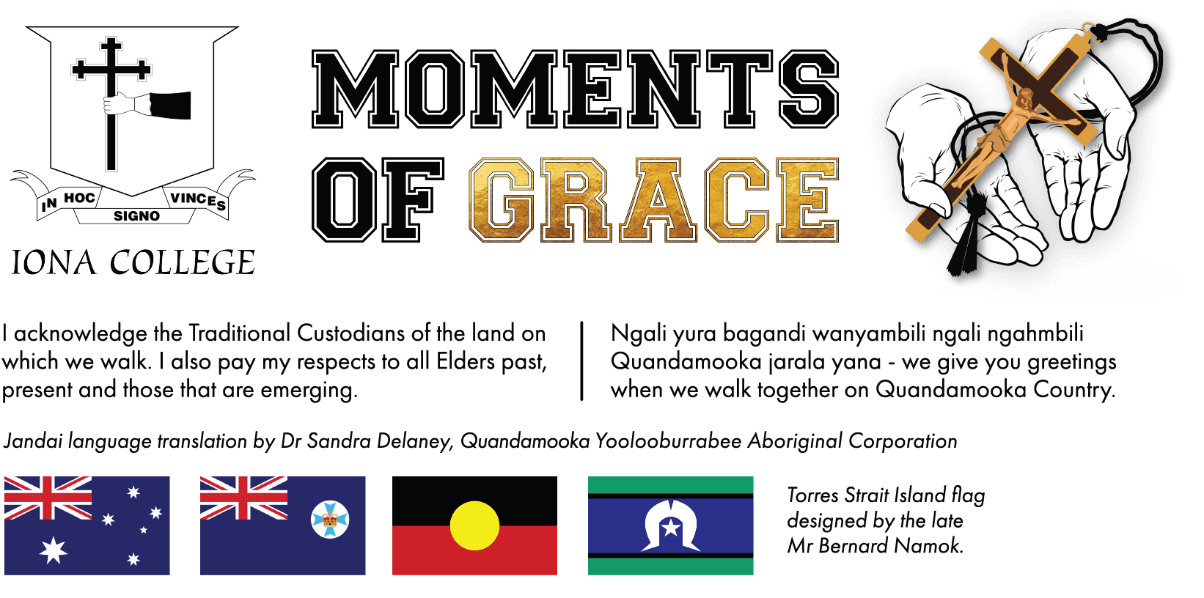 Since 1958, Iona has served our region in partnership with families and the wider community to form young men of quality who make a positive difference to the lives of others.
Our curriculum provides a wide range of subject opportunities to cultivate the individual talents of each student, including marine science and aerospace programs.
Iona sits on 100 acres in Brisbane's bayside, with world-class facilities all on the same campus including The Provence Centre, our new, 2500-seat indoor sports and events stadium and the Iona Performing Arts Centre (IPAC) – a 500-seat, fully equipped auditorium for music and theatre.
Our AFL oval has the same dimensions as the Melbourne Cricket Ground, and is also contained within the school grounds along with our Olympic-sized swimming pool, professional gymnasium, tennis centre and the rest of our sports facilities.
Iona College understands that the dreams and talents of each student are unique.
Student learning is fostered in an environment that is challenging, engaging and supportive.
Classroom activities are designed to be enjoyable, stimulating and authentic.
Our students not only experience a positive school culture and environment, but they are also taught how to enhance their personal wellbeing, deal with life's challenges, and live a life of meaning and purpose.
In partnership with our families, we strive to nurture young men who enter our community to learn and leave us to serve.
Iona College has a strong sense of faith, identity and history and warmly welcomes all families wanting to be part of our community.
What are the sporting/extra-curricular options at Iona College?
Life as an Ionian extends well beyond the classroom, with students given access to wonderful range of spiritual, sporting, musical and cultural opportunities to unlock their potential and enhance their growth as young men of character.
Iona leads student pilgrimages to different states in Australia and internationally, including France (the birthplace of our Patron Saint, St Eugene de Mazenod) and the island of Iona in Scotland, after which our College is named.
Every year, the 500-seat Iona Performing Arts Complex hosts a large-scale stage production, where we also invite young actors from other local schools to come and share their passion for theatre and drama.
Musically, Iona boasts a wide range of instruments for students to develop their skills or discover a new passion, with a collection of bands, choirs and ensembles to perform with.
For students with a passion for sport, Iona offers more than 20 different codes, competitions and disciplines – catering to all tastes and offering the opportunity for students to try new things.
Aside from the more 'traditional' sports – the four football codes, swimming, cricket, tennis, cross country, track and field, basketball, volleyball and chess – Iona offers golf, water polo, sailing, mountain biking and Esports for those looking to get out of their comfort zones.
What are the public transport options to Iona College?
Iona College is adjacent to Lindum Railway Station on the Cleveland line, with a dedicated access path leading from the station directly to the school grounds.
Bus services run from our dedicated bus station to the Carindale and Capalaba transit centres. More information on these services can be found at the Translink website by searching for Iona College in their 'school service finder'. Click here for details.
What are the school fees per year?
Iona College is conscious of the role our school plays in serving our community, and has always been proud of its record of offering the lowest fees among private and independent schools for boys in Brisbane.
Our current schedule of fees, with details of applicable sibling discounts, is available on our website here.
What are the boarding options at Iona College?
Iona College is a day-school only, and does not offer boarding for students.
Does Iona College offer scholarships and how do we apply?
Iona College does not offer any scholarships, as we believe that all students make a positive contribution to our community. For more information regarding enrolments, please contact Iona's Enrolments and Relationships Manager Julia MacDonald on 07 3893 8888 or by email at enrol@iona.qld.edu.au
When are the open days at Iona College this year?
Tours are held by appointment throughout the year.
For Brisbane School Open Days – click here
Nearby Secondary Schools
Alexandra Hills State High School
Wellington Point State High School
Capalaba State College
Redlands College
Carmel College
For Brisbane Schools Open Days – Click Here
How to plan the best Year 12 Schoolies Week ever!