It's that time of year where we begin to wonder what the best school shoes are to buy our little ones for the start of the new school year. With Australian school kids spending more than 30 hours a week in their school shoes, it's vital that they not only have hard-wearing school shoes but more importantly good quality school shoes that are going to provide their growing feet with maximum support.
When it comes to buying kids school shoes, the whole process can become rather overwhelming. Parents are desperately trying to find back to school shoes that are not only the best quality school shoes, but also within their budget as well as being comfy school shoes and cool school shoes so their kids will be happy enough wearing them every day.
To take some of the pressure off, we've done the hard yards for you and found some of the best children's school shoes for the new school year. Not only have we found what we believe to be some of the best back to school shoes, but this article also takes you through some of things you should be looking for when buying new school shoes.
Understanding shoe terminology
First up, before we get into some of the great options for Australian school shoes, it's important that you understand some of the basic shoe terminology. I know this sounds rather boring, but I can assure you it will help you know what you're looking for when choosing the best kids school shoes.
Arch: the high curved part of the sole of the foot, located between the ball of the foot and the heel.
Contoured Footbed: An insole that easily moulds to the shape of the foot.
Cushioning: Padding on the sole of the shoe for comfort and stabilization.
Heel: The built-up portion of the shoe that supports your child's heel.
Insole: The inside part of the shoe where the foot rests, also referred to as the footbed. This part of the shoe is designed to provide comfort.
Mid Sole: Found on some shoes (not al), this section is the layer between the insole and the outsole.
Outsole: The material that covers the bottom of the shoe that encounters the ground. The outsole does not include the heel. The outsole should be made from very durable material and provide grip to prevent slipping.
Shank: A metal strip inside the shoe that extends from the heel to the ball of the foot to strengthen the shoe and add support.
Sole: The part of the shoe that sits below your child's foot.
Upper: The entire part of the shoe that covers the foot.
Welt: A strip of material that joins the upper to the sole.
How to choose the best school shoes?
Now we got the boring bits out of the way, let's look at the factors you need to consider when choosing good school shoes.
Check what school uniform shoes are accepted at your child's school
Before you do anything, double check your school's requirements with regards to school uniform shoes. Some schools have extremely strict requirements when it comes to colour (black, white, brown), fasteners (laces, velcro, buckles) and these can often change from junior and high school years.
Some school require children to have both sports and formal school footwear, whilst others allow children to simply wear sports shoes each day.
Ensure the correct fit
Well-fitting comfortable school shoes are crucial to your child's growing feet. Children who continually wear ill-fitting shoes can exacerbate inherited foot problems and suffer foot and toe deformities that can last a lifetime.
When fitting your child with new school shoes, here are some important points to remember:
Overall general fit
The best shoes for school, should have a child's thumb width between the end of the shoe and the end of the longest toe. Your child should also be able to move their toes freely. The shoes shouldn't hurt and there should be no bulges from the toes on either side of the shoe.
Whilst the back part of the shoe should be snug but comfortable, the width of the foot should fit comfortably. You should not see your child's foot squashed up at the sides.
Whilst a little room to grow is fine, don't ever buy school kids shoes that are too big.
Heel of the Shoe
The heel of the shoe should be as wide as your child's heel to ensure stability as well as slightly raised to provide enough shock absorption. Completely flat shoes (such as ballet flats) provide insufficient shock absorption for school children. On the other hand, heels over 2 cm can shorten the calf muscles and place pressure on the ball of the foot.
The heel should also be firm to provide adequate support. To check this, push on the back of the shoe and see how much it moves. If the heel folds all the way onto itself, this means the shoe is offering minimal ankle and heal support. The best shoes to wear to school are ones with minimum movement.
Shape of toe area
For the best kids' shoes for school, ensure the toe area has a natural shape, which is not pointed or tapered to allow natural positioning of the toes.
Secure fit
Ensure the shoe is held to the foot securely by the fastening mechanism (either by laces, velcro or buckle). A loose-fitting shoe can lead to toe deformities, as the foot will slide up and down the shoe or your child will claw their toes to keep the shoes on.
Overall stability and support
Having a good midfoot stabiliser is crucial for school shoes and indeed all children's shoes. You can do a basic test to see what sort of stabiliser your shoes have by attempting to fold the shoe in half. The best school shoes for kids won't bend or crumple excessively.
If the tip of the shoe is almost reaching the opening of the shoe, it means there is a lack of midfoot stabilisation. What you want to see is just the tip of the shoe able to bend backwards, no more than the first few centimetres.
Look for shoes constructed from durable materials
When it comes to school shoes, kids leather school shoes really are the best. Leather is flexible and soft but extremely long lasting. Leather helps to keep air in and moisture out, so your kids' feet stay cool and dry during most conditions.
It's not recommended to buy school shoes that are largely made from synthetics as these materials are hard, inflexible and don't allow feet to breather.
When it comes to outsoles, look for durable rubber soles with good grip for traction. Remember saving money on school costs now might come back to bite you later.
Where to buy school shoes?
There are range of places to buy school uniform shoes with one of our favourites being the Athlete's Foot. You'll usually find someone friendly in store to help you with sizing and choosing appropriate shoes. Plus you'll find that Athlete's Foot school shoes are from some of the best brands and with some of the cheapest prices.
It's highly recommended that you go in and try on a few pairs to ensure a correct fitting shoe. Make a note of the various shoes your child tries on and any comments about the way they fit.
Given the best shoes for back to school usually have a hefty price tag, one way to save money on back to school costs is to buy school shoes online. Many of the above stores mentioned (and others) have some great online sales – so be sure to do your research to get the best bang for your buck!
Whilst school shoes are expensive, keep in mind that buying better quality shoes might actually save you money in the long run. Good quality durable school shoes won't wear down so easily and shouldn't need to be replaced during the school year.
Our picks for the best kids school shoes
Our picks for the best school shoes for kids come from some of the best brand school shoes such as Clarks, Ascent, Nike and ASICS.
Clarks school shoes: Daytona Youth School Shoes
The Clarks Daytona School Shoes are a classic formal lace up school shoe from Clarks which are suitable for both boys and girls of all ages.
These durable Clarks shoes for school feature a leather upper, leather lining as well as a soft cushioned footbed. It also has a durable outsole with a grip suitable for a range of surfaces and a cushioned heel for shock absorption. Combined these various features provide a flexible and supportive shoe for your child
These girls or boys Clarks school shoes come in a range of sizes as well as both narrow and wide width, so it's perfect for children's feet of all shapes and sizes.
Click here to find out more about the Daytona Youth School Shoes.
Clarks school shoes: Ventura
For those looking for an all-purpose young girls or boys school shoes, Clark's Ventura is a fantastic option. These shoes are a particularly good option for children who go to schools that allow a sports shoe to be worn every day.
These Clarks children's school shoes come with a removable innersole which is perfect as your child's foot grows as you can remove the innersole for additional room.
The shoes feature a double fastening straps which are simple for small children to take on and off as well as adjust for a secure fit. Other features of these Clarks kids school shoes include a scuff resistant toe, durable rubber outsole, a combined leather / synthetic upper and the interior of the shoe has a premium antibacterial mesh lining.
These boys and girls school shoes come in black or white, as well as a white shoe with either pink or blue highlights making them an ideal choice for boys or girls' shoes. These shoes also come with a great price tag, so perfect if you're after cheap Clarks school shoes.
Click here to find out more about the Ventura Shoes.
Clarks school shoes: Intrigue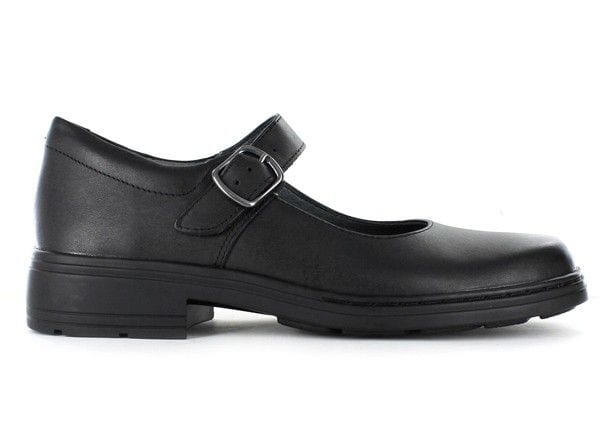 The Intrigue school shoes are classic Clarkes mary-jane school shoes designed with a buckle up strap. Whilst coming in a range of sizes from young girls to teenage girl sizes, given the buckle fastener they would be best suited to children in middle years to senior years. These buckle school shoes also come in narrow, wide and extra wide sizing.
The Intrigue school girl shoes feature a soft leather upper and lining with a removable innersole shaped for additional comfort. The girls leather school shoes also have a good grip suitable for a range of surfaces and good heel cushioning for shock absorption.
With the removable innersole, these girls black school shoes are also suitable for children who need to wear orthotics.
Click here to find out more about the Intrigue Shoes.
Ascent school shoes: Adela
For children who love the Mary Jane design, these Adela shoes from Ascent are a great choice. These black leather school shoes have the option of having either a buckle or Velcro strap fastener which may suit younger children who haven't quite mastered a buckle yet.
These Ascent school shoes are made with a durable soft leather upper with a thermoplastic heel counter and thermoplastic reinforcement at the toe area to prevent early wear. Inside the shoe is lined with cushioned mesh and has a microfiber wear tab at the heel. Other features include a durable rubber outsole, a moulded midsole with cushioning for shock absorption and a nylon shank for additional support.
These are super cute shoes for school and it's no doubt little girls as well as teenage girls will love the design and enjoy wearing these shoes to school.
Click here to find out more about the Ascent Adela Shoes.
Ascent school shoes: Prep 2
If you're looking for junior school shoes for the little preppie, the Ascent Prep 2 are a great choice. These are all-purpose kids black school shoes that have a cross between a sports and formal shoe design with a velcro fastener.
The little school starters need a supportive yet flexible shoe that can manage their developing feet. These plain black school shoes have a soft pliable leather upper which is both durable as well as breathable. Other features include a durable rubber outsole (which includes a 6-month guarantee), a nylon shank, heel and midfoot stabiliser for support, heel cushioning for shock absorption and a synthetic mesh lining.
Suitable for both little boys and girls and coming in sizes 9 to 13, these are great shoes for your little one just starting out at school.
Click here to find out more about the Ascent Prep 2 Shoes.
ASICS school shoes: Gel-Trigger 12
The Adidas Gel-Trigger kids shoes comes in many different colours, designs and sizes making them a perfect shoe for boys and girls of all ages. Whether your school requires plain black sport shoes or allows white sports shoes with minimum highlights, you'll find the perfect design in these ASICS school shoes.
These sports shoes have a leather upper with mesh side panels to ensure kid's feet are kept cool and comfortable. The shoes also include gel cushioning in the midsole to increase shock absorption and a durable solid rubber outsole with great grip for traction. Some of the Gel-Trigger 12 styles have a removable insole which allows the shoes to accommodate orthotics if need be. There is also the option of lace ups or shoes with a top velcro strip and elastic laces which would be better suited to younger children.
Coming in a range of sizes for young children to older kids, these shoes are great for boys and girls of all ages.
Click here to find out more about the ASICS Gel-Trigger 12 Shoes.
Nike school shoes: Downshifter 6
The Downshifter 6 Nike school shoes are perfect for the active school boy.
These boys black school shoes feature a phylon midsole which provides cushioning for extra support throughout the day and in particular when your boy is playing sports. Other features of these shoes include rubber outsole with optimal traction and lightweight mesh upper to help remove odours and keep feet cool.
These are trendy boys school shoes and would suit kids of all ages, apart from the super young boys as they are lace ups.
Click here to find out more about the Nike Downshifter 6 Shoes.