Sunshine Castle is located at Bli Bli and is a one and a half hour drive from Brisbane… and it's worth the drive.
It is officially Australia's biggest castle and is open to the general public, and also available for functions and school excursions.
If you grew up in South East Queensland, you may remember it being called "Bli Bli Castle" and remember the massive doll collections. These collections are still there on display, ready for you to find them as you wind through all the different rooms.
So what is there to do at Sunshine Castle?
Sunshine Castle Theme
As you arrive, the first thing you'll notice is that the staff are all dressed in medieval clothing. When you venture through the entrance, there's a little courtyard area where the kids can dress up and… ahhhh…. well, "chop each other's heads off".
If you look closely at the picture below you'll see the old mote that surrounded the original castle exterior.
School Holiday Activities
During the school holidays, Sunshine Castle has various activities including apple bobbing and talks about medieval times. The kids get involved and actually get to hold real weapons from hundreds (I think even thousands) of years ago.
The gentleman who ran the presentation that we attended is actually a real knight. He took us through the knighting process and chose two children out of the audience to participate. He did advise that whilst the ceremony was authentic, he changed several words to ensure that our little sweethearts don't actually need to be referred to as "sir" going forward.
Sunshine Castle Doll Display
We went along with three 8 year old boys, so you would expect that a doll display wouldn't actually be a feature of the day. However, whilst there were some rooms with lots of old dolls, there were other hidden areas with the most amazing displays, little glass rooms with recreated fairytales, they were absolutely gorgeous! We saw Alice in Wonderland and all of her friends, Little Red Riding Hood (the granny in the cupboard freaked us out just a little) and an amazing little town with a train heading around the mountains.
There are so many displays to see.
The Treasure Hunt
I'll admit that I'm spatially challenged, I had a map, I know how to read maps, I still got lost.
The kids are given a map and a piece of paper where they need to locate clues (… yes, locating was the hardest part!). They then read a passage on the wall (which was actually educating them without them being aware) and they had to unscramble a clue and complete their sheet.
At the end of the treasure hunt, the kids hand in their sheet and collect a little prize from the shop.
Discovering the Castle
There were tunnels leading to other rooms, steep stairs to climb and if you're brave, you can even head to the roof to check out the views.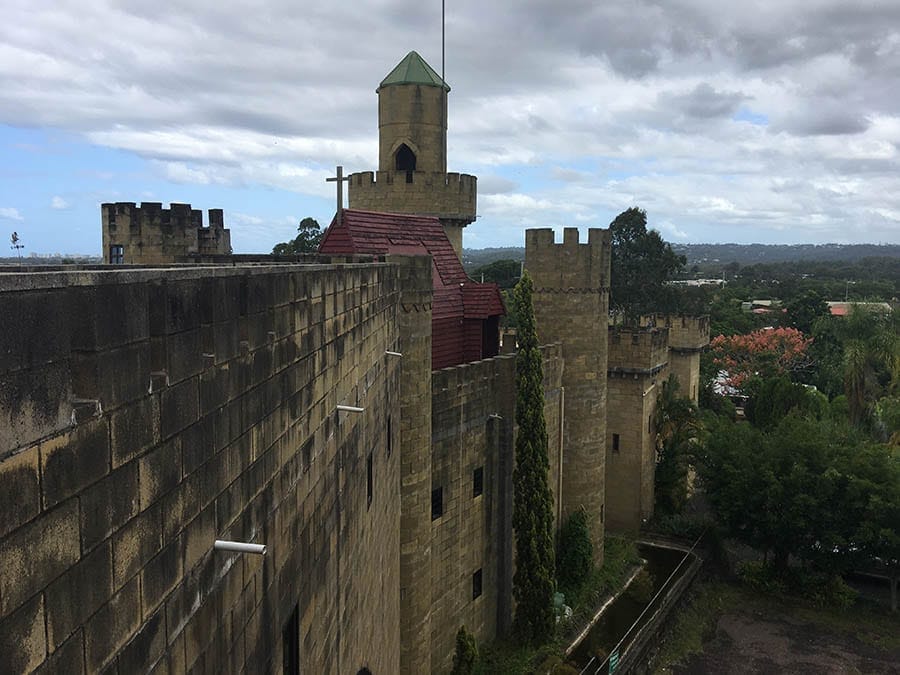 To give you an idea of age suitability, we had three 8 year olds with us, two of them were happy venturing all the way to the top, the third child decided he might just enjoy the rooms below.
Whilst we didn't find that it was very physically exerting, the stairs were quite steep and rickety, so little ones who are afraid of heights or not so stable on their feet may want to sit this part out.
In summary
We had a great day out at Sunshine Castle and I'd definitely recommend it to families who enjoy doing something a little bit different, the kids will even learn a few things in the process!
Want more day trips from Brisbane? Check out these:
We love day tripping out of Brisbane. So much, that we have written a tonne of articles about it!
South / Gold Coast day trip ideas
North / Sunshine Coast day trip ideas
Go west to these day trips