St John Fisher College, Bracken Ridge | Parent Fact Sheet
29/11/2021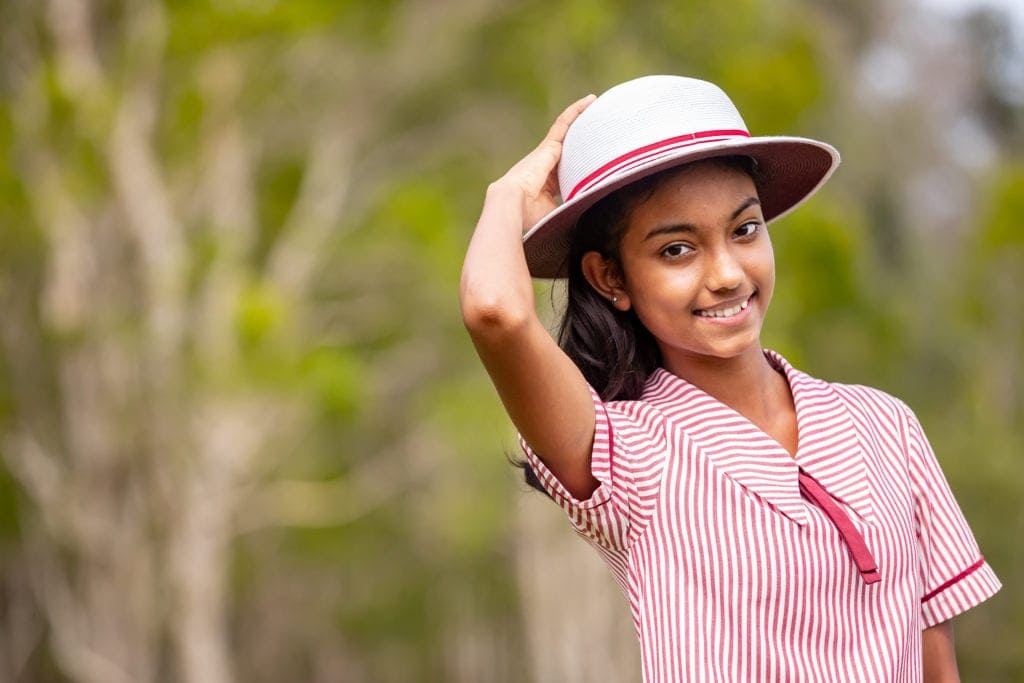 For Brisbane School Open Days – click here
St John Fisher College offers girls on the northside of Brisbane the opportunity to excel in a single-sex Catholic secondary schooling environment. Could it be the difference you're looking for?
Why choose St John Fisher College?
The ethos of St John Fisher College embraces a holistic approach to girls' education. The spiritual, social, physical and emotional growth of the future focused individual are paramount as well as her academic success. A highly integrated pastoral care program means that all the College members (staff and student) with whom your daughter will come across in her daily life are committed to working together as a College community. A relatively small student body has a flow on effect, meaning your daughter is treated as a unique individual who is recognised and responded to by staff who are experienced in girl's educational needs.
Creativity at St John Fisher College
St John Fisher College is a community that celebrates 'out of the box' thinking, with the intention of encouraging creativity, innovation and those light bulb moments, that make teachers' hearts sing. Not only does the College offer a wide range of cocurricular activities that provide the opportunity for students to express their creativity, it also embraces creative learning in the classroom. This innovative and creative approach to learning is the result of forward-thinking teachers who take standard curriculum and transform lessons, making them relatable, interesting and fun. Teachers of STEM subjects that are traditionally deemed non-creative, constantly look for new ways to encourage alternative approaches to problem solving, by developing practical and innovative approaches to learning.
St John Fisher College believes that a girl's involvement in cultural activities contributes towards the well-rounded education we endeavour to provide for each student. Queensland Studies Authority courses are conducted in Drama, Visual Arts in Practice and Music and since 2004 the Senior Drama Course Production has been a collaborative project with the boys from St. Patrick's College. Girls also have the opportunity to further their study in these areas through a variety of TAFE and further vocational pathways.
Girls entering the College in any year level from Year 7 to 12 have the opportunity of participating in the College Instrumental Music program. Tuition is offered in Woodwind, Brass, Percussion, Strings, Piano and Guitar. This tuition equips them to join one or more of the fine music groups available at St John Fisher. Girls have the opportunity to be a member of our Concert Band, String Ensemble and our Drum Corps, who perform at a variety of events and competitions, including the EKKA and the QLD Catholic Schools Music Festival.
Public Speaking and Debating have been strongly supported in the College for many years and astute coaching of the many talented girls has frequently resulted in competition victory in Queensland Debating Union (Q.D.U.), PLAIN English Speaking, Rostrum and Lions Youth of the Year events.
Cultural diversity
Embracing cultural diversity and individuality is another way the College's creative spirits are displayed with a range of performance groups, such as the Polynesian and Punjabi dance groups which entertain at various school and
community events, with student-led choreography and costume design.
The cultural highlight of the annual calendar is Illuminaré, usually held in October; the event is a celebration of Arts and provides the opportunity for the whole school to participate. Showcasing the array of College talent through performances of music, dance and drama and a display of student artwork, Illuminare is a wonderful evening for parents and the wider community to enjoy.
'Shake N Stir's Shakespeare Festival' (with categories of dance, acting, photography, costume design, film, music), 'Dance Squad', 'Write a Book in a Day', 'Scribblers' (creative writing group) 'Studio 27' (lunch time art club) and Theatresports are some of the many activities where students are offered a creative outlet in which to foster and share their talents.
The Sister Act Competition is the annual Talent Quest showcasing individual and group performances. The winners are showcased at Illuminare, the annual College cultural showcase evening.
Girls are encouraged to join the School Choir, which has a tradition of entertaining the community and significantly contributes to the spiritual life of the College through their involvement in various Masses, Liturgies and Celebrations.
For girls who want to be involved without performing, the College offers a 'Tech Crew', providing the opportunity to learn skills in technical theatre, sound, lighting and media. The Tech Crew are an integral part of the cultural team, running college assemblies, functions and events as well as performances, concerts and special presentations.
Student advocacy at St John Fisher College
Let your light shine
The spirit of St John Fisher College is the courage to seek justice, the gift of peace and the grace to forgive. Young women of the College are encouraged to stand up, make their mark and let their light shine on issues that are important to them and the wider community.
The College encourages its girls to independently advocate a range of causes through fundraising and action for local and international causes, including support for the disadvantaged and those who have suffered domestic violence, collections for St Vinnie's Appeals, and the Kolega Café which, together with fundraising for Mercy Works, allows us to support our international neighbours in Timor Leste.
Go Far. See More. Reach Further
St John Fisher encourages girls to think outside the square, challenge theories and dare to dream. Senior students who believe in a communal space for everyone launched a Fun, Food & Fellowship program.
In 2019 a group of Year 9 students initiated the St John Fisher Bursary fund. Realising and appreciating the opportunities their education provides, the founding students, set about to create a Bursary to make an education at St John Fisher College available for students whose families are experiencing financial hardship. The College bursary committee and students are currently fundraising for the official establishment and offering of this bursary.
Harmony Matters
With a diverse and talented student body it is our pleasure to showcase their many gifts and talents through various cultural performance groups. Harmony Day is always a colourful display at the College, and it's important to the girls to celebrate intercultural diversity all year round.
What co-curricular opportunities are there at St John Fisher College?
There are a wide range of sporting and cultural opportunities waiting for your daughter at St John Fisher College. From representative sport, to fixtures level, to health and physical education classes – her physical self will be extended, and she will be given ample opportunity to participate. Culture and music, too, play a significant role in the development of the students of St John Fisher College, with a College Drum Corps also available. Dance, drama, music ensemble and speaking opportunities abound.
News from St John Fisher

Archbishop Mark celebrates Mass in French on Bastille Day

To mark Bastille Day 2021, St John Fisher College were honoured to welcome Brisbane Archbishop Mark Benedict Coleridge to celebrated Mass in French.

The momentous occasion has particular significance for the students who are part of the Language Immersion Excellence Program​. The program provides Year 8 and 9 students with the opportunity to completely immerse themselves in the French language by electing to study the subject of Religion in French.

College Principal, Catherine Galvin commented on the occasion saying; "We were very honoured and humbled to have His Grace attend the College and celebrate Mass in French on Bastille Day."

"It was a memorable and joyous occasion for our College, as we mark our 40th year and of particular significance for our Language Immersion students who really had to utilised their French language skills to understand the ceremony."

Archbishop Mark who speaks fluent French, starting learning the language at age 10. He spoke to the girls about his passion for foreign languages and said; "Never think you are wasting time learning another language; it opens so many doors and provides great perspective and understanding of other cultures."

Year 9 Language Immersion student Gloria Adzraku, was pleasantly surprised at her level of comprehension of the Mass spoken in French. "It was a unique and enjoyable experience and I was surprised at how much I could actually understand," she said.

French studying students from St Rita's College and Brigidine College were also invited to attend the special Mass and said they thoroughly enjoyed the experience.
How will my daughter get to school?
There are a range of public transport options to the campus, via public bus or the various Thompsons school buses that provide services to the surrounding areas.
What are the school fees at St John Fisher College?
For the most up to date information regarding fees and levies, follow this link.
The best way to get a real feel for a campus, particularly one that offers students such personalised learning, is to see it in person. Contact administration to arrange a personalised tour and to receive information about upcoming Open Days and College events.
For Brisbane School Open Days – click here