Kids Movies Out Now | Find School Holiday Movies New for Easter Here!
14/02/2022
If you are looking for the best kids movies out now for your family, we've got the most up-to-date information for Easter holiday cinema! Check out what's on at your local cinema below.
Kids movies out now and coming soon!
New movie releases for the April school holiday
Cinemas are now back to operating at full capacity, so let's show our support by making the most of the Easter holiday movie screenings. There are some great family movies out now and coming soon!
Sonic the Hedgehog 2 (CTC) – out 31 March
Sequel to the 2020 live-action feature film 'Sonic the Hedgehog'. After settling in Green Hills, Sonic is eager to prove that he has what it takes to be a true hero. His test comes when Dr. Robotnik returns with a new partner, Knuckles, in search of a mystical emerald that has the power to destroy civilizations. Sonic teams up with his own sidekick, Tails, and together they embark on a globe-trotting journey to find the emerald before it falls into the wrong hands.
The Bad Guys (CTC) – out 31 March
After a lifetime of pulling legendary heists, five notorious bad guys—Mr. Wolf, Mr Snake, Mr Piranha, Mr Shark and Ms Tarantula—attempt their most challenging job yet…going good. Nobody has ever failed so hard at trying to be good as 'The Bad Guys', an all-new animated feature film from DreamWorks Animation.
Fantastic Beasts: The Secrets of Dumbledore (CTC) – Out 7 April
In an effort to thwart Grindelwald's plans of raising pure-blood wizards to rule over all non-magical beings, Albus Dumbledore enlists his former student Newt Scamander, who agrees to help, though he's unaware of the dangers that lie ahead. Lines are drawn as love and loyalty are tested, even among the truest friends and family, in an increasingly divided wizarding world.
Rabbit Academy (PG) – Out 7 April
Max has reached his goal: He is the first city rabbit ever to be chosen in the master class for easter rabbits. Now he and his friends have to find their very own super power in order to protect Easter. But then the unthinkable happens: The easter rabbits' most powerful magical possession, the "golden egg", turns black – meaning Easter is in great danger! Indeed, Leo, the leader of a gang of city rabbits, wants to abolish Easter and tricks a family of foxes into stealing all Easter eggs. Max' only chance to save Easter lies in teaming up with the fox boy Ferdinand who offers his help. But can a rabbit really trust a fox?
My Sweet Monster (CTC) – Out 14 April
King is unable to believe the fact that his beloved child, Princess Barbara, is all grown up. He still tries to watch over the Princess, but the 16-year-old Barbara throws a tantrum at her birthday party. While everybody is distracted, the throne is seized by a sneaky post clerk Weasel. However, unsatisfied with being the sole ruler of the Kingdom, he also plans to marry Barbara. Princess Barbara runs away from the palace and finds herself deep in the woods. She bumps into Boogey the Outlaw and his friend the Wicked Rabbit. Barbara's interference wreaks havoc into the ordinary bachelor-style life of the two friends. Barbara meddles into everything, arranges her own set of rules, and keeps getting on their nerves with her assumptions about Prince Edward. She imagines how Prince Edward defeats the impostor, reinstates the King, and proposes to Barbara. Just like the books says. To get rid of Barbara, Boogey decides to go as far as to find the Prince Edward, stop the Weasel and restore
Previous school holiday viewing – Summer 2021/2022
A Boy Called Christmas (PG) – out 25 November
An ordinary young boy called Nikolas sets out on an extraordinary adventure into the snowy north in search of his father who is on a quest to discover the fabled village of the elves, Elfhelm. Taking with him a headstrong reindeer called Blitzen and a loyal pet mouse, Nikolas soon meets his destiny in this magical, comic and endearing story that proves nothing is impossible…
The Boss Baby: Family Business (PG) – out 25 November
In the sequel to DreamWorks Animation's Oscar®-nominated blockbuster comedy, the Templeton brothers—Tim (James Marsden, X-Men franchise) and his Boss Baby little bro Ted (Alec Baldwin)—have become adults and drifted away from each other. Tim is now a married stay-at-home dad. Ted is a hedge fund CEO. But a new boss baby with a cutting-edge approach and a can-do attitude is about to bring them together again … and inspire a new family business.
Encanto (PG) – out 2 December
Walt Disney Animation Studios' Encanto tells the tale of an extraordinary family, the Madrigals, who live hidden in the mountains of Colombia, in a magical house, in a vibrant town, in a wondrous, charmed place called an Encanto. The magic of the Encanto has blessed every child in the family with a unique gift from super strength to the power to heal—every child except one, Mirabel. But when she discovers that the magic surrounding the Encanto is in danger, Mirabel decides that she, the only ordinary Madrigal, might just be her exceptional family's last hope
Back to the Outback (G) – out 2 December
Tired of being locked in a reptile house where humans gawk at them like they're monsters, a ragtag group of Australia's deadliest creatures plot a daring escape from their zoo to the Outback, a place where they'll fit in without being judged for their scales and fangs.
Sit. Stay. Love. (G) – out 2 December
After finishing a mission in Nepal, aid worker Annie Blake is going home to Vermont to spend the holidays with her family. When the local animal shelter closes, Annie steps in to save it with the help of the local vet and old school nemesis, Dylan.
Henchmen (CTC) – out 9 December
When the world is threatened by an evil supervillain, a teenager and his mentor team up to stop him. Starring James Marsden (Sonic the Hedgehog) and Rosario Dawson (Space Jam: A New Legacy), family animation Henchmen releases December 9.
Sing 2 (CTC) – out 26 December
This holiday season, the new chapter in Illumination's smash animated franchise arrives with big dreams and spectacular hit songs as the ever-optimistic koala, Buster Moon, and his all-star cast of performers prepare to launch their most dazzling stage extravaganza yet …all in the glittering entertainment capital of the world. There's just one hitch: They first have to persuade the world's most reclusive rock star—played by global music icon Bono, in his animated film debut—to join them.
Clifford the Big Red Dog (PG) – out 30 December
When middle-schooler Emily Elizabeth (Darby Camp) meets a magical animal rescuer (John Cleese) who gifts her a little, red puppy, she never anticipated waking up to find a giant ten-foot hound in her small New York City apartment. While her single mom (Sienna Guillory) is away for business, Emily and her fun but impulsive uncle Casey (Jack Whitehall) set out on an adventure that will keep you on the edge-of-your-seat as our heroes take a bite out of the Big Apple. Based on the beloved Scholastic book character, Clifford will teach the world how to love big!
The Addams Family 2 (PG) – 6 January
Everyone's favorite spooky family is back in the animated comedy sequel, The Addams Family 2. In this all new movie we find Morticia and Gomez distraught that their children are growing up, skipping family dinners, and totally consumed with "scream time." To reclaim their bond they decide to cram Wednesday, Pugsley, Uncle Fester and the crew into their haunted camper and hit the road for one last miserable family vacation. Their adventure across America takes them out of their element and into hilarious run-ins with their iconic cousin, It, as well as many new kooky characters. What could possibly go wrong?
Fireheart (CTC) – out 13 January
Ever since she was a child, Georgia Nolan has had only one dream: to become a fireman, just like her father. Unfortunately, in New York City in 1930, women are not allowed to be firemen. But, when the city's firemen begin to disappear in a series of mysterious fires at Broadway theatres, Georgia sees a golden opportunity. She disguises herself as "Joe," an awkward young man, and joins the team of improvised firemen in charge of stopping the arsonist. Georgia must preserve her false identity at all costs, especially since her father will be in charge of this high-risk investigation.
Previous school holiday viewing – Spring 2021
Paw Patrol: The Movie (G) – out now
Ryder and the pups are called to Adventure City to stop Mayor Humdinger from turning the bustling metropolis into a state of chaos. Get ready for exciting missions, high-stake rescues, new pups and amazing new vehicles making this the biggest Paw Patrol story ever!
Ainbo Amazon Princess (PG) – out now
In the spirit of Moana and Frozen, 'Ainbo – Spirit of the Amazon' is the epic journey of a young hero and her Spirit Guides, "Dillo" a cute and humorous armadillo and "Vaca" a goofy oversized tapir, who embark on a quest to save their home in the spectacular Amazon Rainforest.
Dogtanian and the Three Muskehounds (G) – out now
Dogtanian is a young swordsman who dreams of joining the legendary Muskehounds. After proving his skills and earning their trust, he and the Muskehounds must defend the King from the evil Cardinal Richelieu's secret plot to seize power.
The Emperor's New Groove (G) – out now in selected cinemas for a limited time
In this animated comedy from the folks at Disney, the vain and cocky Emperor Kuzco (David Spade) is a very busy man. Besides maintaining his "groove", and firing his suspicious administrator, Yzma (Eartha Kitt), he's also planning to build a new waterpark just for himself for his birthday. However, this means destroying one of the villages in his kingdom. Meanwhile, Yzma is hatching a plan to get revenge and usurp the throne. But, in a botched assassination courtesy of Yzma's right-hand man, Kronk (Patrick Warburton), Kuzco is magically transformed into a llama. Now, Kuzco finds himself the property of Pacha, a lowly llama herder whose home is ground zero for the water park. Upon discovering the llama's true self, Pacha offers to help resolve the Emperor's problem and regain his throne, only if he promises to move his water park.
Space Jam (PG) – leaving cinemas soon!
NBA superstar LeBron James teams up with Bugs Bunny and the rest of the Looney Tunes for this long-awaited sequel. This has been out since the winter holidays and will be leaving cinemas soon. If you haven't already seen it, this could be your last chance to catch it on the big screen!
Jungle Cruise (M) – out now
Join fan favorites Dwayne Johnson and Emily Blunt for the adventure of a lifetime on Disney's Jungle Cruise, a rollicking thrill-ride down the Amazon with wisecracking skipper Frank Wolff and intrepid researcher Dr. Lily Houghton. Lily travels from London, England to the Amazon jungle and enlists Frank's questionable services to guide her downriver on La Quila—his ramshackle-but-charming boat. Lily is determined to uncover an ancient tree with unparalleled healing abilities—possessing the power to change the future of medicine. Thrust on this epic quest together, the unlikely duo encounters innumerable dangers and supernatural forces, all lurking in the deceptive beauty of the lush rainforest. But as the secrets of the lost tree unfold, the stakes reach even higher for Lily and Frank and their fate— and mankind's—hangs in the balance.
ALERT! FREE e-book with photos! 50 day trips to do around Brisbane with kids! – Click here!
More family films coming soon
These family movies were planned for release in 2020. We'll bring you the updated release dates when we know them!
Note: We have only included the movies that we know will be classified as suitable for children. When classifications for other movies are known, they will be added.
Minions: The Rise of Gru – rescheduled to 2022
In the heart of the 1970s, amidst a flurry of feathered hair and flared jeans, Gru (Steve Carell) is growing up in the suburbs. A fanboy of a supervillain supergroup known as the Vicious 6, Gru hatches a plan to become evil enough to join them. Luckily, he gets some mayhem-making back-up from his loyal followers, the Minions. Together, Kevin, Stuart, Bob, and Otto – a new Minion sporting braces and a desperate need to please – deploy their skills as they and Gru build their first lair, experiment with their first weapons, and pull off their first missions.
Previous school holiday viewing – Winter 2021
Dream Horse (PG)
Experience the inspiring true story of Dream Alliance, an unlikely racehorse bred by small town bartender, Jan Vokes (Toni Collette). With very little money and no experience, Jan convinces her neighbours to chip in their meagre earnings to help raise Dream and compete with the racing elites. Their investment pays off as Dream rises through the ranks and becomes a beacon of hope in their struggling community.
Cruella (PG)
Academy Award® winner Emma Stone ("La La Land") stars in Disney's "Cruella," an all-new live-action feature film about the rebellious early days of one of cinemas most notorious – and notoriously fashionable – villains, the legendary Cruella de Vil. "Cruella," which is set in 1970s London amidst the punk rock revolution, follows a young grifter named Estella, a clever and creative girl determined to make a name for herself with her designs. She befriends a pair of young thieves who appreciate her appetite for mischief, and together they are able to build a life for themselves on the London streets. One day, Estella's flair for fashion catches the eye of the Baroness von Hellman, a fashion legend who is devastatingly chic and terrifyingly haute, played by two-time Oscar® winner Emma Thompson ("Howards End," "Sense & Sensibility"). But their relationship sets in motion a course of events and revelations that will cause Estella to embrace her wicked side and become the raucous, fashionable and revenge-bent Cruella.
Spirit Untamed (G)
Spirit Untamed is a story of courageous young women and their beloved horses who risk everything to do the right thing. When Lucky, a young society girl, moves West to join her estranged father, she starts a new chapter in her life, makes new friends, and forms an unbreakable bond with a wild stallion she names Spirit. Together, the girls and their horses undertake the adventure of a lifetime when they must save the stallion's herd from a gang of horse wranglers, proving to themselves to be true Western heroes.
Cranston Academy: Monster Zone (TBC)
An intelligent 15-year-old high school student is unexpectedly transferred to a boarding school where he opens a portal of monsters from another dimension.
"To the Moon…" Moonbound (PG)
When Peter sets out on a magical journey to rescue his little sister Anne, he needs to travel to mysterious territory: the Moon! Anne was kidnapped by the evil Moon Man when she tried to help the beetle Mr. Zoomzeman in search for his wife. On his fantastic adventure, Peter lands on the Star Meadow where he meets the sleepy Mr. Sandman. He knows, only at the Night Fairy's dinner in the castle in the clouds, they can find out where Anne is – but there aren't enough seats for everyone. So they join the wild race along the Milky Way against the five Spirits of Nature.
The Little Vampire (PG)
Little Vampire has been 10 years old for the last 300 years. Despite living in a haunted house with a merry group of monsters, he is bored to death… His dream? Going to school to meet other kids. Unfortunately, his parents won't let him leave the mansion, as for them, the outside world is way too dangerous! Accompanied by his trusted bulldog Phantomato, Little Vampire secretly sneaks out on a quest for new friends. He will soon meet a human boy, Michael, but their friendship will catch the attention of the terrifying Gibbus, an old enemy that has been chasing Little Vampire and his family for centuries… Directed by acclaimed French animator/filmmaker Joann Sfar (The Rabbi's Cat) and based on his best-selling graphic novels, LITTLE VAMPIRE is a delight for both young and old.
Raya and the last Dragon (PG)
Long ago, in the fantasy world of Kumandra, humans and dragons lived together in harmony. But when an evil force threatened the land, the dragons sacrificed themselves to save humanity. Now, 500 years later, that same evil has returned and it's up to a lone warrior, Raya, to track down the legendary last dragon to restore the fractured land and its divided people.
Peter Rabbit 2 (G)
In PETER RABBIT™ 2, the lovable rogue is back. Bea, Thomas, and the rabbits have created a makeshift family, but despite his best efforts, Peter can't seem to shake his mischievous reputation. Adventuring out of the garden, Peter finds himself in a world where his mischief is appreciated, but when his family risks everything to come looking for him, Peter must figure out what kind of bunny he wants to be.
Tom & Jerry (PG)
Jerry, a small mouse, lives within the walls of a large, New England country home where he's befriended the longtime owners, a loving elderly couple. Their unique, comedic friendship comes to an end after the elderly couple passes on and their house is put up for sale.
When a young family moves in, Jerry's determined to scare them away from taking over his home. The family quickly adopts a stray cat, later named Tom, to help rid them of their pest problem. In an epic battle for the house, Tom & Jerry soon discover their growing adoration for the family and must work together to protect them from an outside threat. Through their teamwork, they both learn the ultimate value of family and friendship.
Two By Two: Overboard! (PG)
Noah's ark drifts on the open seas, with best friends Finny and Leah on board. But, after weeks with no land in sight, food stocks are running low. The fragile peace between carnivores and herbivores could break any second. After a series of unfortunate events, the kids find themselves inadvertently washed overboard – along with the last of the food supplies.
Leah and fellow castaway, their new friend Jelly, are marooned on a remote island. While Finny wakes in a strange colony filled with oddly familiar creatures living in harmony – under the threat of a menacing volcano. In a race against time, tide and terrifying tremors, Finny must rescue his friends, reunite with his family and save a whole colony from total destruction.
ALERT! FREE e-book with photos! 50 day trips to do around Brisbane with kids! – Click here!
Movies to download and watch at home
Here are some of our favourites that make great viewing at home these school holidays:
The much-anticipated sequel to the worldwide hit family film finds Paddington happily settled with the Brown family in Windsor Gardens, spreading joy and marmalade wherever he goes. While searching for the perfect present for his beloved Aunt Lucy's hundredth birthday, Paddington spots a unique pop-up book in Mr. Gruber's antique shop. But when the book is stolen, it's up to Paddington and the Browns to unmask the thief…
Félicie is a young orphan with only one passion: dance. With her best friend Victor, who wants to become an inventor, she devises a madcap plan to escape the orphanage for Paris! Félicie will have to work like never before to make her wildest dream come true: becoming a prima ballerina…
Seeking shelter from a storm, abandoned young cat Thunder sneaks into a mysterious mansion owned by retired magician Lawrence, aka "The Illustrious Lorenzo". Lawrence shares his fairy-tale world with many animals and a dazzling array of automatons and gizmos capable of whipping up breakfast while rolling out a spectacular song-and-dance routine. When Lawrence ends up in the hospital, his nephew tries to trick him into selling the house. But its ragtag inhabitants develop a spooky strategy to defend their home. They turn their house into a haunted mansion, using Thunder as their secret weapon…
Young Mia's life gets turned upside down when her family decides to leave London to manage a lion farm in South Africa. When a beautiful white lion named Charlie is born, the 10-year-old finds happiness once again as she develops a special bond with the growing cub. When Mia uncovers a secret that puts Charlie in danger, she sets out on an incredible journey across the wild plains to find a sanctuary for her beloved friend.
When her younger brother, Charlie, unexpectedly disappears into the magical animated universe of PLAYMOBIL®, unprepared Marla must go on a quest of a lifetime to bring him home. Through their vibrant adventure, Marla and Charlie realise that no matter how life plays out, you can achieve anything when you believe in yourself! Featuring the voices of Daniel Radcliffe, Meghan Trainor and Adam Lambert.
Join the #SCFilmClub and enjoy your staycation!
ALERT! FREE e-book with photos! 50 day trips to do around Brisbane with kids! – Click here!
Previous school holiday movies
We love keeping track of all the best kids movies! Read on below to see our favourites from seasons gone by. Luckily, many of these films are now available via screening services so you can get your movie on any time you like!
Previous school holiday viewing – 2020/2021
Onward (PG)
Set in a suburban fantasy world, "Onward" introduces two teenage elf brothers, Ian and Barley Lightfoot (voices of Tom Holland and Chris Pratt), who embark on an extraordinary quest to discover if there is still a little magic left out there. Also featuring the voice of Julia Louis-Dreyfus as Ian and Barley's mom, Laurel Lightfoot, and Octavia Spencer as the voice of the Manticore, Pixar Animation Studios' all-new original feature film is directed by Dan Scanlon and produced by Kori Rae—the team behind "Monsters University."
Dragon Rider (PG)
Firedrake, the young silver dragon, has had enough of constantly having to hide in a wooded valley. He wants to show the older generation that he is a real dragon. When humans are about to destroy his family's very last refuge, Firedrake secretly sets off on an adventurous journey with forest brownie Sorrel. He wants to find the "Rim of Heaven", the dragons' mysterious haven. On their quest, Firedrake and Sorrel encounter Ben, an orphan and stray, who claims to be a dragon rider. While Ben and Firedrake make friends quickly, Sorrel becomes increasingly distrustful and tries to get rid of the orphan at every opportunity. But the unlikely trio has to learn to pull together because they are being hunted by Nettlebrand. The evil dragon-eating monster was created by an alchemist with the aim of tracking down and destroying every dragon on Earth…
Dreambuilders (PG)
Dreambuilders centers on Minna, a young girl who misuses her newfound ability to create and control other people's dreams to teach her bothersome stepsister a lesson.
Maya The Bee (G)
When Maya and Willy bust out of winter lock down early they are catapulted headfirst into a top-secret mission! Entrusted with the care of a sacred orb, Maya and Willy team up with their old pals, Arnie and Barney, to deliver it to its new home atop the mysterious Bonsai Peak. But when their "orb" hatches, Maya and Willy come face to face with their biggest responsibility yet – a smooshy, squishy little princess! This adventure is a LOT more than they bargained for as they must work together to take on bounty hunters and traverse treacherous terrain to return the lost princess to her mountain colony, only to find it hanging in the balance of a turf war. Willy discovers a side of himself that he never expected as he becomes protective of the tiny princess. But to save her and her colony, Maya and Willy must convince the battling insect tribes to work together in order to survive a hungry bird attack!
The Elfkins: Baking A Difference (G)
The legendary Elfkins (Heinzelmännchen) of Cologne were gnomes secretly helping craftsmen at night until they were ousted by a tailor's malevolent wife 200 years ago. This is the story of their return.
SamSam (G)
SamSam appears to have it all: his own flying saucer and great family and friends. But the one thing he has yet to attain are actual superpowers. A wannabe superhero takes on a monster who tries to stop children from laughing. (Animation)
The Call of the Wild (PG)
Buck is a big-hearted dog whose blissful domestic life gets turned upside down when he is suddenly uprooted from his California home and transplanted to the exotic wilds of the Alaskan Yukon in the 1890s. As the newest rookie on a mail-delivery dog sled team, Buck experiences the adventure of a lifetime as he ultimately finds his true place in the world.
Red Shoes and the Seven Dwarves (TBC)
Princes who have been turned into Dwarfs seek the red shoes of a lady in order to break the spell, although it will not be easy. A parody with a twist. Showing in Hoyts cinemas when they reopen on July 2. (Animation)
Sonic the Hedgehog (PG)
The world needed a hero — it got a hedgehog. Powered with incredible speed, Sonic embraces his new home on Earth — until he accidentally knocks out the power grid, sparking the attention of uncool evil genius Dr. Robotnik. Now, it's supervillain vs. supersonic in an all-out race across the globe to stop Robotnik from using Sonic's unique power to achieve world domination. (Animation)
Jumanji: The Next Level (PG)
When Spencer goes back into the fantastical world of Jumanji, pals Martha, Fridge and Bethany re-enter the game to bring him home. But the game is now broken — and fighting back. Everything the friends know about Jumanji is about to change, as they soon discover there's more obstacles and more danger to overcome.
Captain Marvel (M)
Set in the 1990s, Marvel Studios' Captain Marvel follows Carol Danvers (Brie Larson) as she turns into one of the galaxy's mightiest heroes after the Earth is caught in the center of an intergalactic conflict between two alien worlds. Twenty-first film in the Marvel Cinematic Universe.
Dolittle (PG)
Dr. John Dolittle lives in solitude behind the high walls of his lush manor in 19th-century England. His only companionship comes from an array of exotic animals that he speaks to on a daily basis. But when young Queen Victoria becomes gravely ill, the eccentric doctor and his furry friends embark on an epic adventure to a mythical island to find the cure.
Spies in Disguise (PG)
Super spy Lance Sterling and scientist Walter Beckett are almost exact opposites. Lance is smooth, suave and debonair. Walter is not. But what Walter lacks in social skills he makes up for in smarts and invention, creating the awesome gadgets Lance uses on his epic missions. But when events take an unexpected turn, Walter and Lance suddenly have to rely on each other in a whole new way. And if this odd couple can't learn to work as a team, the whole world is in peril. (Animation)
Star Wars: The Rise of Skywalker (M)
When it's discovered that the evil Emperor Palpatine did not die at the hands of Darth Vader, the rebels must race against the clock to find out his whereabouts. Finn and Poe lead the Resistance to put a stop to the First Order's plans to form a new Empire, while Rey anticipates her inevitable confrontation with Kylo Ren. Warning: Some flashing-lights scenes in this film may affect photosensitive viewers.
Frozen 2 (PG)
Elsa the Snow Queen has an extraordinary gift — the power to create ice and snow. But no matter how happy she is to be surrounded by the people of Arendelle, Elsa finds herself strangely unsettled. After hearing a mysterious voice call out to her, Elsa travels to the enchanted forests and dark seas beyond her kingdom — an adventure that soon turns into a journey of self-discovery.
My Spy (PG)
Nine-year-old Sophie catches JJ, a hardened CIA operative, spying on her family during a routine surveillance operation. In exchange for not blowing his cover, JJ begrudgingly agrees to show the precocious girl how to become a spy. What at first seems like an easy task soon turns into a battle of wits as Sophie proves you don't need much experience to outsmart a seasoned agent.
Playmobil – The Movie
A young woman travels to the animated world of Playmobil to find her missing younger brother, Charlie. In order to bring him back home, she must embark on a thrilling adventure.
The Addams Family
Members of the mysterious and spooky Addams family — Gomez, Morticia, Pugsley, Wednesday, Uncle Fester and Grandma — are readily preparing for a visit from their even creepier relatives. But trouble soon arises when shady TV personality Margaux Needler realises that the Addams' eerie hilltop mansion is standing in the way of her dream to sell all the houses in the neighbourhood.
The Queen's Corgi
When the Queen's favourite dog, Rex, becomes lost, he must make new friends and embrace new adventures in order to find his way back to the palace.
A Shaun the Sheep Movie : Farmageddon
When an alien possessing strange powers crash-lands near Mossy Bottom Farm, Shaun the Sheep quickly makes a new friend. Together they must run from a dangerous organisation who wants to capture the intergalactic visitor.
Spring school holiday movies 2019
Check out these cinema offerings for Spring 2019
The Angry Birds Movie 2 (out 12th September)
Red, Chuck, Bomb and the rest of their feathered friends are surprised when a green pig suggests that they put aside their differences and unite to fight a common threat. Aggressive birds from an island covered in ice are planning to use an elaborate weapon to destroy the fowl and swine way of life. After picking their best and brightest, the birds and pigs come up with a scheme to infiltrate the island, deactivate the device and return to their respective paradises intact.
Abomniable (out 19th September)
When teenage Yi (Chloe Bennet, Marvel's Agents of S.H.I.E.L.D.) encounters a young Yeti on the roof of her apartment building in Shanghai, she and her mischievous friends, Jin (Tenzing Norgay Trainor) and Peng (Albert Tsai), name him "Everest" and embark on an epic quest to reunite the magical creature with his family at the highest point on Earth. But the trio of friends will have to stay one-step ahead of Burnish (Eddie Izzard), a wealthy man intent on capturing a Yeti, and zoologist Dr. Zara (Sarah Paulson) to help Everest get home.
Dora and The Lost City of Gold (out 19th September)
Having spent most of her life exploring the jungle, nothing could prepare Dora for her most dangerous adventure yet — high school. Accompanied by a ragtag group of teens and Boots the monkey, Dora embarks on a quest to save her parents while trying to solve the seemingly impossible mystery behind a lost Incan civilization.
Uglydolls (out 19th September)
Unconventionality rules in UGLYDOLLS, the new animated family adventure based on the beloved toy brand. In the adorably different town of Uglyville, the free-spirited Moxy and her UglyDolls friends confront what it means to be different, struggle with their desire to be loved, and ultimately discover that you don't have to be perfect to be amazing because who you truly are is what matters most.
Paw Patrol: Ready Race Rescue (out 3rd October)
It's the ADVENTURE BAY 500! The pups have built an awesome race track and are ready to be the pit crew for their race hero, THE WHOOSH! But when the legendary racer is unable to drive in the CHAMPIONSHIP RACE, he calls on his biggest fan-pup MARSHALL to take the wheel and race in his place! Marshall has to overcome his lack of confidence and his dastardly competition, THE CHEETAH, to fulfil his dream of becoming the FASTEST race-pup EVER! Get ready to race and rescue!
Winter school holiday kids movies 2019
Here's a list of new kids movies that will be coming out for the Winter school holidays in 2019. Read below to find out more!
The Secret Life of Pets 2 (out 20th June)
Max the terrier must cope with some major life changes when his owner gets married and has a baby. When the family takes a trip to the countryside, nervous Max has numerous run-ins with canine-intolerant cows, hostile foxes and a scary turkey. Luckily for Max, he soon catches a break when he meets Rooster, a gruff farm dog who tries to cure the lovable pooch of his neuroses.
Toy Story 4 (out 20th June)
Woody, Buzz Lightyear and the rest of the gang embark on a road trip with Bonnie and a new toy named Forky. The adventurous journey turns into an unexpected reunion as Woody's slight detour leads him to his long-lost friend Bo Peep. As Woody and Bo discuss the old days, they soon start to realize that they're worlds apart when it comes to what they want from life as a toy.
The Lion King 2019 (out 17th June)
Simba idolizes his father, King Mufasa, and takes to heart his own royal destiny on the plains of Africa. But not everyone in the kingdom celebrates the new cub's arrival. Scar, Mufasa's brother — and former heir to the throne — has plans of his own. The battle for Pride Rock is soon ravaged with betrayal, tragedy and drama, ultimately resulting in Simba's exile. Now, with help from a curious pair of newfound friends, Simba must figure out how to grow up and take back what is rightfully his.
Here Comes The Grump (out 1st August)
An evil wizard presides over the entire world and has banished all happiness, smiling and laughter. Terry, a normal boy, teams up with a princess to put a stop to the wizard's reign and return happiness to the world.
Mia and the White Lion (out 8th August)
Young Mia's life gets turned upside down when her family decides to leave London to manage a lion farm in South Africa. When a beautiful white lion named Charlie is born, the 10-year-old finds happiness once again as she develops a special bond with the growing cub. When Mia uncovers a secret that puts Charlie in danger, she sets out on an incredible journey across the wild plains to find a sanctuary for her beloved friend.
A Dog's Journey (out 15th August)
Some friendships transcend lifetimes. In A Dog's Journey, the sequel to the heartwarming global hit A Dog's Purpose, beloved dog Bailey finds his new destiny and forms an unbreakable bond that will lead him, and the people he loves, to places they never imagined.
That's our wrap up for Winter school holiday kids movies. Scroll down to see our favourites from holidays gone by!
Kids movies out now – Easter school holiday kids movies 2019
Here's a list of new movies for kids out for the Easter school holidays 2019. Read below to find out more!
The Lego Movie 2: The Second Part (out 21st March)
Everything is awesome! Or is it?! Join Emmett and pals as they embark on the next chapter in their totally awesome saga. If you thought DUPLO was an innocent toy then you're in for a shock!
Dumbo 2019 (out 28th March)
The timeless classic that is DUMBO has been given a 21st century facelift. This beautiful film will be sure to delight, entrance and surprise audiences young and old, Our tip? Take the tissues
Wonder Park (out 4th April)
Wonder Park tells the story of a magnificent amusement park where the imagination of a wildly creative girl named June comes alive. It's a visual delight with some great messages for families to take away from. This is definitely the kind of kids movie you won't mind sitting through!
Missing Link (out 11th April)
Tired of living a solitary life in the Pacific Northwest, Mr. Link, who is 8 feet tall and covered in fur, recruits Sir Lionel Frost to guide him on a journey to find his long-lost relatives in the valley of Shangri-La. Along with Adelina Fortnight, the trio encounters face lots of danger as they travel to the far reaches of the world. Through it all, they learn that sometimes one can find a family in the places one least expects.
Peppa Pig: Festival of Fun (released May 2)
While not technically during the Easter holidays, something special is going on for Peppa Pig fans! This is an hour long film (divided into ten minute shorter episodes) that involves singing and dancing components – perfect for little Piggies to enjoy!
It'll be a fun experience for those new to the cinema as it will be easier for shorter attention spans – as well as those who like to get up and boogie!
Kids movies – Summer school holiday kids movies 2018 and 2019
Here is your list of new kids movies out in the lead up to the Christmas holidays 2018/2019. There are lots of great flicks, as you can tell, and some will be screening quite soon in certain cinemas. Score! Check with your local cinemas for screening times.
Patrick – November 8th
A super cute flick for any dog lover (particularly if PUG is your breed of choice). Watch how Patrick makes mischief in a woman's life after she takes him in when her grandmother passes away. This is a great one about pet ownership and responsibility (and there are plenty of funny parts for mum and dad as well).
Penguins – November 8th
This is a DisneyNature film, wherein voiceovers and narrative have been added onto existing documentary footage. This is a great choice for lovers of movies like Happy Feet and parents who don't mind a little learning to accompany their holiday film viewing.
Wheely – November 8th
Wheely is an underdog taxi cab AND a racer! He wants to be the king of the road in Gasket City. He has a chance encounter with a model car, Bella di Monetti, and falls in love with her. It's a case of uptown girl meets downtown cab!
Fantastic Beasts and Where to Find Them: The Crimes of Grindelwald – November 15th
This is definitely one for the older kids, particularly those Harry Potter fans! (And aren't we all, really?) This is the sequel to the first Fantastic Beasts film which charts the pre-Potter Hogwarts crowd. Dumbledore enlists the help of former student Newt Scamander to help thwart the event Grindelwald's plan of ruling over all Muggles. It might be a little scary so be cautious with who you take to see it!
The Nutcracker & The Four Realms – November 22nd
A golden thread leads Clara to a magical key needed to unlock a mysterious box. She's drawn into a mysterious parallel world where she meets Phillip the soldier, a hearty group of mice and those who preside over three realms. She must journey into the fourth realm to retrieve the key and restore harmony.
Pokemon – The Power of Us – November 25th
Pokemon at the movies! (It's you and me… You know it's our destiny!) This dubbed special feature follows Ash and Pikachu (do you think the other Pokemon get jealous?) as they save the day when a small town is threatened by a mysterious turn of events. (Oh, you're my best friend… in a world we must defend… POKEMON!)
The Grinch – November 29th
Time to get Christmassy! (Or un-Christmassy, as the Grinch would prefer it). This tale-as-old-as-time follows the mean old Mr Grinch as he tries to steal all the joy out of Christmas. This is a re-imagined holiday classic and well-worth taking the little ones to see!
Elliot the Littlest Reindeer – December 6th
This is a cute film with a real under-dog theme to it. Blitzen delivers a shock announcement on December 21st that he'll be retiring. It's up to Elliot, a miniature horse, to train for three solid days to fulfil his lifelong dream of earning a spot in Santa's crew.
Spider-Man 3D (animated) Into the Spider-Verse – December 13
Spider-Man mentors a teenager to become the next web-slinging superhero. This is a great one for the superhero fans in your house but without the wide-scale violence you often see in live action films. A cute little school holiday afternoon viewing!
Ralph Breaks the Internet – December 26th
Did you love Wreck It Ralph? Who didn't! The team are BACK and this time, they're taking advantage of wi-fi! This is a high-action, high-laughs and high-fivin' laugh-a-minute film for the whole family. This is definitely the one to see (in this reviewer's humble opinion). You may even end up going twice!
Mary Poppins Returns – January 1st
Name a more iconic film than the original Mary Poppins. We'll wait.
This film sees Mary Poppins return to help the next generation of Banks children navigate a work-life balance. The beautiful Emily Blunt takes over the big carpet bag and she's just magical. This is a joyous, spectacular film that will bring out the magic in your kids as the original did when you were little.
How to Train Your Dragon: The Hidden World – January 3rd
Hiccup has built a dragon utopia that's threatened by the appearance of a female Light Fury. Together, Hiccup and Toothless leave and journey to a hidden world that had prior to been thought to be only a myth. Dragon and Rider must work together to protect everyone and everything they've ever known.
Instant Family – January 10th
This is an excellent film for any family to see and a great way to unpack just what we should be so grateful and appreciative for. A couple want to start a family so turn to foster care where they end up taking in THREE siblings overnight. They went from no kids to three – just like that! Now everyone has to adjust and figure out what it means to be together and to be a family.
Storm Boy – January 17th
Storm Boy is a much-loved Australian classic that has been re-imagined again for the big screen here. It's the tale of a young boy growing up in South Australia who rescues three orphaned penguins. This causes a rift between him and his fisherman father and then their lives take on new and unexpected turns.
The Kid Who Would Be King – January 17th
A classic tale with a great message. Kids band together to fight against a medieval menace. Think "Goonies" style but for a new generation. This is a great end-of-school-holidays flick to catch with the kids.
Spring school holiday kids movies 2018
Here is your list of new kids movies out now and on the upcoming September school holidays 2018. There are a number of great flicks to catch and some are ALREADY screening in certain cinemas! Woohoo!
Luis and The Aliens – August 3oth
Luis is 11 and has three great new friends – a trio of lovable aliens! The awesome foursome help each other out in various ways before having the adventure of a lifetime together!
Christopher Robin – September 13th (with some early release cinemas)
Last school holidays we had the Winnie the Pooh movie and this time it's Christopher Robin's turn. This is probably best suited to older kids as it's not as 'cartoonish' as the previous release. Christopher is all grown up but needs a little help from his old friends to rediscover the magic of childhood.
Teen Titans Go! To The Movies – September 13th
Everyone's favourite junior superheroes have their own movie – or do they?! The Teen Titans struggle to come to terms with the fact that they're just not as popular as the other superheroes they look up to. Until, of course, they're the only ones who can save the day! Teen Titans – GO!
Smallfoot – September 20th
Smallfoot is a Yeti who wants something different out of life – he wants to interact with humans. This film is very cute and stars a variety of celebrity vocal talents including James Corden and Channing Tatum.
The House With A Clock In Its Walls – September 20th
This is a family-friendly spooky movie! It's based on a classic children's story and is about a young orphan who goes to live with his uncle in a mysterious mansion. The allstar cast includes Jack Black and our very own Cate Blanchett!
Kids movies out now – winter school holiday kids movies 2018
Here is your list of new kids movies out now! We've left a film called "Show Dogs" off this list that has been met with some controversy due to its problematic messages about grooming. At Families Magazine we are focused on child safety and do not want to recommend seeing a film that shares an inappropriate message.
Kids movies 2018
Have an INCREDIBLE school holidays at Event Cinemas and enjoy MONSTER savings with Cinebuzz when you see the BIG family films! Save with Cinebuzz tickets from just $11* for the big family flicks. Best of all – membership is free!
Embark upon a luxury cruise with Drac and his family in Hotel Transylvania 3: A Monster Vacation or join the world's favourite super hero family in Disney·Pixar's "Incredibles 2" for $11* for all sessions before 5pm daily. Plus join in the fun with your local Event Cinemas' calendar of free school holiday activities to enjoy before your movie! Download from the website now.
Get ready to have an incredibly good time at Event Cinemas these school holidays. Book now – click here: eventcinemas.com.au
Terms and conditions:
*Online booking fee applies. Cinebuzz offer valid between 30/6/18 – 15/7/18. Vmax and 3D surcharges apply. Offer valid for Cinebuzz members only. Only valid for the following films: Disney·Pixar's "Incredibles 2" and Hotel Transylvania 3: A Monster Vacation. Not valid for sessions after 5pm. 3D glasses additional $1ea if required. Not valid in Gold Class or special events. Not valid with any other offer.
The Incredibles 2
Can you believe they're back at last?! This blast from the past returns in true Pixar style and it's guaranteed to be a crowd favourite. Will Mr Incredible be able to don his former identity and save his family in time?! You'll have to watch to find out! Release date: 14th June, 2018. Some strobe lights and more voilent than Number 1. Check this one our on Common Sense Media before you go!
Belle and Sebastian: Friends For Life
This is a subtitled French film so keep that in mind if you're buying tickets. This is the third in a fantastic series of films about the beautiful bond between a boy and his dog. Sebastian must stand up for himself, and his best friend, when Belle and her pups are threatened. It's heartwarming, a little tense and it will bring you all together – particularly if you're dog lovers! (And who isn't?) Release date: 28th June, 2018
Hotel Transylvania 3 – A Monster Vacation
They're baaaaaaack! All your beloved, ghastly and ghoulish favourites return for yet another Hotel Transylvania adventure. This time they're onboard… a cruise ship? There's romance, there's laughs to be had and there's the tiniest bit of spookiness to thrill little viewers. Release date: 28th June, 2018.
Maya The Bee – The Honey Games
Oh, we love a good pun! Maya The Bee gathers together a rag tag band of misfit insects and bugs to compete in THE HONEY GAMES. They're trying to save the hives' honey – and themselves! This is a great one for little viewers and fans of the show. Release date: 26th July, 2018.
That's the Winter school holiday movies covered. If you're looking for older films you might find on streaming services or iTunes, have a scroll through our favourites from school holidays gone by!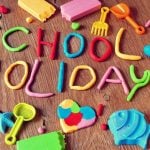 Looking for MORE school holiday ideas? This list will keep even the fussiest kids entertained – click here.
Easter School Holidays – 2018 kids movies
Here is your list!
Going for Gold
"Going for Gold" is a movie that kids who love cheering, gymnastics and dancing are going to ADORE! It's the story of a girl who moves from America to Australia and joins a cheerleading team (that includes boys!). It's also about the relationship between a father and daughter who have spent time apart – perfect for lots of families! "Going for Gold" is in cinemas from March 8th.
Peter Rabbit
At last, Peter and friends hop onto the big screen! If your kids love the cartoon then they're going to be hopping mad (sorry) for the big screen version! It's got everything you love about classic Peter Rabbit – schemes, daring escapes, humour and super-cute-bunnies! Listen hard to see if you can hear some famous voices, including Margot Robbie! Peter Rabbit will be coming to cinemas on March 22nd.
A Wrinkle In Time
This is a great science fiction fantasy story that's a little different from the other kids films on offer these school holidays. Meg and her brother Charles travel with a friend to visit their father who is living on a distant planet. Their magical journey sees them brave a planet that contains ALL OF THE EVIL in the entire universe! Gulp! Some big names in this one, including OPRAH! "A Wrinkle In Time" crashes into cinemas on March 29th.
Early Man
Here comes a comedy from the same team that made "Wallace and Grommit" (so you know it's gonna be GOOD). "Early Man" is about just that – prehistoric humans. But with a twist. These cavemen are battling to protect their land from the invasion of the progress of the Bronze Age. It's a battle for the ages and it's bound to bring a few giggles along with it. "Early Man" is in cinemas from March 29th.
Sherlock Gnomes
This is the sequel to Gnomeo and Juliet and is billed as a romantic-comedy-mystery-adventure. Phew! That's a whole lotta gnomes! The plot is that a lot of garden gnomes are mysteriously going missing so the love-struck pair have to turn to Sherlock Gnomes, renowned Gnome detective, for help. You can help them solve the mystery of the missing gnomes from March 29th.
Christmas Summer 2018 kids movies
WONDER
Based on the best-selling children's book (that's taught in a lot of QLD high schools!), Wonder is the story of August Pullman, a boy with facial differences. August enters the fifth grade, attending a mainstream elementary school for the first time. The book was INCREDIBLE and the movie (starring the likes of Julia Roberts and Owen Wilson) looks like it's going to live up to the source material. A gorgeous story for the whole family.
THE STAR
An all-star cast tell the story of the First Christmas. A group of misfit animals accidentally become the heroes in the story of the First Christmas! Follow their adventures as they race to be part of the birth of Jesus. This is definitely a flick to catch for families looking to show their children the religious significance behind the holiday season.
Ferdinand
Ferdinand is a peaceful bull who would much prefer to sniff flowers and appreciate beauty than fight in the ring. However, he is soon faced with a moral dilemma and has to make a choice – will he fight or will he fold? This is a great story about not judging a book by it's cover!
Coco
This one is a REAL tear-jerker (particularly for parents) so be warned!
Despite his family's generations-old ban on music, young Miguel dreams of becoming an accomplished musician like his idol. Keen to prove his talent, Miguel finds himself in the stunning and colorful Land of the Dead. After meeting a charming trickster named Héctor, the two new friends embark on an extraordinary journey to unlock the real story behind Miguel's family history.
Paddington 2
One bear is never enough! The beloved Paddington returns for another round of adventures. This time around, Paddington goes on an epic quest to recover a beloved item from some dastardly thieves. Will he succeed and be back in time for tea?!
Jumanji: Welcome to the Jungle
Jumanji! That favourite from our childhoods that you either loved (or were terrified of) is back with a vengeance. (Well, it's got The Rock in it so you know it's gonna be good!) This time around, four kids are playing a video game when they're sucked into the game and become the avatars that they'd selected. They have to solve a series of difficult conundrums and figure out a way to survive in order to escape! With a PG rating this one is for slightly older kids but you're sure to love it as much as they will!
The Nut Job 2: Nutty By Nature
Surly the squirrel and his animal friends find out that the corrupt mayor of Oakton plans to bulldoze their beloved Liberty Park to make way for an amusement park. Hoping to save the place they call home, Surly, Andie, Buddy and the rest of the gang join forces with Mr. Feng, a seemingly cute and innocent mouse who happens to be a fierce master of kung fu.
The Jungle Bunch
This one is super cute! A penguin raised by tigers defends his jungle from an evil koala and an army of baboons. This is a great pick for the whole family.
Movies that are no longer showing at cinemas
We always keep our reviews of movies from previous school holidays so you can check in to see if you think it's suitable for your tribe! Below you'll see aaaaaaaaall of our old information. Happy viewing!
September school holiday 2017 kids movies
Thomas and Friends: Journey Beyond Sodor
Get ready for your little Thomas fan to EXPLODE with excitement as, for the first time EVER, Thomas leaves Sodor to travel to the mainland. There he finds things beyond his wildest imagination but he learns an important lesson – friendship is more valuable than being the first, favourite or the best at everything.
Captain Underpants
Two lovable pranksters hypnotize their principal into believing he truly is CAPTAIN UNDERPANTS! Hilarious hijinks ensue! Vocal talents of KEVIN HART and Ed Helms (The Office). Hilaaaaaaarious.
The Emoji Movie
Hidden inside a smartphone, the bustling city of Textopolis is home to all emojis. Each emoji has only one facial expression, except for Gene, an exuberant emoji with multiple expressions. Determined to become "normal" like the other emojis, Gene enlists the help of his best friend Hi-5 and a notorious code breaker called Jailbreak. During their travels through the other apps, the three emojis discover a great danger that could threaten their phone's very existence.
The Lego Ninjano Movie
From the team that brought you THE LEGO MOVIE and THE LEGO BATMAN MOVIE. The battle for NINJAGO City calls to action young Master Builder Lloyd, aka the Green Ninja, along with his friends, also secret ninja warriors. Led by Master Wu , as wise-cracking as he is wise, they must defeat the evil warlord Garmadon (Justin Theroux), who also happens to be Lloyd's dad. Pitting father against son, the epic showdown tests these fierce but undisciplined modern-day ninjas as they learn to check their egos and pull together to unleash the inner power of Spinjitzu.
Winter June/July School Holiday 2017 kids movies
Despicable Me 3
Buckle yourselves in, parents. Here we go. MORE MIINIONS! This ground-shatteringly successful series continues as we follow the adventures of Gru and Lucy as they try to stop Balthazar Bratt from TAKING OVER THE WORLD! (Bratt is played by Trey Parker from South Park so expect things to get SILLY)
Cars 3
The world-famous Lightning McQueen ain't so young anymore. He's getting pushed out of the sport he loves and replaced by newer, shinier models. He must work hard to gain his ground back with the help of a newcomer – technician Cruz Ramirez!
Diary of a Wimpy Kid: The Long Haul
Just when you thought the Heffley family couldn't get any crazier – they're taking it on the road! Greg hatches a plan to escape from his family's road-trip adventure to meet his YouTube idol. You can only guess how that's going to wind up… This promises to be the funniest one YET. Read our detailed review of Diary of a Wimpy Kid here.
Easter School Holiday 2017 kids movies
Peppa Pig: My first cinema experience
The biggest star in the pre-school universe, Peppa Pig, makes her cinematic debut! Nine brand new episodes, sing-a-long content and audience participation run for about an hour. Perfect for first cinema experiences! A great choice for little kids Easter holiday movies.
Beauty and The Beast
Tale as old as time. Song as old as rhyme. Disney's re-imagining of Beauty and The Beast is going to be bigger than big so make sure it's on your list of kids Easter holiday movie must-sees! I wonder what "Be Our Guest" will look like! Look at how gorgeous this trailer is…
Power Rangers
Go go Power Rangers! A live-action, realistic remake of that kitschy classic we all loved as kids. The power rangers are a bunch of misfits who go to high school together who are suddenly given incredible powers. This one is better suited to slightly older kids as some of the fight scenes can be a little intense. It's morphin' time!
The Boss Baby
He's small, he's cute, he's… Alec Baldwin? Make sure your trip to the cinemas to see the best Easter school holiday movies involves a high-powered business meeting with The Boss Baby. Dreamworks, you've done it again!
Smurfs: The Lost Village
The Smurfin' saga continues as Papa Smurf, the Smurfs and Smurfette realise they might not be the only Smurfs in all the Smurfin' world! A tale of intrigue, adventure and tight white pants with a kickin' soundtrack. A great choice of Easter school holiday movie for kids of any age!
The Lego Batman Movie
He's the moody caped crusader from the first Lego Movie but he's back… with an expansion pack. Wil Arnett is absolutely hilarious as Lego Batman coming to grips with an identity crisis. Kids will be rolling in the aisles and adults will be laughing just as hard.
Dance Academy: The Movie
This ABC series helped shape a generation of young dancers and this film picks up where it left off – seeing what the main characters are up to after they leave the academy. Drama, relationships and teen angst set against a backdrop of performance and some hardcore determination.
Jagga Jasoos
Disney would like to introduce – Jagga Jasoos. A beatboxing, nerdy, adventurous detective on a mission to find his father. Spectacular scenery, gorgeous cinematography and a uniquely quirky tale make this a perfect Easter school holiday kids movie for that child looking for something a little 'out of the ordinary'. Go Jagga!
Kids Summer Holidays Movies
Secret Life of Pets (PG)
Ever wonder what your pets do when you're not home? Max is used to being the favourite until his owner brings home a messy new dog named Duke. This odd couple must work together against an adorable bunny and his army of lost pets seeking revenge against former owners.
Trolls (PG)
Meet the Trolls – relentlessly happy and positive! Only there's a slight problem – the always-sad Bergens. This is a colourful, funny and upbeat film featuring a great soundtrack. Follow the journey of Poppy and Branch as they set off on an exciting rescue mission from the creators of Shrek.
Sing (PG)
Buster Moon, a koala, has only one chance left to restore his beloved theatre to its former glory… he must put on the world's greatest singing competition! This film has an all-star cast and some great musical numbers to really get the audience moving.
Red Dog: True Blue (PG) (Released Boxing Day)
The prequel to one of the most successful Australian movies of all time. This is a story of family, friendship and adventure with a one-of-a-kind dog who is the stuff of Aussie legend.
Moana (G) (Released Boxing Day)
The 56th animated Disney film tells the story of Moana, the determined daughter of an island chief, who is chosen by the ocean to fulfil a mystical purpose. When disaster strikes, she must set sail in search of a legendary god if she has any hope of saving her people.
A Monster Calls (PG) (Released Boxing Day)
This is the adaptation of an award-winning children's fantasy novel. A bullied boy, with a very sick mother, escapes into a wondrous world of monsters and fairies in order to face his problems. Look for big name stars like Sigourney Weaver and Liam Neeson.
Monster Trucks (PG) (Released 12th January)
Tripp, a high school student bored of small town life, builds a monster truck out of bits and pieces. An accident at a nearby building site releases a mysterious creature who loves to go fast and suddenly, Tripp's life gets a little more interesting.
Ballerina (G) (Released 12th January)
Elle Fanning and Maddie Ziegler provide voices for this story of an orphan girl who dreams of becoming a ballerina in Paris. This is an inspiring story of courage, strength and never giving up.
Middle School – The Worst Years of My Life (PG) (Released 12th January)
A quiet teenage artist has a wild imagination and is sick of the rules in middle school. He comes up with a plan with his best friend – to break every single school rule!
September 2016 – Spring School Holidays Kids Movies
Alice Through the Looking Glass
After returning to the magical world of Underland, Alice finds the Hatter to be even madder than before. She travels back in time to try and save the Mad Hatter and the fate of Underland from the evil rule of the Red Queen using the Chronosphere, a time device that everyone wants to get there hands on.
The Angry Birds Movie
Turning the popular Angry Birds game into a 3D animated comedy, in this movie we discover why the Angry Birds are so angry. Set on an island which is filled with happy flightless birds, Red, Chuck and Bomb have always been outsiders. After the islanded is invaded by mysterious green piggies it is left to these three to figure out what the pigs are up to.
Teenage Mutant Ninja Turtles: Out of the Shadows
This 3D sequel to the 2014 Teenage Mutant Ninja Turtles movie shows the Turtles return to save the city from a dangerous threat. To prevent the end of the world, the Turtles pair up with their human friends April O'Neil and Vern Fenwick along with human vigilante Casey Jones after they come into conflict with T.C.R.I scientist Dr. Baxter Stockman. The Shredder has returned who has hired Stockman to create mutants of his own and an unknown invasion above New York City.
Finding Dory
In the sequel to Finding Nemo, Dory sets off to reunite with her loved ones and learns a few things about family along the way. Living happily in the reef with Nemo and Marlin, Dory suddenly remembers that she has a family out there who may be looking for her. The three of them set off in a life-changing adventure across the ocean to California's Marine Life Institute to try and find her mum and dad.
Ice Age 5: Collision Course
As the fifth installment to the Ice Age film series, this movie sees Manny, Sid, Diego and the rest of the herd leave their home and travel on an adventure to the exotic new lands of outer space where they encounter plenty of new characters along the way. They set off after Scrat's epic pursuit of his elusive acorn sends him outside of Earth where he accidentally sets off a series of cosmic events that threaten the planet.
Kids Easter School Holidays Movies 2016
Zootopia
This Disney animated comedy is set in a world where humans never existed. Instead, the Earth is populated by walking, talking, texting animals of all kinds. In the city of Zootopia, a con artist fox goes on the run when he's framed for a crime he didn't commit. A rookie cop, the city's first rabbit officer, gives chase as she sets out to prove herself. But when they both become targets of a conspiracy, the unlikely pair has to team up to get to the truth. The film has plenty of laughs and action, and is available in 2D and 3D.
Kung Fu Panda 3
Po is back, causing more mayhem and bringing us laugh out loud moments in this third film in the Kung Fu Panda series. This time, Po is reunited with his long lost father and discovers there's a whole village of pandas, just like him. But when evil comes their way, it's up to Po to teach the pandas how to fight like him and defend their village. The film is due out on 24 March and is available in 2D and 3D.
The Jungle Book
This "live-action" adaptation of Rudyard Kipling's classic is vastly different to the Disney animated film of 1967. It may be a bit much for the littlies, and will require parental guidance through some rather scary scenes of peril. The story follows Mowgli, a young boy adopted and raised by wolves since birth, who must leave his jungle home when the mighty Bengal tiger Shere Khan threatens his life, as humans are not allowed in the jungle. He's guided by Baloo the bear and Bagheera the black panther, and meets an array of other jungle animals – not all of whom have his best interests at heart. Through the adventure, Mowgli learns valuable life lessons in what becomes a journey of self-discovery. The film is currently scheduled for release on 7 April and is available in 2D and 3D.
Kids Christmas School Holidays Movies
2015
If the kids are getting bored, or it's just too hot to do much, why not head to the cinemas to enjoy one of the kids Christmas Holidays movies. These movies are playing over the summer holiday period and will suit the whole family and you will get to score some down time by taking your kids to see these school holiday kids movies in Brisbane.
Check these movies out and then find the most family friendly cinemas in Brisbane at the bottom.
Hotel Transylvania 2
This animated comedy is the sequel to the 2012 monster mash hit, Hotel Transylvania. Dracula is now a proud grandfather who becomes concerned that his grandson doesn't seem to be growing into his vampire powers. Worried that he might not inherit his family's gifted genes, the Count takes the child to the boot camp where he first learned to be a monster. The film is out now and is available in 2D and 3D.
Alvin and the Chipmunks: The Road Chip
Alvin, Simon and Theodore are at it again. The chipmunks are under the impression that Dave is going to propose to his new girlfriend in Miami….and dump them. Worried they're going to lose Dave, and possibly gain a terrible step-brother, they hit the road to stop the proposal. The movie offers plenty of Chipmunk-style covers of popular songs, and cringe-worthy puns as well. Out Boxing Day, the film is available in 2D and 3D.
The Good Dinosaur
What if the asteroid that forever changed life on Earth actually missed, and dinosaurs never became extinct? This year, Pixar films has created a delightful pre-historic adventure that follows an unlikely friendship between a young human boy, Spot, and an Apatosaurus named Arlo. Arlo's journey takes him through a harsh and mysterious landscape where he learns to face his fears and discover what he's truly capable of. Also out on Boxing Day, the film is available in 2D and 3D.
Snoopy and Charlie Brown: The Peanuts Movie
The iconic comic strip comes to the big screen, 65 years after its first publication. Nothing ever goes Charlie Brown's way. He always seems to be messing up in front of Lucy, Linus, Franklin…in fact, all the kids on the block. But when a little red-haired girl moves into the neighbourhood, Charlie Brown is determined to try a bunch of new things in the hope of finding something that gets her to notice him. The film is out on New Year's Day and is available in 2D and 3D.
September School Holiday Movies 2015
Oddball
A lovely Australian family movie about a Chicken Farmer called Allan "Swampy" Marsh and his Maremma dog called 'Oddball'.
In the early 2000's there was a strong and successful Little Penguin (often called 'Fairy Penguins') colony on Middle Island off the coast of Warnambool, Victoria, Australia. However, over the years the local foxes found that they could swim over the the island to hunt for their meals – penguin dinners! The Warnambool Coastcare Landcare Group, with Oddball taking the lead decided that they needed to protect the penguins and the island before the penguins became eradicated from the island for ever. In a true story Maremma Guardian dogs were trained and placed on Middle Island to protect the Little Penguins from the marauding foxes. Oddball, the mischievous dog, who isn't very good at protecting chickens is given a second chance to prove that he is a good dog. But will he be able to protect penguins from the foxes and will he be in time to save the last remaining penguins?
The Blinky Bill Movie
An adventurer at heart, Blinky Bill dreams of leaving the little town of Green Patch and following in the footsteps of his missing father. When Blinky discovers a mysterious marker that hints at his Dad's whereabouts, he embarks on a adventure that takes him beyond the boundary of Green Patch and into the wild and dangerous Outback. Along the way he picks up some great friends – Nutsy, a zoo koala, and Jacko, a frill-necked lizard who is a little nervous. Along the way they are chased constantly by a nasty cat who has a personal score to settle with Blinky. The tree adventurers must work together if they ever want to survive the rugged Australian landscape and find Blinky's father!
More School Holiday Activities:
128 responses to "Kids Movies Out Now | Find School Holiday Movies New for Easter Here!"