Water Babies – Benefits of learning to swim from an early age
Do you have a water baby? Children are naturally drawn to water. It sparkles prettily in sunshine, feels good on the skin, and is fun to splash and play with. We all want our children to feel confident and safe around water, and introducing your little one to the pool and having them learning to swim from an early age can have many lasting benefits.
Why children should be learning to swim from an early age
Your baby may love a soothing swish around in the bath tub, and you can take your cues from them about the right time to transition from the tub to swimming lessons.
Some swim schools offer water familiarisation classes from 3 months of age, where your baby can enjoy the feeling of buoyancy and gliding through water with you. These are an ideal introduction to the swimming environment, or you might prefer to wait until your child is a few months older and more confident. There are no hard and fast rules, but the good news is your child is never too old to learn to swim.
Benefits of learning to swim from an early age include…
Cognitive development
Just like when learning to crawl, the bilateral movement associated with swimming can help your baby's brain grow. Cross-over movements build neurons in the brain that develop communication from one side of the brain to the other, improving the capacity for language development, reading skills and spatial awareness.
Improved confidence
The bonding element of skin-to-skin contact with the parent or caregiver builds trust and self-esteem. This trust is reinforced as you help your child feel confident in their swimming environment and newly emerging water skills.
Confidence in water is reflected in everyday situations, and your child may show more comfort in social situations and greater self-control.
Strong bodies
Staying safe in water requires core strength, head and neck control, and strong limbs. A parent or caregiver should always be in the pool with very young children and children who have not yet developed the required strength.
As your child grows and progresses to learning swimming strokes and proper technique, they will be required to use all the major muscle groups in their body, including limbs, core and shoulders. Being buoyant and developing the strength to surge through the natural resistance of water also improves joint mobility.
Better coordination
With continued swimming lessons, your child will develop strength with physical symmetry. Using both sides of the body equally in the water leads to better balance and coordination on land. This loops right back to improved confidence and self-esteem – swimming is the developmental gift that keeps on giving!
Quality sleep
The physical demands of swimming require a lot of energy. Blood flow is boosted to all major muscle groups and the brain to keep the body warm and moving. The body and brain work hard while swimming, and all that hard work requires a good rest.
Strenuous physical activity encourages the body to release endorphins – the feel-good hormone that reduces perception of pain and triggers positive feelings – and serotonin, a hormone that improves sleep and mood.
If you want your child to sleep soundly through the night, swimming can make your dream come true!
Encouraging your child to continue swimming into adulthood
We all want our children to be the best version of themselves they can be. The benefits of learning to swim from an early age can continue into high school and beyond, with improved cognitive, physical, and emotional development leading to a better academic outcome and healthier lifestyle habits.
Plus, with our coastal living and home swimming pools, it's important that children and confident around water and respectful of its dangers. Developing correct swimming techniques can help your child enjoy being in the water safely, and give you peace of mind.
With all these healthy and long-term benefits for your child, why would you want to delay swimming lessons for your child any longer? The best time to book your child in for their first swimming lesson is right now!
Find more articles about water safety for children and places to swim around Brisbane here.
Explore the Best Australian Islands on a Carnival Cruise
If you are currently looking to plan a family holiday, Carnival cruises has a range of family friendly holidays that are sure to keep the kids and the adults entertained and relaxed!
You could set sail around Australia, exploring the best islands, participating in daily activities, shore excursions and enjoying the many dining options that Carnival has to offer.
Whilst planning a holiday can be a daunting task, they also offer free family holiday planning advice, providing you with expertise on destinations and itinerary planning – essentially doing all the hard work for you! Carnival offer peace of mind with health and safety guidance, ensuring that you feel safe to climb aboard.
Explore the best Australian islands
Moreton Island Cruise
Moreton Island is home to Tangalooma, a well kept Australian secret! Tangalooma is host to dolphins, reef covered ship wrecks, beautiful sunsets, white sandy beaches, sand dunes where you can quad bike or use your human power to rush down and crystal clear waters that make snorkeling a dream. A place that truly exudes so much adventure and fun!
Airlie Beach Cruise
Carnival offers an experience where you can truly experience the Great Barrier Reef and all of its tastes, sights and activities. Explore the famous Whitehaven Beach, enjoy a day on a glass-bottom-boat cruising over the Coral Sea or if you want something thrilling, go for a joy ride on a high-speed catamaran! The Airlie cruise has something for all members of the family.
Willis Island Cruise
Willis Island may be small, but it sure is mighty! Carnival can take you here, just east of Carins on the Great Barrier Reef. Home to a vast range of amazing wildlife – wedge tailed shearwaters and sooty terns just to name a few! Be sure to visit the manned Australian Bureau of Meteorology weather station that lives here too.
Island near Australia to discover
Lifou Isle Cruise
Based in New Caledonia, Lifou Isle provides an abundance of scenic and sensory goodness. With beautiful white sand, crystal clear waters and unreal sunny weather all year round, this is the perfect spot for a family holiday to make lots of memories in the water. Partake in diving to see the wonderful marine life or put on your hiking boots and take in the magnificent scenery.
45+ daily activities
Scrolling through the online catalogue of onboard activities, it is no doubt that there is fun for everyone in the family.
Activities include an arcade, a basketball and volleyball court, games, bingo, a library, a build-a-bear workshop, sky zone and even cooking demonstrations and classes. If you are a lover of the arts, Carnival is host to art exhibitions, auctions and seminars. They even offer services to grab that family photo you have been meaning to take for a long time, with Dream Studio and Pixels on board to get some happy snaps.
For adults, there are so many bars to choose from and even a casino! For the whole family, there is entertainment daily with dive-in movies, karaoke, live music, stage shows and a cinema.
On top of daily entertainment options, there are also events with a sail-away party, 80's night, mega deck party and even high tea, just to name a few.
Catch some vitamin D with the many outdoor activities like the waterslides, pools, mini golf and even a sky course!
The list continues, with a range of shops available for those shopaholics and options to relax or workout with a variety of spa and fitness services. Carnival truly offers an activity for any age and any desire.
Shore excursions
Whilst there is so much onboard to keep you entertained, Carnival also offers shore excursions. These see you participating in a range of exciting activities! Through shore excursions you will roam beaches, snorkel and swim in pristine waters, a range of boating activities, cultural and historical experiences, fishing fun, hikes and walks that take your breath away, not to mention the abundant sight-seeing and shopping.
Free kids club
If you weren't already sold with the amazing destinations, daily activity options and shore excursions, you are going to love the free kids club! Ages 2 – 11 have access to Camp Ocean who will keep your little ones busy, active and having too much fun.
Kids are sorted into supervised, age-based groups who all go off to participate in age-appropriate activities. Ages 12 – 14 are welcome to join Circle C, where they will participate in supervised dance parties, games and outdoor activities around the ship, providing the opportunity to hang out and meet new friends.
Teens are not forgotten, with ages 15 – 17 invited to join Club O2, with a host of activities such as karaoke, sport and video games to name a few, all will keep them entertained, educated and supervised on board. Carnival's great kids club staff will give you the peace of mind you need to go and enjoy some time exploring ship.
Endless dining options
All I can say is – you won't go hungry! Carnival has a huge range of dining options, catering to all dietary requirements and ages. Breakfast, lunch and dinner is certainly sorted aboard a Carnival ship. From burgers, pizza, juicy steaks, seafood, sushi, pub feeds, a dessert bar, teppanyaki, pasta, Italian and Mongolian, there are so many delicious cuisines to choose from, all guaranteed to delight your taste buds and fill your belly.
Chefgood | Gourmet Ready Meals Home Delivered
Are you a fan of eating but not a fan of preparing the meal!!! Or even just time poor and would LOVE to have a chef at home waiting for you to have that meal ready and waiting!! Well this is for you!
If you find yourself regularly time-poor or wanting to eat a well balanced meal without worrying about what ingredients to include, or are just not a keen chef but still wanting to eat as if you are visiting a five star restaurant, then this is a great option.
Chefgood is a meal plan service that utilises the freshest of ingredients, variety of menus, options to increase or decrease your subscription easily, cost efficient and most importantly takes the stress out of worrying about what to eat each day.
With the added convenience of being able to change your choices before cut off day (Wednesday of the week prior to your expected delivery), or even opting out for a week if you are going on holidays, this is a very flexible way to plan you and/or your family's meals.
Having your meals organised will offer one less thing to worry about in an already stressful world and we could all use some help with a better work/life balance. Knowing that you can come home at the end of the day and a meal is waiting for you, gives you great piece of mind that you can relax as soon as you are home!
Explore Chefgood's meal plan range and benefits
Chefgood was borne out of the idea of providing nutritious, good quality and healthy fresh meals in a convenient and easy way to lessen the need to hunt in the kitchen for those quick and easy but very unhealthy meals or snacks that we all know too well! Be safe in the knowledge that the team consists of both high quality chefs with many years' experience in the industry both in Australia and overseas to help provide a wide variety of meals and a vast understanding of quality goods and resources to use, coupled with nutritionists to oversee the balanced nature of the meals provided. Various meal plans are available and there is a HUGE variety on offer.
Meal plans range from vegan, vegetarian, no added gluten, no added dairy and everyday wellness. Cross-contamination in the kitchen is kept to a minimum but as all food is prepared in one kitchen, this cannot be guaranteed. (Please note that whilst a lot of dietary needs are considered and catered for, at this point in time meal plans are not suitable for coeliacs).
If you are keen on healthy eating or wish to lose weight with a calorie controlled diet, the weight loss meal plan option takes all the calorie counting and worry out of it – it's all done for you with calorie-controlled meals at 350 calories each! Check out the meals available here.
Meal delivery service with a difference
The website will provide much needed guidance and support. Meals are individually priced but there are also handy weekly prices shown based on how many meals are ordered in a week. Changes can be made to the menu as long as these are done before the cut-off date. The subscription is weekly and if you happen to want a week off, no problem – this can easily be arranged.
Meals are freshly made in the kitchen situated in Melbourne and then delivered to a high number of destinations throughout Australia – before setting up your subscription, pop in your postal code to ensure delivery can be made to you. There is NO mass production. Real-life chefs are involved in the process of providing high quality goods with fresh locally sourced produce and the team make every effort to give you the best experience from selection, to food sourcing, preparation and then delivery.
Delivery is to your designated location at a time specified by you (please note some locations may have a particular timeframe to choose from). The meals are kept fresh in chilled boxes which allows the food to be kept safe for a number of hours – so if the delivery has been made and you have had to pop out, then this won't cause you any issue – how brilliant is that!! You even get a reminder the day before that your box of goodies will be delivered the next day!
Current seasonal menu
As the chefs take time to ensure the ingredients are the best quality, the menu is also well thought out and considered. This, in turn, means ensuring seasonal fresh fruit and vegetables are included in the meals. For instance currently, some of the favourites include Nonna's Lasagne, Thai Green Vegetable Curry, and guest chef Reynold Poernomo (of Masterchef fame) Chicken & Shiitake Meatballs.
Yep, you read correctly 'guest chefs'. Chefgood invite guest chefs into their in-house quality team of chefs. Currently Reynold Poernomo, Shannon Martinez (Chef, Author and Owner of Smith & Daughters) and Pierrick Boyer (French Master Pastry Chef) have joined forces and provide a number of meal options to sample.
Not really a big eater during the evening? – no problem!! Other meals are catered for so if you are a fan of just getting up and going, then why not try the breakfast options? OR, if you would prefer not to pack your own lunch, why not order your lunch via Chefgood (and perhaps add a few snacks from the snack options available on the website). The choices are huge and the GREAT thing about eating and planning this way is that the options change weekly, so you will always have something new to choose from. As they say, 'variety is the spice of life'!!
15 of the Best & Cheap Christmas Gifts for Classmates
It's that time of year again isn't it when your kids come home from school and tell you they want to hand out Christmas gifts for classmates. It's such a lovely thought that they want to do this but often for us parents it sends us into a spin just not due to the expense, but also trying to come up with good affordable class Christmas gifts.
But we have been there before and have had years of brainstorming cheap class Christmas gift ideas. So in this guide we're going to share with you some of these suggestions.
15 of the best & cheap Christmas gifts for classmates
Before we get into of our Christmas gift ideas for school friends, you'll need to decide whether you're getting school Christmas presents just for your child's close circle of friends or whether you're going to give all the kids school Christmas gifts that are in the class. Once you have decided this, you can set yourself a budget.
With our below Christmas gift ideas for classmates, we've kept it pretty simple, cheap and just overall stress free for parents. I know if you search Pinterest you can find some pretty elaborate and amazing Christmas gift ideas for school children – but our list of suggestions includes things you can quickly order online or at the local store and put together in one evening.
The honest truth is that your child's classmates will be super stoked with whatever it is your child gives them, and quite often the simple Christmas gifts for school friends are the most loved.
So here goes our Christmas gift ideas for school kids:
Bubbles
Now you can't go wrong with a bottle of bubbles as gifts for friends at end of school year. Little tiny tots in kindy to young school age kids just go nuts for them. Plus they are super cheap so make great class Christmas presents if your child wants to hand them out to everyone in the class.
You can purchase little bottle of bubbles in bulk packs super cheap – or even these bubble wands are cheap too.
Kids can hand these out as school Xmas gifts to their friends as is, or for a little creativity you can print out little messages such as "Wishing you a Merry Christmas and hope your holiday bubbles over with fun".
Scrunchies or hair clips
For quick and easy Christmas gifts for school kids, scrunchies or hair clips are a good one. You can pick these up fairly cheaply at the local shopping centre or even buy a bulk pack on line reasonably cheap like this 48 pack of velvet scrunchies or this 50 pack of satin scrunchies.
You might even be able to pick up a cute pack of Christmas hair bows like these ones.
Play-Doh
If you're after Christmas gifts for kindergarten classmates – little pots of Play-Doh are perfect. In fact they make great Christmas school gift ideas for young school aged children too.
You can buy bulk packs of little tubs of Play-Doh pretty cheap, or even the standard size is reasonably priced too. You could hand these out as Christmas gifts for kids at school just like this or if you want to get a little creative why not turn them into Christmas postcards.
You can download printable cards online or just make your own. Ensure that the cards have a Christmas bauble on the front the same size as the top of the Play-Doh Lid (you can trace it yourself if making your own). Then cut out the circle and pop the Play-Doh lid into the space. You may need to put some tape on the back of the card to keep it in place.
Whether you decide to keep it simple or get creative with it, Play-Doh is the perfect Christmas presents for school kids from tiny tots to early school years.
Bouncy balls
Little bouncy balls are another one of the great no fuss gift ideas for school children. All little children love a super bouncy ball and kids always need a supply of them as they often loose them.
If you're child wants to do Christmas presents for school friends as well as everyone in the class I recommend you get in early and purchase a bulk pack online, which you can do very cheaply. Here are a few different ones I quickly found that are all super cheap:
Homemade popsicles
When it comes to Australia and last day of school gifts for friends, you can't beat an ice block. Such a simple idea, but I can assure you the kids will love it AND its one of the super cheap gifts for school friends.
You can either go buy a pack of ice blocks at the supermarket or for something a little different buy a pack of ice block pouches like these ones and make up your own yummy flavour. Plus then the kids having something to take home and can make their own ice blocks over the Christmas Holidays.
Homemade popsicles are one of the best gift ideas for school kids of all ages and given they are so cheap are perfect when your child wants to hand out to everyone in the class. The only thing is you will need to bring them down to the classroom at the end of the day or perhaps there is somewhere the teacher can keep them frozen for you.
Nail polish
For school aged children, nail polish is always a hit if you're after Christmas ideas for school kids. Depending on the age of the child you can just buy age appropriate nail varnish.
Again for the best deal, I'd recommend ordering a bulk set online like this set of 18 BC Beauty Concepts Nail Polish.
This is actually one of the school friends Christmas gifts we did for my son's friends one year. We wrapped one nail polish with a chocolate inside a large square of cellophane which we then tied up with some ribbon. He used this printable Christmas tag to write his own personal message which we then laminated. We then put a hole punch in the corner and tied the message onto the gift with the ribbon. (See the full details below.)
Snowman popcorn
If you're after some super cute, cheap and creative school Christmas gift ideas, then I suggest you consider these adorable Snowman Popcorn gifts. They are easy to make and won't cost you an arm and a leg, plus the kids will love making their own popcorn at home.(See the full details below.)
To make these snowman popcorn Christmas gifts for kids classmates, first of all, you will need to grab yourself some individual packets of microwave popcorn, some plain white paper, red paint, small round sponge, orange paper, black card or paper and coloured twine.
Cut the paper to size, fold and glue around the individual popcorn packet. With a black pen draw on a smile and dots for eyes. With the sponge and red paint stamp on some faint red cheeks and cut out a small triangle from the orange paper for the nose and glue it on. Lastly cut out a square and rectangle shape for the hat and glue these on.
If you want to add a scarf to your snowman, get some coloured string and tie it around the packet. You could also add two black dots (made by using a hole punch) to make your snowman even cuter.
Your child can add their message on the back of these Christmas gifts for friends at school.
Personalised Santa hats
If you're after super cute Christmas ideas for school friends and your child is a little bit crafty, how about personalised Santa hats. Purchase a bunch of Santa hats and some 3D fabric paint and write each of the children's name on the hats. The kids will love wearing them around at school and having something to wear on Christmas day too.
Reindeer noses
These super cute packs of Reindeer Noses are a great simple idea, if you're after some Christmas treats for classmates.
Just buy a bucket of Maltesers, bag of Jaffa's and get yourself some clear cellophane or some cellophane bags like these ones. You can then search online for a free downloadable or make your own little labels that say, "Reindeer Noses".
Pop a few Maltesers and one Jaffa in each pack and attach the "Reindeer Noses" label with some ribbon. Your child can write a message on the back of the label if they like – if so get them to do this prior to attaching to the pack.
The great thing about these Christmas gifts to give classmates, is there is usually a few chocolates left over for you to eat!
Christmas pencils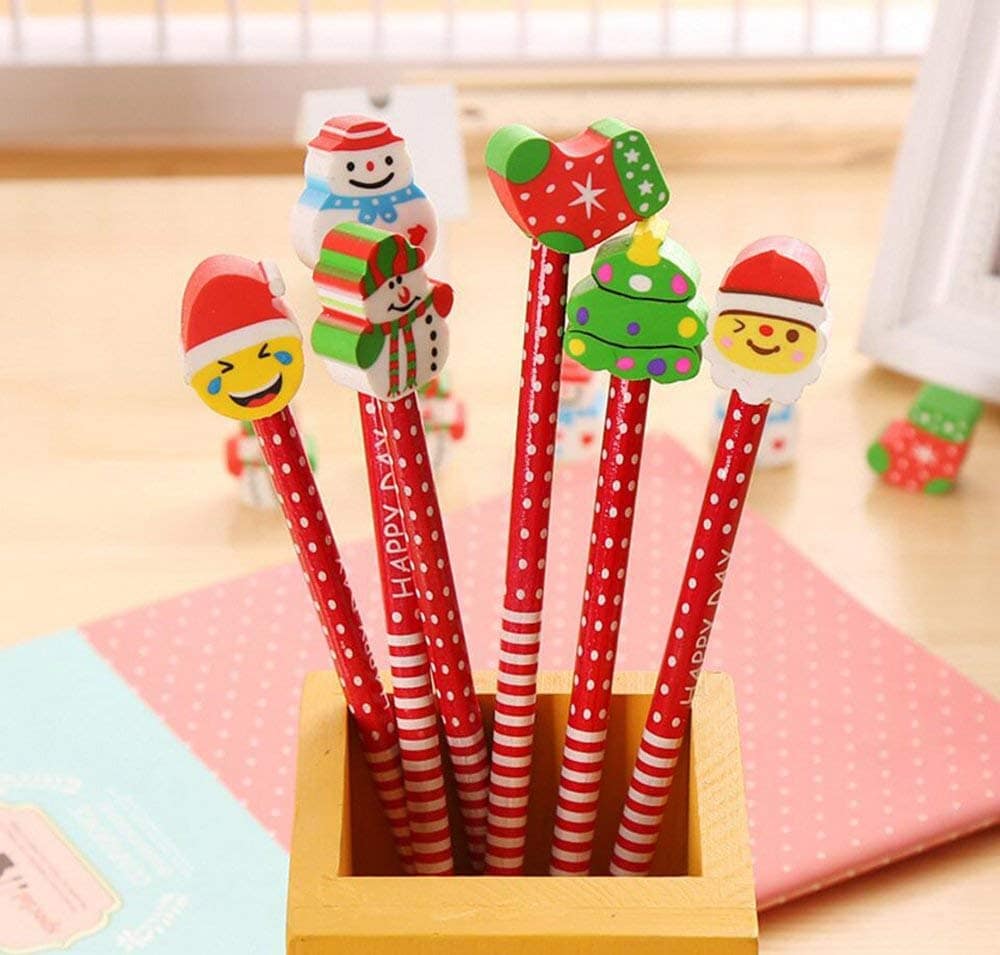 Around Christmas time you can get some super cute little Christmas themed pencils which make great Christmas presents for school kids. If you search online you can usually find a good bulk pack of pencils at a great price, quite often they even come with super cute little novelty erasers too like these ones.
If you wanted to give a little more, you could make a little bundle of a pencil and candy cane and tie it together with some ribbon. If you go with some coloured pencils, you could even print off a Christmas colouring page to include in the bundle too.
Bake some Christmas cookies
If you and/or your child (depending on how old they are) love to bake, then one of the best Christmas gifts ideas for school friends is to bake them some Christmas themed cookies.
Grab yourself a Christmas cookie cutter set and whip up your best cookie dough and cut out some super cute Christmas cookies. When it comes to decorating the cookies, you can make it as simple or elaborate as you're comfortable with.
Once you're done, wrap a cookie or two in some cellophane, add a cute little personal message and tie it on with some ribbon.
Lip balm
With Christmas holidays usually seeing kids spending days in the hot the summer sun, some lip balm with sun protection makes a great choice when it comes to Christmas gifts for school children.
Lip balm doesn't cost more than a few dollars and to make it a little more Christmassy and special you can take our tips from the nail polish above and wrap it with a chocolate or candy cane and tie a personalised note to the package too.
Squishy toys
Another cool idea for Christmas gifts for toddler classmates or even young school age kids are squishy toys. All little kids love squishy toys so they will no doubt be a hit with the kids.
If you like the idea of squishy toys as school Christmas gifts for students, I recommend jumping online as you can get some great deals on bulk packs of squishy toys, like this pack of mini Mochi toys.
Christmas activity books
Activity books make great Christmas gift ideas for school buddies, particularly for young school aged children. There's are huge variety available from simple colouring books, to sticker books and puzzle books. Depending upon the age of the child you can choose something that's age appropriate.
Christmas stamps and stickers
Another suggestion in our school friends Christmas gift ideas guide is Christmas stamps and stickers. Put together some little packages for the kids which include a Christmas stamp as well as a few stickers. You can wrap it all up in some cellophane and tie a candy cane and personalised message to it.
More school friend Xmas gift ideas
Here is how I did it with my son a few years ago:
I showed him some of the great Christmas craft ideas and luckily there were two ideas that he thought 'worked' as school friend Christmas gifts this year, so we set out to grab a few bits from our local shops and got our Christmas craft on.
You will need:
scissors
nail varnish
printable christmas tag – download by clicking here
clear cellophane
ribbon
hole puncher (optional but preferred)
laminator & laminating sheets (optional but preferred)
How to create school friend Christmas gifts
Print out the tag and cut out
Get your child to hand write their message to their classmate on the reverse side
Place carefully in the laminating sheets and then through the laminating machine
Trim around the laminated Christmas tags
Holepunch where the white dot is at the top
Place the nail varnish (we added a chocolate too!) inside a large square of cellophane and wrap
Wrap carefully and pull the top tight and twist. Tie the top carefully once with the ribbon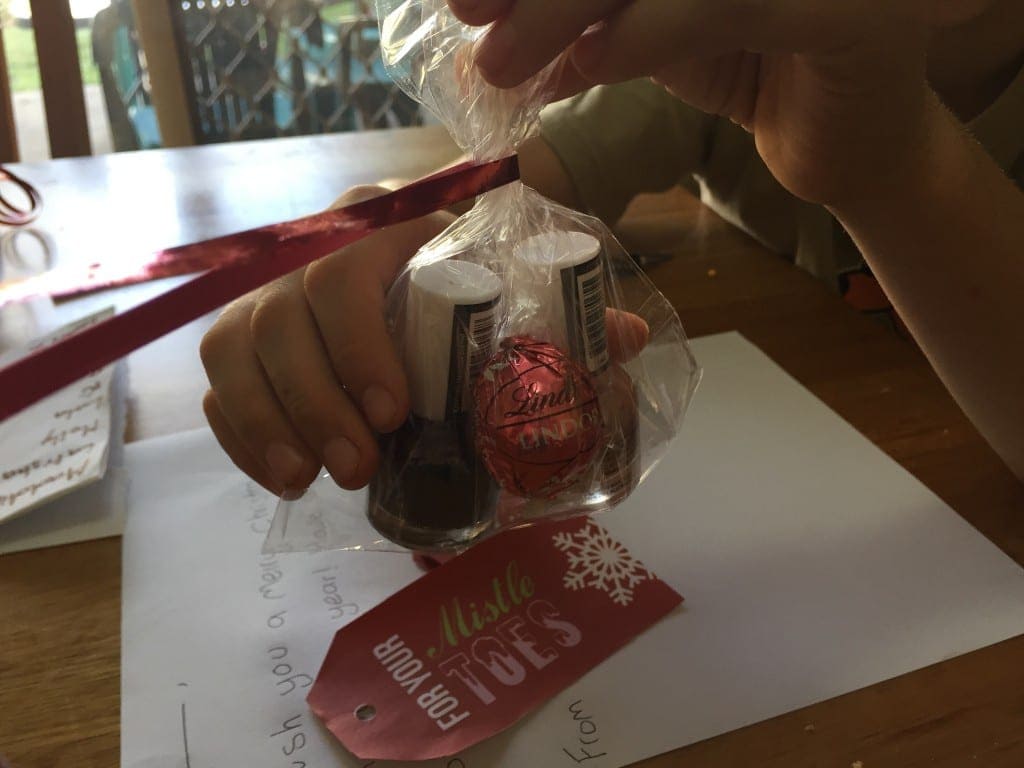 Thread the ribbon through the Christmas tag and tie a double knot. Re-curl the ribbon if necessary by running the scissors blade along the ribbon. And you are done!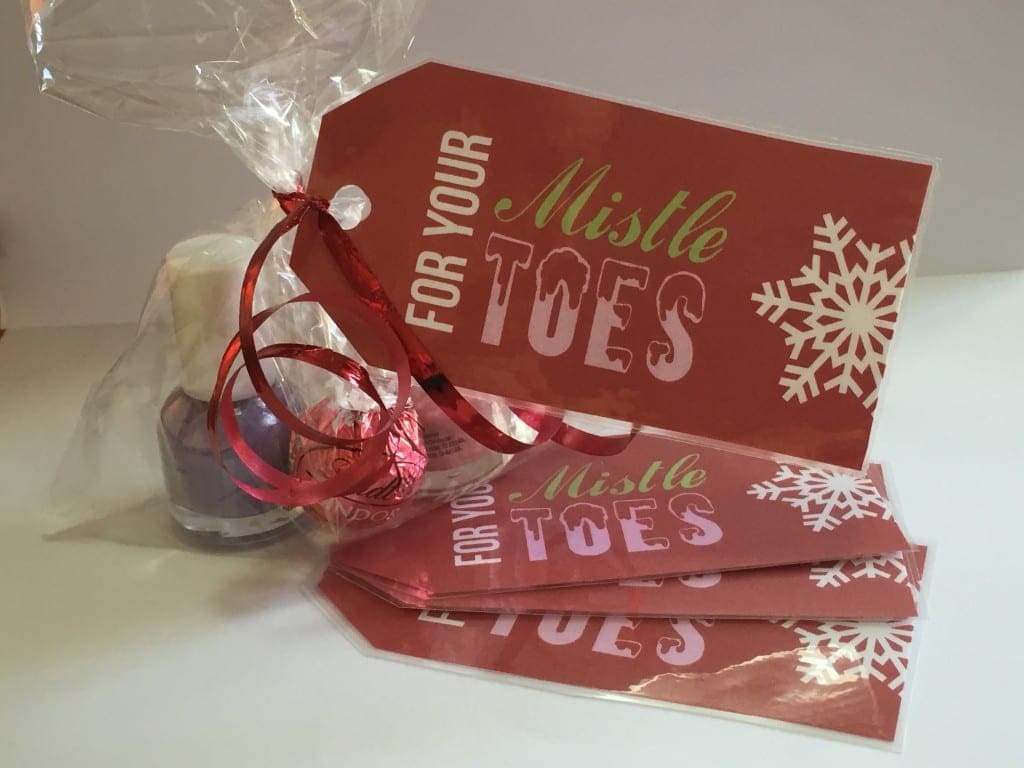 Bonus school friends Christmas gifts idea
We also made a small gift for some of this other friends who may not have enjoyed the nail varnish gift.
My son then wrote his message on the back and he carefully laminated the card.
He hole punched the card and then hole punched the popcorn packet and threaded the ribbon through and tied a double knot.
Super simple school friend Christmas gifts ideas!
Merry Christmas everyone!
Christmas Lunch Toowoomba 2021 | Where to Dine this Year!
Where are the best places to have Christmas Day Lunch in Toowoomba? This year let December 25th be a day of peace by letting someone else do the cooking (and the washing up!)
What restaurants are open for Christmas Lunch Toowoomba 2021?
We are in the process of confirming with venues what their plans are for Christmas Lunch Toowoomba 2021. Keep checking back in on this page for delicious options as we will be regularly updating locations each week.
If you would like to add your Christmas dining in Toowoomba options to our list, please email Molly – molly@FamiliesMagazine.com.au
Federal Hotel | 2021
Confirmed for 2021: Sit back and leave the cooking to someone else this Christmas. The Federal Hotel will be cooking up a delicious Christmas Day lunch Seafood buffet with two sittings to choose from at 11am and 1.30pm.
Adults: $125pp
Seniors: $99pp
Teens (13-17 years): $99pp
Children (3-12 years): $59pp
Children under 3: FREE
There is also the option to get a drinks package upgrade: $30 for standard and $50 for premium.
Wilsonton Hotel | 2021
Confirmed for 2021: If you are looking for relaxation and a scrumptious buffet lunch, head to the Wilsonton Hotel. Bring your Christmas cheer and Christmas hat. There's seafood, hot and cold meats, desserts and much more! Book online via the link below.
Adults: $125pp
Seniors: $99pp
Teens (13-17 years): $99pp
Children (3-12 years): $59pp
Children under 3: FREE
There is also the option to get a drinks package upgrade: $30 for standard and $50 for premium.
Highfields Tavern | 2021
Confirmed for 2021: Forget the hassle of Christmas Day and join Highfields Tavern for a delicious buffet lunch, full of traditional favourites and scrumptious seafood with a drinks package included. Even Santa will be stopping by to join in on the fun.
Adults: $125pp
Seniors: $99pp
Teens (13-17 years): $99pp
Children (3-12 years): $59pp
Children under 3: FREE
There is also the option to get a drinks package upgrade: $30 for standard and $50 for premium.
Blue Mountain Hotel | 2021
Confirmed for 2021: These guys are offering the best present of all – no cooking or cleaning. Dust off your Santa hat and bring your Christmas cheer to a delicious Christmas classic buffet lunch. From 11:30am – there's nothing finer than a long Chrissie lunch!
Adults: $125pp
Seniors: $99pp
Teens (13-17 years): $99pp
Children (3-12 years): $59pp
Children under 3: FREE
There is also the option to get a drinks package upgrade: $30 for standard and $50 for premium.
Burke and Wills Hotel | 2021
Confirmed for 2021: Indulge you and your family to a fantastic day out and enjoy a scrumptious Christmas feast. Burke & Wills Hotel is hosting our festive Christmas Lunch Buffet. Treat your tastebuds to a sumptuous spread of traditional and modern Christmas dishes, perfect for the entire family.
From the chef's selection of House-made Canapes to roast Turkey Breast with cranberry sauce, make sure you try it all. This also dessert – warmed Chocolate Brownies, Sticky Date Pudding, and Traditional Pavlovas.
Adults (over 12 years): $139pp
Children: $15 + $5 per year of age from 1 – 12 years.
Call (07) 4632 2433 or email bw.reception@hgroup.com.au to book!
The Spotted Cow | 2021
Confirmed for 2021: The team at The Spotted Cow have curated a spectacular festive lunch menu featuring the freshest locally sourced food, traditional Christmas favourites and desserts. Relax this Christmas and let the team do the hard work! The event runs from 11:30am-2pm.
Adults: $119
Teens (13-17 years): $99
Children (5-12 years): $59
Children under 5: FREE
Queens Park
While this choice does mean you need to provide the catering, it sure is a fantastic option if you love Christmas cooking. Cook and pack up your favourite seasonal foods for a picnic in Queens Park. A beautiful serene place where the kids can run and the adults can lounge under the shade to enjoy Christmas.
Have a picnic in the park
Relax and enjoy the simple life. Pack a few different dishes that don't require a lot of effort and get outdoors in the beautiful sunshine. A great option if you have small people in your family who are dramatically opposed to being confined in a high chair!
Here's a link to our list of the top 5 parks in Toowoomba!
Previous Christmas Lunch events
Gips Restaurant
You choose your setting, either in a heritage-listed air-conditioned room or in the undercover alfresco garden area, all decked out with festive decorations. Gip's Restaurant are mixing things up this year with a Celebration Lunch with a seafood or mixed dish options. Think moreton bay bugs, Jack's Creek eye fillet, roast duck breast, beetroot gnocchi. Yum!
$175 per person | Children aged 4 to 12 – childrens' menu available.
For bookings phone (07) 4638 3588
Christmas Day Lunch in Toowoomba
If you have any further suggestions we'd love to hear them. Leave a comment and we'll add them to our list.
WIN A Family Pass (admit 5) to Iceworld
Iceworld™ Olympic Ice Rinks have been part of the Brisbane landscape for over 30 years, providing exclusive access to Olympic size ice rinks on the north and south side of Brisbane. Whether you are a beginner or an expert Iceworld™ will soon be your favourite entertainment venue.
With rinks at Boondall and Acacia Ridge, both rinks have a fully stocked skate shop…so no need to panic if you forget your socks or gloves! Better still, both rinks have a cosy coffee shop so if you are beginning to feel the cold, you can enjoy a hot drink, whilst you sit back, relax and view all the fast-paced action on the ice!
Iceworld™ have public sessions 7 days a week, so we are sure that you'll find a time and date to skate that suits you! They are open 362 days a year! (Closed Christmas Day, Boxing Day and New Years Day).
Iceworld are offering 2 x family passes to Iceworld Boondall or Acacia Ridge. Your prize includes
Skate hire
Food and drink combo for each person (choose from dagwood dog, chicken nuggets or pie served with chips and a drink)
Heaps of cool family fun on an Olympic sized rink!
Competition closes 11:59pm November 30, 2021.
Families Magazine – Brisbane Issue 48 Oct/Nov 2021 CHEAP & Discounted Dreamworld Tickets from $89
We've found all the best ways to get cheap Dreamworld tickets! So if you are looking for Dreamworld discounts as well as the cheapest tickets for Dreamworld on the Gold Coast, read on, we have them all listed here.
Gold Coast Editor Rebel and her family spent the day out at the Gold Coast theme park as guests of Dreamworld and have put together this great list of where to get the best deals for Dreamworld.

In brief: TL;DR
* Please note WhiteWater World is now a seasonal park operating every Friday, Saturday and Sunday through to 28 March 2021 and then open for the Easter School Holidays 2 April – 18 April inclusive. It closes for winter and then reopens for the September school holidays. Make sure you get your Dreamworld pass now so you don't miss out on all the fun!
Read on to find out all the details and get your links to check other discount sites.
Taking a toddler to Dreamworld? – READ THIS FIRST!!
RELATED: We can also get you into Lone Pine Koala Sanctuary cheap AND Australia Zoo for FREE If you have always wanted to go on a hot air balloon ride, we have a discount code for that too!
A great place to celebrate a birthday!
When you're turning eight years old, the lure of an entire shop dedicated to LEGO® is a pretty big drawcard. When that LEGO® store is right next to a Jelly Belly® Store and both of them are located at a theme park? Well, where to celebrate your birthday becomes a no brainer!
We hit up Dreamworld for a day of fun, and boy did it deliver
With Tiger Island, Dreamworld Corroboree, Dreamworld Wildlife Foundation, ABC KIDS WORLD, Wiggles World, Hot Wheels SideWinder, V8 Supercars RedLine, FlowRider, and the Biggest Thrill Rides – some of the tallest, fastest thrill rides in the world – Dreamworld is the ultimate place for family fun.
While the Big Thrill rides weren't for all of us, the birthday boy celebrated his milestone by going on The Claw EIGHT times in a row. Once with me, and additional seven times solo because #queasy
We loved meandering through the wide spacious grounds. There was plenty of shade, plenty of refreshments and tonnes of entertainment.
Dreamworld describes it best themselves with:
"Dreamworld can be anything you can imagine. It's a place where a visit to a visit to WhiteWater World can make you feel like a pirate or a mermaid. Where getting up close and personal with the tigers at Tiger island or the Koalas and Kangaroos at Dreamworld Corroboree, can make you feel like an explorer. It's a place where you immerse yourself in a world filled with your favourite DreamWorks heroes like Kung Fu Panda, and master the art of karate. or where you can escape in a Faire Faire away fairytale with Shrek, and join the Madagascar animals on their adventures. Step inside and explore imagination at play."
Families Magazine top tips for a Dreamworld visit:
Check out the Dreamworld passes on their website.
Visit Dreamworld Corroboree – the kids loved the opportunity to get hands on with the animals, and it's a great place to stop in the shade and recharge for the rest of the day.
If you want to skip the Saturday and Sunday queues, look into Dreamworld's virtual ride queuing system, RIDE EXPRESS. With three speeds to choose from, you won't have to wait in line long, if at all.
Plan ahead. If you have RACQ membership or NRMA membership, you can gain discounted entry (more on that below). There is SO much to do, so get everyone in the family to choose the one thing they would like to do the most, then map out your day with a plan so that nobody misses out. The Dreamworld site has a downloadable park map to make planning a schedule all the more easy.
Don't forget the essentials: Sunblock, hats, camera, charged phone, and maybe a change of clothes for younger kids if needed. Pack your schedule and whatever you do, don't forget the discounted Dreamworld tickets that you printed out the night before.
What's new at Dreamworld for 2021?
Since Rebel's visit there have been some BIG NEW changes at Dreamworld. Check out these great new attractions:
Sky Voyager – Sky Voyager features modern state-of-the-art technology combining motion-programmed seating and special effects such as wind, sound, light, mist and scents, while suspended in front of a giant dome screen. It's a fabulous family adventure!
Fully 6 – Fully 6 opened December 2019 offering offer visitors a unique splash-tacular experience, with twists, turns and drops to get your adrenaline going. Fully 6 is six huge body slides located in Whitewater World.
World First Triple Launch Coaster – coming in 2021, the Steel Taipan is going to be the ride of your life! (See a sneak preview here!)
Tiger cubs! – Be sure to visit the tiger nursery at Tiger Island to say hello to their newest arrivals, and check in at Corroboree too, where you might meet some baby crocodiles!
Australia's Biggest Pass – there's so much to see and do at Dreamworld and Whitewater World that you're going to want to go back over and over again. Check out Australia's Biggest Pass for unlimited entry for 12 MONTHS, plus heaps of additional member benefits – annual passes from $119 for locals and $179 for everyone else. Click here for Dreamworld annual pass deals.
Cheap Dreamworld tickets & Dreamworld deals – our top tips!
If you're not looking for an annual pass, the good news is that there are multiple places that offer Dreamworld discount coupons and vouchers on single entry tickets to Dreamworld all year round.
Our favourite places for cheap Dreamworld tickets are:
As we said above the key to a great day out at Dreamworld (and getting a discounted ticket) is planning ahead. Do your homework, click the links above to get the cheapest Dreamworld tickets online, and that will leave you more money to spend on the yummy food and animal encounters and other things to do on the Gold Coast with kids.
RELATED: If you are looking for accommodation near Dreamworld, we have reviewed the top 10 hotels nearby so you can make and informed choice!
Here is everything you need to know about Dreamworld:
On a holiday? We have other discount tickets!
We also know how to get FREE and CHEAP Australia Zoo tickets – click here.
And we can get you a really good discount at Lone Pine Koala Sanctuary!
Did you find a bargain? Let us know in comments below!
Families Magazine Front Cover Competition!
Be the next family on the front cover of Families Magazine – Brisbane
Families Magazine – Brisbane is looking for a Brisbane family to be on the front cover and be the 'face' of Families Magazine April/May 2022 issue.
Families Magazine – Brisbane is an A4 glossy magazine, a brilliant website, a social media network and its own YouTube channel for families in Brisbane. We provide families with local, relevant what's on and things to do with kids and families in Brisbane today, tomorrow, next week and next month.
Could your family, or a family you know be our next front cover and be seen on 40, 000+ copies across Brisbane? We are asking Brisbane based families & photographers to email us a family photo for us to consider for this wonderful front cover.
(Please note: 2019 finalist Huxley Family image credit – Sugardust Photography)
The details:
The photo must be portrait in shape
The photo must have room at the top for our logo
The photo must have room at the bottom for an advert or banner
The photo must be in high resolution (minimum 300 dpi, A4 page) which basically means the original photo from the camera.
The photo doesn't have to be from a professional photographer
Professional photographers are welcome to enter
All photos become our property and we may use them in future issues, but we will never use them without the owner's written permission
You don't have to like our Facebook page – but it's useful, relevant, local and inspired – just like our print magazine!
Deadline for submission is Friday 25 February 2022.

Send to Editor@FamiliesMagazine.com.au
See some previous front covers by clicking here.
Bachelor of Justice Studies Brisbane | Compare Your Child's Options
Are you looking to compare the top universities that offer a Bachelor of Justice Studies in Brisbane?
A Bachelor of Justice Studies will help your child in a career path in law enforcement, military services, government and private sector intelligence and security agencies, crime prevention agencies, and criminal and social justice policy agencies.
Compare Bachelor of Justice Studies Degrees in Brisbane
A Bachelor of Justice Studies is highly regarded by investigative and regulatory agencies such as the Australian Federal Police, Queensland Police Service, Australian Customs Services, with opportunities for professional placements. Is your child considering doing a Bachelor of Justice Studies in Brisbane?
Not sure which university degree is right for your teen? We have compared these Brisbane university courses offered by the top universities:
In this article, we compare all the top universities in Brisbane that offer a Bachelor of Justice Studies.
Here's all the info you, and your child, need to know.
Queensland University of Technology
Entry into the Bachelor of Justice degree at the Queensland University of Technology requires an ATAR score of 70 based on previous years' cut off scores. If you achieve an ATAR of 75.00 or higher (including any adjustments) and satisfy all other admission requirements, you are guaranteed an offer for this course.
Students can choose from two majors—policy and politics or criminology and policing. Expand your interests with secondary majors in law and psychology. The study areas are relevant and applied, and include topics such as crimes of violence, eco crime, official corruption, youth justice, crime prevention, intelligence and security, drugs and crime, organised and transnational crime, political violence and terrorism, and death investigation. Students also have the option to pair their Justice degree with another.
Study on campus at Garden Point or there is a distance education and online option. High school English or equivalent is the only prerequisite for entry to the program. The program is 3 years full-time or 6 years part-time. The annual cost for 2022 is projected to be $14,700.
University of Queensland
At present the University of Queensland does not offer a Bachelor of Justice Studies Degree, however they offer a Bachelor of Criminology and Criminal Justice (Honours). The program has four years of professional practice built into the program, with deep engagement with industry partners including Queensland Police Service, Queensland Corrective Services, Australian Federal Policing, Sentencing Commission, and many more.
High school English or equivalent is the only prerequisite for entry to the program. The degree is 4 years full-time or part-time equivalent and requires an ATAR of 82. The 2021 annual fee was $14,370. For more information head to the UQ website.
Griffith University
At present Griffith University does not offer a Bachelor of Justice Studies, however, they offer a Bachelor of Criminology and Criminal Justice.
The Bachelor of Criminology and Criminal Justice at the Gold Coast and Mt Gravatt campus requires an ATAR of 63. Prerequisites include:
Any General or Applied English subject (Units 3&4, C)
In the course, students will learn about the current trends in crime in Australia and overseas, the proven ways that crime can be examined, prevented and reduced. In the second and third years, students can specialise in criminology and criminal justice based on interests and desired career. Elective courses include: policing, corrections, working with offenders and victims, counter-terrorism, or crime analysis and investigation.
It is a 3-year full-time or 6 years part-time program. As of 2021, the annual cost is $13,800.
University of the Sunshine Coast
The University of the Sunshine Coast offers a Bachelor of Criminology and Justice which requires an ATAR of 60. This program gives you a strong understanding of Australia's criminal justice system, including law enforcement, crime policy, the courts, and custodial and community corrections.
It is a 3 year full-time or equivalent program and can be studying on campus at the Sunshine Coast or Moreton Bay, or online.
Will your child get the ATAR they need?
If your child misses out on a place, there's a Diploma of Crime and Justice Studies available through TAFE Queensland. A successful year in the diploma level course at TAFE should assist with entry the following year.
Find out when your university of choice is having their University Open Day here.