School Holiday Activities in Toowoomba for Kids
There's so much to do in the Toowoomba region this June/July school holidays. The school holidays will run from Saturday 25 June – Sunday 10 July 2022 inclusive.
Things to do in Toowoomba during the winter school holidays
There's so much to do in the Toowoomba region this winter school holiday. Just follow our guide to the Toowoomba winter school holiday activities to bust that school-break boredom!
Mashed Theatre's Acting Workshops
These holidays Mashed Theatre is hosting Acting Workshops for young people aged 6-18 years. These School Holiday Workshops provide young actors the opportunity to work with one of Queensland's leading and fastest growing theatre companies. They will learn a multitude of different styles and forms of acting from our professional actors in the theatre and film industry.
Juniors ( 6- 8 year olds)
A Beginner's Acting Workshop for creative kids! Held in the Branson Room at Canvas Coworking – Let's Act will be focusing on different acting techniques, all participants will have fun developing skills in order to prepare them for becoming an actor in theatre or film. This workshop is a great way for young people to not only build their vocal and performance abilities, but strengthen their confidence and develop important personal development skills.
When: Monday Monday 27th June & Tuesday 28th June, 2022
Time: 10:00 am – 2:00 pm
Where: Canvas Coworking, Branson Room (access via Mann street)
Price: $150 (GST included)
Lil' Thespians (9 – 12 year olds)
A Beginner's Acting Workshop for creative kids! Held in the Branson Room at Canvas Coworking – Lil' Thespians will be focusing on different acting techniques, all participants will have fun developing skills in order to prepare them for becoming an actor in theatre or film. This workshop is a great way for young people to not only build their vocal and performance abilities, but strengthen their confidence and develop important personal development skills.
When: Monday Wednesday 28th June – Friday 1st July, 2022
Time: 10:00 am – 2:00 pm
Where: Canvas Coworking, Branson Room (access via Mann street)
Price: $200.00 (GST included)
5 Day Actor's Intensive
For our determined actors! This 5 day intensive has participants delve into intermediate and advanced acting techniques, theatre styles and forms, and prepare them to work in the film and theatre industry. Our professional actors will inspire young people to get their creative juices flowing and learn key skills to encourage their growth inside and outside of the intensive.
Starts: Monday 4th July, 2022
Ends: Friday, 8th July, 2022
Time: 10:00 am – 4:00 pm
Where: Mashed Theatre & Films Studio, Canvas Coworking, Branson Room (access via Mann Street)
Price: $250.00 (GST inclusive)
Find out all of the details here.
Cobb + Co Museum
There's always something to keep the children entertained during school holidays at Cobb + Co Museum. All of these holiday programs include hands on activities and learning through fun, with themed holiday programs for 3-12 year olds. Themes include megafauna, insects, reptiles, science experiments and interactive trails.
For older age groups, they are running teen workshops. These are three-hour versions of the popular hands-on workshops they run, and they've been designed especially for 13 – 17 year olds.
Blacksmithing Teen Workshop
Forge a fire poker or keyring in this three-hour workshop designed for teens.
When: 30 June 2022, 6 July 2022
Price: $95 including materials for the three-hour session)
Metalsmithing Teen Workshop
Create a pair of earrings, ring necklace or key chain in this three-hour workshop designed for teens.
When: 6 July 2022
Price: $95 including materials for the three-hour session
Bookings are essential. Find out more here.
Venue: Cobb & Co. Museum, 27 Lindsay Street, Toowoomba
EDwoodUCATION
The E.P.I.K. School Holiday Program
The E.P.I.K. School Holiday Programs are designed to be inclusive, multi-disciplinary, engaging and a chance to expose participants to new interests! Participants may choose on the day what they wish to do and are welcome to explore various options throughout the day.
The TOOWOOMBA E.P.I.K. Holiday Program features:
Music and vocal workshops for the young musicians
Theatre, character development and drama games for the performers
Construction challenges for the engineers of tomorrow
Skills-based tennis games and drills for our future tennis stars
Robotics with Bee-Bot challenges, Sphero programming and LEGO EV3
Boardgames to enhance strategic thinking (e.g. chess, Settlers of Catan)
Crazy Science experiments to engage the inquisitive minds
Price: $60 per day
Contact: 0490 759 037
Find out more here.
Highfields Pioneer Village
There is so much for a family to see and do at Highfields Pioneer Museum, with over 60 authentic buildings and themed museums.
Myrtle May the miniature steam train and Henry the Model T Bus will be running on the last Sunday of every month, weather permitting. Additional costs apply for train and bus rides. There are normally school holiday activities as well.
Find out more on the Highfields Pioneer Village website.
Avegates school holiday program for students with a disability
The Avegates School Holiday Program offers lots of fun activities to keep children engaged and entertained during school holidays.
The success of the Avegates School Holiday Program has seen it grow, with it now operating across five locations across Queensland. The program is designed to provide fun and engaging experiences for school-aged children with disability throughout the school holidays that enable skills development, and connection through positive friendships and relationships with their peers.
Each day of the Avegates School Holiday Program offers new activities and experiences for all children attending. Activities have been developed with NDIS goals in mind and are designed to encourage all attendees to have an amazing time and make some great new friends!
Price: Costs for support provided are generally claimed through NDIS funding. In addition to the support costs there is a small out-of-pocket fee charged for each day which depends on whether or not you would like food provided for your child on the day.
The Avegates School Holiday Program is available in Toowoomba, Brisbane's northside, Brisbane's southside, Mackay, Rockhampton and Logan/Redlands. Call Avegates on 1300 135 886 or visit their website www.avegates.org.au to find out more.
Empire Theatre
School holiday workshops
Empire Youth Arts aims to enrich and empower the young people of the Toowoomba region. Providing a variety of regular drama workshops, holiday workshops and elite performance program opportunities, Empire Youth Arts is an invaluable program to the young people of the Toowoomba community and beyond.
Empire Youth Arts also provides a number of classes outside Toowoomba, including term long classes, workshops, masterclasses and educational support, working in Dalby, Lockyer Valley, the Somerset Region, Mitchell, Miles, Charleville, Pittsworth and Crows Nest in the past few years.
Also, why not go along to a show? The Hunchback of Notre Dame is on Saturday 9 June 2022 presented by the award-winning TCS Youth Choir. Find out what's on and buy tickets here.
Venue: Empire Theatre, 54-56 Neil Street, Toowoomba
Find out more here.
City Golf
School holiday programmes
Mad Food Science
Library activity
Get the kids into healthy eating over the school holidays with our fun program.
Together you'll discover:
Why the food rainbow is so important
What to do about fussy eaters
Which foods helps concentration, behaviour and academic performance
Avoid lunch box stress and
Understand food labels
When: Tuesday 28 June 2022 9am – 12pm and Saturday 9 July 1 – 4pm
Venue: Toowoomba City Library Multipurpose room, Level 3 155 Herries Street Toowoomba.
Price: $5 per person, per session
You can book and find out more information here.
Laidley Show 2022
2 – 3 July 2022
It's show time! Come along for a full weekend of horticulture, crafts, food and produce, animals, farm skills, and entertainment. The site is also open for camping.
Laidley Agricultural and Industrial Society Membership is just $12 per year per adult and $8.00 per junior to come to the show as often as you like.
Visit the Laidley Show Society website for more information.
Things to do in and around Toowoomba
The Toowoomba Region has an abundance of historic venues and stunning parklands to visit. If you have a morning or afternoon to spare, consider a visit to one of these special venues.
Toowoomba Region Libraries – school holiday activities
You will find heaps of fun activities at your local library. You can find out what is on here.
For online fun, check out the first 5 forever program for activities and educational play ideas for children aged 0-5 years old.
The Chocolate Cottage
Situated on a grassy acreage overlooking unsurpassed views of the Toowoomba Range, the restored 1877 Highfields school house cafe has plenty of room for the family with shaded outdoor seating and warm indoor dining around a fireplace throughout winter.
The handpainted chairs, colourful décor and quirky giftware provides a perfect environment to indulge in our handmade chocolates, award winning cuisine and Lavazza coffee.
Visit the Chocolate Cottage here.
Ju Raku En – Japanese Gardens
Located on the northern side of the University of Southern Queensland campus, the stunning Japanese garden is a joint project between the University and the local City Council. Toowoomba's changing seasons and the clever design mean that each season offers a truly unique experience in the garden. You can find out more here.
Laurel Bank Park – Hill Street, Toowoomba
Laurel Bank Park is one of Toowoomba's premier parks and provides a majestic oasis close to the heart of town. The park features manicured gardens, mature trees, children's play equipment, barbecue and picnic areas and two croquet lawns and is a must-see destination during the Toowoomba Carnival of Flowers in spring, when the gardens come alive with colour and natural splendour.
Queens Park Botanic Gardens – Lindsay Street, Toowoomba
Set across more than 25 picturesque hectares, the parkland has several children's play areas and barbecue picnic spaces.
DownSteam Tourist Railway & Museum – 16 Cambooya Street, Drayton
The DownSteam Tourist Railway is open Tuesdays, Thursdays and Saturdays from 9am-3pm. For fans of historic steam railways, this is a great place to spend a few hours touring the restoration sheds and gift shop. Entry via donation: $5/adults.
Toowoomba Indoor Sports
This is the premier indoor sports venue in Toowoomba and boasts six playing courts and one practice net, set up complete with a bowling machine. The centre has a fully licensed bar and canteen, and caters for functions, birthdays and corporate groups. The Sporting Arena is sure to offer a sport that appeals to your children. Whether they're only young or a growing teenager, with a plethora of options available there'll be something to suit them. Why not bring the whole family in on the fun too? Find out more here in our full review!
Past events in the Toowoomba school holidays
Toowoomba's Christmas Wonderland
4 – 24 December 2021, 7pm-10pm
Annual traditional Christmas Lights Display – Toowoomba's Christmas Wonderland will be held in the Botanic Gardens, Queens Park, from Saturday 4th December 2021 up to and including Christmas Eve (Weather permitting)
Venue: Botanic Gardens, Queens Park
Find out more here.
Triple M Mayoral Carols by Candlelight
12 December 2021, 6:30pm-8:30om
One of the oldest and largest regional Christmas Carols events in Australia is back in 2021 after falling victim to COVID last year. Santa will be joining, plus food vans to keep you feeling satisfied, a stellar lineup of amazing local artists, and an incredible fireworks show to wrap things up.
Venue: Queens Park Frogs Hollow
Find out more here.
Christmas in the Park
15 December 2021, 5pm-9pm
Christmas in the park will be a great night out for families. There will be Free Rides from 5.00pm (Dodgem Cars, Cup & Saucer, Giant Slide and Jumping Castle), free temporary tattoos and face painting for the kids, Food Stalls and more!
Venue: Pittsworth Centenary Park
Find out more here.
Toowoomba Christmas Tree Festival
Thursday 10 December 2021
20 beautiful Pine Christmas Trees will be on display from local schools and community groups who have kindly donated their time to decorate them. Everybody is welcome – entry fee is a gold coin donation which will also give you the opportunity to vote for your favourite tree. $1 donation will give you 2 tokens to vote and $2 will give you 5 votes.
Where: USQ Clive Berghofer Centre, Baker St, Toowoomba
Time: 5.30pm-8.30pm Thursday 10 December – Saturday 12 December 2021
Things to do in Toowoomba during the spring school holidays
1 – 30 September 2022 – Toowoomba Carnival of Flowers
Of course, the biggest event on every Toowoomba spring holiday calendar is the Toowoomba Carnival of Flowers. The Carnival of Flowers is a riot of spring events, including the parade, night garden light display, sideshows, music, activities and floral displays, train journeys, crafts, tours and more.
There's really too much happening to list here, so take a look at the official guide for more info.
Grand Central Floral Parade – reimagined
The iconic Grand Central Floral Parade is one of Toowoomba's favourite events of the year! Come along to watch street performers, carnival characters and roving entertainment escort the stunning floral floats on their journey through the heart of the city to Queens Park. This free event takes place on 17 September 2022 and starts at 10am.
Rowes Carnival of Light shows
Take the whole family to watch the entire front of the Rowes building come to life with spectacular animations to celebrate a Symphony of Spring! You'll see the magical, miniature world of the garden gnomes with flowers the size of buildings, giant bees, butterflies and lady birds. Watch crepe myrtle trees bop to the music whilst thousands of tiny flowers sprout and bloom and a giant oak tree grows and delivers dancing gnomes to the party!
Date tbc at Rowes Building, 58 Russell Street, Toowoomba
Night Garden powered by Ergon Energy Retail
As twilight settles in, Queens Park will spring to life with lighting displays that weave through a secluded section of the parkland. Designed as an family-friendly space, the Night Garden features light installations and illuminations of colour! Get your camera ready to capture each installation.
This event will 'brighten' your night! Don't miss it! 2022 will see a feature inflatable interactive inclusion!
1 – 30 September 2022, 6 – 8:30pm, Middle of Queens Park, Godsall Street, Toowoomba
Things to do in Toowoomba during the summer school holidays
Toowoomba has a wide range of kids' activities during the summer holidays (just see some of them listed under the past events above!). This post will be updated closer to the date with a full detailed list of summer school holiday activities.
Things to do in Toowoomba during the Easter school holidays
Our Easter school holiday listings will be updated closer to the time. Take a look at these fund activities to keep your little ones entertained:
Boredom Busters for Kids – A list of over 20 things to do when there is "nothing to do".
Cinema at Home – You can still have that home cinema experience with streaming, downloads or online DVD orders. Take a look at our suggestions!
Bear Hunt – Social Distance Style! – Explore your local neighbourhood in search of hidden bears. Tip: Create your own toilet roll tube binoculars with string and sticky tape, and decorate them for your hunt.
Take a Virtual Museum Tour – Visit 17 different museums across the world with a virtual tour!
Go to Disneyland! – You can ride all the rides without queuing! Want to know how? Click the link!
You can find lots more ideas for crafts and activities for the Easter school holiday by clicking here.
More ideas for the Toowoomba school holidays
The Original Mix Emerging Designer Markets
More things to do in and around Toowoomba
WIN Street Science Tickets and your Own Rocket!
10…9…8…7…6…5…4…3…2…1… BLAST OFF! It's your countdown to win Street Science tickets!
Street Science are excited to be celebrating this year's National Science Week in August with a special event that will see families from around Australia come together for an online Street Science experience like no other. On August 12th Street Science will broadcast from live from the Street Science Studio's high energy, fun filled science show, culminating in the launch of over 1000 Street Science rockets around the country.
Street Science and Families Magazine are excited to give two lucky families (up to 5 people each family) the chance to join the team live in person on August 12th to help celebrate National Science Week 2022.
Another 10 families will win tickets to the online show and their very own rocket kits, with enough rocket fuel to launch their rockets up to 30 times.
For more information on the event visit the Street Science Facebook page.
WIN Kids Toys and Games
Keep the kids entertained – or let them entertain themselves – with this Crown & Andrews and Goliath games pack!
Nexcube
Are you ready to try your hand at beating the World Record for fastest cube puzzle completion? NexCube offers unparalleled, ergonomic sliding action with adjustable elasticity designed to fit any cuber's personal style. With a flick of the wrist, users can customize flexibility to meet the needs of even the most adept speedcuber. Display stand is included.
Age: 8+ Single Player RRP:$10.00
Gobble Monster
Your objective is to collect the most toys! Pull out the tongue, place the gobbler on the middle of the table and place all the toys onto the tongue, evenly divided. Take a card from the pile and act! Be careful of the gobbler! When he strikes, the active player will have to put back all their toys.
The player with the most toys at the end wins!
Age: 4+ Players: 2-4 RRP: $39.99
The Floor is Lava
Easy to play and learn, and promotes physical activity. Bright, colourful pieces; kid and family friendly indoor and outdoor play!
Age: 5+ Players: 2-6 RRP: $39.99
Phlatt Ball
Throw a disc, catch a ball! The Phlat Ball V4 miraculously turns from disc to ball when thrown! So squash it flat, toss it to your mate and enjoy the dual-action fun of flinging a disc, then catching ball!
Age: 6+ Players: 1+ RRP: $29.99
Win one of two sets of all four games!
All these games are available from leading retailers, but we have two sets of all four games to give away, valued at $120 RRP each!
Dolphin Facts for Kids to Help You with a School Project
Looking for fun dolphin facts for kids for a school project or just because you love dolphins and love learning facts about animals? We've got you covered in this article as it's packed with useful information about dolphins.
Facts about dolphins for kids
Dolphins are known as the brainiacs of the oceans. They are super smart and have highly developed brains that have developed over thousands of generations.
Did you know that the scientific name for dolphins (or 'toothed whales' as they are also known) is Delphinidae? This comes from the Latin word 'Delphinus' which means 'dolphin'.
Dolphins live in temperate and tropical waters around the globe, including our own coastal water of Australia. These remarkable creatures are very intelligent and playful and they're a joy to watch. Have you ever been on a boat trip and seen dolphins playing in the waves and showing off?
Let's answer some of your questions all about dolphins…
Are dolphins fish and how do dolphins breathe?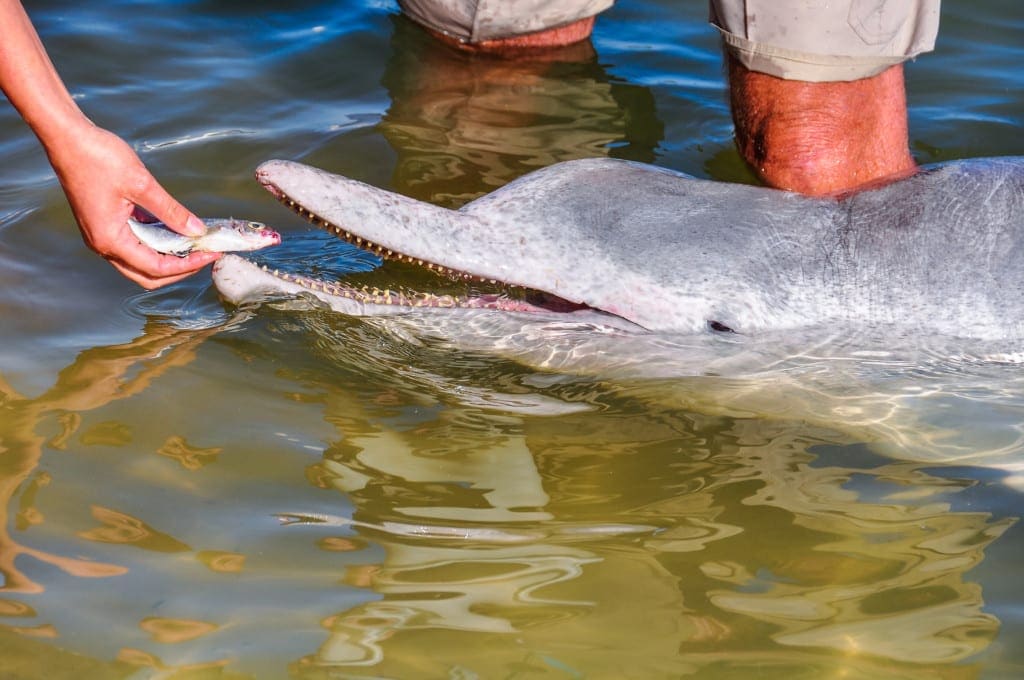 No, dolphins are marine mammals, not fish.
Dolphins are warm-blooded and they breathe through their lungs. This means they need to surface to take a breath, unlike fish which breathe underwater through their gills.
Dolphins are very clever though and they're able to adjust their bodily functions to extend their time under water. If they need to be without breath for longer, they're able to shut off or slow down their digestive system, heart rate, and even their blood flow to give them more time underwater.
Us humans breathe automatically without even thinking and we have to continue breathing all the time. Dolphins have a lot more control over how often they breathe so they can consider their surroundings and choose how often to surface.
While we take our breaths through our nose and mouth, dolphins only breathe through their blowhole – this is a hole on the top of their head. This hole opens to allow them to take in oxygen, and then it closes again tightly to stop water from getting in. This means a dolphin's mouth is used purely for eating. The reason for this is so a dolphin won't accidentally suck water into their lungs while eating so it keeps them safe from drowning.
How do dolphins communicate with one another?
Dolphins communicate with one another by making a squeaking, whistling, buzzing and clicking sound and every dolphin sounds unique. Their sounds can be heard by their species from miles away, so it's a great communication tool.
How do dolphins navigate?
The sounds dolphins make also help them navigate and understand their surroundings. This is known as 'echolocation' which means 'seeing with sound'. The soundwaves from their clicks hit the object and bounce back. This allows them to determine how close the object is, how big it is and even what it's made of. It's very clever! While dolphins do have eyes, water can be murky making it difficult to see so this unique ability helps them find their way around the ocean, hunt their prey and avoid danger.
Dolphins also use their bodies and fins to splash the surface of the water as a way of communicating. They use these splashes in lots of ways to communicate with the dolphins in their immediate surroundings.
Do dolphins live in groups?
Dolphins live in groups which are called pods. Living in groups like this gives them protection, plus dolphins are social creatures and they like company so they enjoy playing together.
Living in a group allows them to hunt together as a team and their pod helps to keep them safe from predators such as sharks.
Some dolphins stay in the same area for their whole lives while others migrate to different places.
Do dolphins have teeth?
Yes, dolphins do have teeth. Dolphin teeth last them a lifetime – they only get one set! Dolphins use their teeth to catch their prey but don't actually chew with them as they swallow their food whole.
Do dolphins have hair or do dolphins have fur?
If you're wondering does a dolphin have hair? The answer is yes, dolphins have hair or a few whiskers when they're born although this falls out soon after birth. Some river species do retain some whiskers into adulthood though as it can help them search for prey on the river bed as the water can be murky and the hairs (along with their clicks) can help them find food.
How do dolphins sleep?
Dolphins go to sleep by resting quietly on the surface of the water either horizontally or vertically, and they can also doze while slowly swimming alongside other dolphins.
Fun dolphin facts for kids
Let's dive right into these fascinating and fun dolphin facts for kids:
There are 42 species of dolphin in the world.
Dolphins can swim very fast. Some species can go as fast as 55kmph.
While most dolphins are grey in colour, some species have patterns of black and white. There are even some species of pink dolphins!
Dolphins need air to breathe, but they can hold their breath a lot longer than you or I! They can hold their breath underwater for an incredible 8 to 20 minutes, depending on the species. This allows them to dive down deep to catch fish.
Dolphins eat a variety of fish, squid and crustaceans.
Dolphins are known to sometimes gather in 'superpods' which are huge gatherings of pods of dolphins. These can sometimes include up to 1000 dolphins. Think of it like a big party where they play and then disperse with their own pods again at the end of it.
A dolphin's pregnancy can last between nine and 16 months. Dolphins give birth to their young tail first.
Dolphins produce milk for their calves which they drink underwater. Dolphin mums take care of their young and nurture them for years so they become independent.
The life span of a dolphin varies across the breeds, with some living around 20 years and other species living to 80 or more.
While most dolphins live in the oceans, there are also some freshwater dolphins that live in rivers including the Amazon and Ganges.
Dolphins eat fish whole – they swallow them headfirst so the spines don't catch in their throat.
Did you know that orca (killer whales) are actually the biggest member of the dolphin family? These grow up to an epic 9m long and they live for 30 – 50 years.
Dolphins can blow bubbles on the surface of the water. It's a way for them to encourage their prey to the surface while hunting as this makes them easier to catch.
What threats do dolphins face?
While dolphins don't have many natural predators they, unfortunately, face many threats from humans.
Dozens of species of dolphin are endangered.
Here are some of the main threats dolphins face:
Being caught in large nets set to catch fish
Getting tangled in discarded fishing lines and hooks
Pollution
Climate change
Overfishing
Habitat loss through development
Hunting
Boat collisions
Noise pollution (as their hearing is so sensitive so things like shipping sonars and seismic testing can cause huge issues)
We can have an impact on the future of dolphins in the world by:
Reducing household waste
Keeping our beaches clean
Reducing carbon emissions
Following marine safety rules
Supporting conservation projects
Recycling our waste
Not dropping litter
Donating to marine conservation organisations
Educating others about the threats to dolphins
Fun dolphin facts for kids
I hope you enjoyed these fun dolphin facts for kids!
If you found this post about facts for kids about dolphins useful, please give it a share.
More facts for kids
If you have enjoyed these kids' facts about dolphins and you are looking for more great facts for kids to help with projects, check out our articles:
Animal facts for kids
Environment facts for kids
Other facts for kids
Fun Echidna Facts for Kids: Learn All About Echidnas
Do you want to learn all about echidnas? Echidnas are a peculiar spiky mammal that can be found living in a range of habitats across Australia and New Guinea. Read on to discover these fascinating echidna facts for kids, learn all about an echidna's spikes, habitat, eating habits and the threats an echidna faces.
Facts about echidnas: What is an echidna?
We're so lucky that echidnas are native to Australia, although these shy waddling, spiny creatures aren't often sighted.
Australia's most common native mammal is covered with strong, sharp spines similar to that of a hedgehog or porcupine. They have small, beady eyes and a long, bald snout which is sometimes called a beak.
An echidna can range in size from 14 – 52cm, and although they look similar to porcupines, hedgehogs and anteaters, they have a lot more in common with the Australian platypus.
An echidna's appearance depends on where they live. Echidnas living in hotter regions are a lighter brown colour, and those living in cooler locations are darker in colour so they can blend into their surroundings unnoticed. Their spikes help echidnas blend into the bush seamlessly and they also offer protection from predators.
Echidna fun facts: Where to find echidnas
There are four species of echidna in the world.
The short-beaked echidna can be found across Australia and in lowland New Guinea.
The three species of long-beaked echidna (the Sir David's long-beaked echidna, the eastern long-beaked echidna and the western long-beaked echidna) can be found in the highlands of New Guinea only.
What is the scientific name of an echidna?
The scientific name for short-beaked echidna is Tachyglossus aculeatus.
The scientific names for long-beaked echidnas are:
Zaglossus attenboroughi (the Sir David's long-beaked echidna, named after Sir David Attenborough)
Zaglossus bartoni (the eastern long-beaked echidna)
and Zaglossus bruijnii (the western long-beaked echidna).
Can echidnas swim?
Yes, amazingly echidnas can swim. Their snouts act a little like snorkels so they can breathe as they cross rivers. They are actually strong swimmers and they can often be found in streams.
What do echidnas eat?
Echidnas eat ants, termites, beetles and worms.
An echidna can only open its tiny mouth enough to allow its long, sticky tongue to protrude, but its tongue is covered with backwards-facing barbs that catch worms and insects like hooks and pull them into their mouth.
Echidnas don't actually have teeth but their unique tongue helps them to eat. They use it and the pads on the roof of their mouth to break their food down so they can swallow it.
An echidna's strong sense of smell and hearing helps them hunt for their food.
Echidna babies: Do echidnas lay eggs?
Echidnas mostly live solitary lives, until a female is ready to breed. When the time comes, she will find herself being followed by groups of male echidnas vying for her attention. She gets to choose which one she likes best (the one that followers her the longest and closest!).
Almost a month after mating, a female echidna lays a tiny egg which is kept safe and warm in her pouch. Around ten days later, the egg (which is the size of a grape) hatches!
A baby echidna is called a puggle. Puggles live in the mum's pouch for the first two or three months so they can stay safe and suckle milk from milk patches – these are fine pores that secrete milk.
At around two or three months old, when the puggle is growing spikey spines, they're able to leave the pouch and the mum will go off foraging for food for a few days at a time leaving them alone in the burrow.
Eventually, when the puggle is six or seven months old, the mum will feed her baby one last time. She then leaves the burrow open, never to return or have further contact with her offspring.
Want to know about echidna habitats?
The habitat of an echidna is open heathland, woodlands, forests or scrublands – they love living amongst vegetation or in hollow logs. Echidnas are able to burrow down and dig to create safe places to rest.
When reproducing, female echidnas construct a nursery burrow which is a large tunnel-type area to keep her baby safe.
Why do echidnas have spikes?
An echidnas spikes protect them from predators such as dingoes and goannas. Their spikes also provide excellent camouflage in the bush.
If threatened, an echidna will curl up into a ball and, if possible, lodge itself into a log, crevice or rock. It may use its claws to dig itself into the ground a little so only the spikes are exposed. A predator won't have a chance against those spikes!
Echidna Australia facts list
Here are some quick-fire echidna facts for kids:
Echidnas are one of a handful of egg-laying mammals called monotremes.
Echidnas are sometimes known as spiny anteaters.
An echidna's spikes are made of keratin, the same thing our fingernails are made of.
Echidnas mostly explore during the day and settle down in the evening somewhere cosy.
Echidnas have an amazing sense of smell which is useful in sourcing food, finding a mate and keeping them safe. Did you know that echidnas make a snuffling sound while hunting for food?
Echidnas don't have great eyesight. Thankfully their sense of hearing and smell are extra sharp to make up for it.
Echidnas have a surprisingly large brain for their size.
An echidna doesn't have ear flaps like us humans. An echidna's ears are actually long, vertical slits behind its eyes and they can hear amazingly well through them.
Echidnas have shovel-like claws which are useful for burrowing and digging for food.
Underneath their long spikes, echidnas are covered in dark fur. This is thicker on echidnas in cooler regions to keep them warm. They also stay warm by burrowing into soil and hiding in crevices.
Echidnas can be susceptible to very hot weather as they have few sweat glands and can't pant to shed excess heat so heat stress is a real challenge for them in Australia. They naturally have a low body temperature.
Echidnas can live a long life – from 10 – 50 years.
What are the greatest threats to echidnas?
Unfortunately, humans pose the biggest threat to echidnas.
As our world develops, the echidna's habitat depletes. More buildings, homes, shops, offices and buildings mean fewer forests, bushland and grassy areas for echidnas to live. Busy roads and traffic also pose a risk as echidnas are slow-moving creatures so they can find themselves in dangerous situations by the roadside.
Our dogs and cats can also pose a risk, especially to the young puggles hiding in burrows. Feral dogs and foxes are another threat.
In Australia, bushfires and drought can damage habitats and endanger echidna's lives so climate change will continue to have an impact on the future of echidnas in Australia.
In New Guinea, these unique creatures are hunted so this is a major threat to echidna numbers there.
There are a number of organisations that rescue Australia's wildlife by caring for sick, orphaned and injured native animals. If you're over 18, you can become a volunteer rescuer and carer for some of them. You can fundraise, or donate to these organisations so they can continue doing their important work. You can help with echidna research by submitting photos to this Echidna CSI app if you see an echidna! And you can keep an eye out for echidnas in need and make sure you call for help if you see one in trouble.
Taking care of the environment is important, so recycle, don't drop litter and be aware of climate change issues.
Fun facts about echidnas for kids
Echidnas are one of the earth's oldest surviving species yet there are still so many fascinating echidna facts to learn about them.
I hope you enjoyed this post about interesting facts about the echidna!
More facts for kids
If you have enjoyed this echidna facts for kids article, and you are looking for more great facts for kids to help with projects, check out our articles:
Animal facts for kids
Environment facts for kids
Other facts for kids
The Abbey Medieval Festival Caboolture 2022
The Abbey Medieval Festival Tournament Weekend is back from 9-10 July 2022! With its kaleidoscope of music, colour, pageantry, and time transforming ways, it calls to us now more than ever! The Abbey Medieval Family Fun 2022 runs 27 June – 1 July 2022.
About the 2022 Abbey Medieval Festival
Time Travel is real!!!
It's true! Every year when the planets align a certain way, a time portal opens up on Abbey Place, Caboolture, allowing you to slip back hundreds of years to the Middle Ages. Stepping through the portal the air rings with the clashing of swords, the ground shudders to the thundering of hooves, and crowds cheer the clang of lance upon shields! Meanwhile, maidens dance to the tunes played on pipes and drums. The Abbey Medieval Festival invites you to experience the sounds, sights and smells of this magical medieval era for yourself.
Don't worry, slipping through the time portal is entirely reversible – and you'll still have a phone signal and access to flushing toilets – but for two whole days you can immerse yourself in another world entirely.
The Abbey Medieval Festival is an annual highlight, with the highly anticipated Tournament Weekend happening this year on Sat 9 and Sun 10 July 2022. It attracts over 1000 world-class Medieval re-enactors keen to give you a taste of what life in the Middle Ages was like. It is one of Australia's premier living history events, providing Festival-goers with an engaging and immersive experience of the Middle Ages.
When was the medieval period?
The medieval period covers a time from around 600-1600CE, from the fall of the Roman Empire through to the beginning of the enlightened Renaissance Period. That's a lot of years! Medieval literally means Middle Ages. Wikipedia does justice to this period here.
What was the medieval period like?
For peasants, the medieval period was a simple time of hard work on the land farming for their lords and living in simple huts, often with their farm animals to provide warmth. Their diet would have comprised of a lot of gruel, stew and porridge with a bit of salt-meat through the winter.
Some people were skilled craftsmen and artisans and enjoyed a slightly higher status. They would have been blacksmiths, tailors and shoemakers, basket weavers, saddlers, coopers (barrel makers), wainwrights (wagon builders), carpenters and builders, amongst many other trades.
If you were wealthy or a landowner, you might have lived in a manor house or castle and had servants of your own. You would have enjoyed lots of fancy roast meats, tasty pastries, and delicious banquets, with entertainment provided by travelling musicians, storytellers, actors and jesters.
The medieval period was also a time of brave knights and fair maidens, fabled dragon-slayers, jousting and battles, castle building, and marauding Vikings! It wasn't all hard work in the Middle Ages; people enjoyed many public holidays and festivals based around the religious calendar and traditional pagan celebrations, and the Abbey Medieval Festival perfectly recreates the atmosphere of these fun occasions.
Abbey Medieval Festival 2022
Medieval Family Fun 2022
This mini Medieval Festival runs 27 June – 1 July ahead of the 'Tournament Weekend' and features many of the experiences on offer over the weekend, but with a special focus on making them fun and engaging for the younger members of the family.
The Abbey Museum will welcome families for a special week full of medieval-themed fun activities for the kids and, of course, parents. The week will be jam-packed with fun things to keep your young squires or maidens entertained and engaged during the school holidays with plenty of opportunities for hands-on fun and education.
Knighting Ceremony
On Friday 8 July 2022, you can join the Knighting Ceremony held inside the beautiful Anney Church. Entry is free, however, there is limited space so booking is essential.
Tournament Weekend
Ottoman Wedding Banquet
The Ottoman Wedding Banquet on 9 July 2022 is a truly immersive experience for die-hard medieval fans, food buffs and anyone looking for an evening of food and entertainment that is totally out of the ordinary.
Set against the background of traditional Ottoman yurts, as the sun sets over Abbeystowe, you are invited to join members of the Janissary Barracks to celebrate an authentic Ottoman Wedding Feast.
Guests are treated to an authentic Turkish banquet with dancing, music, and all manner of traditional entertainment. Guests may choose to sit on cushions in the traditional Ottoman manner, or for those who would prefer, benches and high tables will be provided. Whilst attending in costume is not compulsory, it is strongly encouraged to get you into the spirit of the event.
Tickets must be pre-purchased for this limited seating event.
Tickets for all of the 2022 Festival events are on sale here.
The Abbey Medieval Festival Tournament Weekend
The Tournament Weekend is the highlight of the Abbey Medieval Festival program – an amazing weekend that you need to see to believe! This year's dates are Sat 9 and Sun 10 July 2022.
What will we see at the Medieval Tournament Weekend?

The Abbey Medieval Festival is an authentic medieval experience, with over 1000 enthusiastic re-enactors bringing the Dark Ages, Middle Ages and early Renaissance Period to life. You will see many medieval villages and encampments recreating the life of ordinary peasants, Vikings, Ottoman Empire Turks, campaigning knights and travelling entertainers. There will also be craftsmen and women demonstrating their skills, historical re-enactments and competitions, and so many things you can experience for yourselves.
Here's a rundown of some of the things to expect:
Jousting
Everyone loves the jousting! See the brave knights on horseback thundering towards each other as they use their lance to try to knock their opponent out of their saddle. The Joust at the Abbey Medieval Festival depicts a 15th century tournament. The best of Australian jousters will compete for the title!
Turkish Oil Wrestling
Carried out with traditional rituals and customs of the Ottoman Empire, the Turkish Oil Wrestling has been a star attraction of the Abbey Medieval Festival for over 10 years. The Janissary Barracks take great measures to ensure the authenticity of this great sport of medieval Ottoman Turkish culture, even the tight short leather trousers, called Kispet, are imported from Turkey!
Oil wrestlers from across Australia participate in this competition at the Abbey Medieval Festival.
Sword Combat
Trained re-enactors will demonstrate the skills and training required to wield a sword and other weapons in battle.
Animals
From the heavy horses used to pull wagons and carry knights into battle, to the smaller and lighter ladies horses, demonstrations of hunting and herding animals like dogs and falcons, farm animals reared for food and pelts, and even the humble bumble bee, which was so important to farmers and for the production of honey and mead.
Re-enactments
So many re-enactments! Professional re-enactors will show you how to lay siege to a castle as well as demonstrate what life was like in the different camps.
Food & drink
Taste the Middle Ages with traditional food and drinks on offer, including a medieval hog roast, banquets (bookings required), and food stalls selling traditional medieval flavours. If you like your food a little more modern, don't worry, you'll be catered for too!
Entertainers
Everything from troupes of belly dancers and gypsy dancers, to roving jugglers, jesters, puppeteers, storytellers, and actors – there'll be plenty of people willing to entertain your kids!
Archery
As well as standard 'aiming-for-the-target archery', there is also the highly skilled horseback archery and moving target archery. You can even have a go at firing an arrow yourself.
Markets
There are lots of stalls to browse for souvenirs and reproduction medieval goods. You'll find everything from toys and costumes, to sweets, pottery, stained glass, woven goods, leatherwork, jewellery, imitation armoury and weapons, carvings, artwork and a whole lot more. There are around 60 authentic stalls to visit!
Music
Enjoy the historical sounds of the Dark Ages through to the Higher Middle Ages, with Gregorian chants, harpists, lute players, pipes, drums and singers as the musical entertainers stroll through the camps and put on shows.
Costumes
Lots of them, and not just the re-enactors! The Abbey Medieval Festival is the premiere event of its kind in Australia. Re-enactors and participants have beautifully crafted costumes from the medieval period and Dark Ages so you can expect to see peasants in their rough garb, princesses in finely woven silks, knights in full chainmail and plate mail, monks, nuns and Templars in their religious habits, Turks from the time of the Crusades, and characters from traditional medieval festivals relating to the seasons and nature.
Visitors are also encouraged to join in with competitions and prizes for the best fancy dress. Dressing up isn't compulsory, and you'll see plenty of visitors in their modern fashions, but if you want to add that extra element of fun to your day there's no finer excuse to put on your best medieval costume!
How do we get to the Abbey Medieval Festival?
The Abbey Medieval Festival is held at the Abbey Museum of Art and Archaeology, 1-63 The Abbey Place (off Toorbul Point Road), Caboolture.
There is limited free parking on-site, but members of the local fire brigade will be on hand to direct you to other nearby parking spots (a gold-coin donation to the fire brigade is welcome!). Disability parking is available. You can also get there by free bus from the Caboolture Train Station on the Saturday and Sunday. VIP parking is available for VIP ticket holders. The festival itself takes over the expansive space around the Abbey Museum.
However you travel to The Abbey Medieval Festival, we recommend you plan ahead and aim to get there early.
How Do We Get Tickets To The Abbey Medieval Festival?
Early bird tickets are usually available until the end of April, but if you've missed out on those you can still save by buying tickets online. You can buy individual or family tickets.
What Else Should We Know About The Abbey Medieval Festival?
There are some restrictions as to what you can and can't take with you:
No dogs or other animals. Please leave your pets at home. There will be lots of animals to see at the festival, and your own pet would be happier and safer at home.
Weapons. If you plan on enhancing your costume with your own sword, bow and arrows, knife, or other medieval weapon, organisers request that you complete a form online to gain permission to bring your weapon with you. If you don't have prior permission you won't be allowed to bring your weapon onsite. Weapons that are clearly toys and part of a child's costume, such as a blunt wooden sword or plastic, are ok.
You're welcome to bring your own food and picnics (please be mindful of littering), and camp chairs and picnic blankets are welcome too. No glass is permitted.
Alcohol is available to buy on-site (traditional beers, meads, cider and wines), BYO is not permitted.
Other things to be aware of:
Access to the jousting needs to be pre-booked when you purchase your day ticket. Tickets to the Joust are limited. If you wish to experience this spectacular event, it is advisable to pre-book online early! No Joust tickets will be available on the day. The Joust arena opens 30 minutes prior to each session.
ATMs are available, and – just like in medieval times – cash is king! Wi-fi is limited at the Abbey Medieval Festival so Eftpos machines, though available, often don't work. Cash is recommended.
Toilets, baby change facilities, and First Aid facilities are available.
Most of the Abbey Medieval Festival is accessible to wheelchair users and prams. Paths are mainly gravel or grass and relatively flat. There is also a drop-off point for the elderly and disabled about 70m from the entrance. A disability car park is available for patrons with a permit.
Where can I find out more about the Abbey Medieval Festival?
Go to the Abbey Medieval Festival website for updates.
Making the most of Brisbane Festivals…
Dog Facts for Kids to Help You with Your School Project
Are you on the hunt for interesting dog facts? Although one of our favourite household pets, there are many surprising and little known facts about dogs to discover. Such as, what is the most popular dog breed? And how smart are dogs really? Did you know that dogs have a superpower?
From basic dog breed stats to the seriously surprising (which dog can outrun a cheetah?!), we have rounded up some of the most interesting dog facts for kids. Whether you are researching for your next family pet or compiling facts for a school project, we have the most fascinating dog facts for you.
Basic dog facts
Below we have detailed some of the basic fun facts about dogs.
1. What is a dog?
Dogs are domesticated animals that come in many shapes, sizes and colours. Dogs can have short-hair, long-hair, floppy ears, perky ears, short little legs or some can be almost as tall as a pony! There are a huge variety of dogs but they do have many things in common, such as that they are all descended from the wolf. The modern household dog is a much loved and friendly companion!
2. How many types of dogs are there?
It depends on who you ask! Although it is generally accepted that there are somewhere between 195-500 dog breeds in the world, only 195 are officially recognised by the American Kennel Club while Belgium's FCI say there are 360 breeds. As people continue to "design" dogs through mixing breeds, this list will continue to grow.
3. What is the smallest dog breed?
The world's smallest dog is Mexico's chihuahua. Tiny in size but big on personality, and weighing in at only 1-2kg, these feisty little pocket rockets are popular for their portability. Available in both short-hair and long-hair, this breed also has 30 different colour combinations. Amazingly, the little chihuahua has been known to sometimes live up to 20 years old!
4. What is the largest dog breed?
As of 2021, the largest dog breed title was claimed by the English Mastiff. These big, friendly giants are seriously huge. The male English Mastiff can weigh over 100kg! With a lifespan of up to 12 years, the Mastiff is known for its gentle and calm nature.
5. What is the most popular dog breed?
The Labrador retriever frequents the top of popularity list and in 2021 the results were no different. With an adult weighing in at around 30kg, the Labrador is a medium sized dog. With a love for swimming and the outdoors, they are a great dog for an active owner.
Popular for their intelligence and affectionate nature, the Labrador is a wonderful choice for families.
Health & wellness dog facts
Below are some health and wellness amazing facts about dogs.
1. What do dogs eat?
Dogs are carnivores – this means they prefer to eat meat. Most domesticated dogs will eat dog biscuits or kibble plus a canned wet food made of meat. However, dogs can also benefit from plant-based foods added into their diet, such as vegetables and grains. Of course, dogs also love fresh meat and treats such as raw bones, pigs ears or dog chews. Their wild ancestors would have relied on their hunting prowess to find rodents and other smaller mammals to eat.
2. How long do dogs live for?
The lifespan of a dog varies greatly from breed to breed but the average usually falls somewhere between 10-15 years. For example, a Shih Tzu can live up to 18 years whereas a Golden Retriever is expected to live closer to 12 years. In general, smaller dogs tend to have a longer lifespan than large dog breeds.
3. Do dogs have a superpower?
Dogs do have a superpower of sorts – their nose! They have an amazing sense of smell that can pick up on emotions such as fear and even illnesses like cancer. Dogs are utilised in rescues, airport security checks and house-raids by police to sniff out danger. A dog can identify smells anywhere between 1000-10,000 times better than humans can! Their ears are also amazing assets and they can hear much more than our human ears.
4. Do dogs sweat?
Dogs do not sweat like humans do, so how do they expel excess heat from their bodies? You might have noticed your dog panting with their tongue out on particularly hot days. This panting is how dogs sweat! The excess heat is expelled as moisture from their tongues.
5. How smart are dogs?
Dogs are very clever – we all know they can learn commands such as sit and stay, or even to jump through hoops or do other amazing tricks. It has been found that a dog's mental ability is on a similar level to a 2 year old human – so your dog may be just as clever and aware as your toddler brother or sister! On average a dog can learn and understand 165 words. Intelligence does vary between the breeds and depends on how well trained your furry friend is.
Surprising dog facts
We have also compiled the best list of interesting facts about dogs that might surprise you!
1. How long have dogs lived with humans?
Although we originally thought that dogs were domesticated around 11,000 years ago, there is new fossil evidence that suggests that dogs have been living with humans for around 30,000 years – wow! This friendship has grown and developed over the years, from using dogs for hunting purposes to becoming the cuddly pals we see them as today. Studies have suggested that this friendship first occurred by accident through sharing excess meat, thousands of years ago.
2. Have dogs been to space?
Yes – a number of dogs have been to space! The Soviet Union sent dogs to space in the 1950s to trial their astronaut equipment. However, dogs much prefer being on earth!
3. Are there any new dog breeds?
In 2020 we welcomed two new dog breeds – the Barbet and the Dogo Argentino. Mixing breeds is an effective way to combine personality and physical traits of dogs – for example, the labradoodle was bred as a guide-dog for people with allergies! The beloved dog is sure to continue to diversify and grow in breed types.
4. Are any dogs faster than a cheetah?
Technically, no – but a Greyhound could outrun a cheetah. How could that be so? The nimble Greyhound isn't as fast as a cheetah but has the stamina that the cheetah lacks, and for that reason would most certainly beat a cheetah in a race.
5. Are there any Australian dog breeds?
Yes! The Australian Cattle Dog (also known as a Blue Heeler), Australian Terrier, Silky Terrier, Australian Kelpie, Tenterfield Terrier, Dingo, Koolie and Bull Arab are all Australian dog breeds. Australian TV show Bluey (ABC Kids) is of course based around the Heeler family of Blue Heelers. Surprisingly, the Australian Shepherd is actually an American dog breed that originated in California!
Amazing dog facts for kids
We hope you enjoyed this collection of interesting dog facts for kids! Whether you are just curious or researching for school (or maybe a new exciting pet!) we're sure you found some of these dog facts surprising! Maybe you can teach your family or friends something new about their favourite household pet.
Dogs come in many shapes and sizes; whether your pooch is long-haired or short-haired, tiny or giant, lazy or active – they all originate from the wolf! And they all make wonderful family pets and friendly companions.
If you have enjoyed these kids facts about dogs, why not look up our other FUN FACTS.
More facts for kids
If you are looking for more great facts for kids to help with projects, check out our articles:
Animal facts for kids
Environment facts for kids
Other facts for kids
Festivals Brisbane | Find the BEST Kid-Friendly Festivals Near You!
There are so many festivals Brisbane has to offer right through the calendar year! If you're looking for something fun that the whole crew can enjoy, then we might have just the activity you've been looking for (and some of them are cost-free, woohoo!)
Festivals Brisbane? We know where to go (because we go, too!)
Festivals in Brisbane are a great opportunity to really take part in what our beautiful city has to offer. From riverside delights to cultural celebrations to everything food – there truly is something for everyone.
Here are a few tips on making the most of Brisbane's festivals. Make sure you also keep a close eye on our constantly updated festivals page so you don't miss a minute of the fun!
The best family festivals Brisbane in January 2022
Roman Family Fun | Abbey Museum
Kids Dig It! is back these school holidays with Roman family fun. Join us at the Abbey Museum for a week of hands-on, educational fun for the whole family. Kids can live out a Roman life including many family-friendly activities.
Tickets are available now. Each child ticket includes admission for one adult.
Australia Day | Various Venues
Australia Day is celebrated at various venues and in many ways across Australia. Most council regions will host their own events, usually including citizenship ceremonies and fireworks. Here are some ideas of things to do on Australia Day with kids.
Got any great family festivals in January? We'd love to hear about them! We'll continue to hunt for them and update this section when we find 'em.
The best family festivals Brisbane in February 2022
Lunar New Year Festival | Chinatown Mall, Fortitude Valley
Experience Lunar New Year in the heart of Fortitude Valley and enjoy the unique flavours and vibrant culture that Chinatown has to offer. Book a table at your favourite venue and enjoy the roving entertainment, including lion dances and Japanese drumming.
BrisAsia Festival | Across Brisbane
Are you ready to try something new at BrisAsia Festival? From the city to the suburbs, see an array of diverse live entertainment, outdoor activity as well as healthy and active events. There is something for everyone to enjoy with a range of events across Brisbane that celebrate the diversity of food, music, dance and art within Asian culture. From dumpling making to lion dancers, a rooftop dance party and weekend food festival, Brisbane city and the suburbs will come alive and ring in the Chinese New Year in style. Find out more here.
Brisbane Holi – Festival of Colours | Rocks Riverside Park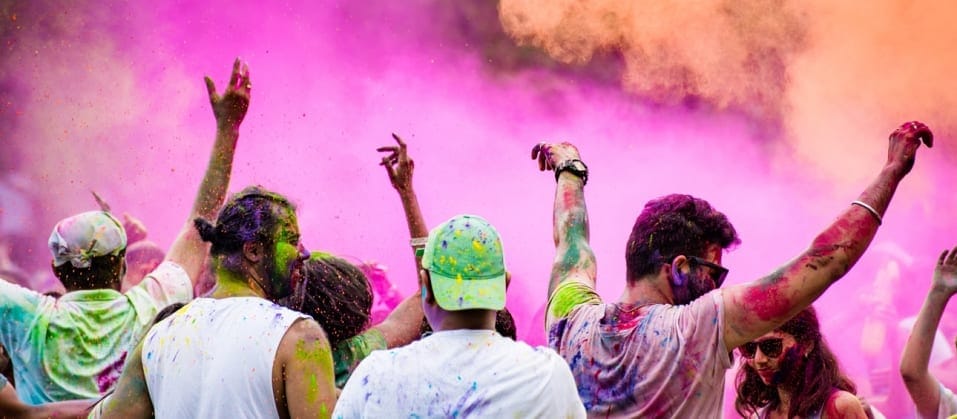 Brisbane Holi – Festival of Colours welcomes its fifth year of celebrating Brisbane's vibrant multicultural communities. Organisers are promising that this year the colors will be extra vibrant and the atmosphere extra joyful! Originating in India many centuries ago, Holi is a widely anticipated annual event across the globe, with many forms of celebrations taking place to share in the joy and happiness of colour, dance and music. Find out more here.
The best family festivals Brisbane in March 2022
World Science Festival | South Brisbane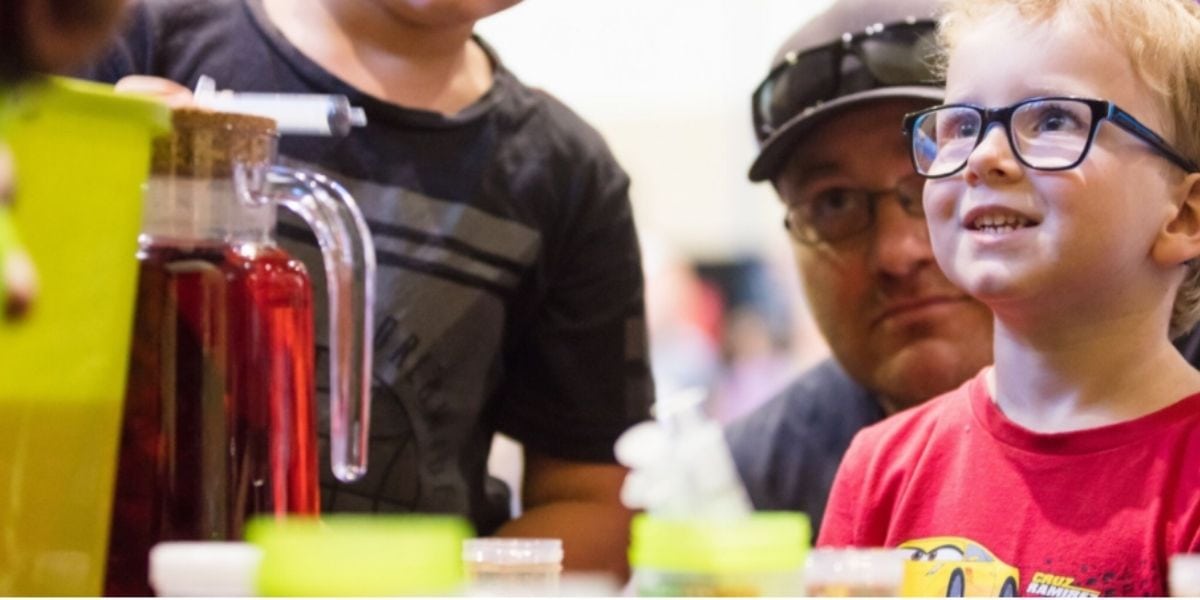 Enjoy three days of fun for the whole family at Redcliffe Show. With rides, shows, animals, entertainment and games, there is a packed programme of activities to keep you entertained. The event includes a firework display at 8.30pm on the Friday and Saturday nights.
Curiocity | Various Locations
Let your imagination roam free! Curiocity Brisbane is a 17-day celebration of science, art and tech, where new possibilities play and big ideas collide. Explore a packed program of interactive installations and events including World Science Festival Brisbane. Watch as the city around you is transformed into a world of discovery. Curious visitors of all ages can explore, create and play with the physical and digital Curiocities.
Mudgeeraba Show | Worongary
Brisbane families might like to take a day trip to the Gold Coast's Mudgeeraba Show for a fabulous day out experiencing a wide variety of tastes, sights, sounds and delights. With live music, entertainment, displays, competitions and animal attractions plus plenty of food and drink, there is fun for all the family.
Snow4Kids | Ipswich
Snow4Kids has returned to Brisbane for its 10th year! Come along to the Orion Shopping Centre, Springfield Lakes to enjoy a glistening, snow-filled winter wonderland for local families. Get your family ready for some fun snowman making and snowball throwing amongst your own group in the Ipswich region!
Scenic Rim Eat Local Week | Multiple Locations
Starring more than 125 events from Canungra to The Lost World, Beaudesert to Boonah and Tamborine Mountain to Kalbar, Scenic Rim Eat Local Week is the ultimate backstage pass to the farms, wineries and food stories of the region. The Scenic Rim produces a vast bounty of fruit and vegetables, wines, craft beer, milk, meat and gourmet products, including olives, cheeses, nuts, jams and relishes. Eat Local Week has something for foodies of all ages featuring free and low- cost activities for children and families, farm tours, cooking classes, producer dinners and opportunities to meet the farmers and taste their wares. Find out more about Scenic Rim Eat Local Week.
The best family festivals Brisbane in July 2022
Mould – A Cheese Festival | Bowen Hills
Australia's favourite cheese festival, MOULD, is coming back to Brisbane for an even bigger mozzare-hella good time! MOULD will bring together the best artisan cheese producers from across the country for a day of cheese, wine, masterclasses and more. To make sure cheese-crazed fans can access as many dairy delights as possible this year they have over 25 top artisan cheese producers lined up for you. See more here.
Abbey Medieval Festival | Caboolture
This is the Abbey Museum's BIGGEST event and is a drawcard every year for lovers of both history and fantasy. There are re-enactments, sizzling meats (oh, the meats) and tasty mead with which to quench your mighty thirst, and an all-round COOL historical experience. There are plenty of things for kids to do (and big kids as well) at the Abbey Medieval Family Fun event from 27 June – 1 July 2022. Read our review here.
Pine Rivers Show | Lawnton
One of the biggest exhibitions on the Northside, the Pine Rivers Show is a grand extravaganza that the whole family can enjoy. The show features a host of activities, carnival rides, displays, concerts and competitions that everyone is sure to love.
Einbunpin Festival | Sandgate
This incredible festival, running since 1992, is a celebration of all things Sandgate. It's the village atmosphere, that gorgeous environment and the quirky and talented characters who make the area so special. Stalls, performances, games and activities make this a great day out for the whole family. Find out more here.
The best family festivals Brisbane in October 2022
Paniyiri Greek Festival | South Brisbane
15 – 16 October 2022 – (tickets)
One of Australia's longest running festival, Paniyiri celebrates all things Greek, including food, dance, grape stomping, plate smashing, cooking and cultural activities. Located in Musgrave Park in South Brisbane and also in the Greek Club across the road. There's always plenty happening on the entertainment stages and don't forget the legendary honey puff eating competition. It was originally planned for May 2022 but was rescheduled due to weather.
PREVIOUS FESTIVALS IN BRISBANE
Brisbane Comedy Festival | Newfarm
Comic musings, side-splitting stories and tear-inducing tales…Brisbane Comedy​ Festival returns in 2021, bursting at the seams to host a hand-picked selection of the funniest folk in the country. Get skit-faced with 50+ of your favourite rib-tickling rascals from across Australia. From stand-up to improv and sketch comedy, they've got your tastes covered, plus they'll shine a light on the best new talent, here and now! Bookings required. Brisbane Powerhouse, The Tivoli and The Fortitude Music Hall.
Moreton Bay Food + Wine Festival | Woody point
30 July – 1 August 2021 – CANCELLED
Get your taste buds ready! Moreton Bay's most delectable festival is back in 2021, tastier than ever before. The 2021 Moreton Bay Food + Wine Festival will be held at Apex Park, on the waterfront, at Woody Point. The new location enables the festival to be delivered under a COVID-Safe event format while giving foodies from all over SEQ the chance to catch Woody Point's famous sunset. Apex Park.
GreazeFest | Redlands
Held every year in the Redlands, just outside of Brisbane, GreazeFest brings you a crankin' weekend of cool cars, rockabilly music, fashion parades, pinups, vintage bikes, lowrider cycles, low brow art, pinstripers, tattoos, markets and heaps more. Tickets on sale now. Redlands Showgrounds.
Le French Festival | South Bank
Le Festival will be back in its usual format in 2022. Meanwhile, immerse yourself in the French experience and 'joie de vivre' at Le Festival's 2021 smaller celebrations. Find out more here.
The Ekka – Royal Queensland Show | Fortitude Valley

7-15 August 2021 – CANCELLED.
Brisbane Festival | Multiple Locations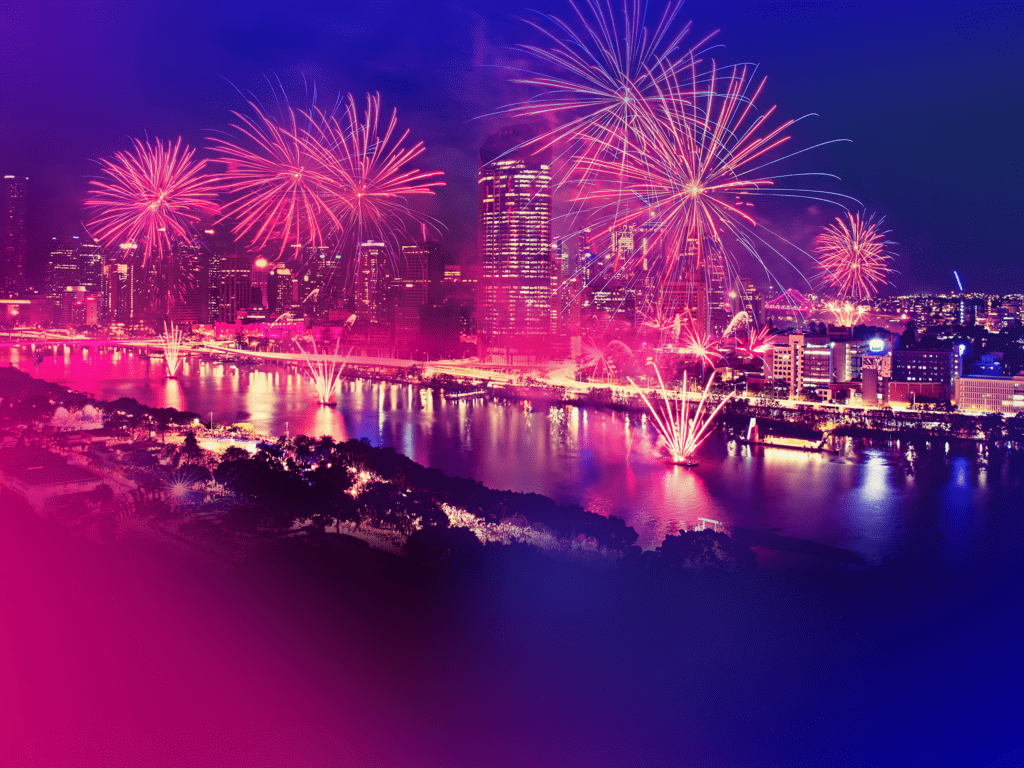 RedFest Festival | Redlands
3-5 September 2021 – CANCELLED
Norm Price Park, Redlands Showgrounds
Join in the celebrations with singers, dancers and artists from around. Families can enjoy over 50 carnival rides, reptile show, circus workshops, lantern decorating and parade, various craft activities and fireworks displays. Select from a range of food trucks and consider entering the annual Strawberry Eating Competition. RedFest has something for everyone.
Dayboro Show
Enjoy a traditional country fair complete with side show alley, show bags, rides and kids entertainment. Of course, there will be the classic woodchopping, rodeo and dog show displays plus heaps more agricultural family fun. When the sun goes down prepare yourselves for Walter Whip and the Flames show plus an amazing fireworks display in the main arena. Tickets available at the gate. Dayboro Showgrounds. Find out more here.
Green Heart Fair | Carindale
Brisbane City Council's Green Heart Fair is back and will be better than ever! The fair will feature over 120 of Brisbane's leading sustainability experts ready to share practical tips and tricks to live a more eco-friendly life. You will be treated to sustainability displays, expert talks, eco-friendly exhibitors, artisan markets, food trucks, and more! Carindale Recreation Reserve. Find out more here.
Laidley Spring Festival | Laidley
Thurs 9 – Sat 11 September 2021
The Lockyer Valley welcomes families from across South East Queensland to attend this three-day festival. Enjoy community exhibitions and demonstrations, markets, an array of food options and live entertainment. Of particular interest is the free Family Fun Day *12 September* featuring the annual street parade, activities, face painting, roving entertainment and wildlife presentations. Find out more on their website.
Nundah Village Street Festival | Nundah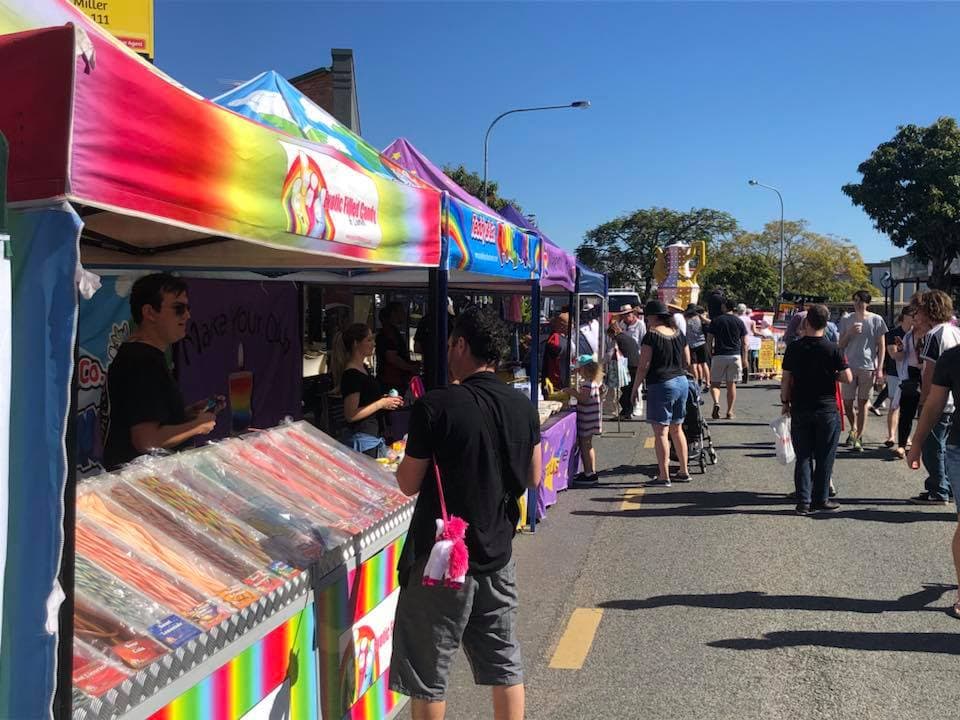 Sunday 12 September 2021
Sandgate Road, Nundah
Join Nundah for the communities annual festival, celebrating food, stalls, bands, local schools and entertainment.
Strawberry & Dessert Festival | Sandstone Point
The Sandstone Point Hotel is home to the Strawberry & Dessert Festival! Fresh strawberry stalls, strawberry milkshakes, chocolate coated strawberries (OMG) and a 'Strawberry Patch Bar' that specialises in… you guessed it, strawberry drinks. There will be children's entertainment and rides, live music, strawberry eating competition and FIREWORKS!
MOSAIC Multicultural Festival | Roma Street Parklands
Sun 10 October 2021
Roma Street Parklands
MOSAIC can be reached via Roma Street Station and is an accessible festival held at Roma Street Parkland for the whole family. Its intention is to showcase the rich cultural benefits that our broader community experiences thanks to the incredibly diverse population of Queensland!
Festivals Brisbane – did we miss your fave?
Let us know what your favourite festival in Brisbane is in the comments!
Privacy Policy
Looking for Antarctica facts for kids? This desolate place intrigues many, renowned for its icy climate and white wilderness. Of late, a place of interest due to climate change and melting ice. The region plays host to many explorers.
We have put together some interesting facts about Antarctica and why it is so important. So, if you are talking about Antarctica in school, or trying to find facts about the place for a fun project, this article will give you the Antarctica information you need.
Antarctica facts for kids
Some basic information about Antarctica for kids:
It is the fifth largest continent in the world and located in the southern hemisphere (bottom of a globe). The South Pole forms part of the region. It is approximately between 7-8,000 kilometres from Australia (dependent on where you travel from and to).
Ice is the mainstay of the Antarctic region. There are no countries within the continent, however many countries lay claim to areas within the Antarctic region including Australia. The Antarctic region contains a series of islands, mountainous regions, volcanoes, oceans that surround it. Antarctica is divided into two regions namely Eastern Antarctica and Western Antarctica. The Transantarctic mountains divide the region into Eastern and Western areas.
The eastern and western regions are different; the eastern side is much older in its rock formations than the western side. The western side contains more active volcanos.
What will I find in Antarctica?
In short, not a lot! This is a very cold and icy place and there are no humans who live in the region all the time. Research groups or visitors travel to the area throughout the year and there are structures that house these visitors. The region contains the world's largest ice sheet. There is plenty of snow and ice, and the area is very dry. As you would expect, the outlook is very white! There are two huge ice shelves within the region; Ross ice Shelf and Ronne Ice Shelf. The Ross Ice Shelf is the largest and measures just under 200,000 square miles!
An abundance of wildlife exists here! Most of the wildlife can be found in the waters surrounding the Antarctic region. Penguins and seals aplenty, together with whales, some fish and birds and squid.
Due to the extreme cold weather, there are not many land animals. Animals such as polar bears and arctic foxes are only found in the North Pole (the top end of the globe).
Animals that live in the region have adapted to the cold climate. Penguins and seals have a thick layer of fat (or blubber) which helps to keep the animals warm and provides energy. Penguins will huddle up in the winter climates. This helps to keep them warm and protect them against the harsh weather.
The largest mammal also hangs out in this area – the blue whale. These huge animals live on krill which can be found in the waters surrounding Antarctica.
Why is Antarctica so important?
Antarctica has been heavily researched over the years. Approximately 200 years ago the area was discovered accidentally. It is important for the earths' climate control and balances the absorption of solar heat (and how much reflects). Due to changes in climate control, research is ongoing.
The islands of Antarctica
As mentioned, there are no specific countries in the continent of Antarctica. The region is split into two areas namely Eastern Antarctic and Western Antarctic and a number of countries lay claim to areas. Included in the make-up of Antarctica are a number of islands:
South Orkney Islands; also South Georgia; South Shetland Islands and South Sandwich Islands – claimed by United Kingdom.
Heard and McDonalds Islands – claimed by Australia.
Scott Island; Balleny Island – claimed by New Zealand.
Peter I Island; Bouvet Island – claimed by Norway.
What do people do at Antarctica?
As mentioned, the area is host to many researchers. Many countries regularly send scientists to the region. Both USA and Australia, together with Russia, Chile and Argentina, own some of the largest research stations. Those that do venture into the region have to be careful with food supplies – shops are scarce here! Food is, therefore, regularly rationed for the duration of the research project. The largest research station is McMurdo (owned by the US). This has approximately 80 buildings and can house over 1,000 people at any one time. The station is similar to a small city – it does have shops and facilities onsite and even an ATM!
Fun facts about Antarctica
Antarctica is the coldest continent in the world!
Polar cruises are very popular and approximately 40,000 tourists visit the region annually.
Aurora Australis (the name given to the Southern lights). This 'light' show throws a green light around the sky area during the winter months of March to September.
Antarctica has only two seasons: summer and winter.
Antarctica has approximately 90% of the world's ice and over 50% of the world's fresh water.
The Antarctic Treaty of 1961 regulates research activity between all the countries involved for peaceful research operations.
The area is the least populated continent in the world.
This is a very windy place – winds can reach over 200 miles per hour.
The Southern Ocean surrounds the continent.
Antarctica is nearly double the size of Australia.
No country controls the region, but many lay claim to certain areas.
The average thickness of the ice is approximately 1 mile (but in some areas even thicker)!
Antarctica is a 'desert' due to its lack of rain/water!
There are times throughout the year where the region does not see any sun at all!
Equally, there are times throughout the year where the sun is shining at midnight!
Norwegian explorer Roald Amundsen was the first explorer to reach the South Pole back in 1911. He used a combination of dog sleds and skiing to reach his destination. British explorer Robert Falcon Scott arrived some 5 weeks later.
Temperatures in the region can get very low, on average as low as -60 degrees Celsius (-76 degrees Fahrenheit), but it has had much colder temperatures recorded.
Ice covers approximately 99% of Antarctica!
Mount Erebus is an active volcano found in the region.
A child has been born in Antarctica.
You will also fine the nematode worm in high numbers.
Antarctica has no trees.
Every year cargo ships bring much needed supplies.
The Transantarctic mountain ranges are one of the longest in the world.
British explorer Felicity Aston was the first person to ski across Antarctica.
Large icebergs have broken away, crashing into the ocean.
The water surrounding Antarctica are deep (up to 5,000 metres).
The ice surface grows every year at the change of seasons (from summer to winter).
Likewise it reduces every year (from winter to summer).
How can we help Antarctica?
Antarctica fun facts for kids is a great way to learn about this stunningly beautiful area. Learning about climate change, research projects and the ongoing need to protect our planet will help in our understanding of the area.
Antarctica facts for kids
If you have enjoyed these kids facts about the Antarctica region, why not look up our other FUN FACTS, check out Fun Facts for Kids and learn something new!
More facts for kids
If you are looking for more great facts for kids to help with projects, check out our articles:
Animal facts for kids
Environment facts for kids
Other facts for kids