GOMA in Brisbane | A fantastic place for kids and here's why!
GOMA (Gallery of Modern Art) or as it's now officially known QAGOMA in Brisbane's beautiful South Bank precinct is the perfect destination for families with children of all ages.
If you're looking for an easily accessible, free, stimulating, and enjoyable place for your family to spend a day you've just found it!
Immerse the family in creativity at the Children's Art Centre or, for older kids, view the best in international film and video at the Australian Cinematheque. There is always plenty to see, do, and experience!
What is GOMA?
GOMA is one of the most dynamic, innovative and exciting cultural and art spaces in Brisbane. Paired with the Queensland Art Gallery, it is located across two riverside buildings. The galleries present evolving programs of Australian and international exhibitions with a focus on contemporary art from Australia and the Asia Pacific.
Where is GOMA, exactly?
The cultural precinct begins at The Queensland Performing Arts Centre (QPAC) and then moves north past the Sciencentre, Museum (with its famous Whale Mall), Queensland Art Gallery, State Library of Queensland, and then GOMA at the end. Clear signage will direct you between venues and there are plenty of shaded rest stops if required. Lifts and ramps abound so pram, stroller, and wheelchair users will find their needs well catered for.
How do I get to GOMA?
If traveling by bus, there is a bus station in between the Museum and QPAC called South Bank busway station. Catching the train more your style? Ensure that you disembark at South Brisbane, not South Bank, for the cultural precinct. If you get off at South Bank you'll have quite a distance to walk which could be an issue with little ones.
There are many secure parking options in the area but check your maps prior to driving in – many of the streets are one way and can be confusing for a first-timer. Think smart and book your spot in advance (click here) to ensure you pay a discounted rate. Ticket inspectors regularly patrol the South Bank area so make sure you're not caught out!
What's else should I know about?
Planning a big outing, especially when you have got little kids, can be daunting but we've got you covered. GOMA is fully accessible for wheelchairs and prams. A cloakroom is available upon entry for bulkier items but staff will permit you to keep your nappy bags and pram with you if you prefer. The GOMA Children's Art Centre has a pram storage bay so you can have your hands free to join in on the fun. The air-conditioned climate is perfect for baby-wearing without getting hot and sweaty – you'll most likely find your littlest ones quickly drift off to sleep in the cool, calm environment so you can focus on the exhibits.
There are a number of different bathrooms across different levels. All parent's rooms are well-equipped with change mats, chairs, and heating facilities. GOMA was designed with families in mind and the enjoyment and comfort of your family is a vital part of the experience.
Plenty of places to eat
GOMA Café Bistro, on the bottom garden level, is perfect for family or large groups. A huge outdoor dining area with a beautiful view of the river complements a menu ranging from breakfasts to burgers to brownies. Upstairs in GOMA restaurant you'll find a two-hatted dining experience that might be better suited to an adults-only outing.
What's on at the moment at GOMA?
(Please note – we leave exhibits here as a living record of all the cool stuff GOMA puts on for kids! Some of these exhibits may no longer be installed)
QAGOMA Children's Art Centre
QAGOMA Children's Art Centre works with artists to create interactive installations, artist projects and activities for kids and families.
Art Starters is a free program for babies 4– 12 months and their parents and carers. Together kids can explore select works through an engaging walking tour and a multi-sensory interactive play session.
Art Play Date is a self-directed program engaging children aged 1-3 years through movement, song and sensory play, inspired by key artworks.
Art Explorers uses games, music and making activities to engage children aged 3-5 years with art. Children can now engage with the Art Explorers program from home through a series of interactive videos.
APT10 KIDS | Until 10 July 2022
Featuring seven projects by artists from across the Asia Pacific region, APT10 Kids celebrates inclusion and diversity, and the importance of collaboration and community. At this FREE exhibition, families can engage with these themes through hands-on making and multimedia activities, artwork displays and large-scale installations. APT10 Kids projects are located across both the Queensland Art Gallery (QAG) and the Gallery of Modern Art (GOMA) buildings.
Roy & Matilda Australian Art Collection | Permanent | Free entry at Josephine Ulrick & Win Schubert Galleries
Discover paintings by artists in the Australian Art Collection with Roy and Matilda, two friendly mice who love art galleries and live behind a tiny door in the Queensland Art Gallery. The mice visit artworks and create an adventure in 'Roy and Matilda: The Mysterious Music '. Focus artworks can be used in conjunction with the publication to complement before, during, or after-the-visit to support engagement. You can also create your own artwork guide with 'My Collection'.
Kids Trail – Australian Art Collection | Permanent |
Free entry at Josephine Ulrick & Win Schubert Galleries
From the earliest rock paintings to contemporary works, animals have featured in art for thousands of years. For many artists, animals are subjects that allow them to share ideas and experiences. In this trail activity, you can discover a wild and wonderful menagerie of animals hiding in the Australian Art Collection.
Upcoming events at GOMA
Chiharu Shiota: A Feeling | 18 June – 3 October 2022
'A Feeling' by artist Chiharu Shiota explores aspects of our inner worlds, including emotions, the soul and how to express abstract ideas.
As part of the exhibition, visitors can watch a video in which children share their thoughts about the soul. Children can also make a drawing of how they feel using coloured pencils, and add what they make to a cumulative display.
The exhibition also includes a display of children's drawings of a feeling, and a selection of picture books to further explore big ideas with young visitors.
Previous QAGOMA Exhibitions for kids
The Gifting Tree | Until 17 October 2021
The Gifting Tree' brings together the work of Sonia Chitrakar, Archana Kumari and Kamta Tahed, three contemporary Indian artists who use bright colours, pattern and storytelling in different ways. Each artist has created a painting or drawing that references the importance of trees in supporting life. 'The Gifting Tree' refers to a divine, life-giving tree otherwise known as Kalpavriksha, which appears in many religions and stories throughout India.
Children can reflect on their own experiences of trees through two hands-on activities. Taking inspiration from the artists' work, children are invited to draw a picture about the importance of planting trees and add their response to a cumulative display in the exhibition space. Children can also make a drawing of a problem-solving fantasy tree.
This is a FREE activity with no bookings required. General admission to QAGOMA is also FREE however you will have to pay to enter some special exhibitions.
European Masterpieces | Until 17 October 2021
Spanning 500 years, 'European Masterpieces from The Metropolitan Museum of Art, New York' offers a breath-taking journey from the 1420s and emerging Renaissance to conclude at the height of early twentieth century post-impressionism.
This once-in-a-lifetime opportunity for Brisbane families at QAGOMA allows you to experience works by painters such as Fra Angelico, Titian, Raphael, Rembrandt, Turner, Van Gogh and Monet, direct from The Met's collection – one of the finest collections of European painting in the world, the majority of which rarely leave permanent display in New York. Find out more here.
Now is the Time | 7 August 2020 to 1 August 2021 | Free entry at the Children's Art Centre
Raquel Ormella invites children to speak up about climate change and the environment in her exhibition Now is the Time at the Children's Art Centre. Raquel highlights Australia's long history of environmental activism with a timeline featuring historical photos and posters. The exhibition also includes two videos made in collaboration with Junction Park State School students. In these videos, the students perform protest songs and share their views about climate action with the artist. In the exhibition space, children can design a protest t-shirt and watch their message come to life in an animated protest scene, while listening to a playlist of protest music.
The Motorcycle: Design, Art, Desire | 28 November 2020 – 26 April 2021
This world-exclusive exhibition, only in Brisbane, showcases the art, design, and history of one of the most iconic objects of the last 150 years, the motorcycle.
Featuring more than 100 innovative and influential motorcycles from the 1860s to the present day. Highlights of the exhibition include an 1871 Perreaux, the first steam-powered velocipede and oldest known motorcycle in the world. Plus the earliest Australian-designed and built machines, including a Spencer produced in Brisbane in 1906. Tickets required for this event. Find out more here.
Ross Manning: Idling Engines | 28 November 2020 – 26 April 2021
Ross Manning is an Australian artist who has always been fascinated by science and how things work. Through his art, he explores the relationship between humans and technology and often works with light and sound.
For this exhibition, Ross has created the sound work Idling Engines 2020, which responds to movement. This installation includes a number of small motors that have been attached to cables hanging from the ceiling. Ross has positioned the motors so that when triggered they send vibrations up and down the cables. The vibrations shake an assortment of simple materials that have been clipped onto the cables – producing a variety of sounds.
Island Fashion (10th August 2019 to 15th March 2020, free entry at the Children's Art Centre)
Visit the Children's Art Centre to explore fashion and adornment through creative hands-on and multimedia activities created by artists from Australia and the Pacific especially for children and families. Join in a paper folding activity by Grace Lillian Lee, design your own textile pattern in a multimedia interactive by Letila Mitchell, and create a wearable accessory inspired by the work of Maryann Talia Pau and Ranu James.
Ben Quilty – Family Portrait (15th Jun 2019 to 20th October 2019, free entry at the Children's Art Centre)
As part of the major exhibition 'Quilty', Brisbane's Children's Art Centre presents 'Ben Quilty: Family Portrait'.
In this interactive exhibition, leading Australian artist Ben Quilty encourages children and families to explore the art of portraiture in an artist studio setting. The exhibition also stars Ben's children – Joe and Olivia – who appear in a video on display, which takes children inside Ben's studio in New South Wales and provides insights into his approach to making art.
As part of 'Family Portrait', you can draw a portrait of a family member or a friend following an instructional video with tips from Olivia, play with colour and distortion to create a digital self-portrait, and experience Ben's work in a new way through painting replicas that you can touch.
Asia Pacific Triennial of Contemporary Art – For Kids!
Children's trial for Gary Carsley 'Purple Reign' 2018
(Running 24 November 2018 to June – Free Entry for all!)
(Purple Reign from 6 October 2018 to June 2019)
APT9 is coming to town. This joyous celebration of colour and light will expand to include artworks especially for kids. They're interactive and hands-on and come complete with multimedia activities. There are 8 interactive artworks that are designed specifically for children and families. This is an incredible participatory experience that's reflective of themes of the main exhibition – contemporary art in Australia, Asia and the Pacific. It would be well worth your while touring the rest of the exhibition as well – whenever this comes to town, it's always a wonder to behold!
Children's trial for Nona Garcia 'Illuminate' 2018
The APT9 Kids projects are displayed in spaces across both the Queensland Art Gallery (QAG) and Gallery of Modern Art (GOMA) buildings, including the Children's Art Centre at GOMA. This project aims to involve the youngest visitors to the gallery (and their families) to creatively engage with the ideas on shows both in the Children's Art Centre and the other gallery sites.
Vincent Namatjira, Western Arrernte people, 'The Queen and Me' 2017
GEOMETRIES
25th May 2019 – 2 Feb 2020
'Geometries' brings together works that dazzle the eyes with colour and form. Using deceptively simple strategies — structuring relationships between the most elementary components of shape, scale and relative sequencing, for the most part described in pure, flat and vibrant colours — the artists behind these arrangements excel in creating mesmerising optical effects.
Tony Albert: We Can Be Heroes
(Running 19 May – 7 October 2018)
In collaboration with the Children's Art Centre, this exhibit explores how our fears can empower and strengthen us, rather than overcome us.
The children and artists of the Warakurna have developed a series of artworks for this display including photographs and illuminated paintings. Children can create their own digital superhero identities, create monster collages and bring creatures to life!
Click here for a HEROIC look at how this exhibit connects with Tony Albert's acclaimed exhibition, 'Visible'.
Patricia Piccinini: Curious Creatures
(Running 24 March 2018 – 5 August 2018)
This exhibit is specifically designed for children aged 8 and under. They are invited to participate in imaginative play while they come across curious, strange, wonderful creatures who live in a burrow-like environment. There is lots of potential for interaction and wonder as the children get up close and personal with these soft creatures. They can move them around, manipulate them, play with them and let their imaginations run wild!
Me, Myselfie and I
(Running 9 Dec 2017 – 22 April 2018)
These are interactive, multimedia art projects where children are challenged to create their own self-portraits.
From GOMA: "In recent times, self-representation has become more complex and varied through the use of digital technologies. The exhibition explores what a self-portrait is and how it can express our emotions, personality, memories and experiences through images, sound, spoken word and movement." Find out more here.
Yayoi Kusama – The Obliteration Room
(Running 14 Oct 2017 – 4 Feb 2018)
This is one of our ABSOLUTE FAVOURITE exhibits and it's back again! The Obliteration Room was originally a blank canvas where participants are invited to apply coloured sticky dots to any surface they wish. This creates a living community art space and it's an absolute delight for kids! Definitely a must-see!
Kate Beynon: Friendly Beasts
(Running 1 April 2017 – 22 Oct 2017)
Kate Beynon draws on multiple visual traditions as the foundation for her artworks, including Western and Eastern comic books, mythology, animation, film, graffiti, calligraphy and fashion.
Sugar spin: You, Me, Art and Everything
(Running 3 December 2016 until 17 April 2017). 250 artworks exploring light, space, architecture and the senses. See Nervescape V 2016 by Shoppy (a landscape made of synthetic hair) or Heard 2012 (a group of vibrant sculptural horses brought to life by dancers)
Left/Right Slide (2010)
The awesome GOMA Slide will send you flying from the top floor right down to the bottom! You'll need to be 1.2 metres to ride though… read more about it when we visited – click here.
In bed (2005)
Ron Mueck's world-famous over-sized woman
Gabori Sisters: Gathering by the sea
'The Gabori Sisters: Gathering by the Sea' takes children on a journey to the artists' homeland of Bentinck Island in Queensland. Young visitors will be introduced to the important relationship the Kaiadilt people share with the sea and its creatures.
Mirror Mirror
Children can create their own extraordinary paper hairstyles and help style a wall of artificial hair-like material.
Is there anything else I should know?
GOMA opens daily from 10am – 5pm. Entry is free but certain exhibitions may sometimes require a special entry fee. GOMA is signed very clearly and staff will be happy to help you if required. For more information, including maps, visit QAGOMA.
Make the most of your day out and see what the rest of South Bank has to offer. Countless food and drink options, beautiful gardens, innovative play options, and the always fun Streets Beach await. Brisbane is so lucky to have the kinds of public facilities that people in other cities could only dream of. So get out there and let your kids experience it all!
If you're looking for school holiday inspo check out our guide to the BEST school holiday activities in Brisbane here.
School Holiday Activities for Teens & Tweens!
Are you looking for school holiday activities for teenagers in Brisbane? We know that finding fun things to do in Brisbane for teens is a sure fire way to get them worn out and happy! And when they are happy, we are happy. Right?!
School holiday activities for teenagers in Brisbane
Because finding good school holiday activities for teenagers can be challenging, we've rounded up our favourite teenage activities Brisbane has to offer. Share this article with your older kids and they MIGHT not hate you for suggesting it. (We must stress the 'might' – we are dealing with tweens and teens after all.)
These school holiday activities for teens range from indoor and quiet to outdoor and energy burning.
Lego workshops, gaming and coding
Building Blocks Studio
What: Build on your electronics, engineering, and robotic interests with these great workshops and teen school holiday activities – including Lego and coding.
When: Term time classes and school holiday workshops
Where: Building Blocks Studio, 2/702 Sandgate Road, Clayfield, QLD
Arts and crafts school holiday activities for teens
Flying Fox Studios
What: From small babies, right up to adults, play is a way that we process our experiences and make sense of the world. Flying Fox Studios provide opportunities for imagination, skills, and confidence to grow and develop, in a fun and original way.
When: Winter school holiday programme running 27 June – 1 July 2022
Who: Suitable for ages 4 – 17
Cost: $29 for a 1.5 hour session
Where: Flying Fox Studios, 749-753 Southpine Rd Everton Park
Crafty and creative school holiday activities for teens
The Nest Workshops
If your teen loves the process of designing, creating, or handcrafting something unique, why not consider a craft class run by The Nest. The school holiday activities for teens classes are ideal for 10 to 17-year olds who want to try their hand at something new and just a little bit different. Read more here.
Embroiderers' Guild of QLD
In a similar vein, the Embroiderers' Guild of Queensland offers workshops for kids in the school holidays. Lunch is sometimes provided and your tween or teen can try their hand at this ancient craft and take home their own embroidered pinch purse. For further details see here.
Cooking workshops for kids
If your tween or teen is showing an interest in the culinary arts, a cooking class could be the activity of their dreams. Come and Cook is the brainchild of Karen Browne, a former qualified primary school teacher who began her own cooking business while living in London (2002-2010) because she wanted to share her skills and love of cooking with others.
Now she runs a thriving Kids Cooking School in Brisbane (11 Grenoble Street, The Gap). For more information about the school holiday activities for teens classes visit Come & Cook here.
Active school holiday activities for teens
UQ Sport
Keep fit, healthy, and de-stress at UQ Sport with so many great school holiday activities for teens. There's an activity to suit every taste with team sports, tennis, track and field, swimming pools, and pool parties!
When: Term time and school holidays
Where: University of Queensland, Building 25, Union Rd, St Lucia
Go Kart Krazy!
Grab your mates or be a solo challenger for a full-throttle adrenalin rush at Kingston Park Raceway. Satisfy your need for speed on the tracks and enjoy the amusement rides when you take advantage of the school holiday bonus offer. One of our favourite teen school holiday activities!
When: Every day except Christmas
Where: Kingston Park Raceway, 20 Mudgee Street, Kingston
Take A Segway Tour!
Glide along the river and through South Bank Parklands on a mini Segway tour. They last from 15 minutes to an hours and tweens (12 and under) ride at kids' prices. We did a segway review to show you how fun this is!
When: Day or sunset tours available.
Where: Russell Street, Brisbane (Next to the Brisbane Wheel)
Contact: 0419 000 575 or email sales@xwing.com.au
Scoot, Skate, Ride and Glide
The best fun you can have on wheels! Rampattak is currently looking for a new venue and has temporarily paused skate activities but they're planning to operate again from term three. Find out more at Rampattak.
See Brisbane indoor skate parks here.
See Brisbane outdoor skate parks here.
TreeTop Challenge
Australia's largest guided zip line tour and high ropes adventure park is a perfect school holiday activity for teens. Get amongst the treetops and traverse a course of rope bridges, swings, and 11 huge flying foxes and Tarzan Swings. You'll need to leave your fear of heights at home!
When: Daily except Christmas Day and Boxing Day
Where: Thunderbird Park, Cedar Creek Falls Road, North Tamborine
Indoor rock climbing school holiday activities for teens
Indoor rock climbing and parkour are some of the most popular things to do in the holidays for teenagers. And luckily in Brisbane, we have a huge range of choices.
Jungle Adventure Play
What: Jungle Adventure Play is a HUGE newish indoor adventure playcentre in Tingalpa that has something for everyone! A ninja warrior course, high ropes challenge, heaps of vibrant and challenging climbing walls and a 2.5m up to 5m jumping platform where your tween or teen can safely land on a giant inflatable cushion. If you also have little ones in tow there's a dedicated play area just for them plus a massive under 8's play gym with multiple levels, slides, and heaps more. For you, there's a really great cafe with delicious food and coffee! It's licensed too and a good spot to host birthday parties for the bigger kids.
When: Open 7 days from 9am-5pm daily and till 7pm on Friday and Saturday.
Where: 31 Proprietary St, Tingalpa
Contact: 07 3147 8013
Urban Climb
What: A test of strength and skill on the indoor rock climbing and bouldering walls. No prior experience needed.
When: Open daily
Where: Urban Climb currently has two locations (5 Morse Street, Newstead is closed until further notice)
Unit 2, 220 Montague Road, West End
17 Roy Street, Milton
Contact: 1300 001 203 or info@urbanclimb.com.au
Crank Climbing – Indoor Rock Climbing & Parkour
What: Develop fitness, strength, and agility on the indoor rock climbing walls and parkour (freerunning) courses at Crank Fitness.
When: Classes and courses throughout the year, see website
Where: Crank Climbing, 2/537 Kessels Road, Macgregor
Contact: 0490 401 296, email: info@crankclimbing.com.au
Escape Room Challenge school holiday activities for teens
Escape rooms promote team spirit and bonding, which is great for families, and they give players a chance to indulge in an immersive experience in an environment that is very different from home. They require logical thinking, creativity and communication and all members of the family get to express their unique set of skills, making escape rooms the ultimate multi-generational activity.
Find hidden clues and solve puzzles in a race against the clock. Different themes and experiences available at a number of locations. See them all here.
Escape Hunt
When: Every day
Where: Escape Hunt, 77 Russell Street, West End
Puzzled Room Escape
When: Every day
Where: Puzzled Room Escape, 5/1177 Logan Road, Holland Park West
Fox in a Box
We reviewed Fox in a Box here.
When: Every day
Where: Level 1, 150 Edward Street, Brisbane
Contact: 07 3815 9825
Brisbane Ghost Tours
What: Spend an evening touring some of Brisbane's most haunted sites, from cemeteries and old buildings to Boggo Road Gaol. A guaranteed thriller!
When: Evenings
Where: Various locations around Brisbane and the Redlands
Which companies: Jack Sim or Friends of South Brisbane Cemetery (Inc).
Laser Tag
Urban Xtreme
We reviewed Urban Xtreme here.
When: Every day
Where: Urban-Xtreme, 4/370 Nudgee Rd, Hendra
Laserzone
What: Tag your friends before they tag you! Laser tag is hide and seek with a difference as you hunt down your opponents and tag them with your laser phasers. Watch your back – the hunter is also being hunted!
When: Tue, Wed, Thu: 12-8pm; Friday: 12-9pm; Saturday: 10am-9pm; Sunday: 10am-5pm
Where: Laserzone, 561 Gympie Road, Lawnton
Contact: 07 3205 4141 or email Brisbane@laserzone.com.au
Indoor Golf
The Golf Spot – This venue is permanently closed.
What: Play on courses all around the world with this amazing real action simulator. Line up your shots using real clubs and balls and take a swing – the screen will pick up the action and follow the ball's flight.
When: Open daily
Where: 655 Toohey Road, Salisbury
Contact: 07 3493 0143; info@thegolfspot.com.au
Mini Golf for school holiday activities for teens
Victoria Park Golf Complex
What: Victoria Park's Putt Putt Mini Golf course is like no other you've experienced before. This challenging and exciting 18 hole Putt Putt Mini Golf course not only weaves around a rocky terrain while sporting a magnificent view of Brisbane's CBD skyline, but is also fully licensed! Available to play morning, noon and night, Putt Putt Mini Golf at Victoria Park is a sure winner for your next get-together with friends and family. The Putt Putt Mini Golf course features sand and water traps and swinging poles. We reviewed Victoria Park here.
When: every day
Where: 309 Herston Road, Herston
Contact: victoriapark.com.au/golf/putt-putt
Golf Central Brisbane Airport
What: Navigate the hazards to get around the 18-hole course in the fewest moves in this lively, fun, miniaturised golf game.
When: Open daily, 7am – 10pm. No need to book
Where: Golf Central Brisbane Airport, 40 The Circuit, Skygate, Brisbane Airport
Albany Links Golf Course – This venue is permanently closed.
When: Open daily
Where: 638 South Pine Road, Brendale
Contact: 07 3264 2557; albanylinksgolf@gmail.com
Indoor Skating
Stafford Skate Centre – This venue is permanently closed
When: Friday evenings to Sunday afternoons
Where: Stafford Skate Centre, 280 Stafford Road, Stafford
Contact: (07) 3357 4444
Skateaway
What: Indoor skating plus inline hockey and figure skating.
When: Open daily
Where: Skateaway, 700 Albany Creek Road, Albany Creek
Contact: 07 3325 1711
Indoor Ice Skating
Iceworld
What: Escape the heat and chill out with friends at an ice rink, suitable for beginners to advanced figure skaters. Also offering speed skating, ice hockey, curling and synchronised skating. We reviewed Iceworld here.
When: Open daily
Where: Iceworld, 1179 Beaudesert Road, Acacia Ridge and 2304 Sandgate Road, Boondall
Contact: 07 3277 7563 (AR); 07 3865 1694 (B)
Ten Pin Bowling
AMF Bowling now known as Zone Bowling
What: No 'three strikes and you're out' rule applies here: the aim of the game is to get 12 strikes in a row to score the perfect 300! Most bowling alleys have a disco atmosphere and offer arcades and other entertainments too. All AMF Bowling locations have been rebranded to Zone Bowling. As far as school holiday activities for teens goes, ten pin bowling is one of the best especially on rainy days.
When: Open daily
Where: 7 QLD locations, see website
Contact: 1300 368 067
Aspley 10 Pin Bowl
When: Every day (except public holidays)
Where: Aspley 10 Pin Bowl, 149 Albany Creek Road, Aspley
Contact: (07) 3263 8848
Indoor Trampolining school holiday activities for teens
What: You'll be bouncing off the walls! Each centre has huge areas of interconnected trampolines and foam pits to practice your aerial skills. This is one of our favourite teenage holiday activities in Brisbane.
Several locations to choose from:
Urban Xtreme
When: Every day
Where: Urban-Xtreme,
4/370 Nudgee Rd, Hendra
SkyZone –
Permanently closed 19 Dec 2021
When: Every day
Where: SkyZone, 544 Kessels Road, MacGregor
Contact: 13 75 99 or email touchthesky@skyzone.com.au
Bounce Inc.
When: Every day
Where: Bounce Inc, 40 Enterprise Place, Tingalpa
Flip Out
When: Every day
Where: Flip Out, 130-134 Gympie Road, Strathpine
Contact: 07 3205 9994
Just Jump
What: Trampolines and inflatables all in one place. Indoor and outdoor bounce areas.
When: Every day
Where: Just Jump, 235 Smiths Road, Redbank
Contact: 07 3447 8990
Circus Skills
Flipside Circus
What: From juggling to acrobatics and high-flying aerials and trapeze – you don't have to run away to the circus to learn these fun skills (or maybe just for the holidays!) We highly recommend their tween & teen school holiday activities! Read our Flipside Circus review here.
When: Classes all year round plus school holiday workshops
Where: Flipside Circus Training Centre, Riverfront Event Space at Northshore, 33 MacArthur Avenue, Hamilton
Encourage them with covert learning opportunities
If your tween or teen has an insatiable thirst for knowledge and a never-ending curiosity about the world around them, there are some fabulous activities these school holidays for teens that will expand their horizons without breaking the bank.
Brisbane is home to world-class museums and learning centres. For those keen to look to the stars whilst staying close to the comforts of home, check out the Sir Thomas Brisbane Planetarium.
No matter where your teen or tween's interests and passions lie, you are sure to find an exciting activity enabling them to spread their wings, try something new, develop skills or just get out and about these upcoming school holidays.
The BEST Seafood Buffets Brisbane Has to Offer!
Seafood buffets Brisbane offer families a great opportunity to catch up and relax over a crab, prawn and fish or two (or three!) An all you can eat seafood buffet Brisbane style is one of our favourite things to do!
Whether you are looking for a seafood buffet in Brisbane city or in one of the Brisbane suburbs, our list will help! We have compiled all the best seafood restaurants in Brisbane. YOU. ARE. WELCOME.
Where are the seafood buffet restaurants Brisbane?
Here are our list of the best seafood buffets Brisbane has to offer. As with any restaurant, you'll want to call ahead to book and ask questions. Some of these places only all you can eat seafood buffet options certain nights of the week so make sure you don't fall for a red herring!
If you are looking for a regular all you can eat buffet we love this round-up of ALL the best buffets in Brisbane.
Looking for the best seafood buffets on the Gold Coast? Click here.
Morgans Seafood Redcliffe
Where: Bird of Passage Parade, Scarborough
Phone: 07 3203 4592
A veritable seafood smorgasbord Brisbane style!! This is Queensland's biggest seafood market and it's a real destination for lovers of all things salty. They occasionally have seafood buffets – so do check ahead of your planned event.
Live and locally caught seafood, plus a sushi bar with traditional style sashimi, cooked seafood & vegetarian sushi, and nigiri. Dine inside, outside or take away. There is an oyster bar too at this popular seafood restaurant! Find out more here.
Tempest Seafood Restaurant
Where: Boat Harbour, Bird O' Passage Parade, Scarborough
Ph: 07 3203 5744
River Quay Fish
Where: South Bank, Sidon St, South Brisbane
Phone: 07 3844 3993
Sitting on the bank of Brisbane River, River Quay Fish is a spacious and well-lit eatery. Pa trons can choose to sit at one of the cosy tables, at a leather bench, or opt for an outside meal at an umbrella-shaded seating. While enjoying the view of the waterside, diners can order one of the fish dishes on offer or choose some more sophisticated seafood options like oysters or calamari.
Salads, burgers and grilled steaks are available for those who prefer less sea-connected food, and a sweet dessert can be picked to complete the meal. Sharing platters and kids menu are available as well.
Brisbane Marriott Hotel – BEST seafood buffet in Brisbane
– Temporarily closed

Where: 515 Queen St, Brisbane City
Phone: 07 3303 8000
This exquisite seafood restaurant in Brisbane is one of the best options for seafood that you're going to find. This is one of the most popular seafood smorgasbord restaurants Brisbane has to offer.
You can also come back for high tea another time!
Sofitel Brisbane seafood buffet (Suzette – Originally Thyme 2)
Where: 249 Turbot St, Brisbane
Phone: 07 3835 3535
Suzette Restaurant delivers a unique buffet dining experience, infusing worldwide culinary trends with the sophistication of Brisbane and its cuisine. Lunch and Dinner boasts a mouth watering spread from the land to the sea. Their seafood is sourced locally and presented daily on fresh crushed ice. Fill your plates with cooked King Prawns, fresh shucked oysters and marinated mussels. On Friday and Saturday evening, top it off with juicy Moreton Bay bugs and delicious sand crabs.
Whilst I have personally been here and I think this might just be the best seafood buffet Brisbane has on offer their seafood buffets are NOT available every day so you'll need to ring ahead and confirm to book a table.
Find them on this link.
The Brasserie on the River (Stamford Hotel)
– Temporarily closed
Where: 39 Edward St, Brisbane
Phone: 07 3100 5749
Set against the beautiful backdrop of Brisbane River, The Brasserie offers a magnificent seafood buffet with carvery and extensive a la carte menu.
Dine indoors or alfresco and enjoy their A-La-Carte menu or the ever-changing seasonal specials available on the fresh seafood buffet during the weekends. They are also home to Brisbane's favourite high teas, with a delectable chocolate high tea buffet or a traditional riverside morning tea served on a three-tiered stand. We have a discount to their high tea too – click here.
Find out more about The Brasserie.
Greenbank RSL –
Buffet no longer available
Where: 54 Anzac Avenue, Hillcrest
Phone: 07 3800 7746
This is a real classic of an RSL with everything you've come to love and expect from these Aussie institutions.
A fantastic venue for families and large groups, with indoor and alfresco dining, a sushi train and interactive teppanyaki cooking displays. Their Deluxe Seafood Buffet is no longer available. Click here to get all the information.
Suncrop Seafood Restaurant
– Permanently closed
Where: 512 Wickham St, Fortitude Valley
Phone: 07 3252 2883
Smart, glass-walled spot with tablecloths and upholstered chairs, for daily yum cha and banquets. Seafood buffet Brisbane style, with a twist. Check out their Facebook page.
Redbank Plains Feast Restaurant
Redbank Plains Feast Restaurant is an all-you-can-eat buffet that features a variety of dishes from different cultures. You can choose from a variety of dishes such as hot soups and entrées, seafood, succulent roasts with all the trimmings, pizza, pasta, Asian specials and fresh salads as well as an array of hot and cold desserts, including ice cream. Open for lunch and dinner. Find out more here.
Kookaburra Showboat Cruises Eagle Street Pier
Further up from George's Paragon on Eagle Street Pier, you will find the purpose-built paddle wheeler boats launching into the Brisbane River for a number of different cruises, whether it be for lunch, dinner or a private function of your own!!
The cruise has its own bar area and buffet-style food is available. So whilst enjoying some beautiful food options and listening to a local band on deck, why not while away some time cruising the river enjoying some local sites such as South Bank, the Botanic Gardens, Story Bridge and some homes of the rich and famous!!
Prices vary depending on the type of cruise you book, but is a great idea for a change in pace!
Website: Kookaburra River Queens
Gambaro Brisbane CBD
This seafood giant within the centre of Brisbane CBD, specifically the lively area of Caxton Street, is just a short walk from the Suncorp Stadium and has been around since 1953. Although they specialise in seafood, non-seafood dishes are on offer here so there is something for all tastes.
The seafood is very fresh, with a lobster tank on site. The restaurant is a la carte, however, a banquet option is available from $99 which offers a set menu including such treats as Calamari, Sashimi, Prawn cutlets and King Prawn Cocktail. However, the a la carte menu also caters to small groups incorporating a number of share platters of both hot and cold options. A specific kids menu is also available.
Address: 33 Caxton Street Brisbane
Website: Gambaro Seafood Restaurant
Seafood buffets Brisbane – did we catch yours?
If we missed one that you're aware of (and you're willing to share your intel!) make sure you let us know in the comments.
How to peel a prawn
Preparation is part of the enjoyment of a great meal, but that doesn't mean you want to spend any longer than you need right? Here's how to peel a prawn quickly and easily. Tip: For better presentation, leave tails intact.
The Quick Way
Twist off the head;
Grab legs between thumb and index finger, squeeze and pull away shell from around the body.
Repeat until tail section is left
Squeeze tail, prawn will pop out.
The Traditional Way
This is an age old method handed down from prawn fishermen over centuries. In fact this method has been traced back as far as ancient Sumerian society when prawns were peeled as part of the initiation ceremonies for many rites of passage. There is even evidence to suggest that on the lost continent of Atlantis, that they could peel prawns just by altering the tone of their voice. Honestly, we read it on Wikipedia so it must be true.
Before peeling, grab 3 bowls, a sharp knife, a cutting board and a chair. Fill one bowl with water and a little lemon juice to keep your fingers clean. Pour yourself a cold beer, wine (or soda if you're driving). Keep one bowl for the heads and shells and another for the prawn meat. (Placing the bowl on ice helps).
Simple 3-Step Process:
Remove the head by twisting it off the body. Take a sip from your drink.
Remove the legs from the underside of the body, starting from where the head was. As you peel them upwards, they will take with them the shell that goes around the top of the prawn. Repeat this section by section working your way towards the tail until there is only one section left.
Hold the tail and pinch your fingers on the last section of shell, and the rest of the prawn should pop out.
Take another sip from your drink
WIN Street Science Tickets and your Own Rocket!
10…9…8…7…6…5…4…3…2…1… BLAST OFF! It's your countdown to win Street Science tickets!
Street Science are excited to be celebrating this year's National Science Week in August with a special event that will see families from around Australia come together for an online Street Science experience like no other. On August 12th Street Science will broadcast from live from the Street Science Studio's high energy, fun filled science show, culminating in the launch of over 1000 Street Science rockets around the country.
Street Science and Families Magazine are excited to give two lucky families (up to 5 people each family) the chance to join the team live in person on August 12th to help celebrate National Science Week 2022.
Another 10 families will win tickets to the online show and their very own rocket kits, with enough rocket fuel to launch their rockets up to 30 times.
For more information on the event visit the Street Science Facebook page.
WIN Kids Toys and Games
Keep the kids entertained – or let them entertain themselves – with this Crown & Andrews and Goliath games pack!
Nexcube
Are you ready to try your hand at beating the World Record for fastest cube puzzle completion? NexCube offers unparalleled, ergonomic sliding action with adjustable elasticity designed to fit any cuber's personal style. With a flick of the wrist, users can customize flexibility to meet the needs of even the most adept speedcuber. Display stand is included.
Age: 8+ Single Player RRP:$10.00
Gobble Monster
Your objective is to collect the most toys! Pull out the tongue, place the gobbler on the middle of the table and place all the toys onto the tongue, evenly divided. Take a card from the pile and act! Be careful of the gobbler! When he strikes, the active player will have to put back all their toys.
The player with the most toys at the end wins!
Age: 4+ Players: 2-4 RRP: $39.99
The Floor is Lava
Easy to play and learn, and promotes physical activity. Bright, colourful pieces; kid and family friendly indoor and outdoor play!
Age: 5+ Players: 2-6 RRP: $39.99
Phlatt Ball
Throw a disc, catch a ball! The Phlat Ball V4 miraculously turns from disc to ball when thrown! So squash it flat, toss it to your mate and enjoy the dual-action fun of flinging a disc, then catching ball!
Age: 6+ Players: 1+ RRP: $29.99
Win one of two sets of all four games!
All these games are available from leading retailers, but we have two sets of all four games to give away, valued at $120 RRP each!
Dolphin Facts for Kids to Help You with a School Project
Looking for fun dolphin facts for kids for a school project or just because you love dolphins and love learning facts about animals? We've got you covered in this article as it's packed with useful information about dolphins.
Facts about dolphins for kids
Dolphins are known as the brainiacs of the oceans. They are super smart and have highly developed brains that have developed over thousands of generations.
Did you know that the scientific name for dolphins (or 'toothed whales' as they are also known) is Delphinidae? This comes from the Latin word 'Delphinus' which means 'dolphin'.
Dolphins live in temperate and tropical waters around the globe, including our own coastal water of Australia. These remarkable creatures are very intelligent and playful and they're a joy to watch. Have you ever been on a boat trip and seen dolphins playing in the waves and showing off?
Let's answer some of your questions all about dolphins…
Are dolphins fish and how do dolphins breathe?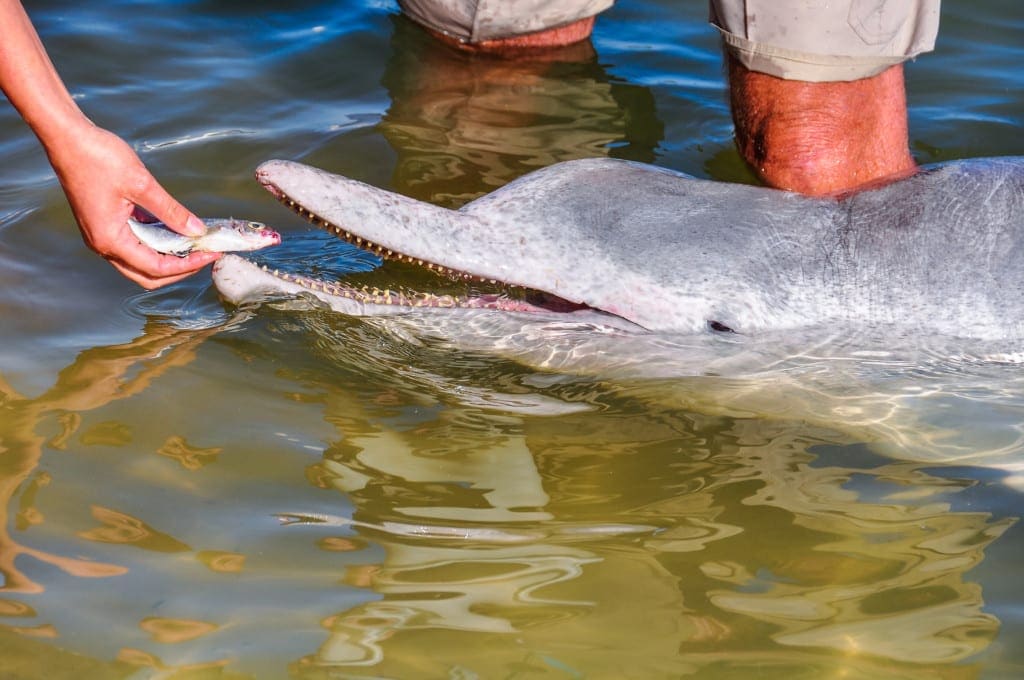 No, dolphins are marine mammals, not fish.
Dolphins are warm-blooded and they breathe through their lungs. This means they need to surface to take a breath, unlike fish which breathe underwater through their gills.
Dolphins are very clever though and they're able to adjust their bodily functions to extend their time under water. If they need to be without breath for longer, they're able to shut off or slow down their digestive system, heart rate, and even their blood flow to give them more time underwater.
Us humans breathe automatically without even thinking and we have to continue breathing all the time. Dolphins have a lot more control over how often they breathe so they can consider their surroundings and choose how often to surface.
While we take our breaths through our nose and mouth, dolphins only breathe through their blowhole – this is a hole on the top of their head. This hole opens to allow them to take in oxygen, and then it closes again tightly to stop water from getting in. This means a dolphin's mouth is used purely for eating. The reason for this is so a dolphin won't accidentally suck water into their lungs while eating so it keeps them safe from drowning.
How do dolphins communicate with one another?
Dolphins communicate with one another by making a squeaking, whistling, buzzing and clicking sound and every dolphin sounds unique. Their sounds can be heard by their species from miles away, so it's a great communication tool.
How do dolphins navigate?
The sounds dolphins make also help them navigate and understand their surroundings. This is known as 'echolocation' which means 'seeing with sound'. The soundwaves from their clicks hit the object and bounce back. This allows them to determine how close the object is, how big it is and even what it's made of. It's very clever! While dolphins do have eyes, water can be murky making it difficult to see so this unique ability helps them find their way around the ocean, hunt their prey and avoid danger.
Dolphins also use their bodies and fins to splash the surface of the water as a way of communicating. They use these splashes in lots of ways to communicate with the dolphins in their immediate surroundings.
Do dolphins live in groups?
Dolphins live in groups which are called pods. Living in groups like this gives them protection, plus dolphins are social creatures and they like company so they enjoy playing together.
Living in a group allows them to hunt together as a team and their pod helps to keep them safe from predators such as sharks.
Some dolphins stay in the same area for their whole lives while others migrate to different places.
Do dolphins have teeth?
Yes, dolphins do have teeth. Dolphin teeth last them a lifetime – they only get one set! Dolphins use their teeth to catch their prey but don't actually chew with them as they swallow their food whole.
Do dolphins have hair or do dolphins have fur?
If you're wondering does a dolphin have hair? The answer is yes, dolphins have hair or a few whiskers when they're born although this falls out soon after birth. Some river species do retain some whiskers into adulthood though as it can help them search for prey on the river bed as the water can be murky and the hairs (along with their clicks) can help them find food.
How do dolphins sleep?
Dolphins go to sleep by resting quietly on the surface of the water either horizontally or vertically, and they can also doze while slowly swimming alongside other dolphins.
Fun dolphin facts for kids
Let's dive right into these fascinating and fun dolphin facts for kids:
There are 42 species of dolphin in the world.
Dolphins can swim very fast. Some species can go as fast as 55kmph.
While most dolphins are grey in colour, some species have patterns of black and white. There are even some species of pink dolphins!
Dolphins need air to breathe, but they can hold their breath a lot longer than you or I! They can hold their breath underwater for an incredible 8 to 20 minutes, depending on the species. This allows them to dive down deep to catch fish.
Dolphins eat a variety of fish, squid and crustaceans.
Dolphins are known to sometimes gather in 'superpods' which are huge gatherings of pods of dolphins. These can sometimes include up to 1000 dolphins. Think of it like a big party where they play and then disperse with their own pods again at the end of it.
A dolphin's pregnancy can last between nine and 16 months. Dolphins give birth to their young tail first.
Dolphins produce milk for their calves which they drink underwater. Dolphin mums take care of their young and nurture them for years so they become independent.
The life span of a dolphin varies across the breeds, with some living around 20 years and other species living to 80 or more.
While most dolphins live in the oceans, there are also some freshwater dolphins that live in rivers including the Amazon and Ganges.
Dolphins eat fish whole – they swallow them headfirst so the spines don't catch in their throat.
Did you know that orca (killer whales) are actually the biggest member of the dolphin family? These grow up to an epic 9m long and they live for 30 – 50 years.
Dolphins can blow bubbles on the surface of the water. It's a way for them to encourage their prey to the surface while hunting as this makes them easier to catch.
What threats do dolphins face?
While dolphins don't have many natural predators they, unfortunately, face many threats from humans.
Dozens of species of dolphin are endangered.
Here are some of the main threats dolphins face:
Being caught in large nets set to catch fish
Getting tangled in discarded fishing lines and hooks
Pollution
Climate change
Overfishing
Habitat loss through development
Hunting
Boat collisions
Noise pollution (as their hearing is so sensitive so things like shipping sonars and seismic testing can cause huge issues)
We can have an impact on the future of dolphins in the world by:
Reducing household waste
Keeping our beaches clean
Reducing carbon emissions
Following marine safety rules
Supporting conservation projects
Recycling our waste
Not dropping litter
Donating to marine conservation organisations
Educating others about the threats to dolphins
Fun dolphin facts for kids
I hope you enjoyed these fun dolphin facts for kids!
If you found this post about facts for kids about dolphins useful, please give it a share.
More facts for kids
If you have enjoyed these kids' facts about dolphins and you are looking for more great facts for kids to help with projects, check out our articles:
Animal facts for kids
Environment facts for kids
Other facts for kids
Fun Echidna Facts for Kids: Learn All About Echidnas
Do you want to learn all about echidnas? Echidnas are a peculiar spiky mammal that can be found living in a range of habitats across Australia and New Guinea. Read on to discover these fascinating echidna facts for kids, learn all about an echidna's spikes, habitat, eating habits and the threats an echidna faces.
Facts about echidnas: What is an echidna?
We're so lucky that echidnas are native to Australia, although these shy waddling, spiny creatures aren't often sighted.
Australia's most common native mammal is covered with strong, sharp spines similar to that of a hedgehog or porcupine. They have small, beady eyes and a long, bald snout which is sometimes called a beak.
An echidna can range in size from 14 – 52cm, and although they look similar to porcupines, hedgehogs and anteaters, they have a lot more in common with the Australian platypus.
An echidna's appearance depends on where they live. Echidnas living in hotter regions are a lighter brown colour, and those living in cooler locations are darker in colour so they can blend into their surroundings unnoticed. Their spikes help echidnas blend into the bush seamlessly and they also offer protection from predators.
Echidna fun facts: Where to find echidnas
There are four species of echidna in the world.
The short-beaked echidna can be found across Australia and in lowland New Guinea.
The three species of long-beaked echidna (the Sir David's long-beaked echidna, the eastern long-beaked echidna and the western long-beaked echidna) can be found in the highlands of New Guinea only.
What is the scientific name of an echidna?
The scientific name for short-beaked echidna is Tachyglossus aculeatus.
The scientific names for long-beaked echidnas are:
Zaglossus attenboroughi (the Sir David's long-beaked echidna, named after Sir David Attenborough)
Zaglossus bartoni (the eastern long-beaked echidna)
and Zaglossus bruijnii (the western long-beaked echidna).
Can echidnas swim?
Yes, amazingly echidnas can swim. Their snouts act a little like snorkels so they can breathe as they cross rivers. They are actually strong swimmers and they can often be found in streams.
What do echidnas eat?
Echidnas eat ants, termites, beetles and worms.
An echidna can only open its tiny mouth enough to allow its long, sticky tongue to protrude, but its tongue is covered with backwards-facing barbs that catch worms and insects like hooks and pull them into their mouth.
Echidnas don't actually have teeth but their unique tongue helps them to eat. They use it and the pads on the roof of their mouth to break their food down so they can swallow it.
An echidna's strong sense of smell and hearing helps them hunt for their food.
Echidna babies: Do echidnas lay eggs?
Echidnas mostly live solitary lives, until a female is ready to breed. When the time comes, she will find herself being followed by groups of male echidnas vying for her attention. She gets to choose which one she likes best (the one that followers her the longest and closest!).
Almost a month after mating, a female echidna lays a tiny egg which is kept safe and warm in her pouch. Around ten days later, the egg (which is the size of a grape) hatches!
A baby echidna is called a puggle. Puggles live in the mum's pouch for the first two or three months so they can stay safe and suckle milk from milk patches – these are fine pores that secrete milk.
At around two or three months old, when the puggle is growing spikey spines, they're able to leave the pouch and the mum will go off foraging for food for a few days at a time leaving them alone in the burrow.
Eventually, when the puggle is six or seven months old, the mum will feed her baby one last time. She then leaves the burrow open, never to return or have further contact with her offspring.
Want to know about echidna habitats?
The habitat of an echidna is open heathland, woodlands, forests or scrublands – they love living amongst vegetation or in hollow logs. Echidnas are able to burrow down and dig to create safe places to rest.
When reproducing, female echidnas construct a nursery burrow which is a large tunnel-type area to keep her baby safe.
Why do echidnas have spikes?
An echidnas spikes protect them from predators such as dingoes and goannas. Their spikes also provide excellent camouflage in the bush.
If threatened, an echidna will curl up into a ball and, if possible, lodge itself into a log, crevice or rock. It may use its claws to dig itself into the ground a little so only the spikes are exposed. A predator won't have a chance against those spikes!
Echidna Australia facts list
Here are some quick-fire echidna facts for kids:
Echidnas are one of a handful of egg-laying mammals called monotremes.
Echidnas are sometimes known as spiny anteaters.
An echidna's spikes are made of keratin, the same thing our fingernails are made of.
Echidnas mostly explore during the day and settle down in the evening somewhere cosy.
Echidnas have an amazing sense of smell which is useful in sourcing food, finding a mate and keeping them safe. Did you know that echidnas make a snuffling sound while hunting for food?
Echidnas don't have great eyesight. Thankfully their sense of hearing and smell are extra sharp to make up for it.
Echidnas have a surprisingly large brain for their size.
An echidna doesn't have ear flaps like us humans. An echidna's ears are actually long, vertical slits behind its eyes and they can hear amazingly well through them.
Echidnas have shovel-like claws which are useful for burrowing and digging for food.
Underneath their long spikes, echidnas are covered in dark fur. This is thicker on echidnas in cooler regions to keep them warm. They also stay warm by burrowing into soil and hiding in crevices.
Echidnas can be susceptible to very hot weather as they have few sweat glands and can't pant to shed excess heat so heat stress is a real challenge for them in Australia. They naturally have a low body temperature.
Echidnas can live a long life – from 10 – 50 years.
What are the greatest threats to echidnas?
Unfortunately, humans pose the biggest threat to echidnas.
As our world develops, the echidna's habitat depletes. More buildings, homes, shops, offices and buildings mean fewer forests, bushland and grassy areas for echidnas to live. Busy roads and traffic also pose a risk as echidnas are slow-moving creatures so they can find themselves in dangerous situations by the roadside.
Our dogs and cats can also pose a risk, especially to the young puggles hiding in burrows. Feral dogs and foxes are another threat.
In Australia, bushfires and drought can damage habitats and endanger echidna's lives so climate change will continue to have an impact on the future of echidnas in Australia.
In New Guinea, these unique creatures are hunted so this is a major threat to echidna numbers there.
There are a number of organisations that rescue Australia's wildlife by caring for sick, orphaned and injured native animals. If you're over 18, you can become a volunteer rescuer and carer for some of them. You can fundraise, or donate to these organisations so they can continue doing their important work. You can help with echidna research by submitting photos to this Echidna CSI app if you see an echidna! And you can keep an eye out for echidnas in need and make sure you call for help if you see one in trouble.
Taking care of the environment is important, so recycle, don't drop litter and be aware of climate change issues.
Fun facts about echidnas for kids
Echidnas are one of the earth's oldest surviving species yet there are still so many fascinating echidna facts to learn about them.
I hope you enjoyed this post about interesting facts about the echidna!
More facts for kids
If you have enjoyed this echidna facts for kids article, and you are looking for more great facts for kids to help with projects, check out our articles:
Animal facts for kids
Environment facts for kids
Other facts for kids
REVIEW: Mt Gravatt Show | Family Fun on the Southside of Brisbane
The Mt Gravatt Show is one of the oldest exhibitions on Brisbane's southside having been held at the iconic Mt Gravatt showgrounds on Logan road since 1918. With so much to do and so many exhibitions to look at, it's sure to be a hit with the whole family.
When is the Mt Gravatt Show on?
This year, the Mt Gravatt Show is celebrating it's 106th year. The show will take place on Saturday 23 & Sunday 24 July 2022 over a massive fun-filled weekend. For both days, the gates will open at 9am.
How do I get there?
The Mt Gravatt Show will take place at the Mt Gravatt Showgrounds. Enter via Broadwater Road. Parking is available around and in the showgrounds; however, spaces are limited so it is advised to come early if you wish to get one.
Those who use public transport will be happy to know that the Mt Gravatt showgrounds are close to several bus stops. However, the Mt Gravatt showgrounds aren't very close to any train stations. For more information, check out the journey planner on Translink.
How much does the Mt Gravatt Show cost?
Advanced tickets:
Adult $20
Students/Pensioners – $15
Children 5-12 years – $5
Children under 5 years – Free
(Plus fees)
Gate prices
Adult $25
Students/Pensioners – $20
Children 5-12 years – $10
Children under 5 years – Free
What is there to do?
From entertaining shows to dazzling rides to amazing exhibitions, Mt Gravatt has plenty to offer to its showgoers, from the oldest to the very youngest.
Rides and games
The Mt Gravatt show always features a huge variety of rides and games of people of all ages. The sideshow alley is always a big draw card for the young and the young at heart. Try out the laughing clowns and see if you can win a prize!
Inflatable Castle
Trampoline Bungi
Dodgem Cars
Giant Slide
Rock Wall
Cha Cha Ride
Swinger
Cup and Saucer Ride
Water Balls
Animals
Animal lovers should be sure to visit the Mt. Gravatt show with the show featuring both an animal nursery and a reptile show. The show is also well known for its animal competitions, sheep dog trials and equestrian shows. In 2022, you can even check out the super cute racing pigs!
Shows
Families who go the Mt Gravatt Show will love the huge variety of shows and activities on offer including the LEGO display, and Friesian Horse performance. Finally, there is a spectacular firework display during the night that is sure to dazzle all who see it. Be sure to stay the whole day in order to see this enchanting spectacle.
Exhibitions
Like all good exhibitions, the Mt Gravatt Show offers up a huge range of exhibitions to take part in. These include regular art and craft exhibitions and cooking exhibitions. There is also several animal exhibitions such as budgies, cattle, sheep and donkeys. Some of the more unique competitions on offer include trucks and utes, photography, horticulture and egg art plus LEGO!
Night show & fireworks
FMX Kaos International Freestyle Team will perform two shows daily. Two riders – Tom Robertson, who has invented his own tricks and travelled the world plus Scott Fitzgerald, who has ridden with Nitro Circus will perform the most death-defying entertaining stunt show ever performed in Brisbane's Southside.
Don't miss their stunt show Saturday 2pm and in the Saturday Night Entertainment Program commencing at 6:30pm. The Stunt team will perform again on Sunday at 11am and 2pm.
Skylighter Fireworx will again put on another spectacular display to end the night entertainment program. The Fireworks Spectacular will commence at 8pm on Saturday Night!
Can we enter any of the exhibitions?
Yes! The general public are free to enter any of the exhibitions. There are plenty to choose from, including animal exhibitions, arts and craft stands and plenty more. For more information on prices, how to apply and when to apply by, check out the official Mt Gravatt Show website.
As one of the biggest shows on the south side, the Mt Gravatt Show is one that is not to be missed.
Looking for more family fun? Check out list of all the family friendly festivals around Brisbane here.
Pine Rivers Show 2022 for Family Friendly Fun this Year
One of the biggest exhibitions on the Northside, the Pine Rivers Show is a grand extravaganza that the whole family can enjoy. The show features a host of activities, rides, displays, concerts and competitions that everyone is sure to love.
When is it on?
Running from Friday 29 July to Sunday 31 July 2022, the Pine Rivers Show is an action-packed festival that takes more than one day to be fully appreciated. The 2022 Pine Rivers Show opening times are as follows:
Friday 29 July | 9am-9pm
Saturday 30 July | 9am-9pm
Sunday 31 July | 9am-4pm
How much does it cost?
The prices for the Pine Rivers Show vary, but there are affordable options for families. Tickets can be purchased only at the Entry Gates (Eftpos available). Tickets are $15 for adults and $10 for students (from high school and above) and pensioners. For those with primary age children or younger, you'll be happy to know that entry for them is free.
What is there to do at the show?
Like the EKKA, the Pine Rivers show offers up a weekend's worth of fun and excitement.
Rides and Games
Like any good exhibition, the Pine Rivers Show has heaps of fun carnival rides and games. Along with an assortment of fun rides, the Pine Rivers show will have its own Side Show Alley, featuring a multitude of carnival games, including the famous laughing clowns, everyone can have a go and hopefully win a prize! Plus there will be seven Show Bag Vans to choose from selling bags from $2 up to $30.
The Pine Rivers Show has set aside a dedicated area, especially for smaller children. So you won't have to worry about your little ones getting trampled or scared in the louder, bigger Side Show Alley area.
While you're at the show, catch the popular Club Pine Rivers Train around the Family Entertainment Area.
Shows
There is a huge variety of shows on offer at the aptly named Pine Rivers Show.
Like others shows, it will feature some of the more traditional exhibition shows. This includes dog shows on Friday and Saturday, woodchop on Saturday and Sunday, and a Saturday night rodeo too. There will also be some delightful performances including shows – like the Eljay Freestyle motorcycle and bicycle stunt show which takes place across the three-day event – and roving entertainers.
Of course, no exhibition is complete without a spectacular fireworks display. Held on Friday and Saturday night, colourful fireworks will light up the night to the awe and wonder of the show crowds. Be sure to stay until night so you don't miss it!
Exhibitions
Like the EKKA, the Pine Rivers Show has plenty of exhibitions for the general public to peruse. Along with the common exhibitions, such as livestock and fruits and vegetables, there is also photography, needlework and a variety of food and arts and crafts. It's always a blast checking out some of the amazing work that has been created by members of the local community, so be sure to give it a peek.
For the kids, there are exhibitions which have been created by other children along with lots of children's competitions that include cookery, photography, poultry, needlework and floral art. Don't miss the Lego Competition in the Main Showgrounds Hall.
Interested in being part of these competitions? Read below to find out how you or your kids can participate.
Can we enter any of the exhibitions?
The Pine Rivers Show offers the chance for the public to enter in a huge variety of competitions with the chance of winning prizes. From flower arranging to fruit and vegetable displays to art and crafts showcases and photography. Each competition has a different cut-off time and a different price for entry, so for more information check out the main website.
The Pine Rivers Show also offers children the chance to participate in these exhibitions. The schedule for the children's exhibitions includes arts and crafts, cooking, funny shaped vegetables, floral plates, photography and best decorated egg. Like their adult counterparts, entry conditions vary for each competition so be sure to check the main website for more details.
How do I get to the Pine Rivers Show?
The Pine Rivers Show is located at the Pine Rivers Showgrounds at Lawnton, in the Moreton Bay Region. There are plenty of ways to get there. For drivers, the showgrounds is only 20 minutes away from the Brisbane CBD. There is plenty of street parking surrounding the showgrounds. The showgrounds are also within walking distance of Lawnton Train Station. It's the perfect option for families who don't want the hassle of a long drive. There are also a couple of bus stops near the showgrounds, check the Translink website for up to date information.
The Pine Rivers Show is one of the most spectacular shows on the south side of Brisbane. Be sure not to miss it this year!
Looking for more family fun? Check out list of all the family friendly festivals around Brisbane here.
The Abbey Medieval Festival Caboolture 2022
The Abbey Medieval Festival in Brisbane 2022
The Abbey Medieval Festival Tournament Weekend is back from 9-10 July 2022! With its kaleidoscope of music, colour, pageantry, and time transforming ways, it calls to us now more than ever! The Abbey Medieval Family Fun 2022 runs 27 June – 1 July 2022.
About the 2022 Abbey Medieval Festival
Time Travel is real!!!
It's true! Every year when the planets align a certain way, a time portal opens up on Abbey Place, Caboolture, allowing you to slip back hundreds of years to the Middle Ages. Stepping through the portal the air rings with the clashing of swords, the ground shudders to the thundering of hooves, and crowds cheer the clang of lance upon shields! Meanwhile, maidens dance to the tunes played on pipes and drums. The Abbey Medieval Festival invites you to experience the sounds, sights and smells of this magical medieval era for yourself.
Don't worry, slipping through the time portal is entirely reversible – and you'll still have a phone signal and access to flushing toilets – but for two whole days you can immerse yourself in another world entirely.
The Abbey Medieval Festival is an annual highlight, with the highly anticipated Tournament Weekend happening this year on Sat 9 and Sun 10 July 2022. It attracts over 1000 world-class Medieval re-enactors keen to give you a taste of what life in the Middle Ages was like. It is one of Australia's premier living history events, providing Festival-goers with an engaging and immersive experience of the Middle Ages.
When was the medieval period?
The medieval period covers a time from around 600-1600CE, from the fall of the Roman Empire through to the beginning of the enlightened Renaissance Period. That's a lot of years! Medieval literally means Middle Ages. Wikipedia does justice to this period here.
What was the medieval period like?
For peasants, the medieval period was a simple time of hard work on the land farming for their lords and living in simple huts, often with their farm animals to provide warmth. Their diet would have comprised of a lot of gruel, stew and porridge with a bit of salt-meat through the winter.
Some people were skilled craftsmen and artisans and enjoyed a slightly higher status. They would have been blacksmiths, tailors and shoemakers, basket weavers, saddlers, coopers (barrel makers), wainwrights (wagon builders), carpenters and builders, amongst many other trades.
If you were wealthy or a landowner, you might have lived in a manor house or castle and had servants of your own. You would have enjoyed lots of fancy roast meats, tasty pastries, and delicious banquets, with entertainment provided by travelling musicians, storytellers, actors and jesters.
The medieval period was also a time of brave knights and fair maidens, fabled dragon-slayers, jousting and battles, castle building, and marauding Vikings! It wasn't all hard work in the Middle Ages; people enjoyed many public holidays and festivals based around the religious calendar and traditional pagan celebrations, and the Abbey Medieval Festival perfectly recreates the atmosphere of these fun occasions.
Abbey Medieval Festival 2022
Medieval Family Fun 2022
This mini Medieval Festival runs 27 June – 1 July ahead of the 'Tournament Weekend' and features many of the experiences on offer over the weekend, but with a special focus on making them fun and engaging for the younger members of the family.
The Abbey Museum will welcome families for a special week full of medieval-themed fun activities for the kids and, of course, parents. The week will be jam-packed with fun things to keep your young squires or maidens entertained and engaged during the school holidays with plenty of opportunities for hands-on fun and education.
Kids can:
design their own heraldry and paint it on a shield
decorate a princess hat (hennin), a crown, or a mask
make a miniature catapult
test out their balance on stilts
play medieval games like skittles, battledore, quoits and Nine Men's Morris
Come and enjoy the adventure as history is brought to life.
Knighting Ceremony
On Friday 8 July 2022, you can join the Knighting Ceremony held inside the beautiful Anney Church. Entry is free, however, there is limited space so booking is essential.
Tournament Weekend
On 9 and 10 July 2022 you can relive the days of yore and experience the sights, sounds, tastes and aromas of the Middle Ages! Step back in time and immerse yourself in the colour and pageantry of the Medieval World. There will be fighting displays, jousting, falconry, dancing,
music
, drama and presentations of medieval arts and crafts. Wander around the medieval encampments and talk with re-enactors as they go about their day, or stroll through the markets where you can purchase all manner of medieval wares or delicious foods. The festival is jam-packed with things to see and do.
Ottoman Wedding Banquet
The Ottoman Wedding Banquet on 9 July 2022 is a truly immersive experience for die-hard medieval fans, food buffs and anyone looking for an evening of food and entertainment that is totally out of the ordinary.
Set against the background of traditional Ottoman yurts, as the sun sets over Abbeystowe, you are invited to join members of the Janissary Barracks to celebrate an authentic Ottoman Wedding Feast.
Guests are treated to an authentic Turkish banquet with dancing, music, and all manner of traditional entertainment. Guests may choose to sit on cushions in the traditional Ottoman manner, or for those who would prefer, benches and high tables will be provided. Whilst attending in costume is not compulsory, it is strongly encouraged to get you into the spirit of the event.
Tickets must be pre-purchased for this limited seating event.
Tickets for all of the 2022 Festival events are on sale here.
The Abbey Medieval Festival Tournament Weekend
The Tournament Weekend is the highlight of the Abbey Medieval Festival program – an amazing weekend that you need to see to believe! This year's dates are Sat 9 and Sun 10 July 2022.
What will we see at the Medieval Tournament Weekend?

The Abbey Medieval Festival is an authentic medieval experience, with over 1000 enthusiastic re-enactors bringing the Dark Ages, Middle Ages and early Renaissance Period to life. You will see many medieval villages and encampments recreating the life of ordinary peasants, Vikings, Ottoman Empire Turks, campaigning knights and travelling entertainers. There will also be craftsmen and women demonstrating their skills, historical re-enactments and competitions, and so many things you can experience for yourselves.
Here's a rundown of some of the things to expect:
Jousting
Everyone loves the jousting! See the brave knights on horseback thundering towards each other as they use their lance to try to knock their opponent out of their saddle. The Joust at the Abbey Medieval Festival depicts a 15th century tournament. The best of Australian jousters will compete for the title!
Turkish Oil Wrestling
Carried out with traditional rituals and customs of the Ottoman Empire, the Turkish Oil Wrestling has been a star attraction of the Abbey Medieval Festival for over 10 years. The Janissary Barracks take great measures to ensure the authenticity of this great sport of medieval Ottoman Turkish culture, even the tight short leather trousers, called Kispet, are imported from Turkey!
Oil wrestlers from across Australia participate in this competition at the Abbey Medieval Festival.
Sword Combat
Trained re-enactors will demonstrate the skills and training required to wield a sword and other weapons in battle.
Animals
From the heavy horses used to pull wagons and carry knights into battle, to the smaller and lighter ladies horses, demonstrations of hunting and herding animals like dogs and falcons, farm animals reared for food and pelts, and even the humble bumble bee, which was so important to farmers and for the production of honey and mead.
Re-enactments
So many re-enactments! Professional re-enactors will show you how to lay siege to a castle as well as demonstrate what life was like in the different camps.
Food & drink
Taste the Middle Ages with traditional food and drinks on offer, including a medieval hog roast, banquets (bookings required), and food stalls selling traditional medieval flavours. If you like your food a little more modern, don't worry, you'll be catered for too!
Entertainers
Everything from troupes of belly dancers and gypsy dancers, to roving jugglers, jesters, puppeteers, storytellers, and actors – there'll be plenty of people willing to entertain your kids!
Archery
As well as standard 'aiming-for-the-target archery', there is also the highly skilled horseback archery and moving target archery. You can even have a go at firing an arrow yourself.
Markets
There are lots of stalls to browse for souvenirs and reproduction medieval goods. You'll find everything from toys and costumes, to sweets, pottery, stained glass, woven goods, leatherwork, jewellery, imitation armoury and weapons, carvings, artwork and a whole lot more. There are around 60 authentic stalls to visit!
Music
Enjoy the historical sounds of the Dark Ages through to the Higher Middle Ages, with Gregorian chants, harpists, lute players, pipes, drums and singers as the musical entertainers stroll through the camps and put on shows.
Costumes
Lots of them, and not just the re-enactors! The Abbey Medieval Festival is the premiere event of its kind in Australia. Re-enactors and participants have beautifully crafted costumes from the medieval period and Dark Ages so you can expect to see peasants in their rough garb, princesses in finely woven silks, knights in full chainmail and plate mail, monks, nuns and Templars in their religious habits, Turks from the time of the Crusades, and characters from traditional medieval festivals relating to the seasons and nature.
Visitors are also encouraged to join in with competitions and prizes for the best fancy dress. Dressing up isn't compulsory, and you'll see plenty of visitors in their modern fashions, but if you want to add that extra element of fun to your day there's no finer excuse to put on your best medieval costume!
How do we get to the Abbey Medieval Festival?
The Abbey Medieval Festival is held at the Abbey Museum of Art and Archaeology, 1-63 The Abbey Place (off Toorbul Point Road), Caboolture.
There is limited free parking on-site, but members of the local fire brigade will be on hand to direct you to other nearby parking spots (a gold-coin donation to the fire brigade is welcome!). Disability parking is available. You can also get there by free bus from the Caboolture Train Station on the Saturday and Sunday. VIP parking is available for VIP ticket holders. The festival itself takes over the expansive space around the Abbey Museum.
However you travel to The Abbey Medieval Festival, we recommend you plan ahead and aim to get there early.
How Do We Get Tickets To The Abbey Medieval Festival?
Early bird tickets are usually available until the end of April, but if you've missed out on those you can still save by buying tickets online. You can buy individual or family tickets.
What Else Should We Know About The Abbey Medieval Festival?
There are some restrictions as to what you can and can't take with you:
No dogs or other animals. Please leave your pets at home. There will be lots of animals to see at the festival, and your own pet would be happier and safer at home.
Weapons. If you plan on enhancing your costume with your own sword, bow and arrows, knife, or other medieval weapon, organisers request that you complete a form online to gain permission to bring your weapon with you. If you don't have prior permission you won't be allowed to bring your weapon onsite. Weapons that are clearly toys and part of a child's costume, such as a blunt wooden sword or plastic, are ok.
You're welcome to bring your own food and picnics (please be mindful of littering), and camp chairs and picnic blankets are welcome too. No glass is permitted.
Alcohol is available to buy on-site (traditional beers, meads, cider and wines), BYO is not permitted.
Other things to be aware of:
Access to the jousting needs to be pre-booked when you purchase your day ticket. Tickets to the Joust are limited. If you wish to experience this spectacular event, it is advisable to pre-book online early! No Joust tickets will be available on the day. The Joust arena opens 30 minutes prior to each session.
ATMs are available, and – just like in medieval times – cash is king! Wi-fi is limited at the Abbey Medieval Festival so Eftpos machines, though available, often don't work. Cash is recommended.
Toilets, baby change facilities, and First Aid facilities are available.
Most of the Abbey Medieval Festival is accessible to wheelchair users and prams. Paths are mainly gravel or grass and relatively flat. There is also a drop-off point for the elderly and disabled about 70m from the entrance. A disability car park is available for patrons with a permit.
Where can I find out more about the Abbey Medieval Festival?
Go to the Abbey Medieval Festival website for updates.
Making the most of Brisbane Festivals…