Home
›
Holidays & Trips Away
REVIEW: Staycation – Paradise Resort Gold Coast
13/12/2017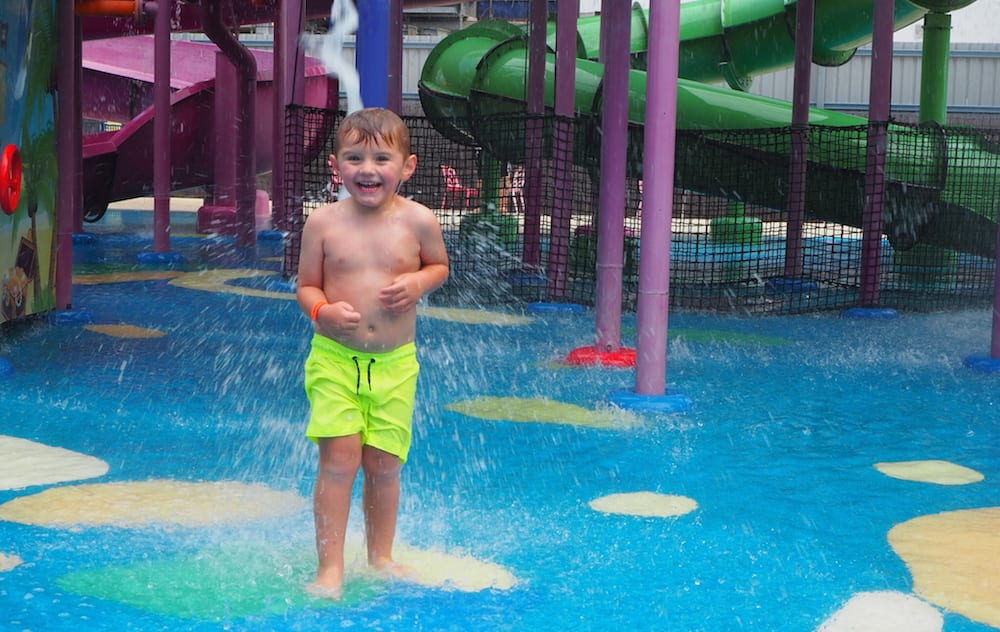 Gold Coast Editor, Rebel and her family stayed as guests of Paradise Resort Gold Coast
Nestled in the heart of Surfers Paradise, Paradise Resort Gold Coast has long been renowned for it's reputation as Heaven for Kids … Paradise for Parents! so we thought we had better check it out for ourselves.
And, boy, did it deliver. The delicious dining options, an epic water park, an ice-rink (< yep!), kids club (<yep, yep!) and more had Gold Coast Editor, Rebel and her family entertained and relaxed in equal measure.
Here's why you might want to book Paradise Resort Gold Coast for your next Gold Coast family holiday …
There's no need to step foot outside the resort
From the moment you pull into the driveway you just know this is going to be a place that the kids will love. A colourful, warm reception area, complete with multi-story climbing gym, sets the tone for fun. While the kids climbed, we checked in and the friendly staff outlined an extensive list of potential fun in store for us.
We could take advantage of: a real ice-skating rink, a giant waterpark, up to four hours of fun in the Zone for Kids Club – every day, for FREE, a lagoon pool and spa, a convenience store, a bistro, cafe and bar, and an extensive daily activity and entertainment program – discos, magic shows, dance offs and more!
And they've thought of the grown ups too! We could take advantage of that complimentary child supervision and unwind in activities like live music, wine and beer tasting and cooking demonstrations.
And while Surfers Paradise has family attractions in spades, there is really no need to leave the resort. Just settle in and enjoy all that there is on offer.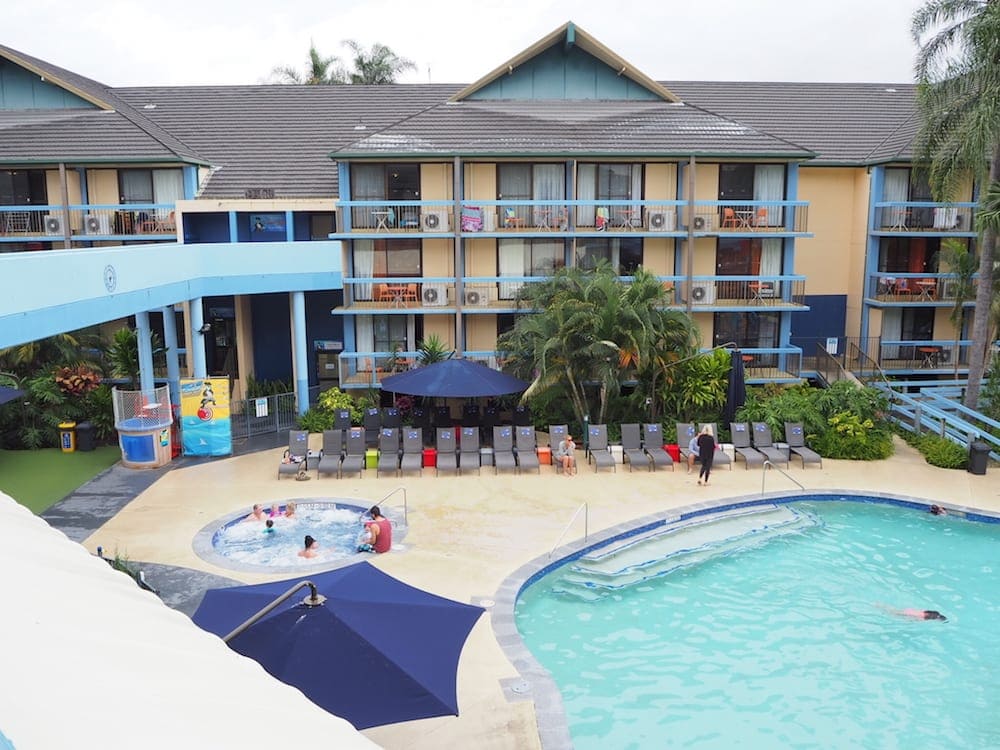 Paradise Resort Gold Coast knows families
They've really thought of everything. The entire facility is designed with families in mind, and the entertainment schedule means that nobody can be accused of being bored!
The staff and guests all get dressed up on Fridays and the kids were thrilled when Superman, Wonder Woman and the Resort Mascots wandered through the Bistro while we were eating dinner. Speaking of dinner … yum! A great, affordable menu with a huge variety as well as theme nights and chef's specials.
Each day Paradise Resort offers an extensive program of activities and entertainment for you to choose from including:
Art & Crafts*
Balloon Artistry
Big Screen Wii Challenge
Cupcake Decorating*
Duck Races
Cliff Hanger
Dunk Tank Fun
Dusty's Rock Climbing Wall*
Family Bingo
Giant Connect 4
Hula Hoop Challenge
Jelly Eating Contest
Laser Tag*
Live Character Shows
Live Poolside Music
Meet and greets with the Resort Mascots
Plaster Art*
Pool Noodle Races
Poolside Movies by Moonlight
Sand Art*
Scavenger Hunt
Teddy Bear Workshops*
Trivia Nights
*Charges may apply for some activities
It's like a theme park and holiday all in one!
A stay at Paradise resort is jam packed with entertainment. Even walking from our room to the restaurant we were able to make a little pit stop at the giant climbing frame, or indulge in the new Virtual Reality experience that gives you the chance to choose from over 24 different roller-coaster rides to try with the super-realistic VR goggles.
Fun is on the agenda, and the Entertainment crew make sure that every guest has the chance to make the most of their stay.
Big hits for us were the Poolside Movies by Moonlight and the Paradise Dance Party with Cleo, Astro and Dusty on the main stage.
Ice Ice Baby
Ever tried ice-skating? You totally can at Paradise Resort. Planet Chill is suitable for all ages three years and up, with sessions running for two hours and additional dedicated Family Disco sessions on selected days.
Little wobbly? That's no problem, there's plenty of Penguin stabilisers to hold onto until you get your groove.
While the rest of the resort facilities are for the exclusive use of in-house guests only, Planet Chill welcomes all Gold Coast locals to have a go.
Make sure you book in a date night!
Paradise Resort has an unrivalled holiday care program, Zone 4 Kids Club (Z4K) offering a range of fully supervised sessions daily for children 0-12 years of age. And here's the best bit, many packages that you book include one complimentary session per child per day! You can use that in the day or the evening and take some time to enjoy the more adult options available on at the resort. But first, more about Z4K …
Children are divided into different age groups over the nine themed play spaces to ensure age appropriate care and activities are provided, and they even give them lunch or dinner. How great is that?!
While the kids are having an awesome time it means you are free to do whatever you like! Eat a meal uninterrupted, take a spa in the 'Zone 4 Adults', hit the bar for the Daily Drinks Specials or more.
You could even hit the gym in peace if you so desire.
Or, of course, you can take part in the entertainment program for grown ups – told you Paradise Resort has thought of everything! Learn how to mix cocktails, try trivia or karaoke, enjoy live music, take part in a cooking demo or wine tasting …. the list goes on.
Paradise Resort Gold Coast is one to add to your bucket list
Whether you are a Gold Coast local or are travelling from further afield, Paradise Resort Gold Coast should certainly be on your radar.
We thoroughly enjoyed our stay and have made plans to go back with some friends very soon. If you're after a holiday with a family focus, you really could find none better than Paradise Resort.
Compare Paradise Resort with others, and you'll realise that THIS is your next holiday so ===> Find the best price right here.
Surfers Paradise is right on your doorstep
While you certainly don't need to leave the resort, if you did want to, Surfers Paradise is just a short stroll or tram ride away and the theme parks the Gold Coast is renowned for are right on your doorstep as well.
Here's our favourite things to do on the Gold Coast if you are looking for inspiration.