Free Long Weekend Activities in Brisbane City | Stay and Play for a Long Weekend
6/06/2018
FREE long weekend activities sound like a far-fetched idea but there are PLENTY to be found – particularly when you're staying right in the centre of Brisbane City!
* This post is sponsored by Royal on the Park Hotel & Suites
There truly is something for everyone and, when accommodation and food is the only thing you'll be paying for, this long weekend in the city sounds like the things memories are made of!
Here are our top choices for fabulous, family-friendly FREE long weekend activities right in the heart of Brisbane.
Free Long Weekend Activities in Brisbane City
There's no better place on any given long weekend to find some great free activities than smack bang in the middle of our fair city! With so many great options on offer for families, you're not going to want to leave the action. We'd definitely advise finding a great place to stay in the city that offers great deals for families – particularly places that offer great stuff for the kids to do! That way – your only costs will be accommodation and food! Everything else is FREE, FREE, FREE!
Free Long Weekend Activities – Where to find them!
Here's where we'll be headed next long weekend and here's the order we'll do it! Come and join the fun!
Saturday – Day One
Arrive at your hotel for your 1pm check in and get acquainted with all that your hotel has to offer. Scope out the pool, investigate the kids activities and have a cheeky jump on the bed (shhh… don't tell mum!). Then pack the backpacks and walk over to…
South Bank
South Bank offers families a plethora of opportunities to engage in some fun, family-friendly and FREE entertainment, particularly on long weekends! There are so many great long weekend activities in Brisbane to choose from right in South Bank. We'd recommend making time to spend at least four hours here and there are plenty of food options should you want to stop for dinner as well – or you can bring your own food to make it an even cheaper, low-key afternoon of fun.
You'll be able to swim at the incredible Streets Beach, get the scooters out and venture up down the riverfront, take in any number of street performances that are always popping up unexpectedly, pop in to the Suncorp Piazza to check out what's on offer AND play on one of the very best play structures that Brisbane's ever seen!
Bring the togs and towels so you can splash about in the number of water-play spaces that are designed to cater for a wide range of ages and abilities. There are plenty of spaces to safely get changed, have a BBQ or spread out a picnic blanket and just enjoy everything and anything that passes by!
South Bank is an easy and enjoyable walking distance from the CBD (our best route is to go through the Botanic Gardens and pop over the Goodwill Bridge – you'll see why at night time!) and there are plenty of pathways and options for families that require strollers and wheelchairs. It's a great FREE day out and the perfect way to celebrate a long weekend in the city.
Sunday – Day Two
We'd suggest having a lovely sleep in but who are we kidding – you've got kids! They're going to be up and raring to go. Here are the best ways to burn off some of that energy.
Sunday morning will see you dine in style as your breakfast will be included with your hotel package. Sweet! Let the kids loose on the buffet and then after they've stuffed themselves silly (and you've drunk your body weight in coffee) all you'll have to do is head across the road to…
Brisbane Botanic Gardens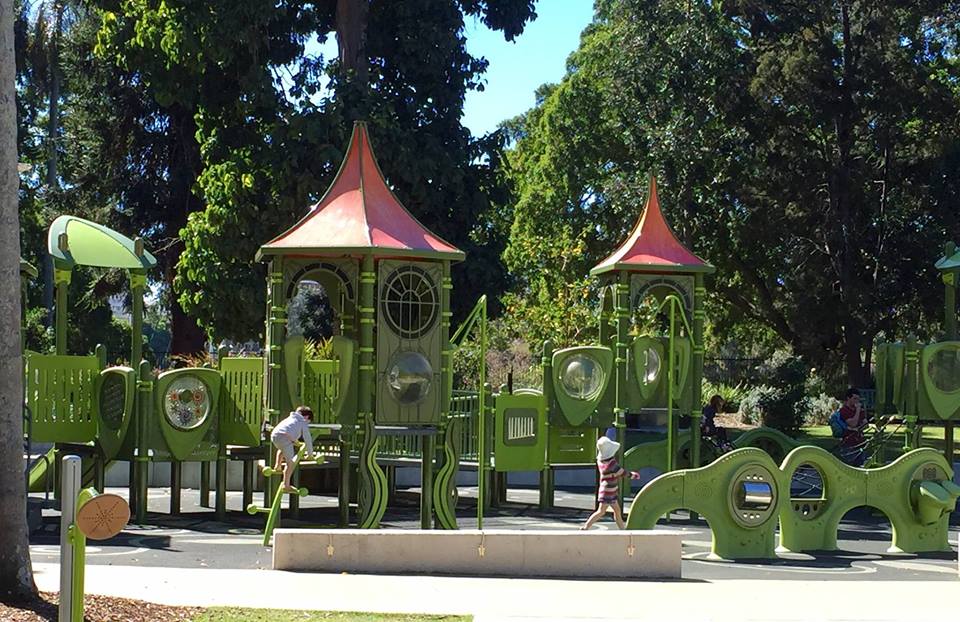 Head over early to catch that beautiful morning sun and watch the kids go bananas on one of the most innovative play spaces in Brisbane – found at the entrance to the Brisbane Botanic Gardens. This is a playground designed for the senses. There are a number of musical stations where children can experiment with sound, notes, tenor and tension in addition to being able to play on the safe equipment. There is an all-abilities access round-about and a 'mum and bub' swing where you can safely swing with your tiniest tot! Very cool!
Give the kids an hour or two here, back to the hotel to reapply sunscreen and then you're back off across the river to…
GOMA (Gallery of Modern Art)
GOMA is a FANTASTIC place for kids to visit at any time of the year but particularly as a free long weekend activity. The Children's Art Centre is always home to evocative, interesting, engaging and exciting ways for kids to get involved in all things art and culture. They'll secretly be learning at the same time (don't tell them that, obviously!).
Entry to GOMA and the Children's Art Centre is always free (some international exhibits will have a cover charge but they're not likely to be ones the kids will be interested in). There is a coat check station, toilets, on-site cafes and restaurants and the best air-conditioning known to man. It's accessible, beautifully designed and the jewel in the crown of the Cultural Precinct.
You can find information about the latest GOMA exhibits at this link. We'd recommend at least an hour and a half for the kids to take it all in (making adjustments for how busy it is) before leaving and walking south towards…
Queensland Museum
As you've already eaten lunch at GOMA (or brought your own food), the kids will be able to treat themselves to a solid couple of hours exploring everything the Queensland Museum has to offer. From the whale walk to the dinosaurs to any number of constantly changing displays  there's just so much to see and do – it's incredible that this example of free long weekend activities in Brisbane is COST-FREE. We're just so lucky to have so much to see and do in our fair city!
Curious about upcoming events at the museum? Follow this link to see what's on! 
While they could spend alllllll day there, there will come a time when you'll need to drag them back to the hotel. Thankfully, the presence of the pool should prove bribe enough to get those tired feet moving! A splash and a relax before dinner and bed and they should (hopefully) be snoozing in no time. Leaving you time to get some cheeky room service dessert…
Monday – Day Three
Sadly, your long weekend in Brisbane City adventure has come to an end! You'll need to check out by 10am (always a joy when wrangling kids) and grab the car from the car park (which was included as part of your stay). 'Tis a shame but all good things must come to an end. We've got one last suggestion before you head home, though. Drive through the city to the…
Roma St Parkland
Families Magazine LOVES Roma Street Parkland. There are so many things to see and do for families – making it a great choice when looking for free long weekend activities.
Roma St Parkland is a green space that's made for families. Wide open spaces, water features, nature walks and amazing playgrounds. You can see our review of the facilities right here.
There are often exciting activities happening in this area – particularly over the long weekend! Check out this link to see what's the latest buzz!
Heading Home
Back to reality! You've made some cherished memories with your nearest and dearest during your free long weekend activities adventure. You've seen some fantastic FREE entertainment that the city has to offer and you've stayed in a family-friendly, affordable, inner-city haven of class and comfort. What a great weekend. Such a shame we have to go back to work tomorrow!
If you've got a long trip ahead – why not try one of these fun car trip games along the way?
Stay at the Royal On The Park
The historic Royal on the Park Hotel & Suites is directly opposite the Brisbane Botanic Gardens and right in the heart of the city. They have family-friendly packages which include access to a beautiful pool, complimentary buffet breakfast, parking and a free toy for the kids!
Stay at the Royal on the Park Hotel & Suites
COMPETITION CLOSED – Our good friends at the Royal on the Park have special deals for families just like yours. They include top quality accommodation with access to a range of family-friendly activities including access to the guest pool, free parking, free breakfast for a family of four, kid-friendly activities and the best views around. Find out more about their family deals – click here.
Families Magazine have partnered with Royal on the Park to give away 1 nights' accommodation right in the heart of Brisbane City! Make sure you enter to give your family the chance to experience affordable long weekend activities in the city that they'll never forget!