Coomba Falls, at Maidenwell, is an exceptionally beautiful place, featuring a deep natural swimming hole and striking granite cliffs. The water is icy most of the year, so it's the ideal site to cool down on a hot day.
Direction to Coomba Falls
Coomba Falls is a waterfall located 2 km east of the small town of Maidenwell in the South Burnett Region of Queensland, Australia. It's a solid 2 1/2 hours drive from Brisbane or an 1 1/2 hour drive from Toowoomba. Once you arrive in Maidenwell, there is a service road next to Kingaroy Cooyar Rd opposite the pub. Turn into Coomba Waterhole Rd, and follow for 2kms. You will arrive at the parking area for Coomba Falls.
The secret to properly enjoying Coomba Falls with your family is to stay at the beautiful Bunya Mountains. More below!
What are the facilities at Coomba Falls?
There are no BBQ or picnic facilities at this pristine swimming hole. There is plenty of green space if you have brought your own picnic. The closest toilets are up the top of the hill in Maidenwell. The water hole is deep and cool all year round but the 'flow' from the waterfall varies based on rain.
Camping near Coomba Falls Maidenwell
You cannot camp at the falls but you can camp overnight in Maidenwell close to the facilities – where there are toilets, a BBQ, undercover table and seating, and a bin. The local pub lets you camp in the paddock behind it. From the pub you can walk across to a toilet block with hot showers.
How do I get to the Coomba Falls swimming hole?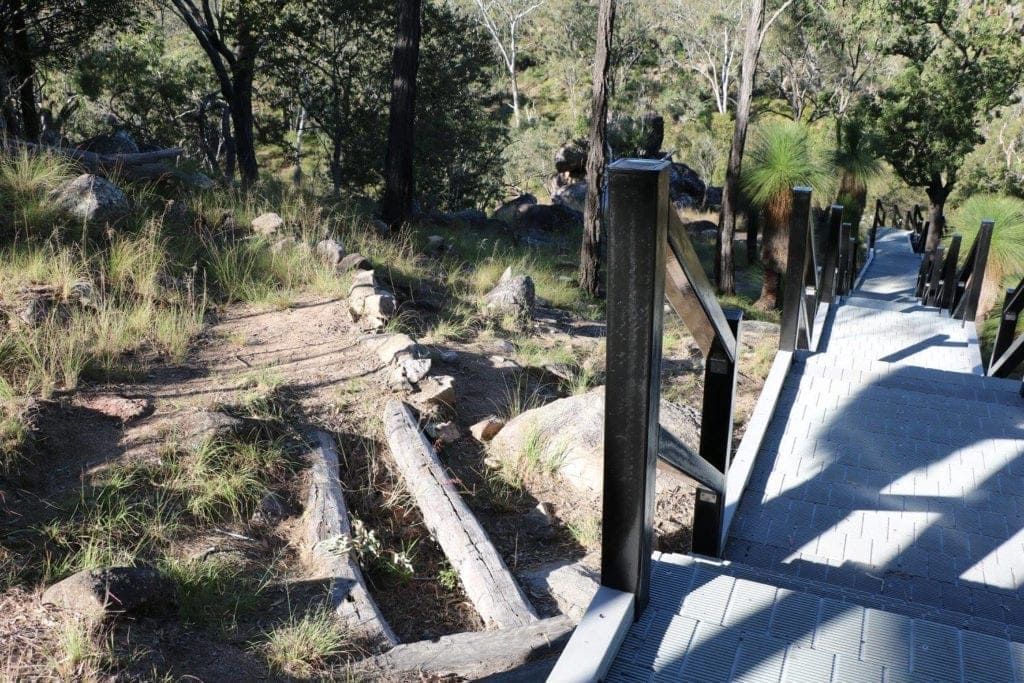 Once you have parked up in the car park, you will see the track to the stairs. The South Burnett Regional Council installed a new track/stairs down to Coomba Falls replacing the old rough track. This will make it so much easier and safer for everyone to get down to the falls. There are around 120 (ish) stairs to walk down to get to the swimming hole. The stairs are very steep and may be harder for mobility challenged people.
History of Coomba Falls
The Aborigines believed the waterhole to be bottomless, and Coomba Falls was a sacred site, and the surrounding area was used for burials.
Tragically, the falls are also said to be the site of a massacre in the 19th century.
European settlers killed hundreds of aborigines here, including women and children. Some reports say that the bodies were thrown into the water hole, and that there are human remains at the bottom of the deep pools.
As a result, local aboriginal people never go here any more. Ironically this place of beauty and refuge is now a place of deep sorrow for them.
Accommodation in the Bunya Mountains
If camping isn't your thing and you prefer the comforts of a home environment then you're in luck at the Bunya Mountains Accommodation Centre. They have over 100 self-catered homes to choose from, some perfect for couples, others larger for families, all individually designed and excellently provisioned.
Some are on stilts with sweeping panoramic mountain and valley views, others are reminiscent of the lowland Swiss alps being situated on a rolling hillside, and for lovers of seclusion you can hire cottages tucked away in the rainforest down private trails. With such a variety of house sizes, styles and locations – and with prices starting from $100 per night – there really is the perfect holiday home for you whatever you are looking for.
10 things to do at the Bunya Mountains with your family
We asked our children (aged 6, 7 and 9) what were their favourite things to do at the Bunya Mountains after a long weekend there in March 2017. They talked and talked and talked and so I asked Master 9 to write down what they thought and this is his article with their words. A true reflection from 3 primary school aged kids about the beautiful Bunya Mountains. Read all about it here.
Swimming in creeks, lakes, rivers and dams is fun, but there are hidden dangers, which can cause serious injuries.
Swimming in creeks, lakes, rivers and dams
Be careful. It is not the same as swimming in a pool – follow these tips for safer swimming:
Check the current before entering the water
Seek local advice before you swim, creeks, lakes, rivers and dams can hide dangers such as submerged logs and rocks and unexpectedly strong currents, especially after rain
Never dive or jump into any waterhole—you could seriously injure yourself if the water is too shallow or there are submerged logs and rocks
Stay away from waterfalls to avoid slipping
Beware of boats using the waterway
Avoid swimming near boat ramps or in boating areas
Look out for crocodiles and other dangerous marine animals