5 Funky Birthday Party Ideas for Adventurous Gold Coast Kids
21/09/2017
If you want to host a hassle-free birthday party, but would like a change from having at an indoor play centre, you're in luck. We've put together a handy dandy list of five unique birthday party ideas that will make your life easier.
5 Funky Birthday Party Ideas for Adventurous Kids
1. Soccer party at your local park
Not only will your kids get out and about but they'll burn off that sugar super quick with a soccer party. Ginger Sport hosts parties across south east Queensland and has a team of 40 enthusiastic and kid-friendly coaches.
They bring everything you need, apart from food and the cake of course, leaving you time to watch your kids have a ball. Parties can be one hour to up to four hours depending how long you want the fun to last.
There's a basic package or you can ask for a large or mini inflatable soccer world to be included. This means kids will be in a confined space, so a good option for those with young children. Another extra is music and a puppet show!
The best party is every child gets a medal, a certificate, a soccer ball and free digital invites if you want. So you're off the hook with supplying goodie bags. Furthermore, if your child is Batman mad, you can ask the coach to play themed games.
You can find out more details Ginger Sport or by calling 07 3890 3338.
2. A Reptile Encounter that comes to you
Yes that's right, if you're got a lover of reptiles in your house then throwing them a party with snakes and lizards will earn you brownie points. True Blue Reptiles will come to your venue of choice, a place where they can sit in a big circle is preferable, and show off their cold-blooded reptiles.
Fun presenters will keep kids enthralled with questions and rude reptile facts, and most importantly they'll meet; pythons, lizards and turtles in a controlled and safe manner. A truly memorable experience to be had and cameras are a must.
There are different pricing options you can have just a show where cuddles are allowed or a party package that includes games and party bags. Kids will have a ball playing common party with a reptile theme. For a little extra you can request a baby crocodile; that is happy to be held, to be brought along.
You can find out more details True Blue Reptiles or by calling 0431 093 181.
3. Healthy Grub party for mini master chefs
If your child loves creating their own food or you want a break from making party snacks, this is the party for you. Healthy Grub will come to your place and create some delicious party food with your children. And the best thing is that all diets and allergies are catered for.
What's more you won't have to slave over a hot oven making a cake because Healthy Grub can take care of that for you! Included in the party is a cake, chef hats and aprons, recipe cards, all the food and snacks.
This two-hour party will have the kids entertained, educated and there'll be fun food games and activities. Your little master chef will be loving having a bit of messy fun; the best part is you don't need to lift a finger.
You can find out more details Healthy Grub or call 0406 072 536.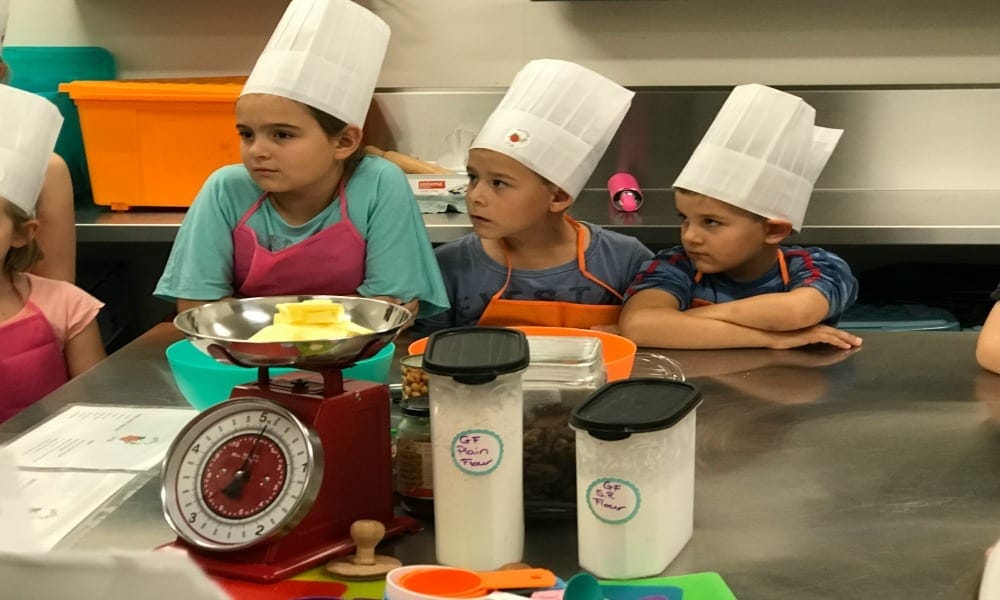 4. A party at the Castle
The Macadamia Castle that is, in northern NSW. The joy of having your party here is that included is entry to the park and activities for 15 kids. You can cook a barbecue for guests or let the venue cater it for you with its special party menu.
There is lots of space for kids to play and a wide range of activities such as a train ride, farmyard animal feed bags and vouchers. Best of all there is unlimited mini golf. Parent will love you for this party because there's a barista on site and gourmet treats from local producers. Did somebody say roasted and salted macadamia nuts?
Kids under two are free and if you have more than 15 guests they can get park entry but any of the extras, these will have to be paid for separately. An added bonus of a party at a castle is the photo opportunities will be awesome!
You can find out more details here or by calling 02 6687 8432.
5. Pampered princess or prince party
For the little princess or prince in your life, a Pampered Princesses party is just the ticket. The host takes care of everything and there's no cleaning up, food to make or stress. If you've got a 5-year-old who loves all things girly, then a pamper party is the go. They'll get their nails and make-up done and generally be spoiled while watching a movie and eating treats.
A disco party is perfect for younger princesses who prefer dancing around and playing games. Then there's the bestie party for those who have a smaller guest list and want a way to treat a sibling or a small group of friends. Yummy party food is also included in these packages.
There are always at least two hostesses to keep the party goers entertained and amused. Best of all, if you've got boys who've love a party with a disco you can also bring them here. It's located in Coomera and is available after school, weekend and school holidays.
You can find out more details here or by calling 5573 7935.
Pssst… we know we said there were FIVE ideas but we just had to show you our list of horse riding places on the Gold Coast. What better way for a horse-mad kid to have a party to remember than on horse back?!